Chronological listing of weather control technology 1891 to Present.
By James Franklin Lee Jr.
View Map on ClimateViewer Mobile and ClimateViewer 3D. Also see the raw data on Google Fusion Tables
SPECIAL NOTE: My patent list has been featured on sites like Geoengineeringwatch.org, NaturalNews.com, and Infowars.com. This list only includes patents from 1891-2003. I will be publishing the rest of the list (2004-present) soon! Stay tuned!
I originally created this patent list in 2011 on my first website rezn8d.net. I have since sold that URL, along with rezn8d.com, and terraforminginc.com. Please link to this page's URL if you choose to repost this article.
This listing of geoengineering and weather modification patents is far from complete and will be updated occasionally.
Please submit patents by leaving a comment on this page or contacting me via one of the social media links: HERE
This article is part of our series: Geoengineering and Weather Modification Exposed
Also see our Weather Control timeline and maps!
Weather Modification Experiments. View Map on ClimateViewer Mobile and ClimateViewer 3D. Also see the raw data on Google Fusion Tables
Weather Modification Patents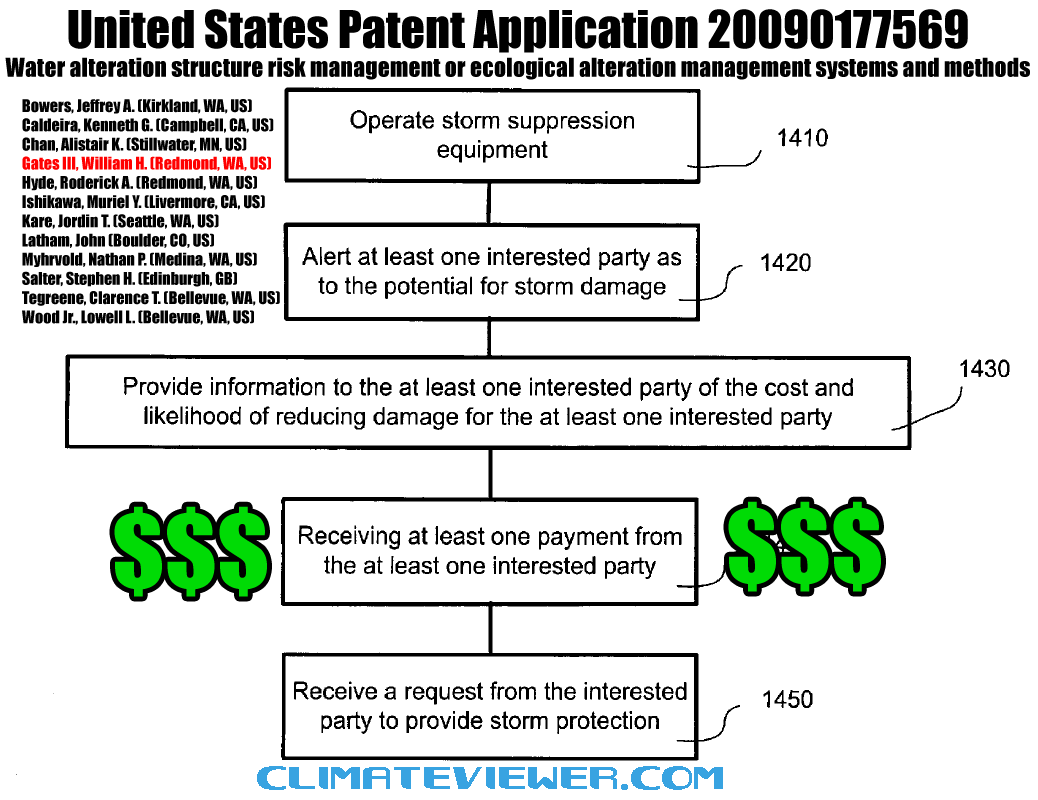 Geoengineering Patents
Read more: Hurricane Hacking: The Department of Homeland Security enters the weather modification business

INVENTORS:

BOWERS, JEFFREY A. (KIRKLAND, WA, US), CALDEIRA, KENNETH G. (CAMPBELL, CA, US), CHAN, ALISTAIR K. (STILLWATER, MN, US), GATES III, WILLIAM H. (REDMOND, WA, US), HYDE, RODERICK A. (REDMOND, WA, US), ISHIKAWA, MURIEL Y. (LIVERMORE, CA, US), KARE, JORDIN T. (SEATTLE, WA, US), LATHAM, JOHN (BOULDER, CO, US), MYHRVOLD, NATHAN P. (MEDINA, WA, US), SALTER, STEPHEN H. (EDINBURGH, GB), TEGREENE, CLARENCE T. (BELLEVUE, WA, US), WOOD JR., LOWELL L. (BELLEVUE, WA, US)

A METHOD OF MANAGING RISK INCLUDES SELLING INDIVIDUAL INSURANCE POLICIES REGARDING AREAS TO BE PROTECTED BY STORM SUPPRESSION EQUIPMENT.
2009 – US20090173801 – WATER ALTERATION STRUCTURE AND SYSTEM HAVING BELOW SURFACE VALVES OR WAVE REFLECTORS
KEN CALDEIRA, GREGORY RAU – THIS APPLICATION IS A DIVISIONAL OF U.S. NON-PROVISIONAL APPLICATION SER. NO. 09/759,781, FILED JAN. 11, 2001, WHICH IS A CONTINUATION-IN-PART OF U.S. APPLICATION SER. NO. 09/314,220, FILED MAY 19, 1999, WHICH CLAIMS THE BENEFIT OF U.S. PROVISIONAL APPLICATION NO. 60⁄096,846, FILED AUG. 18, 1998.
A DEVICE SUITABLE FOR RETENTION IN A NASAL PASSAGE OF A RUMINANT, THE DEVICE BEING ARRANGED TO PASS A RUMINANT EXHALATION, THE DEVICE INCLUDING A FIRST STRUCTURE CONFIGURED TO OXIDIZE METHANE GAS IN THE RUMINANT EXHALATION, THE DEVICE BEING FURTHER ARRANGED TO PASS PRODUCTS OF THE OXIDIZED METHANE GAS TOWARD A NASAL PASSAGE EXIT.
REUSE LICENSE
Geoengineering and Weather Modification Patents by Jim Lee is licensed under a Creative Commons Attribution-NonCommercial-ShareAlike 4.0 International License. Based on a work at climateviewer.com/. Permissions beyond the scope of this license may be available at climateviewer.com/terms.
You are free to:
• Share — copy and redistribute the material in any medium or format
• Adapt — remix, transform, and build upon the material
Under the following terms:
• Attribution — You must give appropriate credit, provide a link to the license, and indicate if changes were made. You may do so in any reasonable manner, but not in any way that suggests the licensor endorses you or your use.
• NonCommercial — You may not use the material for commercial purposes.
• ShareAlike — If you remix, transform, or build upon the material, you must distribute your contributions under the same license as the original.
Welcome to TRUTH TALK NEWS
"Where truth the mainstream media ignores is the top story!"
Take advantage of all the books, articles, links and suppressed information YOU NEED TO KNOW that is available on this site.
START YOUR JOURNEY BELOW:
REPORT FROM IRON MOUNTAIN (published 1967): https://www.howardnema.com/wp-content/uploads/2016/08/Report_from_Iron_Mountain.pdf
SILENT WEAPONS FOR QUIET WARS (1979) FULL DOCUMENT: https://www.howardnema.com/2020/09/13/silent-weapons-for-quiet-wars/
OPERATION LOCKSTEP: https://www.howardnema.com/2020/08/22/operation-lock-step-using-covid-19-as-an-authoritarian-weapon-for-social-control/
UN Agenda 21 FULL DOCUMENT: https://sustainabledevelopment.un.org/content/documents/Agenda21.pdf
Tragedy and Hope (MOST IMPORTANT EXCERPTS): https://www.howardnema.com/2016/10/25/critical-excerpts-from-tragedy-and-hope-1966-that-explain-events-in-the-world-today/
BETWEEN TWO AGES: America's Role in the Technetronic Era by Zbigniew Brzezinski: https://www.howardnema.com/wp-content/uploads/2016/08/5a-zbigniew-brzezinski_between-two-ages.pdf
BOOKS YOU MUST READ TO UNDERSTAND THE NEW WORLD ORDER:
The link below is a path of breadcrumbs that leads to greater understanding of the world we live in and those who chart and guide humanity's progress from the shadows though out the ages. Here is an ever growing catalogue of hundreds of books, PDF's, articles, white papers, links, documents and research material on all things New World Order.
On December 3, 2020 the subversive anti-American communist traitors at YouTube TERMINATED TRUTH TALK NEWS CHANNEL 2. On December 11, 2020 YouTube terminated TRUTH TALK NEWS CHANNEL 3. TRUTH TALK NEWS CHANNEL 4 was launched the same day so the more than 9,000 subscribers left orphaned will be able to find material that will be posted on alternative sites.
Subscribe to Truth Talk News on rumble:
https://rumble.com/account/content?type=all
Subscribe to TruthTalkNews on bitchute: https://www.bitchute.com/channel/QJKrgONwtmn0/
In 2016 the TRUTH TALK NEWS CHANNEL was hacked and the email address was changed. There is no way to access or respond to emails, post, or upload videos on that site. The Channel has more than 2.5 million views and over 12.5K subscribers and continues to grow. The full catologue of more than 1000 videos are still available for viewing and sharing. Subscribe to TRUTH TALK NEWS 2011-2016 Archives on YouTube: http://www.youtube.com/TruthTalkNews
SOCIAL MEDIA:
http://www.twitter.com/TruthTalkNews
http://www.HowardNema.com is censored and blocked by Facebook. Nothing can be posted or shared on Facebook from HowardNema.com due to "community standards" violations concerning bogus accusations of bullying, harassment and hate speech.
When truth is called hate, when hate is called love, when ideological beliefs breed rage and violence, our society treads on dangerous ground. Ground that has been traveled many times before by fellow travelers and followers of Marx, Lenin, Stalin, Hitler, Mao, Pol-Pot and many other Utopian charlatan totalitarians throughout the centuries. Censorship should be a warning sign from history. For all of us. Silencing one silences us all.
STAND UP FOR FREE SPEECH!
WATCH AND SHARE TRUTH TALK NEWS!
Let us take a journey together down the rabbit hole.
Watch TRUTH TALK NEWS, a talk show discussing suppressed history, current events, politics, pop culture, the esoteric and exoteric, and all things New World Order.
THURSDAYS 9pm in Western Connecticut on Spectrum Cable Channel 192 serving the towns of Barkhamsted, Bethlehem, Bridgewater, Brookfield, Colebrook, Danbury, Harwinton, Kent, Monroe, New Hartford, New Fairfield, New Milford, Newtown, Roxbury, Sherman, Southbury, Trumbull, Washington, West Hartland, Winchester and Woodbury.
WILLIAM COOPER'S FULL MYSTERY BABYLON SERIES (44 EPISODES)
https://www.youtube.com/watch?v=itO8A0z5HdY&list=PLfqzOxBqtdDU3PQPiVs71k7FobaYKJLmL
Subscribe to William Cooper's MYSTERY BABYLON CHANNEL:
https://www.youtube.com/channel/UCZ5XZgqTNBIsGRB3CtszmcQ
All information reported on TRUTH TALK NEWS and HowardNema.com is sourced and verifiable and for the purposes of education and FAIR USE. Take advantage of the many books, articles, videos and FULL PDF's available for FREE, safe downloads on this site.
TRUTH TALK NEWS and HowardNema.com ARE FREE SITES. All books and information on the sites are FREE and NOT monetized in any way.
You are not cattle. You are not a useless eater.
You do not have to be a brainwashed slave owned by the New World Order.
Do the research. Think critically.
Find your own truth. There is only one truth. . . .
Seek and you will find it.
Awaken.
Be a messenger.
Thank you for your continued support. God bless you all.
HN