by Howard Nema
Putin's speech at the Valdai conference in Sochi last week is getting a lot of coverage in the alternative news, but not a peep from the controlled mainstream media here in Amerika, of course.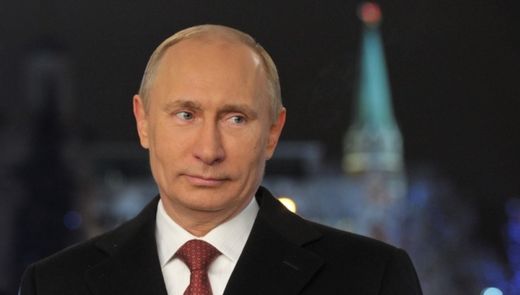 So most Americans missed the incredibly important speech Putin gave at the Valdai conference.   In his speech, Putin removed the lid of elite controlled secrecy and opened a huge can of truth, defying the long obeyed rules of the global elite's control over international politics.
In the past,  political puppets made public announcements to maintain the fiction of national sovereignty.  These ploys were strictly for show while the real agendas were worked out in secret negotiations.
Putin was complicit in this game, but as Russia is increasingly ignored by the global elite puppet masters, he has changed the rules, directly and intentionally violating the owner's control system by going over the heads of secret society global elite  and their political puppets.
The Russian blogger Chipstone summarized the most salient points from Putin speech as follows:
1. Russia will no longer play games and engage in back-room negotiations over trifles. But Russia is prepared for serious conversations and agreements, if these are conducive to collective security, are based on fairness and take into account the interests of each side.
2. All systems of global collective security now lie in ruins. There are no longer any international security guarantees at all. And the entity that destroyed them has a name: The United States of America.
3. The builders of the New World Order have failed, having built a sand castle. Whether or not a new world order of any sort is to be built is not just Russia's decision, but it is a decision that will not be made without Russia.
4. Russia favors a conservative approach to introducing innovations into the social order, but is not opposed to investigating and discussing such innovations, to see if introducing any of them might be justified.
5. Russia has no intention of going fishing in the murky waters created by America's ever-expanding "empire of chaos," and has no interest in building a new empire of her own (this is unnecessary; Russia's challenges lie in developing her already vast territory). Neither is Russia willing to act as a savior of the world, as she had in the past.
6. Russia will not attempt to reformat the world in her own image, but neither will she allow anyone to reformat her in their image. Russia will not close herself off from the world, but anyone who tries to close her off from the world will be sure to reap a whirlwind.
7. Russia does not wish for the chaos to spread, does not want war, and has no intention of starting one. However, today Russia sees the outbreak of global war as almost inevitable, is prepared for it, and is continuing to prepare for it. Russia does not war – nor does she fear it.
8. Russia does not intend to take an active role in thwarting those who are still attempting to construct their New World Order – until their efforts start to impinge on Russia's key interests. Russia would prefer to stand by and watch them give themselves as many lumps as their poor heads can take. But those who manage to drag Russia into this process, through disregard for her interests, will be taught the true meaning of pain.
9. In her external, and, even more so, internal politics, Russia's power will rely not on the elites and their back-room dealing, but on the will of the people.
10. There is still a chance to construct a new world order that will avoid a world war. This new world order must of necessity include the United States – but can only do so on the same terms as everyone else: subject to international law and international agreements; refraining from all unilateral action; in full respect of the sovereignty of other nations.
WAKE UP OTHERS AND SHARE THE TRUTH!
"Where truth the mainstream media ignores is the top story!"
Subscribe, follow and share the truth!
'One basic truth can be used as a foundation for a mountain of lies, and if we dig down deep enough in the mountain of lies, and bring out that truth, to set it on top of the mountain of lies; the entire mountain of lies will crumble under the weight of that one truth, and there is nothing more devastating to a structure of lies than the revelation of the truth upon which the structure of lies was built, because the shock waves of the revelation of the truth reverberate, and continue to reverberate throughout the Earth for generations to follow, awakening even those people who had no desire to be awakened to the truth.' – Delamer Duverus
If you seek truth and want to restore Constitutional Gov't please subscribe and share the valuable information contained on this site. Thank you for your continued support.
Together we can restore Our republic. Together we can be the change we wish to see in the world by exposing the forces that wish to enslave us.
All content on TRUTH TALK NEWS and HowardNema.com are for the purposes of FAIR USE and can be used by anyone in accordance with U.S. Copyright law.
Please share this information widely!
FAIR USE NOTICE: Some content displayed on this video/site may contain copyrighted material the use of which has not been specifically authorized by the copyright owner. This material has been made available in our efforts to advance understanding political, human rights, economic, democracy, scientific, and social justice issues, etc. constituting a 'fair use' of any such copyrighted material as provided for in section 107 of the US Copyright Law. In accordance with Title 17 U.S.C. Section 107, all the material on this site is distributed without profit to those who have expressed a prior interest in receiving the included information for research and educational purposes.