Edited by Howard Nema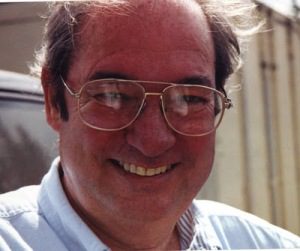 William (Bill) Cooper was reared in an Air Force family.    As a child he lived in many different countries, graduating from Yamato High School in Japan. Since he has traveled through or lived in many different foreign countries Mr. Cooper has a world view much different than most Americans.
Cooper served with the Strategic Air Command, United States Air Force. He held a secret clearance working on B-52 bombers, KC-135 refueling aircraft, and Minuteman missiles. William received his Honorable Discharge from the United States Air Force in 1965.
Bill joined the United States Navy fulfilling a dream previously frustrated by chronic motion sickness.
He served aboard the submarine USS Tiru (SS-416), USS Tombigbee (AOG-11), Naval Support Activity Danang RVN, Naval Security and Intelligence Camp Carter RVN, Danang Harbor Patrol RVN, Dong Ha River Security Group RVN, USS Charles Berry (DE-1035), Headquarters Commander in Chief Pacific Fleet, USS Oriskany (CVA-34).
Cooper was a member of the Office of Naval Security and Intelligence serving as a Harbor and River Patrol Boat Captain at Danang and the Dong Ha River Security Group, Cua Viet, Republic of Vietnam. William Cooper was awarded several medals for his leadership and heroism during combat including two with "V" for Valor.
He served on the Intelligence Briefing Team for the Commander In Chief of the Pacific Fleet. Bill was the Petty Officer of the Watch and designated KL-47 SPECAT operator in the CINCPACFLT Command Center at Makalapa Hawaii. There he held a Top Secret, Q, SI, security clearance.
William Cooper achieved the rank of First Class Petty Officer, QM1, E-6 after only 8 years of Naval service, a difficult task in any branch of the United States military.
Bill Cooper received an Honorable Discharge from the United States Navy on December 11, 1975.
William attended Long Beach City College where he picked up an Associate of Science Degree in Photography. He founded the Absolute Image Studio and Gallery of Fine Art Photography in Long Beach, California.
William held the position of Executive Director of Adelphi Business College, Pacific Coast Technical Institute, and National Technical College. Mr. Cooper was the National Marketing Coordinator for National Education and Software.
He produced several documentaries covering subjects such as the Kennedy assassination and secret black projects that have built flying disk shaped craft.
Cooper was also an internationally acclaimed radio personality,who broadcast his show, "Hour Of The Time" on WBCQ worldwide on short-wave 7.415 MHz from 10 PM until 11 PM Eastern Standard Time Monday through Thursday nights.
William Cooper was the author of Behold A Pale Horse.    The book has become the best selling underground book of all time.    It is read and promoted by word of mouth by People of all races, religions, and nationalities.
Mr. Cooper was a world class lecturer, one of the few, other than superstars, monarchs, and Popes who have appeared at Wembley in London.
Bill Cooper lectured for 10 years in every State in the Union.
William Cooper was also the Trustee who founded Harvest Trust, the CAJI News Service, VERITAS, a national full size newspaper, The Intelligence Service, Harvest Publications, and has helped over 700 low power FM affiliate stations get equipped and on the air, including the station he managed as Trustee for the Independence Foundation Trust, 101.1 FM Eagar, Arizona, broadcasting to 7,000 people.
Bill's most amazing accomplishment is the 47 hours of broadcasts know as the  MYSTERY BABYLON SERIES exposing the Mystery religion of the elite secret societies working to install the New World Order. 
Under his leadership Harvest Trust ventured into the publishing trade. The first book under the Harvest Trust imprint was Oklahoma City: Day One by Michele Marie Moore the definitive expose' on the Oklahoma City bombing of the Alfred P. Murrah Federal Building on April 19, 1995.
Shortly after the bombing of the Alfred P. Murrah federal building Rush Limbaugh read a White House memo on the air during his broadcast which named William Cooper, "the most dangerous radio host in America".
Mr. Cooper considered William Clinton's pronouncement the greatest compliment that he has ever received.
William Cooper's FBI file, promulgated by the investigation required by his security clearances while in military service, was one of those unlawfully in possession of the White House in what has become known as, "Filegate".
Shortly after this discovery President Clinton ordered all federal agencies to begin investigation, persecution, and prosecution of Mr. Cooper to shut him up.
After years of filing FOIA requests and researching the IRS William Cooper brought suit against the IRS in Federal District Court in Phoenix Arizona to force the IRS to produce proof of jurisdiction and delegation of authority which the IRS was unable to do.
To short circuit Mr. Cooper's attempt to reveal the true nature of the criminal IRS, and to carry out the orders of the White House, the agency lied to a Grand Jury, not allowing Bill Cooper to testify, and secured indictments against Mr. Cooper and his wife Annie.
This ploy successfully stopped Mr. Cooper from continuing his suit against the criminal IRS for fear of being arrested.
In 1998 VERITAS and Harvest Publications was sold to Hallmark Creative Corporation along with the copyright and all rights to all written material produced or ever to be produced by William Cooper including Behold A Pale Horse and Oklahoma City: Day one.
Hallmark Creative Corporation has contracted to insure this material is always available to the public.
William Cooper championed the cause of Truth and Freedom for all Peoples of all races, religions, and places of ancestral origin.
William was Native American, English, Scotch, and Irish.  He lived in Arizona with his beautiful Chinese wife Annie, daughters, Dorothy (Pooh), little Allyson and their dogs, Sugarbear, and Crusher.
In March of 1999 William Sent his family out of the United States for their security.
On June 28, 2001, William Cooper predicted the 9/11 attacks on air that would be blamed on Osama Bin Laden and correctly revealed the truth that the secret government would be behind the attack to further the New World Order, one world totalitarian socialist agenda.
Bill was killed by the Apache County Sheriffs Department during a raid on his home to serve a bogus warrant on November 5, 2001.
He is buried in Eagar, Arizona.
HN NOTE: I implore you to watch the "9/11/01 AS IT HAPPENED" VIDEO to recognize Bill's incredible, intuitive insight into the truth about the secret government's attack on We the People that dreadful day.  As Bill predicted, 9/11 was designed to take away the rights of the American People via the Patriot Act and other draconian legislation like the NDAA that has indeed occurred.
Rest in Peace, Bill.  We the People of the United States owe you a great debt for alerting us to the secret government and the New World Order Agenda to bring about a one world totalitarian socialist government.
May God hold you in the palm of his hand for all eternity.
Lord hear my prayer.  
HN
https://www.youtube.com/watch?v=te_bOL7piVE
https://www.youtube.com/watch?v=g7_HdcZ63DM
TRUTH TALK NEWS welcomes former CIA agent and whistleblower Barbara Hartwell to the show in a retrospective of the life and death of William Cooper.   
https://www.youtube.com/playlist?list=PLH6VtIA6NB7p5W6eQvI81AZfiUAUfT2of
https://www.youtube.com/playlist?list=PLH6VtIA6NB7q0VGelQJ6vxP3pEZ0Ugm2w
https://www.youtube.com/watch?v=qo_9g3EoKnA
To review the amazing body of Bill Cooper's work, including the Mystery of Babylon Series and all of his short wave broadcasts, please visit:
For more information  about William Cooper or to order material go to  hourofthetime.com
WAKE UP OTHERS AND SHARE THE TRUTH!
Watch TRUTH TALK NEWS
"Where truth the mainstream media ignores is the top story!"
Subscribe, follow and share TRUTH TALK NEWS
'One basic truth can be used as a foundation for a mountain of lies, and if we dig down deep enough in the mountain of lies, and bring out that truth, to set it on top of the mountain of lies; the entire mountain of lies will crumble under the weight of that one truth, and there is nothing more devastating to a structure of lies than the revelation of the truth upon which the structure of lies was built, because the shock waves of the revelation of the truth reverberate, and continue to reverberate throughout the Earth for generations to follow, awakening even those people who had no desire to be awakened to the truth.'
Delamer Duverus
TRUSTED PARTNERS IN TRUTH:
If you seek truth and want to restore Constitutional Gov't please subscribe and share the valuable information contained on this blog. Thank you for your continued support. Together we can restore Our republic. Together we can be the change we wish to see in the world by exposing the forces that wish to enslave us.
All content on TRUTH TALK NEWS and affiliated sites are for the purpose of FAIR USE and can be used by anyone in accordance with U.S. Copyright law.   Please share this information widely!
FAIR USE NOTICE: Some content displayed on this video/site may contain copyrighted material the use of which has not been specifically authorized by the copyright owner. This material has been made available in our efforts to advance understanding political, human rights, economic, democracy, scientific, and social justice issues, etc. constituting a 'fair use' of any such copyrighted material as provided for in section 107 of the US Copyright Law. In accordance with Title 17 U.S.C. Section 107, all the material on this site is distributed without profit to those who have expressed a prior interest in receiving the included information for research and educational purposes.