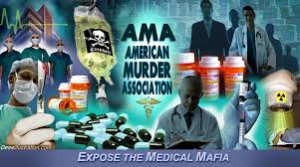 By Howard Nema
Totalitarians in the Anti-Constitution State of Connecticut are forcing a 17-year-old girl with cancer to have chemotherapy against her will.
An unprecedented legal war has begun in the Communist Common Core, Obamacare loving, gun-grabbing business and liberty killing state of Connecticut.
Agents of the Medical Mafia at Connecticut Children's hospital advised the State that "Cassandra C.", a 17 year old refused to take her medicine: costly and poisonous chemotherapy which is of course fully covered by Obamacare.
The battle began when Cassandra's mother supported her daughter's decision and the Cancer Industry maggots at Connecticut Children's hospital immediately contacted the Department of Children and Families and had her removed her from her home. Cassandra was then force-fed chemotherapy against her will.
Cassandra was diagnosed with Hodgkin's Lymphoma in September.    In November, the DCF received an order of temporary custody of the girl and ordered her mother to cooperate with her daughter's medical care under DCF supervision.
So much for Constitutional freedom.
Oh the hypocrisy with a huge right to die lobby working allow physicians to kill their patients.
So where are these right to die advocates?
They are noticeably silent. All I hear is crickets.
After two chemo treatments, Cassandra ran away from home.   When she returned, Cassandra refused to undergo any more chemo-poisoning, stirring the cancer industry's Medical Mafia agents at Connecticut Children's Medical Center's cancer into totalitarian rage.
Court documents noted: "Following a hearing at which Cassandra's doctors testified, the trial court ordered that she be removed from her home and that she remain in DCF's care and custody."
The court has authorized DCF to make all necessary medical decisions on Cassandra's behalf, despite Cassandra's vehement protests.
Side effects of chemotherapy can include nausea, hair loss, vomiting, fatigue, diarrhea and YES: CANCER.
Not only does chemotheraphy destroy vital organs it weakens the immune system and makes the body more suceptible to disease.
There are many natural treatments to fight cancer, but the FDA and AMA Cancer Industry demonize anything but the trinity of evil of chemo-radiation and surgery as the only alternatives to death.
People who have cured their cancers with cannabis oil, changing the PH alkaline in the body and other non-pharmaceutical means have been negated from all research by the Medical mafia and called quackery, or worse–murder.
Considering the Medical Mafia kills 400,000 people each year in the United States alone that sure is the pot calling the kettle black, isn't it?
The Gerson Treatment, Rene Cassie's Essiac, Hoxley's treatment, Dr. Antonella Carpenter's, L.E.I.SH and many other successful treatments that cured hundreds and thousands of patients are demonized and either outlawed by the FDA and must be done out of the country as with the Gerson treatment, or done stealthily with fear of the FDA SWAT team gestapo seizing all assets and property as in the case of Dr. Antonella Carpenter, who now faces 30 years in prison for
curing more than 100 cancer patients!
The FDA also intimidates patients who seek any and all means other than the trinity of evil, chemo-radiation-surgery, ignoring patients who were in fact cured by alternative means.
As mentioned, and for the record, medical treatment results in over 400,000 deaths annually.
Medical treatment is the #3 killer in the United States!
These stats are of course suppressed, but are nonetheless true.   Yet, they want Our guns outlawed due to 33,000 deaths, which is roughly the same amount of people killed in motor vehicle accidents.
Hey, maybe we should ban cars?
To understand the Medical Mafia's power and prowess, you only need to watch commercials on the controlled mainstream media where almost all new drugs cause cancer, sudden death or suicide as side effects.
How evil is that?  0Yet, all of these drugs are FDA approved.   Many of these dangerous and deadly drugs eventually are found to be unsafe after thousands die, only then are the drugs are pulled from the market.
BIG PHARMA DOESN'T CURE ANYTHING!  CURES KILL DRUG COMPANY PROFITS!
The pharmaceutical industry profits allow them to quickly move from one faulty drug to the next.
From 2004 to 2008, Pfizer, one major pharmaceutical company, took in $245 billion.
During that same time period, another company, Eli Lilly, made $36 billion from just one of its drugs (Zyprexa).
Between 2004 and 2010, major drug companies paid out $7 billion in fines, penalties and lawsuits.  A very small price to pay in comparison to the industry's tremendous profits.
Still, the American sheople do not seem to notice, care or are willfully ignorant to that fact that every day Americans are poisoned and killed by dangerous prescription drugs.
Since 2000, the Food and Drug Administration (FDA) has approved an average of 24 drugs a year, including many that pose health risks and serious long-term side effects.
DRUG COMPANIES ARRANGE THIS TO HAPPEN WHEN THEY CONDUCT FLAWED OR DISHONEST CLINICAL TRIALS, FAILING TO REPORT NEGATIVE RESULTS TO THE FDA, SHORT TERM STUDY PERIODS, STUDYING SMALL GROUPS OF PEOPLE AND PAYOFFS TO FDA BRASS
The systematically corrupt FDA responds to adverse reactions to drugs in a variety of ways, such as meetings, controlled reports and reviews, and demands for more controlled trials, letters to doctors, new warnings labels, and requirements that patients enroll in special programs for drugs.
Patients who have been injured by a prescription drug often engage in  lawsuits against drug companies.
These lawsuits can cover exorbitant medical costs, as well as pain and suffering.   The most important role of the lawsuits is that they speak the drug companies' language: money.
Among the dangerous drugs out there are:
Type 2 diabetes drugs Avandia and Actos.
Antidepressants Paxil, Prozac, Effexor, Zoloft and Lexapro.
Mood stabilizer Depakote.
Birth control pills Yaz and Yasmin.
Acne medication Accutane.
Blood thinners Pradaxa and Xarelto
Osteoporosis treatment Fosamax.
GranuFlo and NaturaLyte, which are used in dialysis.
Hair loss pill Propecia.
These drugs come with side effects that range from birth defects and liver damage to suicidal behavior, blood clots, bladder cancer, Crohn's disease, heart attacks, strokes, uncontrollable bleeding and heart failure.
Let's take a closer look at these poisons being touted as "treatments".    Treatments that cause further disease requiring even more Big Pharma "treatments".
Diabetes Drugs
Actos
Actos (pioglitazone) received FDA approval in 1999, and was celebrated as the next great type 2 diabetes drug.   It has been prescribed to 10 million people around the world.
Actos' bright future began to grow dim in 2007 when the FDA added a black-box warning to the label, warning patients of the risk of heart failure.
In 2011, the FDA added another warning to the Actos label for bladder cancer.
The label change came after Takeda Pharmaceuticals, which manufactures Actos, released study results showing that long-term use of Actos increases the risk of bladder cancer by 40 percent.
France and Germany banned Actos in 2011. The FDA is waiting until final results from that study are released in 2013 to take any further action on Actos.
While the FDA sits on its hands, a new study published in the British Medical Journal shows long-term use of Actos increases the risk of bladder cancer by 83 percent.
Thousands of patients have filed lawsuits after going through multiple surgeries, radiation and chemotherapy all thanks to the would-be miracle drug Actos.
WAKE UP! BIG PHARMA CAUSES CANCER TO KEEP THE CANCER INDUSTRY THRIVING!
Avandia
Avandia, another type 2 diabetes drug was launched in 1999 and was later implicated in heart attacks.
The FDA estimates that Avandia caused 83,000 heart attacks from 1999 to 2007, the year in which the FDA added a black-box warning to the drug.
In September 2010, the FDA significantly restricted use of Avandia, allowing access only to a select group of doctors and patients.
GlaxoSmithKline has settled at least 35,000 Avandia lawsuits, paying out $3 billion in late 2011 to settle cases involving several of its drugs as well as a government investigation.
The two-year investigation by the U.S. Senate Finance Committee revealed that the drug company knew of the heart risks associated with Avandia for a long time and tried to hide concerns about the drug.
Antidepressants
Paxil
In 1992, SmithKline Beecham — which would later become GlaxoSmithKline — launched Paxil (Paroxetine), which is a  selective serotonin reuptake inhibitor (SSRI).
Like other antidepressants, Paxil carries a black-box warning that it can increase suicidality in children, adolescents and young adults.
FDA reported in 2006 that 11 suicide attempts had occurred in patients given Paxil in trials.
Based on the allegation that GlaxoSmithKline misled consumers about Paxil's safety — including increasing suicidal behavior — a $64 million class-action suit was settled in 2007.
One FDA study shows that pregnant women who take Paxil during the first trimester have double the risk of having a baby with a heart defect, compared to other women. GlaxoSmithKline has spent almost $1 billion to settle birth-defect litigation.
Prozac
Prozac (fluoxetine) is an antidepressant made by Eli Lilly that hit the market in 1987. Prozac is an SSRI that is used for depression, obsessive compulsive disorder (OCD), bulimia nervosa and panic disorder.
This medicine that has been prescribed to over 50 million people worldwide may cause serotonin syndrome and increases the risk of suicidal thinking and violent behavior.
In 1989, Prozac made the news as one man, Joseph Wesbecker, wounded 12 people and killed eight, before killing himself .
Just weeks before the shooting, Wesbecker had started taking Prozac. The victims' families sued Eli Lilly and lost. In 2011, a 16-year-old boy received a three-year sentence after stabbing one of his friends. His doctor attributed his actions to a Prozac-induced mood disorder.
More than 150 lawsuits have been filed faulting Eli Lilly for not properly testing Prozac to show that it may make users aggressive and suicidal. Eli Lilly is also facing lawsuits over birth defects that resulted from a woman's use of Prozac during pregnancy.
In 2006, the FDA added labeling to all SSRIs warning of the increased risk of pulmonary hypertension in the newborn (PPHN), which can be fatal.
Effexor
Approved in 1993, Effexor (venlafaxine) is manufactured by Wyeth — which was later purchased by Pfizer — to treat depression, generalized anxiety disorder, social anxiety disorder and panic disorder. In 2005, sales of Effexor totaled $3.5 billion.
In 2003, Wyeth warned health care professionals that in children ages 6 to 17 Effexor was not shown to be effective or safe, causing hostility and suicidal events.
The U.K. General Practice Research Database was used in 2007 to compare antidepressants Celexa (citalopram), Prozac (fluoxetine), dothiepin and Effexor.  The study showed that Effexor carries the highest risk of suicidality.
Effexor and all antidepressants carry the FDA's black-box warning about the risk of suicide during the early stages of treatment, especially in kids. Effexor use during pregnancy can cause serious birth defects, and many parents have sued Pfizer after their baby has suffered.
Zoloft
Zoloft (sertraline) is an antidepressant created by Pfizer and approved by the FDA in 1999. By 2011, nearly 100 million people had taken Zoloft. Mainly used to treat major depressive disorder, Zoloft is part of the SSRI drug class.
SSRIs come with a risk of suicidality and violent behavior, especially in children and adolescents.
Using Zoloft while pregnant can lead to birth defects, including persistent pulmonary hypertension in infants (PPHN), which can be fatal. In May 2012, more than 60 Zoloft lawsuits were filed on behalf of babies born with birth defects.
Lexapro
Approved by the FDA in 2002 to treat depression and anxiety, Lexapro (escitalopram) is a popular SSRI but is associated with birth defects.  The drug, produced by Forest Laboratories, had sales of more than $355 million in 2011.
Dozens of lawsuits have been filed after women took Lexapro and gave birth to children with birth defects. Birth defects resulting from Lexapro include persistent pulmonary hypertension of the newborn (PPHN), limb defects, spina bifida, cranial defects and neural tube defects.
Depakote
Depakote (divalproex sodium) is an anticonvulsant and is used to treat mood disorders, seizures and migraines. It was approved for its first indications by the FDA in 1983. The drug later was illegally marketed for unapproved uses, such as for youths with bipolar or seniors with dementia.
As a result, Abbott Laboratories, the drug's manufacturer, was required to pay $700 million in criminal penalties.
Many women have filed lawsuits against Abbott Laboratories, after Depakote led to birth defects such as developmental delays, spina bifida, cleft palate and bodily malformations.
A 2006 study showed that 20 percent of women taking the medication while pregnant gave birth to children with birth defects, and as a result the FDA gave the medication a black-box warning concerning potential birth defects.
Hormone Drugs
Testosterone
There are a number of testosterone replacement drugs currently on the market.  The most popular and most prescribed drug in the U.S. is AngroGel (testosterone gel) manufactured by Abbott Laboratories' subsidiary, AbbVie.
The National Institutes of Health (NIH) funded one of the most recent studies published in PLOS ONE. The study was based on the records of 55,000 men who were prescribed testosterone in the U.S. Researchers found the risk of heart attacks doubled for men who had used testosterone during the first three months. There have been other studies that also show an increased cardiovascular risk.
Based on these findings, watchdog group, Public Citizen, petitioned the FDA to add a black box warning to all testosterone drugs. Dr. Sidney Wolf wrote in an article published in BMJ on February 27, 2014 that 1 in 167 men over aged 65 will have a heart attack because of testosterone drugs.
For men under 65 with preexisting heart conditions, that risk jumps to 1 in 100.
Birth Control Pills
Yaz and Yasmin
Released in the United States in 2006, Yaz (drospirenone/ethinyl estradiol) is a birth control pill manufactured by Bayer.
Yaz is a sister drug to Yasmin, which was approved in 2001. Both medications contain drospirenone ethinyl estradiol, so they carry the same risk.
From 2008 to 2009, Yaz was the top-selling birth control pill in the United States. In April 2012, Yaz continued in popularity as the fourth best-selling oral contraceptive. Yet several studies show that Yaz puts women at an increased risk for blood clots.
Blood clots can contribute to deep vein thrombosis (DVTs), pulmonary embolism (PE), stroke or heart attack.
On April 10, 2012, the FDA required Yaz to include a warning that drospirenone-containing pills increase the risk of blood clots by threefold. Also, a former FDA commissioner, David Kessler, filed an affidavit, claiming that Bayer withheld early reports of blood clots from the FDA in 2004.
A multidistrict litigation (MDL) has been set up in Illinois to handle the 10,000-plus lawsuits over Yaz and Yasmin side effects.
Acne Medication
Accutane
Approved by the FDA in May 1982, Accutane (isotretinoin) is an oral medication from Roche that was once available for treating acne. Prescribed to more than 13 million patients, many users experienced cured acne after four to five months of treatment.
Serious side effects from Accutane include inflammatory bowel disease, ulcerative colitis, Crohn's disease, suicidal thoughts, birth defects, liver damage and gastrointestinal disorders.
The Adverse Event Reporting System (AERS), a computer database of post-marketing adverse side effects, includes around 23,000 Accutane reports from 1982-2002, covering everything from alopecia (hair loss) and depression, to headache, dry skin and induced abortion.
As of 2002, 172 babies had been born with a congenital defect or anomaly after the mother had taken Accutane. Through 2002, there was a cumulative total of 173 suicides in association with Accutane.
The FDA met with Roche, the manufacturer of Accutane, in 2000 to set up a program to ensure that no woman took Accutane during pregnancy and that no pregnancies would occur while a woman was taking Accutane.
The SMART (System to Manage Accutane Related Teratogenicity) program was designed to minimize the risk of birth defects by requiring a qualification sticker on prescriptions, consent forms, an information guide, a patient video, a guide for those who prescribe drugs and pharmacists and carton instructions.
Warnings concerning severe stomach pain, diarrhea and rectal bleeding were hidden in 3,000 words of possible side effects, and in 2005 Kamie Kendall won $10.5 million in damages after having her colon and rectum removed.
Andrew McCarrell won $25 million after having his colon removed in 2007.
In 2009, Roche Pharmaceuticals responded to multiple personal injury lawsuits by removing Accutane from the market. But the legal settlements didn't end there. In 2012, Gillian Gaghan was awarded $2 million for injuries related to inflammatory bowel disease after using Accutane for six months.
Cholesterol Drugs
Crestor
Crestor (rosuvastatin), made by AstraZeneca, was approved in August 2003.  It claims to lower bad cholesterol up to 52 percent. Global sales reached $6.6 billion in 2011.
Crestor belongs to a class of drugs known as statins. Crestor can cause rhabdomyolysis (muscle tissue damage), kidney (renal) failure and chronic or abnormal bleeding.
The FDA has written letters to AstraZeneca demanding it stop running commercials that exaggerate the drug's benefits and downplay its dangers. In 2005, the FDA added a warning to the drug that all patients who use high doses of Crestor — 40 mg a day — are at an increased the risk of developing life-threatening muscle damage.
Sydney Wolfe from the Public Citizens Health Research Group — a nonprofit advocacy organization that represents consumer interests in Congress —  said that in two years Crestor was linked to 117 cases of rhabdomyolysis and 41 cases of kidney failure, 11 of which resulted in death.
Blood Thinners
Pradaxa
Millions of Americans take blood thinners to reduce the risk of stroke caused by atrial fibrillation (irregular heartbeat).   For decades, patients had limited options for blood thinners with most taking warfarin, a medication that requires diet changes and regular blood tests.
All of that changed in October 2010, when the FDA approved Boehringer Ingelheim's Pradaxa (dabigatran), a blood thinner that does not require the same maintenance as warfarin. Within two years, more than 3.7 million U.S. patients had filled Pradaxa prescriptions.
All blood thinners make patients more susceptible to bleeding accidents, however, with Pradaxa there is no antidote to stop bleeding, which can lead to disabling or fatal injuries.  Hundreds of bleeding accidents associated with Pradaxa have been reported, and 542 deaths were reported in 2011.
Studies of Pradaxa also show an increased risk of heart attack and heart disease compared with warfarin. Nearly 200 people have filed Pradaxa lawsuits, most of which are consolidated in a multidistrict litigation (MDL) in Illinois.
Xarelto
One of the newest blood thinners is Xarelto (rivaroxaban), approved by the FDA in July 2011. Xarelto is approved for use after knee and hip replacement surgery to reduce the risk of blood clots. In November 2011, the drug's indications were expanded to include atrial fibrillation (AF).
There is no bleeding antidote for Xarelto, which means users of the drug can experience dangerous, uncontrollable bleeding events. Additionally, since the drug was fast-tracked, unknown side effects may also be putting patients at risk.
Osteoporosis Treatment
Fosamax
The FDA approved Fosamax (alendronate sodium), made by Merck, in 1995 to treat osteoporosis in postmenopausal women. It is estimated that millions worldwide have used the drug for osteoporosis and other indications, including Paget's disease.
Some people taking Fosamax have suffered from injuries such as ONJ, or jaw death, joint and muscle pain, atrial fibrillation, and inflammation and ulcers of the esophagus. Nearly 1,000 people have filed lawsuits against Merck after experiencing severe side effects.
Pain Medication
Vioxx
Initially approved for acute pain such as rheumatoid arthritis in adults or menstrual related symptoms, Vioxx (rofecoxib) was available from 1999 to 2004. Vioxx is a part of a class of drugs called non-steroidal anti-inflammatory drugs, or NSAIDs, and functions like ibuprofen.  Merck manufactured the drug which reached sales of $2.5 billion in 2003.
Multiple studies revealed that this drug meant to assist patients was actually increasing the risk of heart attack. September 2004 Merck voluntarily withdrew the drug from the market. Over 60,000 people have filed claims against Merck after Vioxx use led to heart attacks, strokes and other injuries.
The company set up a $4.85 billion dollar fund to assist in resolving consumer claims. Additionally, Merck pleaded guilty to charges based on illegal marketing and agreed to pay fines of $950 million.
Gastrointestinal Drugs
Reglan
Reglan (metoclopramide) was approved by the FDA in 1980 and is used to treat migraines, heart burn, acid reflux, nausea, vomiting and gastroparesis, a digestive condition. In 2011, around 1 million people filled prescriptions of Reglan. That same year the Institute for Safe Medication Practices released a report that 1,180 cases of Tardive Dyskinesia resulted from Reglan use.
Tardive Dyskinesia (TD) occurs as a side effect of certain medications and is a neurological disorder causing uncontrollable rapid movements of the face and the body. Severe cases can inhibit talking, walking and eating. Because of this, over 5,000 people have filed lawsuits against manufacturers of metoclopramide.
Dialysis Treatment
GranuFlo and NaturaLyte
Many people with acute or chronic kidney failure receive dialysis treatment with GranuFlo and NaturaLyte.   Fresenius Medical Care (FMC), the world's leading provider of kidney dialysis services and products, manufactures these two products. They were approved in 2003 to assist in dialysis treatment.   The products are now used by around half of dialysis patients.
Because dialysis machines were not properly calibrated, patients have suffered from excessive amounts of acid in the blood, which can lead to organ damage, heart arrhythmia, heart attack, coma and death.
In 2012, these two products briefly were recalled to clarify dosing instructions. FMC now faces mounting lawsuits, after more than 900 patients suffered cardiac arrest after using their products.
Hair Loss Pill
Propecia and Proscar
Men struggling with male-pattern baldness or enlarged prostate may take Propecia or Proscar, which both include finasteride and are manufactured by Merck. The FDA approved Proscar in 1992 and Propecia in 1997.
The FDA's adverse event database received hundreds of reports of erectile dysfunction associated with use of finasteride.
Even after discontinuing use of the drug, patients may experience side effects. In April 2011, the FDA required updates to the drug label informing users that libido disorders, ejaculation disorders and orgasm disorders can occur during and after use of finasteride. The label also includes a warning concerning increased risk of high-grade prostate cancer.
The (intentionally) reckless behavior of the drug companies shows no signs of changing.
Negative clinical trials are never reported or overlooked, and the FDA buys in. Doctors write millions of prescriptions that may be damaging the health of innocent patients.
Only by holding companies accountable in court for threatening their very lives, can patients help prevent others from suffering from the same faulty drugs.
Remember, all the drugs banned by the FDA were once found SAFE AND EFFECTIVE by the FDA.
TV and print pharmaceutical commercials depict happy couples frolicking at the beach, enjoying life, playing with puppies and kittens, laughing and having a grand old time as the deadly side effects are rattled off to these jovial smiles, grins and happy times.
It is almost laughable that the average America dismisses these dangers because they trust their doctors to know what is best for them.
So, ask your doctor if cancer, diabetes, suicide, heart failure and sudden death is right for you. Then ask him/her why more than 400,000 Americans each and every year die as a result of medical treatment.
It stands to reason then why Obamacare is so awful to the health of Americans.  It was written by the greedy genocidal drug companies and their partners in crime, the insurance companies.
Obamacare was not designed to make healthcare more affordable and give quality care, rather to break the backs of the working class, line their pockets with profits and help to facilitate the totalitarian socialist global depopulation agenda.
In true New World Order fashion, Americans are being forced to pay for the promulgation of their own illnesses and deaths at the hands of the insidious and untouchable Medical Mafia.
Why else are they so desperately trying to mandate vaccines and flu shots?   It is not to keep us healthy, folks.  Rather it is to make money at the expense of the healthy and to make the healthy sick.   It is a vicious, stealthy cycle of death and financial ruin.
The number one cause of bankruptcy in the United States is medical bills.  Obamacare was sold to end all of that, but in truth it has only made matters worse and left all Americans vulnerable to stifling taxation and  exorbitant heath care premiums and deductibles.
It is another method to steal the wealth of the middle class and create a neo-fuedal two class, where the mass of humanity is solely dependent on the State.
Cassandra and her mother have appealed the trial court ruling, claiming that forced treatment violates their constitutional rights by allowing the DCF to use their judgment over their own without any finding of incompetence on their behalf.
They also claim that Connecticut should recognize the "mature minor doctrine" that requires a court to first determine if a minor is not sufficiently mature to be legally allowed to make medical decisions on her own.
"It's a question of fundamental constitutional rights–the right to have a say over what happens to your body–and the right to say to the government 'you can't control what happens to my body,'" said Cassandra's mother's attorney, Michael S. Taylor. Taylor represents Cassandra's mother, while a state public defender represents Cassandra.
Cassandra and her mother claim that Connecticut's common law and public policy dictate that DCF cannot force Cassandra to receive medical treatment over her knowing and informed objection and over the knowing and informed objection of her mother, according to the court documents.
Cassandra's case will be heard Thursday at the Connecticut Supreme Court in Hartford. She must remain imprisoned at the local hospital and forced to continue treatment against her wishes until the unprecedented case is heard. What an outrage!
"The Supreme Court of the state has never ruled on this issue, the Supreme Court of the United States has not ruled on this issue. So it's very significant not just for our client, and for the minor child, but for the law in general," said Taylor.
Welcome to the New World Order operating in plain sight here in the "Con-stitution State", across Our Nation and the globe.
WAKE UP OTHERS AND SHARE THE TRUTH!
Watch TRUTH TALK NEWS
"Where truth the mainstream media ignores is the top story!"
Subscribe, follow and share the truth!
'One basic truth can be used as a foundation for a mountain of lies, and if we dig down deep enough in the mountain of lies, and bring out that truth, to set it on top of the mountain of lies; the entire mountain of lies will crumble under the weight of that one truth, and there is nothing more devastating to a structure of lies than the revelation of the truth upon which the structure of lies was built, because the shock waves of the revelation of the truth reverberate, and continue to reverberate throughout the Earth for generations to follow, awakening even those people who had no desire to be awakened to the truth.' – Delamer Duverus
If you seek truth and want to restore Constitutional Gov't please subscribe and share the valuable information contained on this site. Thank you for your continued support.
Together we can restore Our republic.
Together we can be the change we wish to see in the world by exposing the forces that wish to destroy and enslave us.
All content on TRUTH TALK NEWS and HowardNema.com are for the purposes of FAIR USE and can be used by anyone in accordance with U.S. Copyright law.
Please share this information widely!
FAIR USE NOTICE: Some content displayed on this video/site may contain copyrighted material the use of which has not been specifically authorized by the copyright owner.
This material has been made available in our efforts to advance understanding political, human rights, economic, democracy, scientific, and social justice issues, etc. constituting a 'fair use' of any such copyrighted material as provided for in section 107 of the US Copyright Law.
In accordance with Title 17 U.S.C. Section 107, all the material on this site is distributed without profit to those who have expressed a prior interest in receiving the included information for research and educational purposes.