This is the fifth installment of PAST IS PROLOGUE, a series of interviews with key figures of history from the early days of television that foreshadow many of the ills and dangers we are facing today as society moves into the New World Order.
This  documentary series takes an objective look to the past to reveal a better understanding of the future using historical interviews, references and events to demonstrate how the past is indeed prologue.
Aldous Huxley was an English writer, philosopher and a prominent member of the eugenicist elitist Huxley family.    He wrote Brave New World, and The Doors of Perception, which recalls experiences when taking a psychedelic drug.
Early in his career Huxley edited the magazine Oxford Poetry, and published short stories and poetry.     Later, he published travel writing, and this is significant as you will soon hear– Huxley wrote movie treatments and screenplays.
He was educated at Eton College and taught French there for a year, where Eric Blair, also known as George Orwell and Steven Runciman were among his pupils.
Huxley was an incompetent and hopeless teacher who couldn't keep discipline.   Nevertheless, Blair and others were impressed by his use of words.
Also significantly, Huxley also worked for a time in the 1920s at the technologically advanced Brunner and Mond chemical plant in  Billingham, Teesside, and the introduction to his famous science fiction novel Brave New World (1932) states that this experience of "an ordered universe in a world of planless incoherence" was one source for the novel.
He spent the later part of his life in the US, living in Los Angeles until his death on November 22, 1963, the same day JFK was assassinated.
Huxley was a humanist, pacifist, and satirist. Later in life, he became interested in spiritual subjects such as parapsychology and philosophical mysticism, in particular, Universalism. By the end of his life, Huxley was widely acknowledged as one of the pre-eminent intellectuals of his time and was nominated for the Nobel Prize in Literature in seven different years.
In 1962, a year before his death, he was elected Companion of Literature by the Royal Society of Literature.
That same year, Huxley gave a lecture entitled, THE ULTIMATE REVOLUTION" at Berkeley College.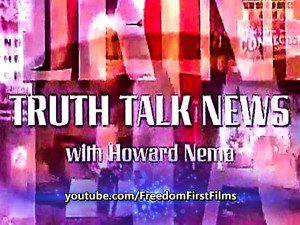 Subscribe, follow and share the truth @
http://www.HowardNema.com
http://www.youtube.com/TruthTalkNews
http://www.youtube.com/TruthTalkNewsLIVE
"Where truth the mainstream media ignores is the top story!"
'One basic truth can be used as a foundation for a mountain of lies, and if we dig down deep enough in the mountain of lies, and bring out that truth, to set it on top of the mountain of lies; the entire mountain of lies will crumble under the weight of that one truth, and there is nothing more devastating to a structure of lies than the revelation of the truth upon which the structure of lies was built, because the shock waves of the revelation of the truth reverberate, and continue to reverberate throughout the Earth for generations to follow, awakening even those people who had no desire to be awakened to the truth.' 
Delamer Duverus
If you seek truth and want to help restore Constitutional Gov't please subscribe and share the valuable information contained on this site. Thank you for your continued support.
All content on TRUTH TALK NEWS and HowardNema.com are for the purposes of FAIR USE and can be used by anyone in accordance with U.S. Copyright law.
TRUTH TALK NEWS and http://www.HowardNema.com are both free and independent of any network, group or association.
FAIR USE NOTICE: Some content displayed on this video/site may contain copyrighted material the use of which has not been specifically authorized by the copyright owner. This material has been made available in our efforts to advance understanding political, human rights, economic, democracy, scientific, and social justice issues, etc. constituting a 'fair use' of any such copyrighted material as provided for in section 107 of the US Copyright Law. In accordance with Title 17 U.S.C. Section 107, all the material on this site is distributed without profit to those who have expressed a prior interest in receiving the included information for research and educational purposes