By Howard Nema
As America mires though a designed decades long socio-economic decline eating away at the middle class and increasing poverty, welfare and dependence on government, the media, politicians and academics at the top of the food chain prop up a false narrative of lies of growing opportunities and prosperity achieved only by means of globalism.
US manufacturing, the engine of America's growth continues to dwindle.  American's wealth is slowly vanishing to overseas interests.   The US and global financial system is nearing an inevitable collapse.   As you read this,  the Hidden Masters who have devised the schemes of globalism, climate change, United Nations Agenda 21 Sustainable Development are now devising a new currency scheme behind closed doors.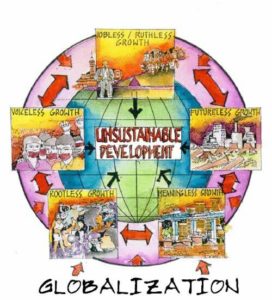 If this isn't all bad enough, Our current struggles are worsened by the promotion of chaos and civil unrest agitated by traitors, race baiters and charlatans fomenting hatred, political, racial and religious tensions, while distracting us from the many subversions of the rule of law.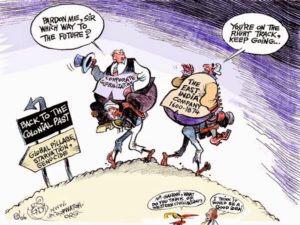 All of this reminds me of "The Republic" by Plato.
America is a Constitutional Republic. We are not a democracy. A democracy is where political representatives are elected by the people by the rule of the majority. In a democracy the rights of the individual can be taken away for the perceived benefit of the majority.
In a republic individual rights cannot be swayed or taken away by the voice or force of the majority.
This is what makes America s unique. Despite what you hear from Obama, democrats and socialists, America is not a "constitutional democracy". We are a Republic. America is not, and has never been a constitutional democracy. We are a republic with some democratic principles.
Despite all the conflicting interests; lifestyles, class, race, sexual orientation and ideas, Plato believed that society can be harmonized under a Republic.
For the best, most rational and righteous political order, Plato proposed a society that allows each of its parts to flourish, with some having much, but none having too little. But unlike socialism, communism, fascism or even benevolent despotism, this was not to be accomplished at the expense of others.
Plato also emphasized that such a society would be impossible without virtue.
[ vir·tue: noun: virtue; plural noun: virtues: behavior showing high moral standards. ]
Liberalism, Marxism, socialism, fascism and communism ignore this truth in favor of the destruction of the middle class, which is the true economic engine of all societies and the very class democrats are supposedly working to help and the republicans are supposedly trying to hurt.
The fact is, BOTH parties are working for the benefit of the power structure, not for the benefit, but rather the appeasement of the people.
Oligarchs, totalitarians and their political puppets falsely praise democracy and freedom while intentionally ignoring Plato's wisdom and maintaining the status quo.
Are Our political leaders, who espouse a society dependent on the state using big government as a weapon of enslavement of society via welfare and socialism wiser than Plato?
Or are they helping to maintain the oligarchial order established long before Platos time?
ARE WE NEAR CRITICAL MASS OF AWAKENING?
Evidence of the "rigged system" illuminated by Bernie and Donnie in the 2016 Presidential sideshow should offer some level of awakening, should it not?
When we all realize this, there can be true, meaningful change.
Until then, we are merely pissing up a rope when we pull a voting lever.
CLICK HERE TO SUBSCRIBE TO TRUTH TALK NEWS CHANNEL 2:
ADDITIONAL TRUTH TALK NEWS SITES:
CLICK HERE TO SUBSCRIBE TO THE ORIGINAL TRUTH TALK NEWS CHANNEL
http://www.TruthTalkNews.blogspot.com
http://truthtalknewschannel2.blogspot.com/
TRUTH TALK NEWS
"Where news the mainstream media ignores is the top story!"
All information reported on TRUTH TALK NEWS and HowardNema.com is sourced and verifiable.
Feel free to share and download this FAIR USE content.
Do the research.
Find your own truth.
There is only one truth.
Seek and you will find it.
SOURCES, ARTICLES, BOOKS, LINKS AND RELATED RESEARCH INFORMATION:
[PDF]The Deindustrialization of America
http://www.businessinsider.com/sad-facts-deindustrialization-america-2011-11
The De-industrialization of America – PaulCraigRoberts.org
http://www.businessinsider.com/2009/2/america-lost-102-trillion-of-wealth-in-2008
http://www.pbs.org/wgbh/frontline/article/how-much-did-the-financial-crisis-cost       
http://fivethirtyeight.com/features/why-the-housing-bubble-tanked-the-economy-and-the-tech-bubble-didn't
[PDF]Agenda 21 – Sustainable Development Knowledge Platform
https://www.theguardian.com/sustainable-business/2015/jun/24/agenda-21-conspiracy-theory-sustainability
http://www.democratsagainstunagenda21.com
Fritz-Springmeier-Bloodlines-of-the-Illuminati
americas-assignment-with-destiny
saul-alinsky-rules-for-radicals
Schlesinger Predicts the Future of Socialism
Secrets-from-the-Vatican-Library
Secret-Societies Secret-Societies-and-European-Revolution
https://www.globalpolicy.org/global-taxes/47948-the-threat-of-globalization.html
http://www.forbes.com/sites/mikecollins/2015/05/06/the-pros-and-cons-of-globalization/#6e17f13c2170
http://sfppr.org/2012/10/how-globalization-threatens-americas-sovereignty-security-and-prosperity/
http://www.scientificamerican.com/article/does-globalization-help-o-2006-04/
RISING NATIONAL DEBT MAY BE THE NEXT ECONOMIC CRISIS – ABC NEWS
EVERYTHING YOU NEED TO KNOW ABOUT THE NATIONAL DEBT
http://dailysignal.com/2016/06/13/david-perdue-ceo-turned-senator-warns-of-americas-coming-debt-crisis/
George Carlin's daughter,  @kelly_carlin, on her first radio show with guest Paul Provenza, talking about George Carlin's American Dream  routine.