ADDENDUM:
https://www.youtube.com/watch?v=JisozaWHOH0
UPDATED 2/6/17
By Howard Nema
For the last few months I have done extensive research into the nefarious connections between Satanism, Scientology, Freemasonry, the Ancient Mystery Religions, ritual abuse of children, sex (and drug) trafficking, ritual murder and intelligence agencies.

These are my findings.  First off, they are ALL cults that use deception to shape, manipulate and control their initiates belief system.

Science fiction writer and Freemason L. Ron Hubbard founded the Church of Scientology in 1952.

One of the main beliefs of the church is that a person's soul is already damaged and the goal of someone's life is to shed harmful memories to better themselves through a process called auditing.

Souls are damaged because the souls of 3.5 trillion aliens were banished to Earth by a warlord named Xenu.   The aliens, called Thetans, were put into volcanoes and then destroyed by nuclear bombs.

This is the doctrine of Scientology.   In France Scientology has been designated as a cult.

It's founder L. Ron Hubbard was a Satanist and close friend of fellow Satanists Aleister Crowley and Jack Parsons.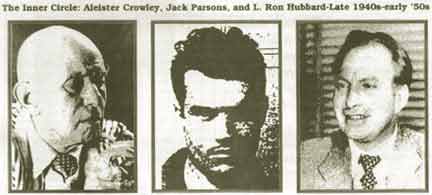 Crowley invented the religion Thelema, based mostly on Ancient Egyptian and Eastern Mysticism, as practiced by Marina Abramovic and revealed by Wikileaks.   Wikileaks also revealed the existence of an international pedophile network surrounding elite Washington "worshipers" of Thelema, including Tony and John Podesta, among other politicians, celebrities  and luminaries.   

I have amended this article to include information on  DynCorp's connections to child sex trafficking and wealthy elitists in the Middle East.

DynCorp, a United Nations and US Military contractor  was involved in a sex slavery scandal in Bosnia in 1999, with its employees accused of rape and the buying and selling of girls as young as 12.
Dyncorp, who was hired to perform police duties for the UN and aircraft maintenance for the US Army, were implicated in prostituting the children.   The company's Bosnia site supervisor filmed himself raping two women.  

A number of employees were transferred out of the country, but with no legal consequences for them.

Kathryn Bolkovac, a former Nebraska policewoman served as a U.N. peacekeeper working with DynCorp to

support the UN peacekeeping mission in Bosnia.

Her post was with the International Police Task Force.    She was assigned to run the Task Force office that investigates sex trafficking, domestic abuse and sexual assault.

But once she arrived in Sarajevo, she discovered military officers involved in human trafficking and forced prostitution, with links to private mercenary contractors, the UN, and the U.S. State Department.

After bringing this evidence to light, Bolkovac was successively demoted, threatened with bodily harm, fired, and ultimately forced to flee the country under cover of darkness—bringing the incriminating documents with her.

Thanks to the evidence she collected, she won a lawsuit against DynCorp, publicly exposing their human rights violations.  

Her story, recounted in the book The *Whistleblower: Sex Trafficking, Military Contractors, and One Woman's Fight for Justice*, later become the Hollywood feature film "The Whistleblower".

https://youtu.be/3qLgI1jjq7U

In the above video,  Ms. Bolkovac discusses her story, human trafficking, and other topics with Tanya Domi, whose reporting broke this story.

Bolkovac reported that peacekeepers, U.N. workers and international police were visiting brothels and facilitating sex trafficking by forging documents and aiding the illegal transport of woman into Bosnia.

DynCorp fired Bolkovac, who returned to the U.S. and won a wrongful termination case, but she was blacklisted as a result.

This was one of two cases involving DynCorp and sexual scandal in Bosnia.   The other, involved air plane mechanic Ben Johnston who sued DynCorp, alleging he was sacked because he had uncovered evidence that Dyncorp employees were involved in 'sexual slavery.
In a much less noticed case, in October 2004 it was revealed that DynCorp contract workers operating at Tolemaida Air Base in Colombia distributed a video in which they could be observed sexually violating underage girls from the town of Melgar.
This video was even sold on the main streets of Bogotá. Nonetheless, the Lawyers' Collective of Colombia has not learned of any criminal investigation undertaken in relation to these acts involving minors.
According to follow-up work carried out by the Lawyers' Collective it was discovered that one of the minors involved in the videos committed suicide some time after the publication of them.
Now, courtesy of Wikileaks, DynCorp can look forward to a new round of ridicule and denunciations.
As first reported by the British Guardian newspaper, on June 24, 2009 the U.S. embassy in Afghanistan sent a cable to Washington, under the signature of Karl Eikenberry, U.S. ambassador to Afghanistan, regarding a meeting between Assistant Chief of Mission Joseph Mussomeli and Afghan Minister of Interior Hanif Atmar.
Among the issues discussed was what diplomats delicately called the "Kunduz DynCorp Problem." Kunduz is a northern province of Afghanistan
In a May 2009 meeting interior minister Hanif Atmar expresses deep concerns that if lives could be in danger if news leaked that foreign police trainers working for US commercial contractor DynCorp hired "dancing boys" to perform for them.
As the ever zealous Ms. Sparky has already noted:
The tradition of Bacha Bazi "boy play" is alive and well in Afghanistan. Young boys are bought and sold, dressed up like women and forced to dance, at men only parties. Many times they are then raped or killed.
Bacha Bazi (translated from Persian: literally "playing with children"), also known as bacchá ' (from the Persian bacheh "child, young man, calf") is a practice recognized as sexual slavery and child prostitution in which prepubescent children and adolescents are sold to wealthy or powerful men for entertainment and sexual activities.
This business thrives in southern Afghanistan, where many men keep them as status symbols. Some of the individuals involved report being forced into sex.
The authorities are barely attempting to crack down on the practice as "un-Islamic and immoral acts" but many doubt it would be effective since many of the men are powerful and well-armed former commanders.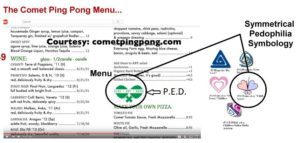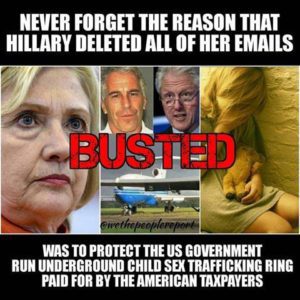 There is a solid connection between Satanism, The Mysteries, Freemasonry, Scientology, human trafficking, child sexual abuse and international intelligence agencies.   Comet Ping Pong Pizza is just one of dozens, if not hundreds of pedophile "hubs."
Pedophile rings operate as other cults and secret societies.
The Cult of Scientology operates as a compartmentalized secret society and regularly employs private investigators to engage in CIA and FBI clandestine intelligence operations.
Big Brother surveillance and harassment of members and declared enemies are the norm.
The Cult is a money making scheme that employs CIA MK ULTRA like trauma based mind control techniques including torture and other extreme methods to indoctrinate their victims into Scientology.
There have been many deaths linked to Scientology.   My research indicates that Scientology is indeed a deadly Satanic cult.
Not only have Scientologists been denied medical care by the "Church" resulting in their deaths, there have been many suicides and ritual sacrifice murders over the decades.   Evidence of this is plentiful.
Many celebrities who are members of this Cult were lured into cult because of their fame, then used as PR magnets to attract new "parishioners" who sign billion year contracts and pay at least $250,000 each to become members, or work as slaves to pay their "tuition" while imprisoned at Scientology facilities and given tasks by the "Church".
This indoctrination process of re-education could take years, even decades.  All of these cults, Scientology, Satanism, Luciferianism and the Ancient Mystery religions of Egypt are close cousins.
You might say, they are inbred.
In fact, all of the elite ruling class Satanic bloodline families engage in inbreeding, to keep their bloodline pure.    This is where the term, "blue blood" originates.  Speaking of blood.
Below is an excerpt from the book "Magick in Theory and Practice" by Aleister Crowley.   The term "FRATER PERDURABO"  refers to Crowley. 
CHAPTER XII

OF THE BLOODY SACRIFICE: AND MATTERS COGNATE

It is necessary for us to consider carefully the problems connected with the bloody sacrifice, for this question is indeed traditionally important in Magick. Nigh all ancient Magick revolves around this matter. In particular all the Osirian religions — the rites of the Dying God — refer to this. The slaying of Osiris and Adonis; the mutilation of Attis; the cults of Mexico and Peru; the story of Hercules or Melcarth; the legends of Dionysus and of Mithra, are all connected with this one idea. In the Hebrew religion we find the same thing inculcated. The first ethical lesson in the Bible is that the only sacrifice pleasing to the Lord is the sacrifice of blood; Abel, who made this, finding favour with the Lord, while Cain, who offered cabbages, was rather naturally considered a cheap sport. The idea recurs again and again. We have the sacrifice of the Passover, following on the story of Abraham's being commanded to sacrifice his firstborn son, with the idea of the substitution of animal for human life. The annual ceremony of the two goats carries out this in perpetuity. And we see again the domination of this idea in the romance of Esther, where Haman and Mordecai are the two goats or gods; and ultimately in the presentation of the rite of Purim in Palestine, where Jesus and Barabbas happened to be the Goats in that particular year of which we hear so much, without agreement on the date.

The blood is the life. This simple statement is explained by the Hindus by saying that the blood is the principal vehicle of vital Prana. There is some ground for the belief that there is a definite substance , not isolated as yet, whose presence makes all the difference between live and dead matter. We pass by with deserved contempt the pseudoscientific experiments of American charlatans who claim to have established that weight is lost at the moment of death, and the unsupported statements of alleged clairvoyants that they have seen the soul issuing like a vapour from the mouth of persons "in articulo mortis"; but his experiences as an explorer have convinced the Master Therion that meat loses a notable portion of its nutritive value within a very few minutes after the death of the animal, and that this loss proceeds with everdiminishing rapidity as time goes on. It is further generally conceded that live food, such as oysters, is the most rapidly assimilable and most concentrated form of energy. Laboratory experiments in food-values seem to be almost worthless, for reasons which we cannot here enter into; the general testimony of mankind appears a safer guide.

It would be unwise to condemn as irrational the practice of those savages who tear the heart and liver from an adversary, and devour them while yet warm. In any case it was the theory of the ancient Magicians, that any living being is a storehouse of energy varying in quantity according to the size and health of the animal, and in quality according to its mental and moral character. At the death of the animal this energy is liberated suddenly.

The animal should therefore be killed within the Circle, or the Triangle, as the case may be, so that its energy cannot escape. An animal should be selected whose nature accords with that of the ceremony — thus, by sacrificing a female lamb one would not obtain any appreciate quantity of the fierce energy useful to a Magician who was invoking Mars. In such a case a ram would be more suitable. And this ram should be virgin — the whole potential of its original total energy should not have been diminished in any way.

For the highest spiritual working one must accordingly choose that victim which contains the greatest and purest force. A male child of perfect innocence and high intelligence is the most satisfactory and suitable victim.

For evocations it would be more convenient to place the blood of the victim in the Triangle — the idea being that the spirit might obtain from the blood this subtle but physical substance which was the quintessence of its life in such a manner as to enable it to take on a visible and tangible shape.

Those magicians who object to the use of blood have endeavored to replace it with incense. For such a purpose the incense of Abramelin may be burnt in large quantities. Dittany of Crete is also a valuable medium. Both these incenses are very catholic in their nature, and suitable for almost any materialization.

But the bloody sacrifice, though more dangerous, is more efficacious; and for nearly all purposes human sacrifice is the best.

The truly great Magician will be able to use his own blood, or possibly that of a disciple, and that without sacrificing the physical life irrevocably.   An example of this sacrifice is given in Chapter 44 of Liber 333. This Mass may be recommended generally for daily practice.

One last word on this subject. There is a Magical operation of maximum importance: the Initiation of a New Aeon. When it becomes necessary to utter a Word, the whole Planet must be bathed in blood. Before man is ready to accept the Law of Thelema, the Great War must be fought. This Bloody Sacrifice is the critical point of the World- Ceremony of the Proclamation of Horus, the Crowned and conquering Child, as Lord of the Aeon.

This whole matter is prophesied in the Book of the Law itself; let the student take note, and enter the ranks of the Host of the Sun.

II There is another sacrifice with regard to which the Adepts have always maintained the most profound secrecy. It is the supreme mystery of practical Magick. Its name is the Formula of the Rosy Cross.  In this case the victim is always — in a certain sense — the Magician himself, and the sacrifice must coincide with the utterance of the most sublime and secret name of the God whom he wishes to invoke.

Properly performed, it never fails of its effect. But it is difficult for the beginner to do it satisfactorily, because it is a great effort for the mind to remain concentrated upon the purpose of the ceremony. The overcoming of this difficulty lends most powerful aid to the Magician.

It is unwise for him to attempt it until he has received regular initiation in the true Order of the Rosy Cross,  and he must have taken the vows with the fullest comprehension and experience of their meaning. It is also extremely desirable that he should have attained an absolute degree of moral emancipation, and that purity of spirit which results from a perfect understanding both of the differences and harmonies of the planes upon the Tree of Life.

One word of warning is perhaps necessary for the beginner. The victim must be in perfect health — or its energy may be as it were poisoned. It must also not be too large: the amount of energy disengaged is almost unimaginably great, and out of all anticipated proportion to the strength of the animal. Consequently, the Magician may easily be overwhelmed and obsessed by the force which he has let loose; it will then probably manifest itself in its lowest and most objectionable form. The most intense spirituality of purpose is absolutely essential to safety. In evocations the danger is not so great, as the Circle forms a protection; but the circle in such a case must be protected, not only by the names of God and the Invocations used at the same time, but by a long habit of successful defence. If you are easily disturbed or alarmed, or if you have not yet overcome the tendency of the mind to wander, it is not advisable for you to perform the "Bloody Sacrifice".    Yet it should not be forgotten that this, and that other art at which we have dared darkly to hint, are the supreme formulae of Practical Magick."

Magick In Theory And Practice by Aleister Crowley
SOURCES, VIDEOS, BOOKS, ARTICLES AND RELATED INFORMATION:
https://youtu.be/LQA_fiYrhAk
https://www.youtube.com/watch?v=6lZOWiRfDBU
https://www.youtube.com/watch?v=XFpCDfooJHw
https://www.youtube.com/watch?v=YsuzS7JXblg
https://www.youtube.com/watch?v=afP-Y8xez_I
https://youtu.be/1Ecjbag6UOk
https://www.youtube.com/watch?v=nqaGKsAcMQs
https://www.youtube.com/watch?v=P1FN8gep3Hs
https://youtu.be/0cBLRfoylmE
https://www.youtube.com/watch?v=j8KZZjQRK8s
https://youtu.be/J7Friri1SZc
https://www.youtube.com/watch?v=3PIr0SDC2lw
http://decryptedmatrix.com/dyncorp-gets-72-8-million-contract-despite-history-of-child-trafficking/
https://newrepublic.com/article/120269/contractors-violate-us-zero-tolerance-policy-human-trafficking
http://www.thedailybeast.com/articles/2011/08/05/kathryn-bolkovac-the-real-whistleblower-on-human-trafficking-in-bosnia.html
US Stalls on Human Trafficking – Chicago Tribune 12/27/05
http://www.huffingtonpost.com/david-isenberg/its-dj-vu-for-dyncorp
http://www.dw.com/en/bolkovac-un-tries-to-cover-up-peacekeeper-sex-abuse-scandal/a-19082815
Nazis Were Given 'Safe Haven' in U.S., Report Says – NY TIMES 11/14/10
Secrets and Lies: A History of CIA Mind Control and Germ Warfare by Gordon Thomas
Josef Mengele Part of CIA MK ULTRA Trauma brainwashing
http://vaticproject.blogspot.com/2013/05/mengele-mossad-and-cia.html
http://www.spacesafetymagazine.com/aerospace-engineering/rocketry/jack-parsons-occult-roots-jpl/
ALEISTER CROWLEY, JACK PARSONS AND PORTALS
http://www.wheniwokeupthismorning.com/aleistercrowley.html
https://www.lifesitenews.com/opinion/one-womans-quest-to-expose-the-pedophile-alfred-kinsey-and-his-demented-sex
https://www.howardnema.com/category/child-exploitation
http://articles.latimes.com/2004/nov/15/health/kinsey
http://www.rollingstone.com/culture/news/inside-scientology
American Psychiatric Association Report On The Sexualization of Girls-full
Osiris_and_the_Egyptian_resurrection Vol1
PROOFS_OF_A_CONSPIRACY_John_Robison
The_Secret_Societies_of_All_Ages_and_Countries
The Secret Doctrine by H.P. Blavatsky
Secret-Practices-Sufi-Freemasons-Teachings
Scotch-Rite-masonry-illustrated
Mindwar by Col. Michael Aquino
Isis_Unveiled by H.P. Blavatsky
The-Secret-Destiny-of-America-(1944) by Manly P. Hall
Americas-Assignment-With-Destiny by Manly P. Hall
Morals And Dogma by General Albert Pike
Fritz-Springmeier-Bloodlines-of-the-Illuminati
Captain_William_Morgan_-_The_Mysteries_of_Freemasonry
Aleister_Crowley_-_Book_of_The_Law
Federal Failure: The Miseducation of America's Children
The Deliberate Dumbing Down Of America by Charlotte Iserbyt
https://en.wikipedia.org/wiki/W._Clement_Stone
http://www.nytimes.com/2002/09/05/business/clement-stone-dies-at-100-built-empire-on-optimism.html
http://library.duke.edu/rubenstein/findingaids/paralab/
http://www.rollingstone.com/culture/features/funding-the-intangible-the-stuff-dreams-are-really-made-of-1974
http://www.patheos.com/blogs/faithgoespop/2013/04/peaches-geldof-has-swapped-scientology-for-thelema/
http://www.lermanet.com/scientology-and-occult/scarlet-and-the-beast.htm
https://www.howardnema.com/2016/09/01/100-books-you-must-read-understand-the-new-world-order/
Additional Sources:
Bare-Faced Messiah by Russell Miller
L. Ron Hubbard: Messiah or Madman by Bent Corydon and L. Ron Hubbard Jr.
Religion Inc. by Stewart Lamont
Programmed to Kill by David McGowan
Blood on the Altar by Craig Heimbichner
The Confessions of Aleister Crowley by John Symonds
Sex and Rockets by John Carter
A Piece of Blue Sky by Jon Atack
The Family by Ed Sanders
Open Secret: Gay Hollywood by David Ehrenstein
Raising Hell by Michael Newton
June 1983 Penthouse interview with L. Ron Hubbard Jr.
"Secret Agent 666: Aleister Crowley and British Intelligence"  by Richard Spence in Volume 13, #3 Journal of Intelligence & Counterintelligence
Scientology Revealed For the First Time in the Sunday Times  October 5, 1969
Hubbard Used Black Magic by George Wayne-Shelor Clearwater Sun – May 16, 1984
Scientology: The Thriving Cult of Greed and Power by Richard Behar TIME Magazine (cover story) May 1991
Friends Find Their Calling by Louis Kilzer in the Rocky Mountain News February 28, 2004
At Inland Base Scientologists Trained Top Gun by Claire Hoffman December 18, 2005 LA Times
TRUTH TALK NEWS
"Where truth the mainstream media ignores is the top story!"
All information reported on TRUTH TALK NEWS and HowardNema.com is sourced and verifiable.
ACCESS THE SEARCH ENGINE AT THE TOP RIGHT TO PERUSE TOPICS, BOOKS, DOCUMENTARIES, BROADCASTS, ARTICLES, VIDEOS, CONGRESSIONAL RECORDS AND RELATED INFORMATION AVAILABLE ON THE SITE.
ADDITIONAL TRUTH TALK NEWS SITES:
Feel free to share and download this FAIR USE content.

Do the research.

Find your own truth.

There is only one truth.

Seek and you will find it.
If you seek truth and want to help restore Our Constitutional Republic as intended please subscribe and share the valuable information contained on this site. Thank you for your continued support.
All content on TRUTH TALK NEWS and HowardNema.com are for the purposes of FAIR USE. All content herein can be used by anyone in accordance with U.S. Copyright law.
FAIR USE NOTICE: Some content displayed on this video/site may contain copyrighted material the use of which has not been specifically authorized by the copyright owner. This material has been made available in our efforts to advance understanding political, human rights, economic, democracy, scientific, and social justice issues, etc. constituting a 'fair use' of any such copyrighted material as provided for in section 107 of the US Copyright Law. In accordance with Title 17 U.S.C. Section 107, all the material on this site is distributed without profit to those who have expressed a prior interest in receiving the included information for research and educational purposes