https://youtu.be/cErY8xHcopM
By Howard Nema
An illegal alien from El Salvador deported in 2013 murdered the mother of his six-year-old daughter in her Bridgeport, Connecticut home and then kidnapped the child.

Six year old Aylin Sofia Hernandez was taken by her father Oscar Obedio Hernandez in the early morning hours on Friday after he stabbed Aylin's 26-year-old mother, Nidia Gonzalez to death in her Bridgeport home after a domestic dispute.

Police said a female friend who was at the residence was also stabbed and taken to the hospital in critical condition.    An Amber Alert was issued.   Oscar Hernandez fled with his daughter to Pennsylvania where he was arrested.
Hopefully, justice will be served, but certainly not in Connecticut, if  our Sanctuary State governor Dannel Malloy has anything to say about it.

In fact, the Bridgeport murder and kidnapping comes just two days after Governor Malloy declared Connecticut a Sanctuary State for Illegals.

FOX 61 reported:

"Oscar Obedio Hernandez, a citizen of El Salvador, was issued a Final Order of Removal by an immigration judge on Oct. 29, 2013," said spokesman Shawn Neudauer. "He was removed from the United States by ICE officers in Hartford, CT on Nov. 27, 2013.   He has prior felony convictions from 2002 for assault and threatening, as well as several misdemeanor convictions. ICE has placed an immigration detainer with the Bridgeport (Connecticut) Police Department."

After the kidnapping of Aylin Sofia Hernandez and murder of Nidia Gonzalez by a deported illegal alien,  delusional Connecticut governor Malloy stated in a press release that he is doing everything he can to keep the citizens of Connecticut safe.

Sure.  Everything but deporting violent, criminal illegals.

Gov. Malloy's press agent Kelly Donnelly, issued a statement regarding the incident between Hernandez and the ICE.

"Our local laws are designed to protect our residents and also ensure that those in harm's way feel safe seeking help from law enforcement. That's why convicted violent felons are detained for deportation under our state laws that the governor has consistently and strongly supported,"  Donnelly said.

Immediately after President Trump announced that existing immigration laws would from now on be enforced, Gov. Malloy told Connecticut law enforcement agencies not to target illegals for arrest on the basis of their immigration status.

As a result of this decree by Governor Malloy, Attorney General Jeff Sessions should put out a warrant for Malloy and any other subversive governors, Mayors and city officials putting the welfare of criminal illegal aliens ahead of the safety and welfare of law abiding American citizens.  These are literally criminal acts of treason.

Nidia Gonazalez' blood is on Dan Malloy's hands.   Nidia Gonzalez murder, and other heinous crimes committed by illegals are a direct result of open border bureaucrats like Gov. Malloy and Hillary Clinton.

If you recall the Wikileaks revelations that Clinton said, "My dream is a hemispheric common market, with open trade and open borders.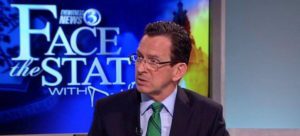 https://www.youtube.com/watch?v=KvRNWmMqIbI
Connecticut is run by fiscally irresponsible buffoons.  We are 50th in job growth.   In fact, Connecticut lags behind all other states regarding economic growth and business friendliness.   EVERYTHING is taxed and over regulated in Connecticut.   

Crony capitalism rules the roost.  Connecticut spent $570 million on a 13 mile bus route from New Britain to Hartford, hoping to have a return of $60 million per year.  Sounds good, right?  

In reality, this outrageously expensive "public works" project run by a private company actually costs the state $40 million per year.   Ooops.   Next year the State's deficit is $1.7 billion.


Well, what do you expect from a State where the current Mayor of Bridgeport is a felon?  That's right. Mayor Joe Ganim was convicted of embezzling more than $600,000 from the City of Bridgeport.  He served seven years in prison, then ran for Mayor again… and won.

Insanity, right?  Liberal lunacy.  Tons of it.  Fiscal madness.  Add that to corruption that rivals Chicago and you have a recipe for disaster.

As a result of continuously taxing and squeezing citizens, proposing mileage taxes and new tolls, approximately 40,000 Connecticut residents leave the state every year.    I will soon be one of them.

The cost of living in Connecticut is second highest in the US.   But Connecticut is the best place to live if you are on welfare.    Especially if you are a BIG corporation.  LOTS of corporate welfare here in the Nutmeg state.

It should be called the Nutjob Welfare state,  but I digress.

Face it, it is not only delusional to take the position that illegals, or radical Muslims, for that matter, pose no threat to American citizens, it is also deadly dangerous as we see over and over again.

If only the controlled mainstream media would focus on the real scourges of society, not just the ones that fit the liberal narrative and forward the globalist agenda.

In October Edis Moya Alas, an illegal alien raped and kidnapped a six-year-old girl in Fort Worth, Texas.

Investigators discovered the child eight hours later when a man heard screams coming from a wooded area.

Kate Steinle and so many other under-reported stories of violent crimes committed by illegal aliens are a scourge on Our nation.   Anyone who doesn't understand this is not paying attention, or is in complete denial.

http://www.illegalaliencrimereport.com

http://www.breitbart.com/texas/2014/09/08/armed-illegal-aliens-kidnapped-tortured-and-raped-women-in-texas
SUBSCRIBE TO THE NEW TRUTH TALK NEWS CHANNEL 2:
https://www.youtube.com/c/TruthTalkNewsChannel2

TRUTH TALK NEWS
"Where truth the mainstream media ignores is the top story!"

All information reported on TRUTH TALK NEWS and HowardNema.com is sourced and verifiable.
ACCESS THE SEARCH ENGINE AT THE TOP RIGHT TO PERUSE TOPICS, BOOKS, DOCUMENTARIES, BROADCASTS, ARTICLES, VIDEOS, CONGRESSIONAL RECORDS AND RELATED INFORMATION AVAILABLE ON THE SITE.
ADDITIONAL TRUTH TALK NEWS SITES:
http://www.youtube.com/TruthTalkNews
http://www.TruthTalkNews.blogspot.com
http://truthtalknewschannel2.blogspot.com
Feel free to share and download this FAIR USE content.
Do the research.
Find your own truth.
There is only one truth.
Seek and you will find it.
If you seek truth and want to help restore Our Constitutional Republic as intended please subscribe and share the valuable information contained on this site. Thank you for your continued support.
All content on TRUTH TALK NEWS and HowardNema.com are for the purposes of FAIR USE. All content herein can be used by anyone in accordance with U.S. Copyright law.
FAIR USE NOTICE: Some content displayed on this video/site may contain copyrighted material the use of which has not been specifically authorized by the copyright owner. This material has been made available in our efforts to advance understanding political, human rights, economic, democracy, scientific, and social justice issues, etc. constituting a 'fair use' of any such copyrighted material as provided for in section 107 of the US Copyright Law. In accordance with Title 17 U.S.C. Section 107, all the material on this site is distributed without profit to those who have expressed a prior interest in receiving the included information for research and educational purposes