Arnold Friedman was our TV studio teacher from 1983-85 when we attended Bayside High School in Queens, New York. "Arnie" as he encouraged his students to call him is also the worst convicted child molester in Long Island history.
Many important questions were never asked in the highly praised 2003 HBO documentary "Capturing the Friedmans". But the Academy Award nominated film, like the Nassau County Police investigation was very myopic in its scope. There was never any talk of conspirators other than Jessie, or of any pedophile network.
Once caught, it's likely that Arnie fell on the sword to save his family from harm and to protect the pedophile network by honoring his oath. He clammed up and plead guilty virtually immediately. This wasn't to spare the family pain as was suggested, or for redemption. It was to protect the pedophile network.
This leads to some very illuminating revelations concerning the billionaire pedophile apologist producer of the 2003 Academy Award Nominated film.
In 2003, Friedmans' victims wrote to the Academy Awards Committee to protest the the nomination of, which is understandable considering that "Capturing the Friedmans" and many top newspapers, notably the NY Times wrote articles for years attempting to cast doubt on Friedman's guilt and to steer away any suspicion from what could be an ongoing child pornography/pedophilia/trafficking network. A network Arnold Friedman was likely part of.
The documentary makes no correlation to the fact that Arnold Friedman videotaped his life constantly, as the film itself demonstrates. But never does the documentary delve into the possibility of video taping children performing sex acts, or that fact that he Friedman had a very expensive state of the art computer lab at the time. Could they have been using the lab to market child pornography? The question isn't even hinted in the film. Which makes perfect sense if you are protecting a pedophile network. So "Capturing the Friedmans" was produced as a decoy. A controlled opposition propaganda piece.
The fact is, Arnold Friedman was the most prolific, heinous child molester in Long Island history and for years the media was promoting his innocence.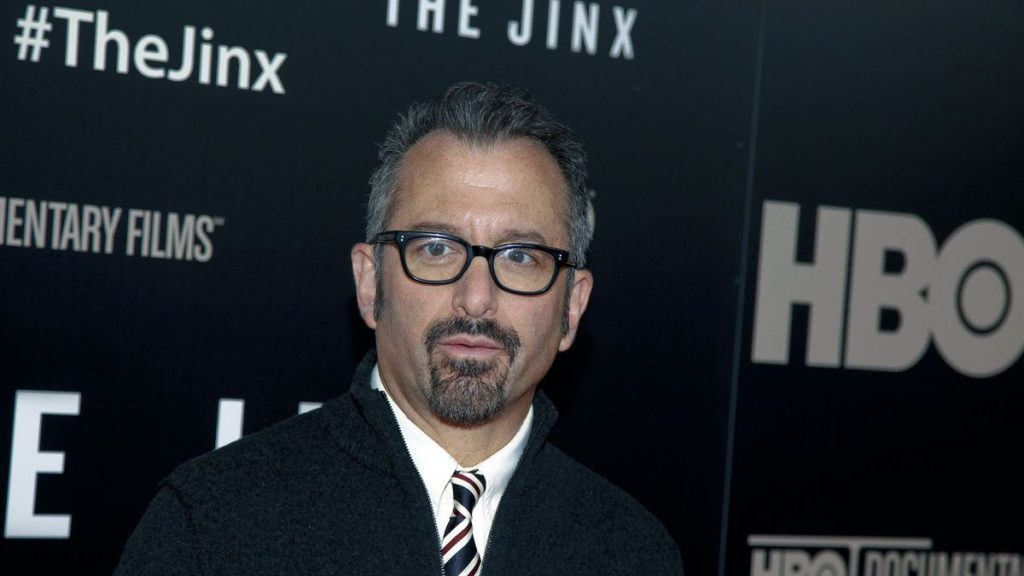 The rabbit hole goes even deeper when you learn that "Capturing the Friedmans" was produced and directed by Andrew Jarecki, who comes from a billionaire family.
Andrew's brother Eugene happens to be the creator of the current COVID-19 Trump Death Clock.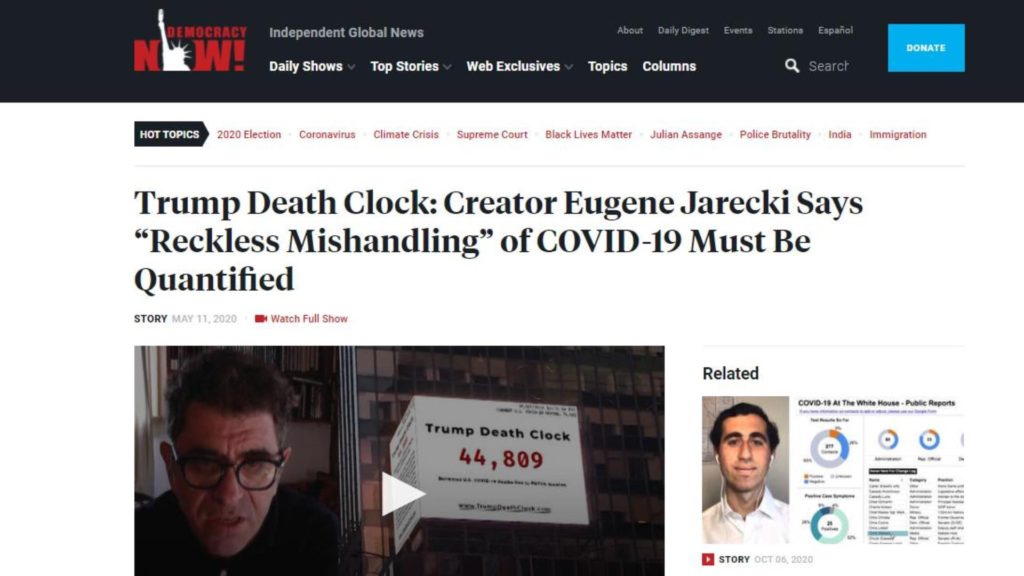 He is the son of financier-philanthropist Henry Jarecki, the brother of documentary filmmaker Eugene Jarecki, and the half-brother of filmmaker Nicholas Jarecki.
Nicholas Jarecki dated Courtney Love and was associated with Lionsgate Films (Frank Giustra — Uranium 1, human trafficking) https://en.wikipedia.org/wiki/Lionsgatehttps://en.wikipedia.org/wiki/https://en.wikipedia.org/wiki/Frank_Giustra
Affiliated with Psychogenesis, where dad Henry is board chairman. https://www.psychogenics.com/about/

Eugene Jarecki is a producer for Lionsgate Films. He launched the Trump Death clock. https://en.wikipedia.org/wiki/Eugene_Jareckihttps://en.wikipedia.org/wiki/Trump_Death_Clock
MORE "COINCIDENTAL" CONNECTIONS:
Giustra's ex-wife, Alison Lawton (UNICEF, Clinton Foundation). https://en.wikipedia.org/wiki/Alison_Lawton
Brother Thomas A. Jarecki https://www.linkedin.com/in/tom-jarecki-aa50338?challengeId=AQEj5hcfj301hwAAAXT6Lw-6o-v1DVOh4vRQdY7g64Cgm3QKPTj1UPCMwjNNEvRFt3yvI7aLzltLN6D3eHL7_p6qLIgL4KY3uw&submissionId=3607088c-802e-3b16-adf5-2f3cb376531c
With the Jareckis redefining the Arnold Friedman scandal into an apologia for (more sympathetic) son Jesse Friedman, and ignoring the VIDEO connection (through Bayside HS), the sophisticated state of the art computer network, the Jarecki family (who are Hollywood producers who own two private islands in the Carribean near Epstein's island), are just one step removed between Arnold Friedman & Frank "Lionsgate" Guiestra; two steps removed from the Clintons; Richard Branson; NXIVM sex cult; perhaps? Even Les Wexner & Jeff Epstein himself!
Is it possible that Arnold Friedman have been a central figure in a child porn / child trafficking ring, which somehow involved patriarch Henry Jarecki? It is more than possible. It is likely.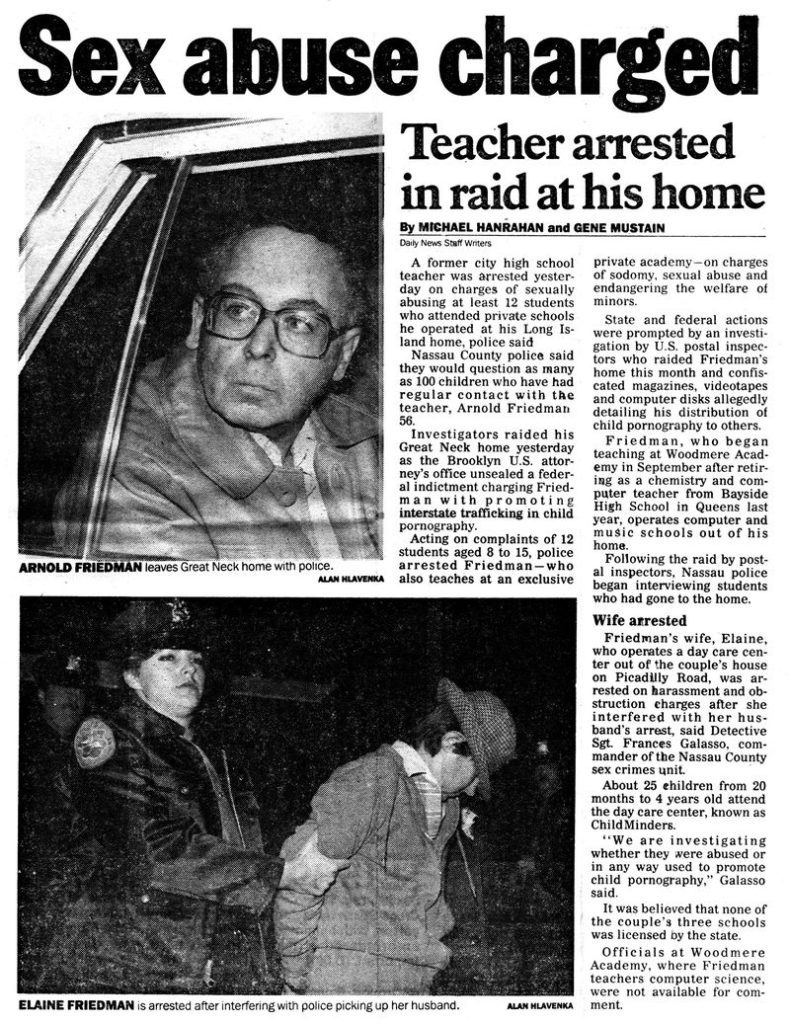 Arnold and Jesse Friedman were arrested Nov. 26, 1987, after Nassau police (New York) and federal agents executed a search warrant at their house at 17 Picadilly Rd. and found child pornography, pornographic computer discs and lists of children enrolled in computer classes in the home.
The Friedmans and a neighbor, Ross Goldstein, who was arrested in June, 1987 were charged with more than 400 counts of various forms of sexual abuse involving 7 to 11-year-olds who were students in Arnold Friedman's computer classes. Jesse Friedman was accused in more than 200 of those counts. Arnold Friedman was also charged by federal officials with distributing child pornography through the mail. He plead guilty to 42 counts of sexually abuse involving 13 boys and was sentenced to 10 to 30 years in prison to run concurrently with the federal time.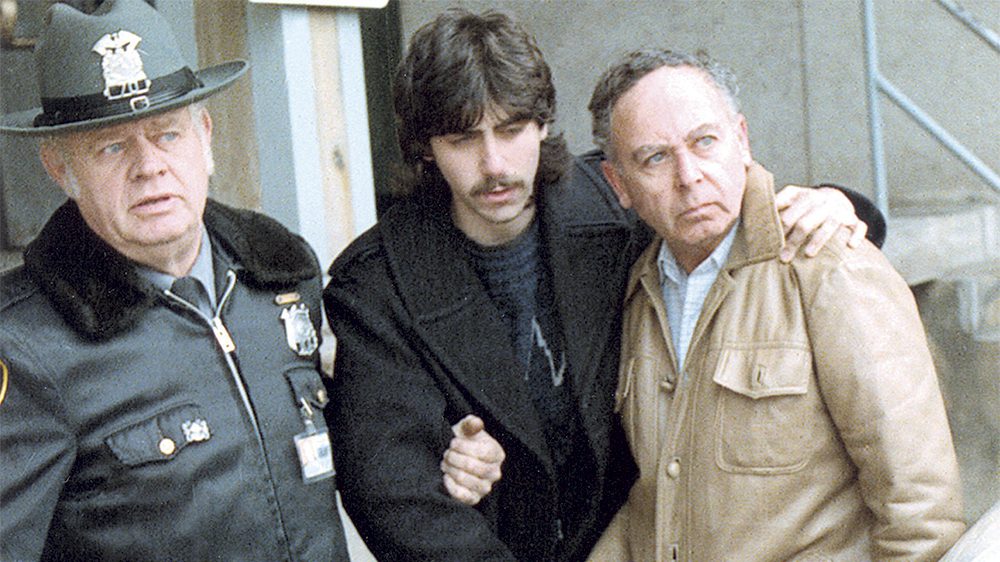 Jesse Friedman plead guilty to 17 counts of first-degree sodomy; four counts of first-degree sexual abuse; one count of first-degree attempted sexual abuse; one count of using a child in a sexual performance and two counts of endangering the welfare of a child.
Arnold Friedman committed suicide in Prison in 1995 leaving a $250,000 life insurance benefit to Jesse. Jesse Friedman was released from New York's Clinton Correctional Facility in 2001 after serving 13 years. Today he runs an online book-selling business. What kind of books, I wonder?
By Howard Nemaizer and Rob Walters
ARTICLES/EVIDENCE:
This original report has been taken offline, and is now ONLY available on Archive.org's Wayback machine. Almost everything you get on the subject nowadays is based on the Jarecki-producted "Capturing the AFriedmans" apologia documentary (Oscar-nominated by #PEDOWOOD elites).

https://www.villagevoice.com/2013/05/29/jesse-friedman-spent-13-years-in-prison-as-a-notorious-child-rapist-he-may-soon-get-an-apology/
https://www.villagevoice.com/2003/05/20/complex-persecution/
Note the author, Deborah Nathan, from the NYS AG's office, also Queens County ADA: https://www.linkedin.com/in/deborah-nathan-0b165a6?challengeId=AQGxp3esIMRyqAAAAXT-q-_91iNGrS9L_lFXK7_f9LETOceg72LlwTO53QrXC5jroOkhVTpLN8TZ2yg9sjBWXyB-Qg7vxsnbcA&submissionId=7efe1c04-fb72-3b16-016b-0612b9a8a65e

Any relation between Deborah Nathan & Alison Nathan, the SDNY judge (looks like a dude) handling Ghislaine Maxwell's case? https://www.nysd.uscourts.gov/hon-alison-j-nathan
See also https://en.wikipedia.org/wiki/Alison_Nathan an activist judge: https://www.abajournal.com/news/article/incensed-judge-orders-every-federal-prosecutor-in-manhattan-to-read-her-decision & https://www.npr.org/2020/09/19/914422169/judge-refers-prosecutors-for-possible-doj-investigation-in-rebuke-over-botched-c

Notes on Arnie:
https://en.wikipedia.org/wiki/Capturing_the_Friedmans
Patriarch billionaire father Henry Jarecki https://en.wikipedia.org/wiki/Henry_Jarecki
Many rabbit holes here… Henry Jarecki was a doctor who taught at Yale, the Jarecki family raised this generation in New Haven. Went into finance, affiliated with refugees & etc., especially in British Virgin Islands (Epstein?). They own Guana Island. https://en.wikipedia.org/wiki/Guana_Island also Norman Island https://en.wikipedia.org/wiki/Norman_Island .
Jarecki has a home in Rye, New York (Rye Playland), Rye has very weird borders with Connecticut. See also Rye Center.
In 1978, Jarecki sought to buy the former Stuyvesant Fish mansion at 19 Gramercy Park South in Manhattan, New York City, but was outbid. When the property – which has more than 37 rooms on six floors for over 18,000 square feet (1,700 m2) of living space – became available again in 2000, he was able to purchase it, with plans to use it as both a home and the headquarters of the family foundation, the Timber Falls Foundation. https://www.influencewatch.org/non-profit/falconwood-foundation/
NY Times coverage of Capturing the Friedmans: https://www.nytimes.com/2013/07/06/nyregion/filmmaker-still-fights-outcome-of-80s-child-sexual-abuse-case.html

Bio on patriarch Henry Jarecki: https://www.app.com/story/news/2014/05/16/billionaire-earned-first-buck-asbury-park/2209894/

Long version trailer for documentary Capturing the Friedmans: https://www.youtube.com/watch?v=g6g5atTyjG8
Factsheet Five was published by one of the Friedman kids. https://en.wikipedia.org/wiki/Factsheet_Five

Post release article about Jesse Friedman. https://abcnews.go.com/US/capturing-friedmans-convicted-child-molester-fighting-clear/story?id=19895560
Review of film: http://www.pitt.edu/~kloman/friedmans.htmlNYT review: https://www.nytimes.com/2013/06/16/nyregion/reinvestigating-the-friedmans.html

Also: former Cardozo High School social studies teacher Anthony Laufgraben, sentenced 2005 to 4 years jail, internet sting. https://www.qchron.com/editions/north/former-cardozo-hs-teacher-pleads-guilty-of-sex-crimes/article_700a343a-e1ca-5fc0-878a-efb21f177c5f.html
Bayside shrink fails to turn in pedo. https://www.nytimes.com/1998/04/19/nyregion/child-psychiatrist-pedophile-his-therapist-knew-but-didn-t-tell-victim-suing.htm
ADDITIONAL/RELATED/SOURCES:
https://www.nydailynews.com/new-york/man-convicted-child-molestation-exonerated-article-1.1362959

https://www.haaretz.com/jewish/n-y-molester-rightfully-prosecuted-1.5285971
In future segments we will explore the connections between the Friedman family and the Jarecki *[Ja- re- ck- i-]* family.
Did they know each other before producing Capturing the Friedmans? Specifically, did Arnold Friedman know old man Henry? Were they involved together in an underground pedophile network? Arnie sure fits the profile!
Welcome to TRUTH TALK NEWS " Where truth the mainstream media ignores is the top story!"
Let us take a journey together down the rabbit hole.
Take advantage of all the books, articles, links and information available at on this site.
Watch TRUTH TALK NEWS, a talk show discussing suppressed history, current events, politics, pop culture, the esoteric and exoteric, and all things New World Order THURSDAYS 9pm in Western Connecticut on Spectrum Cable Channel 192 serving the towns of Barkhamsted, Bethlehem, Bridgewater, Brookfield, Colebrook, Danbury, Harwinton, Kent, Monroe, New Hartford, New Fairfield, New Milford, Newtown, Roxbury, Sherman, Southbury, Trumbull, Washington, West Hartland, Winchester and Woodbury.
YouTube has aggressively targeted TRUTH TALK NEWS CHANNEL 2 for termination. FIGHT Google/YouTube/Facebook CENSORSHIP!
Subscribe to TruthTalkNews on bitchute: https://www.bitchute.com/channel/QJKrgONwtmn0/
BOOKS YOU MUST READ TO UNDERSTAND THE NEW WORLD ORDER: The link below is a path of breadcrumbs that leads to greater understanding of the world we live in and those who chart and guide humanity's progress from the shadows though out the ages. Here is an ever growing catalogue of hundreds of books, PDF's, articles, white papers, links, documents and research material on all things New World Order.
Subscribe to William Cooper's MYSTERY BABYLON CHANNEL:
https://www.youtube.com/channel/UCZ5XZgqTNBIsGRB3CtszmcQ
BACK UP CHANNELS (contains all videos censored by YouTube and Vimeo): https://www.bitchute.com/channel/QJKrgONwtmn0/
Original TRUTH TALK NEWS CHANNEL: http://www.youtube.com/TruthTalkNews
SOCIAL MEDIA:
http://www.twitter.com/TruthTalkNews
http://www.HowardNema.com is censored and blocked by Facebook. Nothing can be posted or shared on Facebook from HowardNema.com due to "community standards" violations concerning bogus accusations of bullying, harassment and hate speech.
When truth is called hate, when hate is called love, when ideological beliefs breed rage and violence, our society treads on dangerous ground. Ground that has been traveled many times before by fellow travelers and followers of Marx, Lenin, Stalin, Hitler, Mao, Pol-Pot and many other Utopian charlatan totalitarians throughout the centuries.
Censorship should be a warning sign from history. For all of us. Silencing one silences us all.
STAND UP FOR FREE SPEECH! WATCH AND SHARE TRUTH TALK NEWS!
All information reported on TRUTH TALK NEWS and HowardNema.com is sourced and verifiable and for the purposes of education and FAIR USE. Take advantage of the many books, articles, videos and FULL PDF's available for FREE, safe downloads at http://www.HowardNema.com TRUTH TALK NEWS and HowardNema.com ARE FREE SITES. All books and information on the sites are FREE and NOT monetized in any way.
You are not cattle. You are not a useless eater. You do not have to be a brainwashed slave owned by the New World Order. Do the research. Think critically. Find your own truth. There is only one truth. . . . Seek and you will find it. Awaken. Be a messenger.
Thank you for your continued support. God bless you all.