From the Pew Research Center:
Measuring atheism is complicated. Some people who describe themselves as atheists also say they believe in some kind of higher power or spiritual force. At the same time, some of those who identify with a religion (for example, say they are Catholic or Jewish) say they do not believe in God.
One thing is for sure: Along with the rise of religiously unaffiliated Americans – many of whom believe in God – there has been a corresponding increase in the number of atheists. Here are some key facts about atheists in the United States and around the world:
The share of Americans who identify as atheists has increased modestly but significantly in the past decade. Pew Research Center telephone surveys conducted in 2018 and 2019 show that 4% of American adults say they are atheists when asked about their religious identity, up from 2% in 2009. An additional 5% of Americans call themselves agnostics, up from 3% a decade ago.
2. The literal definition of "atheist" is "a person who does not believe in the existence of a god or any gods," according to Merriam-Webster. And the vast majority of U.S. atheists fit this description: 81% say they do not believe in God or a higher power or in a spiritual force of any kind. (Overall, 10% of American adults share this view.) At the same time, roughly one-in-five self-described atheists (18%) say they do believe in some kind of higher power. None of the atheists we surveyed, however, say they believe in "God as described in the Bible."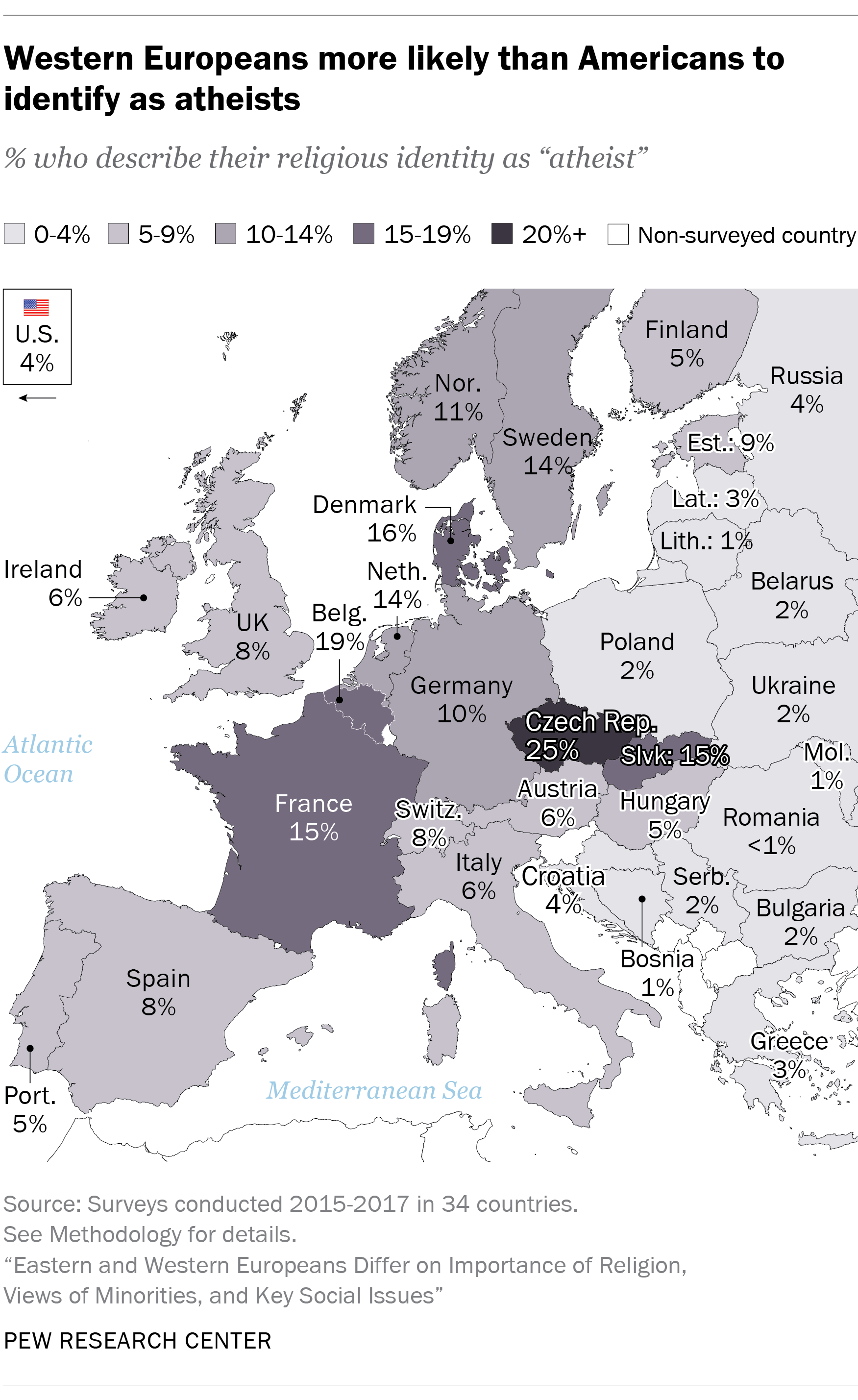 3. Atheists make up a larger share of the population in many European countries than they do in the U.S. In Western Europe, where Pew Research Center surveyed 15 countries in 2017, nearly one-in-five Belgians (19%) identify as atheists, as do 16% in Denmark, 15% in France and 14% in the Netherlands and Sweden. But the European country with perhaps the biggest share of atheists is the Czech Republic, where a quarter of adults identify that way. In neighboring Slovakia, 15% identify as atheists, although in the rest of Central and Eastern Europe, atheists have a smaller presence, despite the historical influence of the officially atheist Soviet Union. Like Americans, Europeans in many countries are more likely to say they do not believe in God than they are to identify as atheists, including two-thirds of Czechs and at least half of Swedish (60%), Belgian (54%) and Dutch adults (53%) who say they do not believe in God. In other regions surveyed by the Center, including Latin America and sub-Saharan Africa, atheists generally are much rarer.
4. In the U.S., atheists are mostly men and are relatively young, according to the 2014 Religious Landscape Study. About seven-in-ten U.S. atheists are men (68%). The median age for atheists is 34, compared with 46 for all U.S. adults. Atheists also are more likely to be white (78% vs. 66% of the general public) and highly educated: About four-in-ten atheists (43%) have a college degree, compared with 27% of the general public. Self-identified atheists also tend to be aligned with the Democratic Party and with political liberalism.
5. The vast majority of U.S. atheists say religion is not too or not at all important in their lives (93%) and that they seldom or never pray (97%). At the same time, many do not see a contradiction between atheism and pondering their place in the world. About a third of American atheists say they think about the meaning and purpose of life at least weekly (35%), and that they often feel a deep sense of spiritual peace and well-being (31%). In fact, the Religious Landscape Study shows that atheists are more likely than U.S. Christians to say they often feel a sense of wonder about the universe (54% vs. 45%).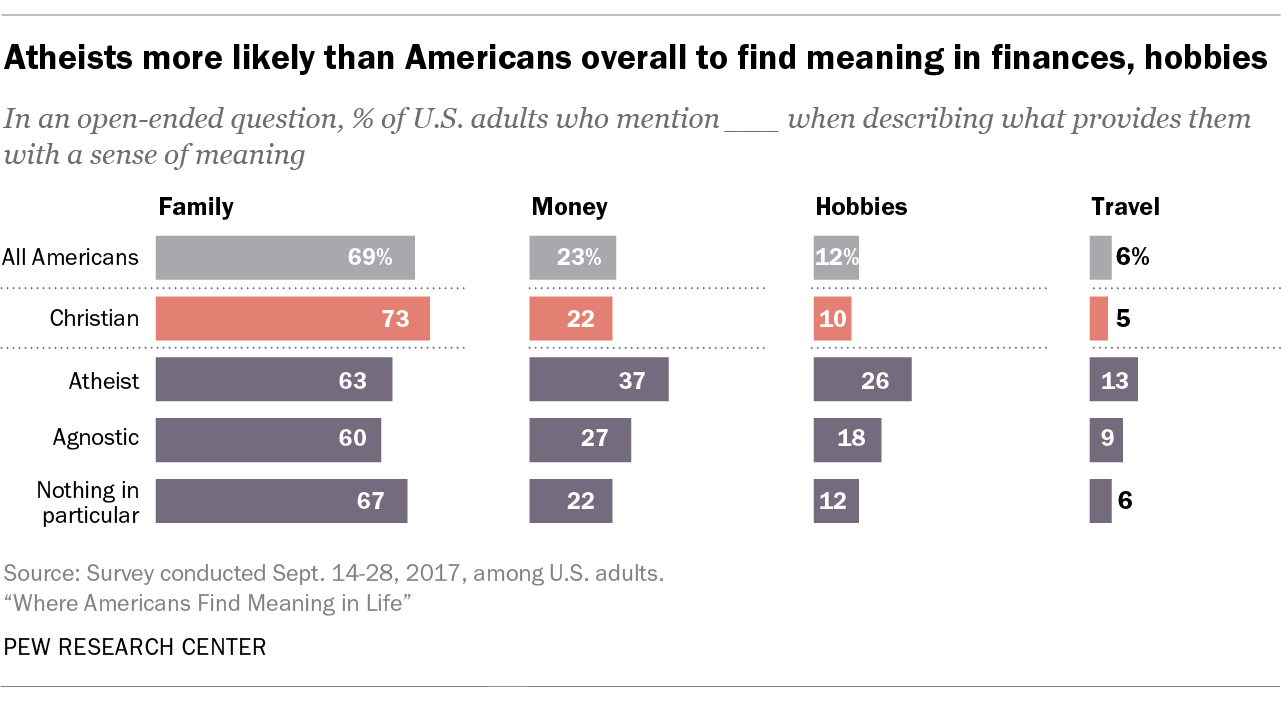 6. Where do atheists find meaning in life? Like a majority of Americans, most atheists mentioned "family" as a source of meaning when Pew Research Center asked an open-ended question about this in a 2017 survey.
But atheists were far more likely than Christians to describe hobbies as meaningful or satisfying (26% vs. 10%). Atheists also were more likely than Americans overall to describe finances and money, creative pursuits, travel, and leisure activities as meaningful. Not surprisingly, very few U.S. atheists (4%) said they found life's meaning in spirituality.
7. In many cases, being an atheist isn't just about personally rejecting religious labels and beliefs – most atheists also express negative views when asked about the role of religion in society. For example, seven-in-ten U.S. atheists say religion's influence is declining in American public life, and that this is a good thing (71%), according to a 2019 survey. Fewer than one-in-five U.S. adults overall (17%) share this view. A majority of atheists (70%) also say churches and other religious organizations do more harm than good in society, and an even larger share (93%) say religious institutions have too much influence in U.S. politics.
8. Atheists may not believe religious teachings, but they are quite informed about religion. In Pew Research Center's 2019 religious knowledge survey, atheists were among the best-performing groups, answering an average of about 18 out of 32 fact-based questions correctly, while U.S. adults overall got an average of roughly 14 questions right. Atheists were at least as knowledgeable as Christians on Christianity-related questions – roughly eight-in-ten in both groups, for example, know that Easter commemorates the resurrection of Jesus – and they were also twice as likely as Americans overall to know that the U.S. Constitution says "no religious test" shall be necessary to hold public office.
9. Most Americans (56%) say it is not necessary to believe in God to be moral, while 42% say belief in God is necessary to have good values, according to a 2017 survey. In other wealthy countries, smaller shares tend to say that belief in God is essential for good morals, including just 15% in France. But in many other parts of the world, nearly everyone says that a person must believe in God to be moral, including 99% in Indonesia and Ghana and 98% in Pakistan, according to a 2013 Pew Research Center international survey.
10. Americans feel less warmly toward atheists than they do toward members of most major religious groups. A 2019 Pew Research Center survey asked Americans to rate groups on a "feeling thermometer" from 0 (as cold and negative as possible) to 100 (the warmest, most positive possible rating).
U.S. adults gave atheists an average rating of 49, identical to the rating they gave Muslims (49) and colder than the average given to Jews (63), Catholics (60) and evangelical Christians (56).
Note: This is an update of a post originally published on Nov. 5, 2015.
WELCOME TO TRUTH TALK NEWS @ HowardNema.com
Take advantage of all the books, articles, links and information available on this site.
YouTube has aggressively targeted TRUTH TALK NEWS CHANNEL 2 for termination for bogus and biased communist standards "violations".
FIGHT Google/YouTube/Facebook CENSORSHIP!
Subscribe to TruthTalkNews on bitchute: https://www.bitchute.com/channel/QJKrgONwtmn0/
TRUTH TALK NEWS CHANNEL 3 (YouTube Back-up channel: https://www.youtube.com/channel/UCee7szLZtOVuz0ACtC5Ldqw
TRUTH TALK NEWS CHANNEL: http://www.youtube.com/TruthTalkNews
TRUTH TALK NEWS
"Where truth the mainstream media ignores is the top story!"
Let us take a journey together down the rabbit hole.
Watch TRUTH TALK NEWS, a talk show discussing suppressed history, current events, politics, pop culture, the esoteric and exoteric, and all things New World Order
THURSDAYS 9pm in Western Connecticut on Spectrum Cable Channel 192 serving the towns of Barkhamsted, Bethlehem, Bridgewater, Brookfield, Colebrook, Danbury, Harwinton, Kent, Monroe, New Hartford, New Fairfield, New Milford, Newtown, Roxbury, Sherman, Southbury, Trumbull, Washington, West Hartland, Winchester and Woodbury.
BOOKS YOU MUST READ TO UNDERSTAND THE NEW WORLD ORDER: The link below is a path of breadcrumbs that leads to greater understanding of the world we live in and those who chart and guide humanity's progress from the shadows though out the ages. Here is an ever growing catalogue of hundreds of books, PDF's, articles, white papers, links, documents and research material on all things New World Order.
https://www.howardnema.com/2020/08/19/books-you-must-read-to-understand-the-new-world-order/
WILLIAM COOPER'S FULL MYSTERY BABYLON SERIES (44 EPISODES)
https://www.youtube.com/watch?v=itO8A0z5HdY&list=PLfqzOxBqtdDU3PQPiVs71k7FobaYKJLmL
Subscribe to William Cooper's MYSTERY BABYLON CHANNEL:
https://www.youtube.com/channel/UCZ5XZgqTNBIsGRB3CtszmcQ
SOCIAL MEDIA:
http://www.twitter.com/TruthTalkNews
http://www.facebook.com/TruthTalkNews
HowardNema.com is censored and blocked by Facebook. Nothing can be posted or shared on Facebook from HowardNema.com due to "community standards" violations concerning bogus accusations of bullying, harassment and hate speech.
When truth is called hate, when hate is called love, when ideological beliefs breed rage and violence, our society treads on dangerous ground. Ground that has been traveled many times before by fellow travelers and followers of Marx, Lenin, Stalin, Hitler, Mao, Pol-Pot and many other Utopian charlatan totalitarians throughout the centuries. Censorship should be a warning sign from history. For all of us. Silencing one silences us all.
STAND UP FOR FREE SPEECH!
WATCH AND SHARE TRUTH TALK NEWS!
All information reported on TRUTH TALK NEWS and HowardNema.com is sourced and verifiable and for the purposes of education and FAIR USE. Take advantage of the many books, articles, videos and FULL PDF's available for FREE, safe downloads on this site.

TRUTH TALK NEWS and HowardNema.com ARE FREE SITES. All books and information on the sites are FREE and NOT monetized in any way.
You are not cattle. You are not a useless eater.
You do not have to be a brainwashed slave owned by the New World Order.
Do the research. Think critically.
Find your own truth. There is only one truth. . . .
Seek and you will find it.
Awaken.
Be a messenger.
Thank you for your continued support. God bless you all.
HN