Lt. Gen. Thomas McInerney: "They are guilty of treason."
by ANDREW WHITE National File
POSTED FOR FAIR USE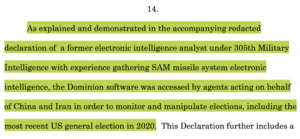 In a groundbreaking interview with WVW-TV, retired Lieutenant General Thomas McInerney described a raid in which U.S. Special Operations Forces successfully seized Dominion Voting System servers held in a CIA "server farm" facility in Frankfurt, Germany.
The former General also suggested that the term "Kraken," widely used by Attorney Sidney Powell, is referring to the 305th Military Intelligence Battalion, which is located on Fort Huachuca, Arizona. McInerney clarified that Powell had been using data provided by the 305th, and others, as fuel for legal battles, including her Georgia lawsuit, which alleges that the Chinese, Russians, and Iranians used Dominion to interfere in the 2020 U.S. Presidential election.
"Sidney and the President through, I believe, General Flynn, have got the 'Kraken' organization, the 305 Military Intelligence Battalion, working with them," said McInerney. "Because in all of this, we have not seen any footprints of the DOJ, of the FBI, nor the CIA on the friendly side. It's been on the 'Deep State' side."
WOW.
Listen to General McInerney describe the Kraken and the raid of the CIA facility in Frankfurt, Germany: pic.twitter.com/J51b9hbLZm
November 29, 2020
"Special Operations Forces seized those, that facility, so they have those servers" said McInerney. McInerney added that the raid did not go "without incident" and stated that U.S. soldiers faced casualties during the operation:
"My initial report is that U.S. soldiers were killed in that operation. Now, that was a CIA operation, so that's the very worrisome thing. Did that occur because of what Mary and I, and Allen, were notifying on Sunday and the Monday in different networks, that this was going to happen, that they were using Hammer and Scorecard…"
National File was able to quickly verify that Powell quoted a former member of the 305th in the lawsuit, which declared that "a former electronic intelligence analyst under the 305th Military Intelligence with experience gathering SAM missile system electronic intelligence" told her that "the Dominion software was accessed by agents acting on behalf of China and Iran" to manipulate the election.
When WVW-TV's Brannon Howse pushed, "But you are saying that it was a CIA facility, and that was where the server was taken from, by these special forces, was a CIA facility in Germany?" McInerney responded saying, "Yes. That's correct. Frankfurt, Germany."
He continues to explain how various elements of the U.S. government, such as the "Deep State", the executive, the legislature, and the judiciary, are involved in "this coup d'etat."
"This is treason. Benedict Arnold gave away West Point, or tried to, in the Revolutionary War. We haven't seen treason to this magnitude ever in our history" said McInerney.
McInerney elaborates further by stating that President Donald Trump must not leave the Oval Office until the American people have "had a full disclosure of what's going on."
"What you're saying is that President Trump needs to fulfill his oath that he took to defend America against enemies both foreign and domestic, and he must not let deadlines stop him from fulfilling that oath. Is that what I hear you say?" Howse asked.
McInerney responded by saying "That is exactly what you heard me say Brannon."
The general claimed to be confident that widespread voter fraud will be revealed upon the inspection of the alleged Dominion servers seized in Germany.
"We can't have this absolute disregard for the laws of the land and by judges, and by legislatures. They must get hold of this." McInerney added, "There is a path, but I believe they're going to, the Democrats, are going to think 'this is politics' and they're going to try to shut that down."
"Well if they do, then, the American people must demand that the President stay in office until this is cleared up, because it's treason. It's a coup d'etat against the government of the United States and we cannot accept that."
The full interview, alongside WVW's bombshell exclusive interview with Gen. Michael Flynn, is available on their website.
RELATED ARTICLES/BOOKS/DOCUMENTS:
https://www.howardnema.com/wp-content/uploads/2016/08/SuttonBones.pdf
http://www.eustacemullins.us/wp-content/works/Books/Eustace%20Mullins%20-%20The%20World%20Order,%20Our%20Secret%20Rulers,%202nd%20edition,%201992.pdf
https://www.howardnema.com/wp-content/uploads/2016/08/Sutton_Wall_Street_and_the_bolshevik_revolution-5.pdf
https://www.google.com/books/edition/Chaos/zG92DwAAQBAJ?hl=en&gbpv=1&dq=cia%27s+laurel+canyon+operation&printsec=frontcover
https://www.howardnema.com/wp-content/uploads/2016/08/SILENT-WEAPONS-for-QUIET-WARS-1.pdf
https://www.howardnema.com/wp-content/uploads/2016/08/5a-zbigniew-brzezinski_between-two-ages.pdf
https://www.howardnema.com/wp-content/uploads/2016/08/mindwar-michael-aquino.pdf
WELCOME TO TRUTH TALK NEWS
Take advantage of all the books, articles, links and information available @ https://www.howardnema.com
BOOKS YOU MUST READ TO UNDERSTAND THE NEW WORLD ORDER:
The link below is a path of breadcrumbs that leads to greater understanding of the world we live in and those who chart and guide humanity's progress from the shadows though out the ages. Here is an ever growing catalogue of hundreds of books, PDF's, articles, white papers, links, documents and research material on all things New World Order.
https://www.howardnema.com/2020/08/19/books-you-must-read-to-understand-the-new-world-order/
On December 3, 2020 the subversive anti-American communist traitors at YouTube TERMINATED TRUTH TALK NEWS CHANNEL 2
ALL FUTURE TRUTH TALK NEWS VIDEOS WILL BE UPLOADED TO rumble and BitChute
Subscribe to Truth Talk News on rumble:
https://rumble.com/account/content?type=all
Subscribe to TruthTalkNews on bitchute: https://www.bitchute.com/channel/QJKrgONwtmn0/
Subscribe to TRUTH TALK NEWS CHANNEL 3: https://www.youtube.com/channel/UCee7szLZtOVuz0ACtC5Ldqw
Subscribe to TRUTH TALK NEWS: http://www.youtube.com/TruthTalkNews
SOCIAL MEDIA:
http://www.facebook.com/TruthTalkNews
http://www.HowardNema.com is censored and blocked by Facebook. Nothing can be posted or shared on Facebook from HowardNema.com due to "community standards" violations concerning bogus accusations of bullying, harassment and hate speech.
When truth is called hate, when hate is called love, when ideological beliefs breed rage and violence, our society treads on dangerous ground. Ground that has been traveled many times before by fellow travelers and followers of Marx, Lenin, Stalin, Hitler, Mao, Pol-Pot and many other Utopian charlatan totalitarians throughout the centuries. Censorship should be a warning sign from history. For all of us. Silencing one silences us all.
STAND UP FOR FREE SPEECH!
WATCH AND SHARE TRUTH TALK NEWS!
Welcome to TRUTH TALK NEWS
"Where truth the mainstream media ignores is the top story!"
Let us take a journey together down the rabbit hole.
Watch TRUTH TALK NEWS, a talk show discussing suppressed history, current events, politics, pop culture, the esoteric and exoteric, and all things New World Order.
THURSDAYS 9pm in Western Connecticut on Spectrum Cable Channel 192 serving the towns of Barkhamsted, Bethlehem, Bridgewater, Brookfield, Colebrook, Danbury, Harwinton, Kent, Monroe, New Hartford, New Fairfield, New Milford, Newtown, Roxbury, Sherman, Southbury, Trumbull, Washington, West Hartland, Winchester and Woodbury.
WILLIAM COOPER'S FULL MYSTERY BABYLON SERIES (44 EPISODES)
Subscribe to William Cooper's MYSTERY BABYLON CHANNEL:
https://www.youtube.com/channel/UCZ5XZgqTNBIsGRB3CtszmcQ
All information reported on TRUTH TALK NEWS and HowardNema.com is sourced and verifiable and for the purposes of education and FAIR USE. Take advantage of the many books, articles, videos and FULL PDF's available for FREE, safe downloads on this site.
TRUTH TALK NEWS and HowardNema.com ARE FREE SITES. All books and information on the sites are FREE and NOT monetized in any way.
You are not cattle. You are not a useless eater.
You do not have to be a brainwashed slave owned by the New World Order.
Do the research. Think critically.
Find your own truth. There is only one truth. . . .
Seek and you will find it.
Awaken.
Be a messenger.
Thank you for your continued support. God bless you all.
HN