It has happened before. In the 1920's after the genocidal Bolshevik Revolution lead to ever increasing evil and tyranny, the communists instituted a controlled opposition psychological operation to lull the Russian people who objected to the communists genocidal agenda into complacency.
All of this occurred as Lenin and then Stalin's boot of tyranny stamped down on the face of freedom in Russia with tyrannical purges, kangaroo court show trials, executions and exile to gulags.
This psychological operation was called OPERATION TRUST.
In his 1984 book, "NEW LIES FOR OLD The Communist Strategy of Deception and Disinformation", Soviet defector and former KGB officer Antoliy Golitsyn warned how communist deception threatened the survival of the western world. In his book, Golitsyn described the psychological operation that eerily resembles "Q" .
From 1921 to 1926 a Bolshevik counter-intelligence called Operation Trust neutralized opposition by creating the false notion that military leaders had organized to stop the communists' takeover.
Below is an excerpt from Anatolyi Golitsyn's book "New Lies For Old", describing OPERATION TRUST.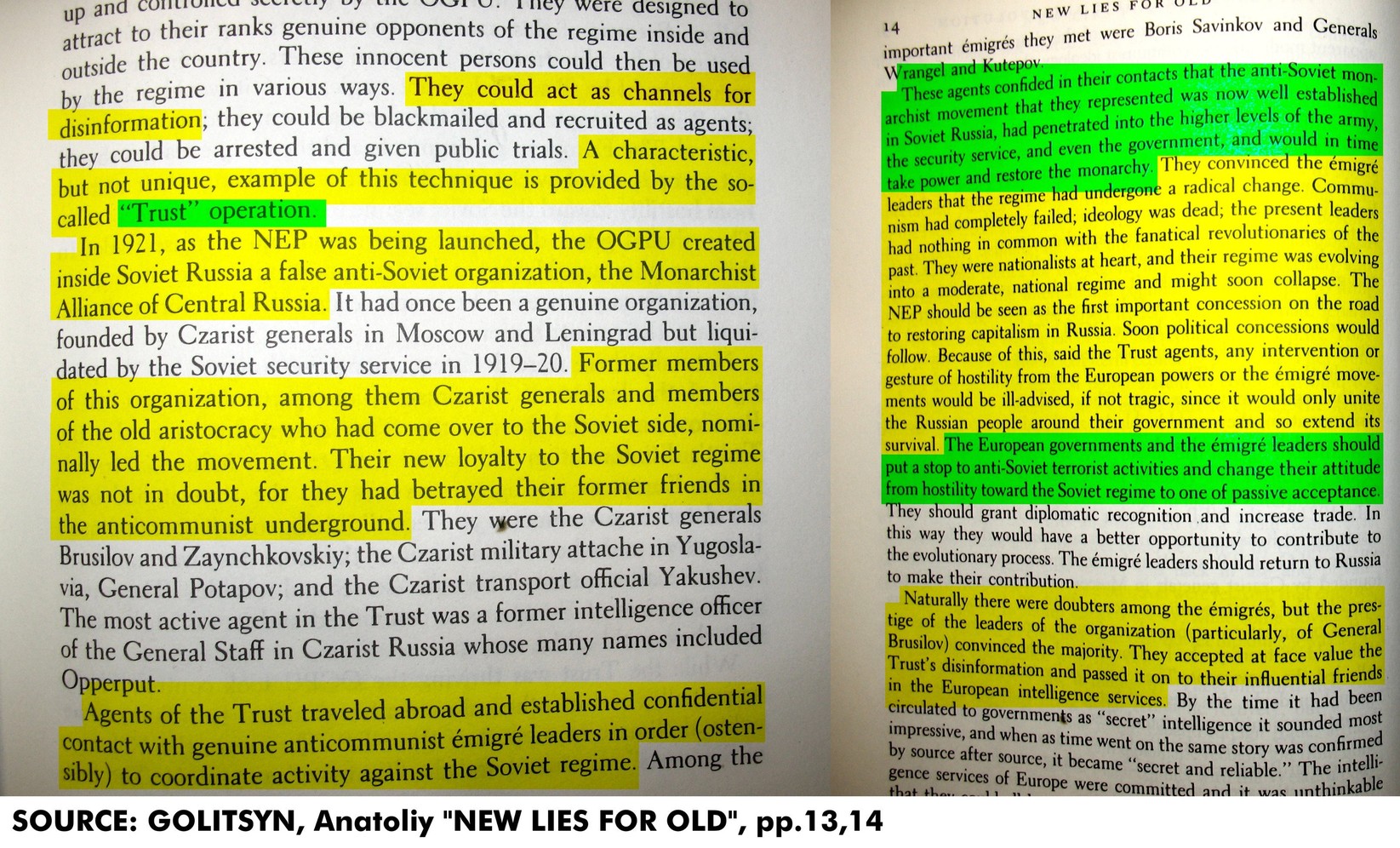 The ongoing "Q-Anon" psyop is designed to pacify Donald Trump's loyal base. pic.twitter.com/C70T1T7BNF pic.twitter.com/WG4jfmvEeG

— WikiLeaks (@wikileaks) December 13, 2018

While it claims to be fighting the Satanic pedophile "deep state" Q promotes regime change in Iran and the rendition of Edward Snowden. Interestingly this also happens to be the disturbing kindred objective of the CIA, Mossad and Military industrial complex neo-cons.

— WikiLeaks (@wikileaks) June 25, 2018
Operation Trust was a counterintelligence operation of the State Political Directorate (GPU) of the Soviet Union. The operation, which was set up by GPU's predecessor Cheka, ran from 1921 to 1926, set up a fake anti-Bolshevik resistance organization, "Monarchist Union of Central Russia", MUCR, in order to help the OGPU identify real monarchists and anti-Bolsheviks. The created front company was called the Moscow Municipal Credit Association.
One Western historian, John Costello had limited access to the Trust files. Costello reported that Operation Trust comprised of thirty-seven volumes and scores of double-agents, altered code names, and interlocking deception operations with "the complexity of a symphonic score". And like those who believed the Russian Military would come to the people's aid to stop the communists in Russia in the 1920's, Q-Anon followers have been played.
HN
WELCOME TO TRUTH TALK NEWS
"Where truth the mainstream media ignores is the top story!"
TRUTH TALK NEWS on BitChute: truthtalknews (bitchute.com)
TRUTH TALK NEWS on Rumble: http://www.rumble.com/truthtalknews
TRUTH TALK NEWS CHANNEL 4 on YouTube: https://www.youtube.com/channel/UCAPVzIUH8FppIoxQzVMChhQ
TRUTH TALK NEWS CHANNEL on YouTube: http://www.youtube.com/TruthTalkNews
Let us take a journey together down the rabbit hole.
START YOUR JOURNEY BELOW:
REPORT FROM IRON MOUNTAIN (published 1967): https://www.howardnema.com/wp-content/uploads/2016/08/Report_from_Iron_Mountain.pdf
SILENT WEAPONS FOR QUIET WARS (1979) FULL DOCUMENT: https://www.howardnema.com/2020/09/13/silent-weapons-for-quiet-wars/
OPERATION LOCKSTEP: https://www.howardnema.com/2020/08/22/operation-lock-step-using-covid-19-as-an-authoritarian-weapon-for-social-control/
UN Agenda 21 FULL DOCUMENT: https://sustainabledevelopment.un.org/content/documents/Agenda21.pdf
Tragedy and Hope (MOST IMPORTANT EXCERPTS): https://www.howardnema.com/2016/10/25/critical-excerpts-from-tragedy-and-hope-1966-that-explain-events-in-the-world-today/
BETWEEN TWO AGES: America's Role in the Technetronic Era by Zbigniew Brzezinski: https://www.howardnema.com/wp-content/uploads/2016/08/5a-zbigniew-brzezinski_between-two-ages.pdf
Take advantage of all the other books, articles, links and information available at http://www.HowardNema.com
Read BOOKS YOU MUST READ TO UNDERSTAND THE NEW WORLD ORDER: Below is link to a path of breadcrumbs that leads to greater understanding of the world we live in and those who chart and guide humanity's progress from the shadows though out the ages. You will find an ever growing catalogue of hundreds of books, PDF's, articles, white papers, links, reports, documents and research material on all things New World Order.
https://www.howardnema.com/2020/08/19/books-you-must-read-to-understand-the-new-world-order/
Watch TRUTH TALK NEWS, a talk show discussing suppressed history, current events, politics, pop culture, the esoteric and exoteric, and all things New World Order
THURSDAYS 9pm in Western Connecticut on Spectrum Cable Channel 192 serving the towns of Barkhamsted, Bethlehem, Bridgewater, Brookfield, Colebrook, Danbury, Harwinton, Kent, Monroe, New Hartford, New Fairfield, New Milford, Newtown, Roxbury, Sherman, Southbury, Trumbull, Washington, West Hartland, Winchester and Woodbury.
WILLIAM COOPER'S FULL MYSTERY BABYLON SERIES (44 EPISODES)
https://www.youtube.com/watch?v=itO8A0z5HdY&list=PLfqzOxBqtdDU3PQPiVs71k7FobaYKJLmL
Subscribe to William Cooper's MYSTERY BABYLON CHANNEL:
https://www.youtube.com/channel/UCZ5XZgqTNBIsGRB3CtszmcQ
SOCIAL MEDIA:
http://www.twitter.com/TruthTalkNews
http://www.facebook.com/TruthTalkNews
http://www.HowardNema.com is censored and blocked by Facebook. Nothing can be posted or shared on Facebook from HowardNema.com due to "community standards" violations concerning bogus accusations of bullying, harassment and hate speech.

When truth is called hate, when hate is called love, when ideological beliefs breed rage and violence, our society treads on dangerous ground. Ground that has been traveled many times before by fellow travelers and followers of Marx, Lenin, Stalin, Hitler, Mao, Pol-Pot and many other Utopian charlatan totalitarians throughout the centuries. Censorship should be a warning sign from history. For all of us. Silencing one silences us all.