By HN
Communist Broadcast System (CBS) reporter Sharyn Alfonsi ambushed Florida Governor Ron DeSantis with lies at a press conference last month questioning him about using a false Ministry of Truth narrative about the way that Desantis has responded to the coronavirus pandemic.
Of course Alfonsi ignores the democrat governors who sent COVID-19 patients to nursing homes killing tens of thousands of seniors, which accounted for 23% of all the extremely overstated number of COVID-19 deaths reported.
No, the media focus is, as always, a deflection to try and discredit the one Governor who performed the best during the Rockefeller Foundation's COVID-19 Operation Lockstep social engineering scamdemic to destroy small business, condition the masses to authoritarian lockdowns and groom the population to comply with future evils.
"60 Minutes" deceptively edited the segment removing nearly all of DeSantis' responses. Alfonsi suggested that Publix, the largest grocery store chain in Florida, had engaged in pay to play by donating money to DeSantis' campaign in exchange for being awarded a contract to distribute vaccines in the state.
No, darling. It was creepy Joe Biden who engaged in pay for play in Ukraine to stop the investigation into his son Hunter Biden. Considering her journalistic awards and backround, you'd think she'd know that. Well, she does know–which outs her as a liar, a propagandist and a political hack for the communists who call themselves democrats.
"The irresponsible suggestion that there was a connection between campaign contributions made to Governor DeSantis and our willingness to join other pharmacies in support of the state's vaccine distribution efforts is absolutely false and offensive," Publix said in a scathing statement slamming the "60 Minutes" segment.
"We are proud of our pharmacy associates for administering more than 1.5 million doses of vaccine to date and for joining other retailers in Alabama, Florida, Georgia, South Carolina, Tennessee and Virginia to do our part to help our communities emerge from the pandemic."
CBS 60 Minutes and the controlled mainstream media have also ignored the growing calls to recall California Governor Newsome and calls for the impeachment of New York Governor Mario Cuomo for destroying their states.
PUBLIX, DEM STATE OFFICIAL BLAST "ABSOLUTELY FALSE AND OFFENSIVE" SMEAR OF DeSANTIS
Florida's largest grocery store and a Florida state official, who is a Democrat, slammed CBS's "60 Minutes" on Sunday evening following a deceptive segment the network aired about Florida Governor Ron DeSantis (R). Democrat Former Florida state Rep. Jared Moskowitz also slammed "60 Minutes" over the segment. The Sun Sentinel reported that DeSantis' office did not push for selecting Publix. Moskowitz, the director of Florida's Division of Emergency Management and has overseen the state's response to the overstated fake pandemic that has brought the world to its knees. The media and many politicians have annointed Bill Gates and George Soros depopulation operative buddy Dr. Deception Anthony Fauci as the second coming of Christ. The fact is, Lucifer is disguised as an angel of light like Fauci, who is disguised as a savior when he is really an angel of death.
If it isn't bad enough that the controlled mainstream media ignores anything that shows democrats in a poor light, CBS, the Communist Broadcast System has upped the anty. CBS and other media presstitutes have criticized republican states that have performed far better than democrat states. Florida is free and the democrats hate freedom. They are using fear tactics to keep us compliant with their policies and demonize common sense if it interferes with thier blatantly obvious deindustrialization/collectivst agenda. They want us all enslaved. To be good, compliant serfs.
CBS, which is headquarted in New York City continues to ignore the facts concerning the democrat's blatant coup detat caught by thousands on their smartphones. Most of us realize the dirty democrats used the COVID-19 psyop as an excuse for suspending voter laws as cover for committing massive voter fraud, Many more realize the illegitimate Biden regime has covertly aligned with China, Russia and Iran. After all, actions speak louder than words.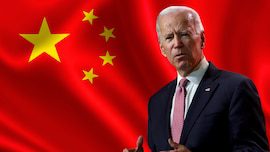 Biden's devastating pro-globalist, pro-China, pro-Russia economic policies are already taking its toll on Americans. Gas is closing in on $3.00 a gallon thanks to OBiden shutting down the Keystone pipeline and prices are rising due to excessive spending. Spending that primarily benefits states bankrupted by democrat policies, foreign countries and democrat donors and pet polices while casting blame on their enemies and leaving crumbs for the American people.
CBS and the other globalist propagandists have ignored, made excuses or downplayed the many democrat failures in states and cities for decades.
Cuomo, the greedy granny killer and his clear profit motives are one exampole. Hunter Biden's laptop and Joe Biden's corruption in Ukraine and China are another. CBS and the rest of the controlled mainstream media ignore all of it, especially the deep state shadow government and their complicit criminals and traitors in our intelligence agencies.
Indepedent media is attacked, censored and shut down regularly. If you didn't know any better, you'd think America is a banana republic. After all, what other conclusions can you draw? Due to political alliances major corporations are engaged in cancel culture. It is reported that these companies are bending to political pressure, but that is not so. It is the culmination of a 60 year plan to consolidate industries under the umbrella of globalist New World Order elitists. Evidence of this is superfluous, but the media, (who are supposed to protect the people from just the type of tyranny we are living under), are 100% complicit in the agenda to destroy freedom and individual rights for the benefit of elitists and the "collective" peasants.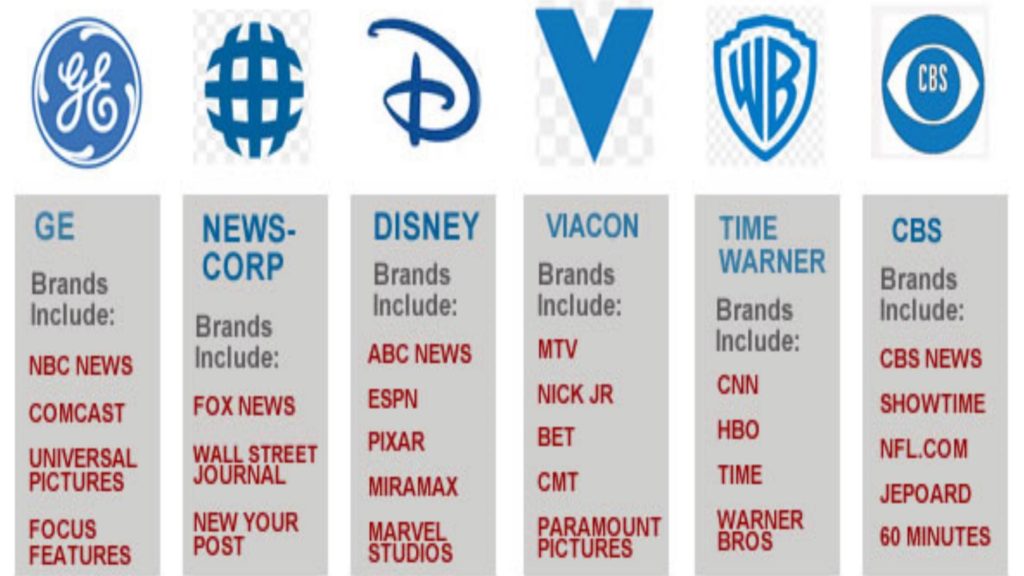 In 1980 there were more than 50 media companies. Today there are 6. I might add that China is now the 2nd largest owner of Hollywood studios and movie theatres.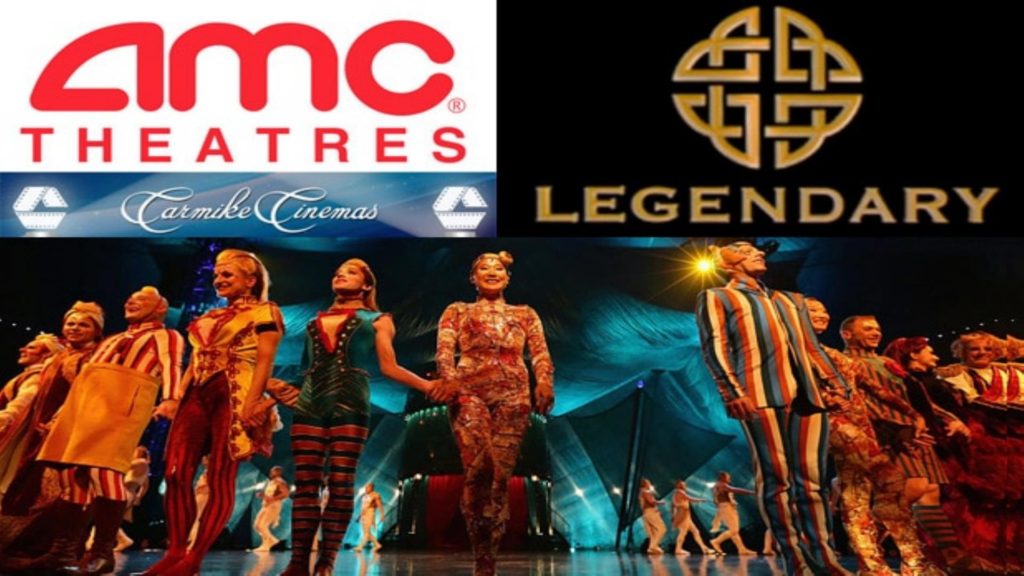 For more than a decade they have been acquiring Hollywood assets and asserting Communist Chinese Party influence over productions.
We have all watched this happen before our eyes. So have our corrupt, sell out so called "leaders" who have allowed China to eat our lunch for fifty years.
related: https://www.howardnema.com/2021/04/06/6-companies-own-90-of-the-media/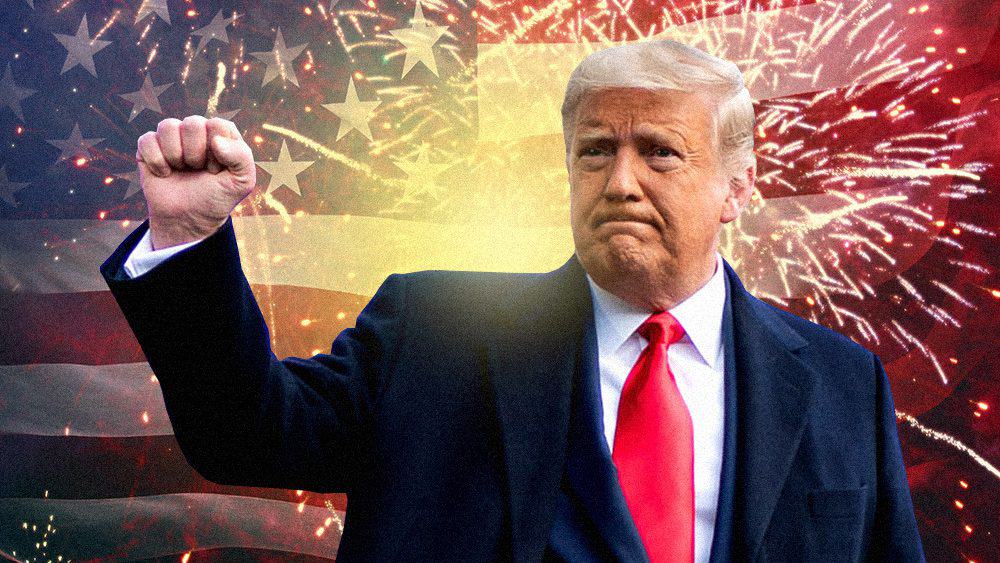 Trump was right about China and he was right when he called the media the "enemy of the people". That fact gets clearer and clearer every day. Even to the most skeptical, or brainwashed soul.
We are watching a communist insurrection executed in real time, disguised as a democrat administration, ready to install a social credit score in America. It is already happening. A store in Oregon has installed facial recognition technology. This sets the state for massive tyranny in the future. If your social credit score drops too low you cannot buy food, or travel. This system forces compliance or death.
How dare democrats support Communist China and Iran, who are horrific, evil human rights abusers and talk about social justice?
WELCOME TO TRUTH TALK NEWS @ HowardNema.com
Take advantage of all the books, articles, links and suppressed information YOU NEED TO KNOW that is available on this site.
START YOUR JOURNEY BELOW:
REPORT FROM IRON MOUNTAIN (published 1967): https://www.howardnema.com/wp-content/uploads/2016/08/Report_from_Iron_Mountain.pdf
SILENT WEAPONS FOR QUIET WARS (1979) FULL DOCUMENT: https://www.howardnema.com/2020/09/13/silent-weapons-for-quiet-wars/
OPERATION LOCKSTEP: https://www.howardnema.com/2020/08/22/operation-lock-step-using-covid-19-as-an-authoritarian-weapon-for-social-control/
THE FIRST GLOBAL REVOLUTION (1992): The First Global Revolution (geoengineeringwatch.org)
UN Agenda 21 FULL DOCUMENT: https://sustainabledevelopment.un.org/content/documents/Agenda21.pdf
Tragedy and Hope (MOST IMPORTANT EXCERPTS): https://www.howardnema.com/2016/10/25/critical-excerpts-from-tragedy-and-hope-1966-that-explain-events-in-the-world-today/
BETWEEN TWO AGES: America's Role in the Technetronic Era by Zbigniew Brzezinski: https://www.howardnema.com/wp-content/uploads/2016/08/5a-zbigniew-brzezinski_between-two-ages.pdf
BOOKS YOU MUST READ TO UNDERSTAND THE NEW WORLD ORDER:
The link below is a path of breadcrumbs that leads to greater understanding of the world we live in and those who chart and guide humanity's progress from the shadows though out the ages. Here is an ever growing catalogue of hundreds of books, PDF's, articles, white papers, links, documents and research material on all things New World Order.
https://www.howardnema.com/2020/08/19/books-you-must-read-to-understand-the-new-world-order/
On December 3, 2020 the subversive anti-American communist traitors at YouTube TERMINATED TRUTH TALK NEWS CHANNEL 2. On December 11, 2020 YouTube terminated TRUTH TALK NEWS CHANNEL 3. TRUTH TALK NEWS CHANNEL 4 was launched the same day so the more than 9,000 subscribers left orphaned will be able to find material that will be posted on alternative sites.
Subscribe to Truth Talk News on rumble:
https://rumble.com/account/content?type=all
Subscribe to TruthTalkNews on bitchute: https://www.bitchute.com/channel/QJKrgONwtmn0/
In 2016 the TRUTH TALK NEWS CHANNEL was hacked and the email address was changed. There is no way to access or respond to emails, post, or upload videos on that site. The Channel has more than 2.5 million views and over 12.5K subscribers and continues to grow. The full catologue of more than 1000 videos are still available for viewing and sharing. Subscribe to TRUTH TALK NEWS 2011-2016 Archives on YouTube: http://www.youtube.com/TruthTalkNews
SOCIAL MEDIA:
http://www.twitter.com/TruthTalkNews
http://www.facebook.com/TruthTalkNews
HowardNema.com is censored and blocked by Facebook. Nothing can be posted or shared on Facebook from HowardNema.com due to "community standards" violations concerning bogus accusations of bullying, harassment and hate speech.
When truth is called hate, when hate is called love, when ideological beliefs breed rage and violence, our society treads on dangerous ground. Ground that has been traveled many times before by fellow travelers and followers of Marx, Lenin, Stalin, Hitler, Mao, Pol-Pot and many other Utopian charlatan totalitarians throughout the centuries. Censorship should be a warning sign from history. For all of us. Silencing one silences us all.
STAND UP FOR FREE SPEECH!
WATCH AND SHARE TRUTH TALK NEWS!
"Where truth the mainstream media ignores is the top story!"
Let us take a journey together down the rabbit hole.
Watch TRUTH TALK NEWS, a talk show discussing suppressed history, current events, politics, pop culture, the esoteric and exoteric, and all things New World Order.
THURSDAYS 9pm in Western Connecticut on Spectrum Cable Channel 192 serving the towns of Barkhamsted, Bethlehem, Bridgewater, Brookfield, Colebrook, Danbury, Harwinton, Kent, Monroe, New Hartford, New Fairfield, New Milford, Newtown, Roxbury, Sherman, Southbury, Trumbull, Washington, West Hartland, Winchester and Woodbury.
WILLIAM COOPER'S FULL MYSTERY BABYLON SERIES (44 EPISODES)
https://www.youtube.com/watch?v=itO8A0z5HdY&list=PLfqzOxBqtdDU3PQPiVs71k7FobaYKJLmL
Subscribe to William Cooper's MYSTERY BABYLON CHANNEL:
https://www.youtube.com/channel/UCZ5XZgqTNBIsGRB3CtszmcQ
All information reported on TRUTH TALK NEWS and HowardNema.com is sourced and verifiable and for the purposes of education and FAIR USE. Take advantage of the many books, articles, videos and FULL PDF's available for FREE, safe downloads on this site.
TRUTH TALK NEWS and HowardNema.com ARE FREE SITES. All books and information on the sites are FREE and NOT monetized in any way.
You are not cattle. You are not a useless eater.
You do not have to be a brainwashed slave owned by the New World Order.
Do the research. Think critically.
Find your own truth. There is only one truth. . . .
Seek and you will find it.
Awaken.
Be a messenger.
Thank you for your continued support. God bless you all.
HN