Shocking Study Reveals mRNA COVID-19 Vaccines May Progressively Degenerate Your Brain From Prion Disease
April 10, 2021
A shocking study has revealed the terrifying dangers of mRNA COVID-19 vaccines inducing prion-based disease causing your brain to degenerate progressively. The mRNA vaccine induced prions may cause neurodegenerative diseases because long-term memories are maintained by prion-like proteins. The study concluded that mRNA based vaccine may also cause ALS, front temporal lobar degeneration, Alzheimer's disease and other neurological degenerative diseases in the vaccine recipients.
Contents:
Interaction between SARS-COV-2 Prions & ACE2 Receptors
The spike protein outer shell of the coronavirus contains "prion-like regions" that give the virus very high adhesion to ACE2 receptors in the human body.
This has been documented by a study entitled, "SARS-CoV-2 Prion-Like Domains in Spike Proteins Enable Higher Affinity to ACE2," published by the Human Microbiology Institute:
The presence and unique distribution of prion-like domains in the SARS-CoV-2 receptor-binding domains of the spike protein is particularly interesting, since although the SARS-CoV-2 and SARS-CoV S proteins share the same host cell receptor, angiotensin-converting enzyme 2 (ACE2), SARS-CoV-2 demonstrates a 10- to 20-fold higher affinity for ACE2.
The Cross-Species Jump
This special relationship between the S protein and ACE2 receptor is the key to cross-species infection which made it possible for the coronovirus to make a jump from animals to humans.
The special relationship between the S protein and ACE2 receptor is the key to cross-species injection which made it possible for the coronovirus to make a jump from animals to humans.
A remarkable fact is that the Coronavirus carried by bats cannot directly infect the human body, let alone a virus that can possess human-to-human transmission.
This cross-species jump was not natural and was achieved by the team lead by the Batwoman of China, Shi Zhengli. You can read more about it in detail in COVID19 Files – Scientific Investigation On Mysterious Origin Of Coronavirus.
It was funded under gain-of-function experiments through Peter Daszak, the President of EcoHealth Alliance by the US Government.
The Coverup
The interesting part is that Peter Daszak is the same guy who orchestrated the publication of a 'scientific' paper in Lancet claiming that the virus made the cross-species jump naturally.
How can the same guy who funded the experiments to make the cross-species jump of the virus, claim that it evolved naturally?
If you think that's outrageous, well just wait for it.
Peter Daszak is also the same guy the WHO sent to China to investigate the claims whether the virus evolved naturally or was coronavirus engineered.
Yet another person linked to the team is Dutch virologist Ron Fouchier, another key to the coronavirus investigation who also created the deadly mutant H5N1 virus.
We encourage our readers to explore more about the amazing personalities in the WHO investigative team.
COVID-19 mRNA Vaccines & Prion-based Diseases
What are Prions
Because of such experiments by these eminent scientists the virus contains prions-like domains in its receptor region of the spike protein.
Prions are misfolded proteins with the ability to transmit their misfolded shape onto normal variants of the same protein. They characterize several fatal and transmissible neurodegenerative diseases in humans and many other animals.
How mRNA Vaccines Work
Messenger RNA (mRNA) is a single-stranded molecule naturally present in all of our cells. It carries the instructions for making proteins from our genes, located in the cell nucleus, to the cytoplasm, the main body of our cells.
Enzymes in the cytoplasm then translate the information stored in mRNA and make proteins.
An mRNA vaccine delivers the instructions for making a bacterial or viral protein to our cells. Our immune system then responds to these proteins and develops the tools to react to future infections with the pathogen.
mRNA Vaccine induced Prion-based diseases
Research has shown that RNA editing alterations cause prion diseases – fatal neurodegenerative disorders characterized by rapidly progressive dementia.
Now when the mRNA vaccine triggers the immune response, the body may itself start creating prions induced by the vaccine mimicking its presence in the spike protein causing prion-based disease in the vaccine recipients.
The risk of this was assessed by Dr. J. Bart Classen, who authored a paper (read below) in Microbiology & Infectious Diseases titled "Covid-19 RNA Based Vaccines and the Risk of Prion Disease."
Development of new vaccine technology has been plagued with problems in the past. The current RNA based SARS-
CoV-2 vaccines were approved in the US using an emergency order without extensive long term safety testing.
The authors evaluated the vaccine for the potential to induce prion-based disease in vaccine recipients.
The RNA sequence of the vaccine as well as the spike protein target interaction were analyzed for the potential to convert intracellular RNA binding proteins TAR DNA binding protein (TDP-43) and Fused in Sarcoma (FUS) into their pathologic prion conformations.
The results indicate that the vaccine RNA has specific sequences that may induce TDP-43 and FUS to fold into their pathologic prion confirmations.
The folding of TDP-43 and FUS into their pathologic prion confirmations is known to cause ALS, front temporal lobar degeneration, Alzheimer's disease and other neurological degenerative diseases.
The finding of the study as well as additional potential risks lead the author to believe that regulatory approval of the RNA based vaccines for SARS-CoV-2 was premature and that the vaccine may cause much more harm than benefit.
Prions maintain Long-term Memories
The vaccine induced prions may cause neurodegenerative diseases because long-term memories are maintained by prion-like proteins. The memory molecules are a normal version of prion proteins.
In four papers published in Neuron and Cell Reports, Dr. Kandel's laboratory showed how prion-like proteins – similar to the prions behind mad cow disease in cattle and Creutzfeld-Jakob disease in humans – are critical for maintaining long-term memories in mice, and probably in other mammals.
When long-term memories are created in the brain, new connections are made between neurons to store the memory. But those physical connections must be maintained for a memory to persist, or else they will disintegrate and the memory will disappear within days.
Memories are stored for the long-term with the help of prion-like proteins called CPEB. CPEB prions aggregate and maintain synapses that recorded the memory.
When CPEB prions are not present or are inactivated, the synapses collapse and the memory fades.
– David Sulzer, PhD, Columbia University Medical Center
Prions and Creutzfeldt-Jakob disease
Prions are also known to cause a neurodegenerative disorder called Creutzfeldt-Jakob disease (CJD).
According to the CDC:
Creutzfeldt-Jakob disease (CJD) is a rapidly progressive, invariably fatal neurodegenerative disorder believed to be caused by an abnormal isoform of a cellular glycoprotein known as the prion protein.
As per the CDC, this disease is rapidly progressive and always fatal. Infection with this disease leads to death usually within 1 year of onset of illness.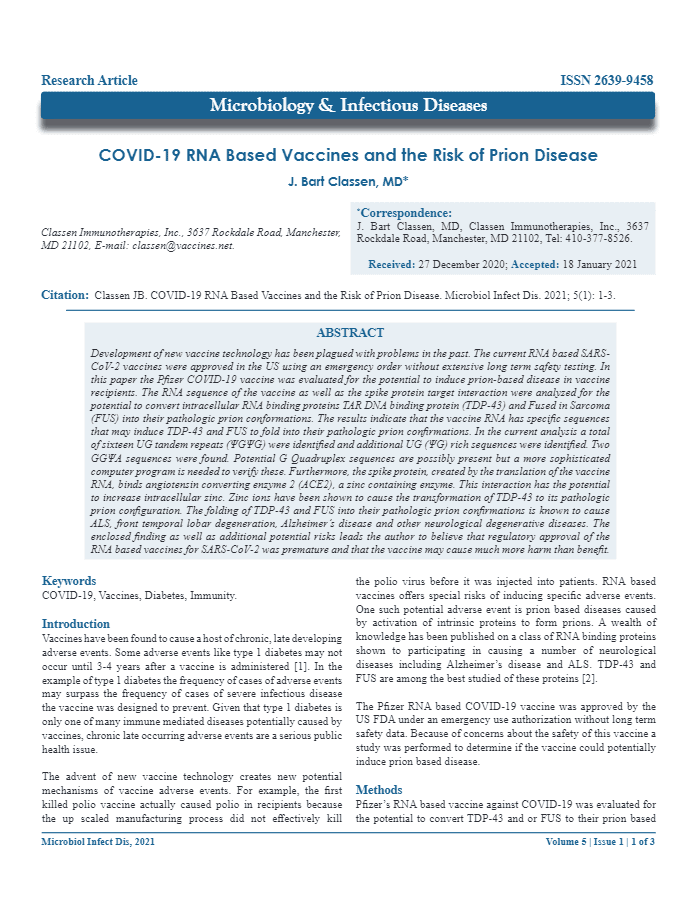 WELCOME TO TRUTH TALK NEWS @ HowardNema.com

Take advantage of all the books, articles, links and suppressed information YOU NEED TO KNOW that is available on this site.
START YOUR JOURNEY BELOW:
REPORT FROM IRON MOUNTAIN (published 1967): https://www.howardnema.com/wp-content/uploads/2016/08/Report_from_Iron_Mountain.pdf
SILENT WEAPONS FOR QUIET WARS (1979) FULL DOCUMENT: https://www.howardnema.com/2020/09/13/silent-weapons-for-quiet-wars/
OPERATION LOCKSTEP: https://www.howardnema.com/2020/08/22/operation-lock-step-using-covid-19-as-an-authoritarian-weapon-for-social-control/
UN Agenda 21 FULL DOCUMENT: https://sustainabledevelopment.un.org/content/documents/Agenda21.pdf
Tragedy and Hope (MOST IMPORTANT EXCERPTS): https://www.howardnema.com/2016/10/25/critical-excerpts-from-tragedy-and-hope-1966-that-explain-events-in-the-world-today/
BETWEEN TWO AGES: America's Role in the Technetronic Era by Zbigniew Brzezinski: https://www.howardnema.com/wp-content/uploads/2016/08/5a-zbigniew-brzezinski_between-two-ages.pdf
BOOKS YOU MUST READ TO UNDERSTAND THE NEW WORLD ORDER:
The link below is a path of breadcrumbs that leads to greater understanding of the world we live in and those who chart and guide humanity's progress from the shadows though out the ages. Here is an ever growing catalogue of hundreds of books, PDF's, articles, white papers, links, documents and research material on all things New World Order.
https://www.howardnema.com/2020/08/19/books-you-must-read-to-understand-the-new-world-order/
On December 3, 2020 the subversive anti-American communist traitors at YouTube TERMINATED TRUTH TALK NEWS CHANNEL 2. On December 11, 2020 YouTube terminated TRUTH TALK NEWS CHANNEL 3. TRUTH TALK NEWS CHANNEL 4 was launched the same day so the more than 9,000 subscribers left orphaned will be able to find material that will be posted on alternative sites.
Subscribe to Truth Talk News on rumble:
https://rumble.com/account/content?type=all
Subscribe to TruthTalkNews on bitchute: https://www.bitchute.com/channel/QJKrgONwtmn0/
In 2016 the TRUTH TALK NEWS CHANNEL was hacked and the email address was changed. There is no way to access or respond to emails, post, or upload videos on that site. The Channel has more than 2.5 million views and over 12.5K subscribers and continues to grow. The full catologue of more than 1000 videos are still available for viewing and sharing. Subscribe to TRUTH TALK NEWS 2011-2016 Archives on YouTube: http://www.youtube.com/TruthTalkNews
SOCIAL MEDIA:
http://www.twitter.com/TruthTalkNews
http://www.facebook.com/TruthTalkNews
HowardNema.com is censored and blocked by Facebook. Nothing can be posted or shared on Facebook from HowardNema.com due to "community standards" violations concerning bogus accusations of bullying, harassment and hate speech.
When truth is called hate, when hate is called love, when ideological beliefs breed rage and violence, our society treads on dangerous ground. Ground that has been traveled many times before by fellow travelers and followers of Marx, Lenin, Stalin, Hitler, Mao, Pol-Pot and many other Utopian charlatan totalitarians throughout the centuries. Censorship should be a warning sign from history. For all of us. Silencing one silences us all.
STAND UP FOR FREE SPEECH!
WATCH AND SHARE TRUTH TALK NEWS!
Welcome to TRUTH TALK NEWS
"Where truth the mainstream media ignores is the top story!"
Let us take a journey together down the rabbit hole.
Watch TRUTH TALK NEWS, a talk show discussing suppressed history, current events, politics, pop culture, the esoteric and exoteric, and all things New World Order.
WEDNESDAYS 5PM and THURSDAYS 9pm in Western Connecticut on Spectrum Cable Channel 192 serving the towns of Barkhamsted, Bethlehem, Bridgewater, Brookfield, Colebrook, Danbury, Harwinton, Kent, Monroe, New Hartford, New Fairfield, New Milford, Newtown, Roxbury, Sherman, Southbury, Trumbull, Washington, West Hartland, Winchester and Woodbury.
WILLIAM COOPER'S FULL MYSTERY BABYLON SERIES (44 EPISODES)
https://www.youtube.com/watch?v=itO8A0z5HdY&list=PLfqzOxBqtdDU3PQPiVs71k7FobaYKJLmL
Subscribe to William Cooper's MYSTERY BABYLON CHANNEL:
https://www.youtube.com/channel/UCZ5XZgqTNBIsGRB3CtszmcQ
All information reported on TRUTH TALK NEWS and HowardNema.com is sourced and verifiable and for the purposes of education and FAIR USE. Take advantage of the many books, articles, videos and FULL PDF's available for FREE, safe downloads on this site.
TRUTH TALK NEWS and HowardNema.com ARE FREE SITES. All books and information on the sites are FREE and NOT monetized in any way.
You are not cattle. You are not a useless eater.
You do not have to be a brainwashed slave owned by the New World Order.
Do the research. Think critically.
Find your own truth. There is only one truth. . . .
Seek and you will find it.
Awaken.
Be a messenger.
Thank you for your continued support. God bless you all.
HN