Bill Clinton took at dozens of jaunts on Epstein's private jet to Epstein's Pedo Island in the Carribean. The pimp for the royalty and the rich and famount, Epstein had many "friends" in very high places. Many famous celebrities and politicians visited the Island. Pressure needs to be appied to all who visited the Island to be investigated for complicity in Epstein's sex crimes. Especially, Slick Willie Clinton, who took many trips to Epstein's pedo island. Clinton's laundry list of affairs and sexcapades are legendary. Well, they say birds of a feather flock together .
Ghislaine Maxwell, Jeffrey Epstein and President Bill Clinton during a tour of the White House. September, 1993. Epstein gave £7,280 to the refurbishment of the Oval Office.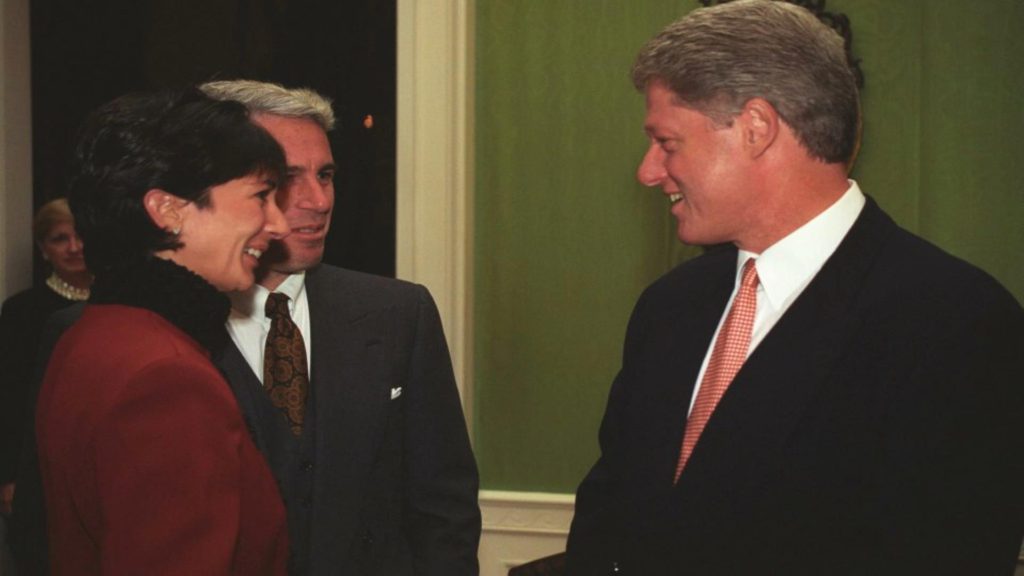 Clinton distanced himself from Epstein after he was arrested on charges of running a sex trafficking network of minors in 2019. Yet, Epstein's alleged victims and even Clinton's former aide claims the politician visited the private island where the financier and his powerful friends reportedly sexually abused women.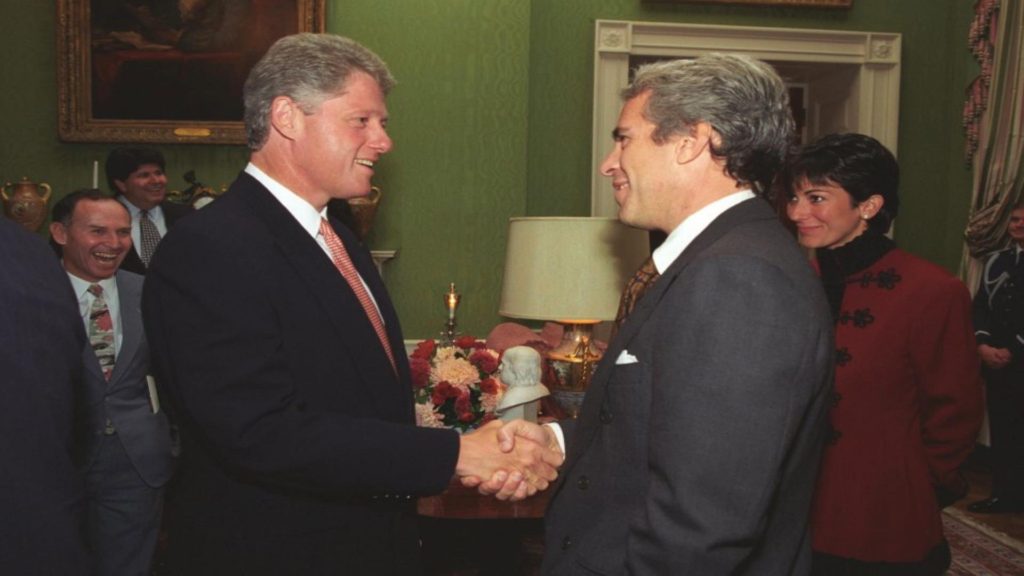 Newly released photos show former US President Bill Clinton greeting Jeffrey Epstein and his alleged accomplice Ghislaine Maxwell in the White House. The images, obtained by The Sun, show the 42nd president shaking hands with the disgraced financier during a tour of the presidential residence.
Ghislaine Maxwell, Jeffrey Epstein and President Bill Clinton during a tour of the White House. September, 1993.
Epstein gave £7,280 to the refurbishment of the Oval Office.

pic.twitter.com/wxQM8XiXX0— Unknown (@vcy5cygnet) April 25, 2021
​The newspaper writes that the meeting took place in the 1990s, during Clinton's first term in office. The White House reception hosted by Clinton and his wife Hillary was for individuals, who donated money for a makeover of the Oval Office. Epstein donated more than $10,000 for the renovation, The Sun writes, citing records pulled from the William J Clinton Library and Museum that show Epstein and Maxwell on the guest list.
Closely Connected
Previously published photos suggest that Clinton's relationship with the sex offender and his reported accomplice did not begin until 2002. The newly-published images indicate that the trio have communicated for many years.
"The photos show just how close Ghislaine Maxwell and Jeffrey Epstein got to one of the most powerful men in the world — in the most powerful building", a source told The Sun.
Report suggest the 42nd president of the United States frequently travelled on Epstein's private jet dubbed the "Lolita Express". The financier's alleged victims claimed the plane was one of places where Epstein and his friends abused young women. Clinton dismissed the reports about frequent flights and released a statement through his press secretary, saying he only took four trips, "one to Europe, one to Asia, and two to Africa, which included stops in connection with the work of the Clinton Foundation".
Bill Clinton as well as other high-profile figures such as British Royal Prince Andrew were thrust into the spotlight after Epstein was arrested on charges of running a sex trafficking network of minors in 2019. He was found dead in his jail cell on 10 August 2019, a month later after his arrest. His death was ruled a suicide though supporters of conspiracy theories purport that Epstein was killed by his powerful friends, who may be implicated in his crimes.
An earlier photo even showed Clinton receiving a neck massage from one of Epstein's accusers.
Bill Clinton receives neck massage from Jeffrey Epstein victim https://t.co/AOxtAAZBiX— Johnson Saltimbocca (@RodSaltimbocca) August 19, 2020
​The politician's former top adviser Doug Band claimed the Democrat also visited Epstein's private island Little Saint James, dubbed "Paedophile Island", where the financier reportedly sexually abused and raped young women. Band alleged the visit took place in January 2003. Similar claims about Clinton's visit to the island were made by Epstein's alleged victim Virginia Giuffre and former President Donald Trump. The Republican made the allegation in 2015, four years before Epstein's arrest.
The Clinton family reportedly continued to maintain relations with Epstein and his former girlfriend and alleged accomplice Ghislaine Maxwell even after his first criminal case in 2008. Back then, Epstein pleaded guilty to two felony charges, including to soliciting a minor for prostitution. He was ordered to register as a sex offender and was also jailed for 18 months.
Following Epstein's arrest Clinton distanced himself from him. The politician denied knowing about the billionaire's crimes and dismissed allegations that he had visited Little Saint James, calling them "lies".
SOURCE: Never-Before-Seen Photos Show Bill Clinton Greeting Sex Offender Jeffrey Epstein in White House
WELCOME TO TRUTH TALK NEWS @ HowardNema.com

Take advantage of all the books, articles, links and suppressed information YOU NEED TO KNOW that is available on this site.
START YOUR JOURNEY BELOW:
REPORT FROM IRON MOUNTAIN (published 1967): https://www.howardnema.com/wp-content/uploads/2016/08/Report_from_Iron_Mountain.pdf
SILENT WEAPONS FOR QUIET WARS (1979) FULL DOCUMENT: https://www.howardnema.com/2020/09/13/silent-weapons-for-quiet-wars/
THE FIRST GLOBAL REVOLUTION: https://www.howardnema.com/wp-content/uploads/2021/04/TheFirstGlobalRevolution_.pdf
OPERATION LOCKSTEP: https://www.howardnema.com/2020/08/22/operation-lock-step-using-covid-19-as-an-authoritarian-weapon-for-social-control/
UN Agenda 21 FULL DOCUMENT: https://sustainabledevelopment.un.org/content/documents/Agenda21.pdf
Tragedy and Hope (MOST IMPORTANT EXCERPTS): https://www.howardnema.com/2016/10/25/critical-excerpts-from-tragedy-and-hope-1966-that-explain-events-in-the-world-today/
BETWEEN TWO AGES: America's Role in the Technetronic Era by Zbigniew Brzezinski: https://www.howardnema.com/wp-content/uploads/2016/08/5a-zbigniew-brzezinski_between-two-ages.pdf
BOOKS YOU MUST READ TO UNDERSTAND THE NEW WORLD ORDER:
The link below is a path of breadcrumbs that leads to greater understanding of the world we live in and those who chart and guide humanity's progress from the shadows though out the ages. Here is an ever growing catalogue of hundreds of books, PDF's, articles, white papers, links, documents and research material on all things New World Order.
https://www.howardnema.com/2020/08/19/books-you-must-read-to-understand-the-new-world-order/
On December 3, 2020 the subversive anti-American communist traitors at YouTube TERMINATED TRUTH TALK NEWS CHANNEL 2. On December 11, 2020 YouTube terminated TRUTH TALK NEWS CHANNEL 3. TRUTH TALK NEWS CHANNEL 4 was launched the same day so the more than 9,000 subscribers left orphaned will be able to find material that will be posted on alternative sites.
Subscribe to Truth Talk News on rumble:
https://rumble.com/account/content?type=all
Subscribe to TruthTalkNews on bitchute: https://www.bitchute.com/channel/QJKrgONwtmn0/
In 2016 the TRUTH TALK NEWS CHANNEL was hacked and the email address was changed. There is no way to access or respond to emails, post, or upload videos on that site. The Channel has more than 2.5 million views and over 12.5K subscribers and continues to grow. The full catologue of more than 1000 videos are still available for viewing and sharing. Subscribe to TRUTH TALK NEWS 2011-2016 Archives on YouTube: http://www.youtube.com/TruthTalkNews
SOCIAL MEDIA:
http://www.twitter.com/TruthTalkNews
http://www.facebook.com/TruthTalkNews
HowardNema.com is censored and blocked by Facebook. Nothing can be posted or shared on Facebook from HowardNema.com due to "community standards" violations concerning bogus accusations of bullying, harassment and hate speech.
When truth is called hate, when hate is called love, when ideological beliefs breed rage and violence, our society treads on dangerous ground. Ground that has been traveled many times before by fellow travelers and followers of Marx, Lenin, Stalin, Hitler, Mao, Pol-Pot and many other Utopian charlatan totalitarians throughout the centuries. Censorship should be a warning sign from history. For all of us. Silencing one silences us all.
STAND UP FOR FREE SPEECH!
WATCH AND SHARE TRUTH TALK NEWS!
Welcome to TRUTH TALK NEWS
"Where truth the mainstream media ignores is the top story!"
Let us take a journey together down the rabbit hole.
Watch TRUTH TALK NEWS, a talk show discussing suppressed history, current events, politics, pop culture, the esoteric and exoteric, and all things New World Order.
WEDNESDAYS 5PM and THURSDAYS 9pm in Western Connecticut on Spectrum Cable Channel 192 serving the towns of Barkhamsted, Bethlehem, Bridgewater, Brookfield, Colebrook, Danbury, Harwinton, Kent, Monroe, New Hartford, New Fairfield, New Milford, Newtown, Roxbury, Sherman, Southbury, Trumbull, Washington, West Hartland, Winchester and Woodbury.
WILLIAM COOPER'S FULL MYSTERY BABYLON SERIES (44 EPISODES)
https://www.youtube.com/watch?v=itO8A0z5HdY&list=PLfqzOxBqtdDU3PQPiVs71k7FobaYKJLmL
Subscribe to William Cooper's MYSTERY BABYLON CHANNEL:
https://www.youtube.com/channel/UCZ5XZgqTNBIsGRB3CtszmcQ
All information reported on TRUTH TALK NEWS and HowardNema.com is sourced and verifiable and for the purposes of education and FAIR USE. Take advantage of the many books, articles, videos and FULL PDF's available for FREE, safe downloads on this site.
TRUTH TALK NEWS and HowardNema.com ARE FREE SITES. All books and information on the sites are FREE and NOT monetized in any way.
You are not cattle. You are not a useless eater.
You do not have to be a brainwashed slave owned by the New World Order.
Do the research. Think critically.
Find your own truth. There is only one truth. . . .
Seek and you will find it.
Awaken.
Be a messenger.
Thank you for your continued support. God bless you all.
HN