Sounds like yet another New World Order operation to me. HN
Cybercriminal Group Blamed for Colonial Pipeline Hack Says It Is Disbanding
BY ZACHARY STIEBER May 14, 2021 Updated: May 15, 2021biggersmallerPrint
The cybercriminal outfit that U.S. authorities have said infiltrated the network of a major pipeline operator, leading to gas shortages and rising prices, is claiming that it is disbanding.
DarkSide, which operates ransomware as a service, announced Thursday they were stopping operations.
In an announcement in Russian, the group said they lost access to part of its infrastructure, along with some of their financial assets, after an apparent raid by law enforcement authorities.
Affiliates that use DarkSide's ransomware were told they will be given tools so victims can regain access to data that attackers held hostage in return for payment.
"In view of the above and due to the pressure from the US, the affiliate program is closed. Stay safe and good luck. The landing page, servers, and other resources will be taken down within 48 hours," the announcement read, according to a translation by Intel 471, a group of intelligence operators.
The attack on Colonial Pipeline earlier this month prompted the Georgia-based company to shut down certain parts of its network. That led to a major U.S. pipeline going offline, which in turn led directly and indirectly to gas shortages and rising prices at the pump.
Reports suggested Colonial paid millions of dollars to get a tool to regain access to system parts the hackers invaded, but the company has declined to confirm that publicly, as has the U.S. government.
The FBI this week said the DarkSide ring was responsible for the compromise of Colonial networks. DarkSide appeared to acknowledge that much in an earlier statement, saying they are apolitical with the goal of making money and not creating problems for society.
"From today we introduce moderation and check each company that our partners want to encrypt to avoid social consequences in the future," it said.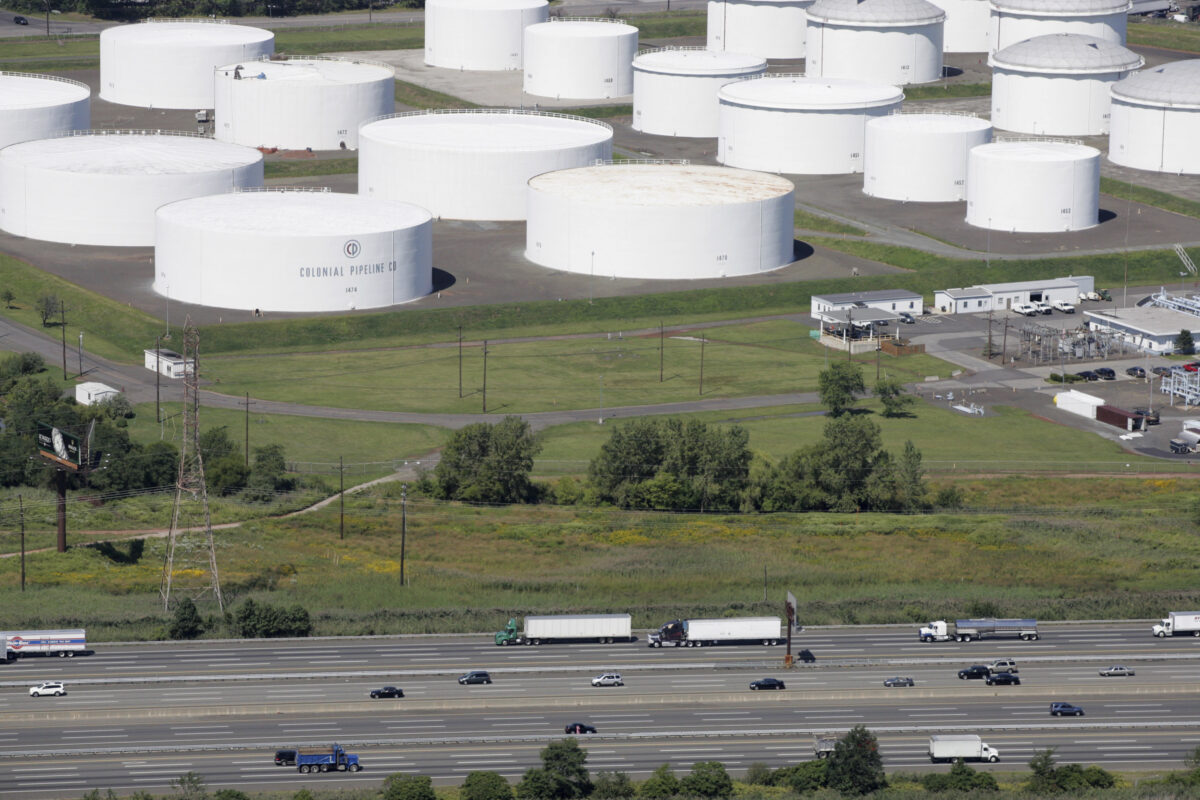 DarkSide utilizes a highly targeted approach to attacking victims by using custom ransomware and a corporate-like method of communication throughout their attacks, according to Digital Shadows, a cybersecurity firm. DarkSide previously claimed it did not attack companies in certain sectors, like education.
Security researchers expressed skepticism of DarkSide's new announcement.
Robert Lee, co-founder and CEO of Dragos, said on Twitter that the move "is almost certainly a rebranding attempt to avoid the heat."
DarkSide and another ransomware group, Babuk, which said it was shifting operations on Thursday after taking credit for obtaining and leaking information from Washington's police department, took the actions in reaction to "the high-profile ransomware attacks covered by the media this week," Intel 471 said.
"However, a strong caveat should be applied to these developments: it's likely that these ransomware operators are trying to retreat from the spotlight more than suddenly discovering the error of their ways. A number of the operators will most likely operate in their own closed-knit groups, resurfacing under new names and updated ransomware variants," it added.
President Joe Biden told reporters earlier Thursday that the U.S. government has "strong reason" to believe the Colonial hackers were based in Russia but were not backed by the Russian government.
"We have been in direct communication with Moscow about the imperative for responsible countries to take decisive action against these ransomware networks," he said. "We're also going to pursue a measure to disrupt their ability to operate. And our Justice Department has launched a new task force dedicated to prosecuting ransomware hackers to the full extent of the law."
An international task force that included officials from Microsoft, Amazon, New York state, and the U.S. government, said in a report sent to the Biden administration last month that the United States should "execute a sustained, aggressive, whole of government, intelligence-driven anti-ransomware campaign, coordinated by the White House."Follow Zachary on Twitter: @zackstieber
SOURCE: Texas AG Sues Biden Administration Over 'Power Grab' to Rescind Healthcare Funding (theepochtimes.com)
WELCOME TO TRUTH TALK NEWS @ HowardNema.com

Take advantage of all the books, articles, links and suppressed information YOU NEED TO KNOW that is available on this site.
START YOUR JOURNEY BELOW:
REPORT FROM IRON MOUNTAIN (published 1967): https://www.howardnema.com/wp-content/uploads/2016/08/Report_from_Iron_Mountain.pdf
SILENT WEAPONS FOR QUIET WARS (1979) FULL DOCUMENT: https://www.howardnema.com/2020/09/13/silent-weapons-for-quiet-wars/
THE FIRST GLOBAL REVOLUTION: https://www.howardnema.com/wp-content/uploads/2021/04/TheFirstGlobalRevolution_.pdf
OPERATION LOCKSTEP: https://www.howardnema.com/2020/08/22/operation-lock-step-using-covid-19-as-an-authoritarian-weapon-for-social-control/
UN Agenda 21 FULL DOCUMENT: https://sustainabledevelopment.un.org/content/documents/Agenda21.pdf
Tragedy and Hope (MOST IMPORTANT EXCERPTS): https://www.howardnema.com/2016/10/25/critical-excerpts-from-tragedy-and-hope-1966-that-explain-events-in-the-world-today/
BETWEEN TWO AGES: America's Role in the Technetronic Era by Zbigniew Brzezinski: https://www.howardnema.com/wp-content/uploads/2016/08/5a-zbigniew-brzezinski_between-two-ages.pdf
BOOKS YOU MUST READ TO UNDERSTAND THE NEW WORLD ORDER:
The link below is a path of breadcrumbs that leads to greater understanding of the world we live in and those who chart and guide humanity's progress from the shadows though out the ages. Here is an ever growing catalogue of hundreds of books, PDF's, articles, white papers, links, documents and research material on all things New World Order.
https://www.howardnema.com/2020/08/19/books-you-must-read-to-understand-the-new-world-order/
On December 3, 2020 the subversive anti-American communist traitors at YouTube TERMINATED TRUTH TALK NEWS CHANNEL 2. On December 11, 2020 YouTube terminated TRUTH TALK NEWS CHANNEL 3. TRUTH TALK NEWS CHANNEL 4 was launched the same day so the more than 9,000 subscribers left orphaned will be able to find material that will be posted on alternative sites.
Subscribe to Truth Talk News on rumble:
https://rumble.com/account/content?type=all
Subscribe to TruthTalkNews on bitchute: https://www.bitchute.com/channel/QJKrgONwtmn0/
In 2016 the TRUTH TALK NEWS CHANNEL was hacked and the email address was changed. There is no way to access or respond to emails, post, or upload videos on that site. The Channel has more than 2.5 million views and over 12.5K subscribers and continues to grow. The full catologue of more than 1000 videos are still available for viewing and sharing. Subscribe to TRUTH TALK NEWS 2011-2016 Archives on YouTube: http://www.youtube.com/TruthTalkNews
SOCIAL MEDIA:
http://www.twitter.com/TruthTalkNews
http://www.facebook.com/TruthTalkNews
HowardNema.com is censored and blocked by Facebook. Nothing can be posted or shared on Facebook from HowardNema.com due to "community standards" violations concerning bogus accusations of bullying, harassment and hate speech.
When truth is called hate, when hate is called love, when ideological beliefs breed rage and violence, our society treads on dangerous ground. Ground that has been traveled many times before by fellow travelers and followers of Marx, Lenin, Stalin, Hitler, Mao, Pol-Pot and many other Utopian charlatan totalitarians throughout the centuries. Censorship should be a warning sign from history. For all of us. Silencing one silences us all.
STAND UP FOR FREE SPEECH!
WATCH AND SHARE TRUTH TALK NEWS!
Welcome to TRUTH TALK NEWS
"Where truth the mainstream media ignores is the top story!"
Let us take a journey together down the rabbit hole.
Watch TRUTH TALK NEWS, a talk show discussing suppressed history, current events, politics, pop culture, the esoteric and exoteric, and all things New World Order.
WEDNESDAYS 5PM and THURSDAYS 9pm in Western Connecticut on Spectrum Cable Channel 192 serving the towns of Barkhamsted, Bethlehem, Bridgewater, Brookfield, Colebrook, Danbury, Harwinton, Kent, Monroe, New Hartford, New Fairfield, New Milford, Newtown, Roxbury, Sherman, Southbury, Trumbull, Washington, West Hartland, Winchester and Woodbury.
WILLIAM COOPER'S FULL MYSTERY BABYLON SERIES (44 EPISODES)
https://www.youtube.com/watch?v=itO8A0z5HdY&list=PLfqzOxBqtdDU3PQPiVs71k7FobaYKJLmL
Subscribe to William Cooper's MYSTERY BABYLON CHANNEL:
https://www.youtube.com/channel/UCZ5XZgqTNBIsGRB3CtszmcQ
All information reported on TRUTH TALK NEWS and HowardNema.com is sourced and verifiable and for the purposes of education and FAIR USE. Take advantage of the many books, articles, videos and FULL PDF's available for FREE, safe downloads on this site.
TRUTH TALK NEWS and HowardNema.com ARE FREE SITES. All books and information on the sites are FREE and NOT monetized in any way.
You are not cattle. You are not a useless eater.
You do not have to be a brainwashed slave owned by the New World Order.
Do the research. Think critically.
Find your own truth. There is only one truth. . . .
Seek and you will find it.
Awaken.
Be a messenger.
Thank you for your continued support. God bless you all.
HN