How is this possible if thes experimental mRNA gene therapy being marketed as a "vaccine" is "safe and effective"? Because the injections are NOT SAFE AND EFFECTIVE! Humanity is the guinea pig. Worse. Humanity is the victim of genocidal mass murderer at the hands of the global elite. Medical experts know millions will die from the injections, but they insist on injecting the world with their deadly poison. The Club of Rome Malthusian elite behind the COVID-19 biowar against humanity believe the death count must increase to "save the planet." And so it is. HN
223 People Have Died With COVID-19 After Getting Fully Vaccinated: CDC
Over 1,100 people in the United States have been hospitalized with COVID-19 after being fully vaccinated against the virus that causes it, and more than 220 have died, according to new figures from a top U.S. health agency.
The number of hospitalizations among the fully vaccinated is up to 1,136, and the number of deaths among the same population is 223 as of May 10, according to the Centers for Disease Control and Prevention (CDC)
The statistics published by the CDC are an accumulation of reports from 46 U.S. states and territories. Which locations haven't shared breakthrough numbers isn't clear.
The numbers could also be undercounted because "national surveillance relies on passive and voluntary reporting, and data might not be complete or representative," according to the CDC.
Breakthrough metrics refer to cases, hospitalizations, or deaths among people who have seen two or more weeks elapse since receiving the final dose of a COVID-19 vaccine—the single-shot Johnson & Johnson vaccine or the second shot of either the Moderna or Pfizer vaccine.
Of the people who died after being fully vaccinated, 42 were asymptomatic or not related to COVID-19, according to the CDC. Additionally, 342 of the hospitalizations were asymptomatic or not related to COVID-19.
"Many, many hospitals are screening people for COVID when they come in, so not all of those 223 cases who had COVID actually died of COVID. They may have had mild disease, but died, for example, of a heart attack," CDC Director Dr. Rochelle Walensky said on CNN's "State of the Union" on May 16.
Under the usual counting program, people who haven't been vaccinated but who die of heart attacks or other causes while testing positive for the CCP virus are typically listed as a COVID-19 death.
The death rate among the fully vaccinated is "extraordinarily low" when taking into consideration the death rate of COVID-19 itself, Walensky said.
Some 115 million people had been fully vaccinated as of May 10.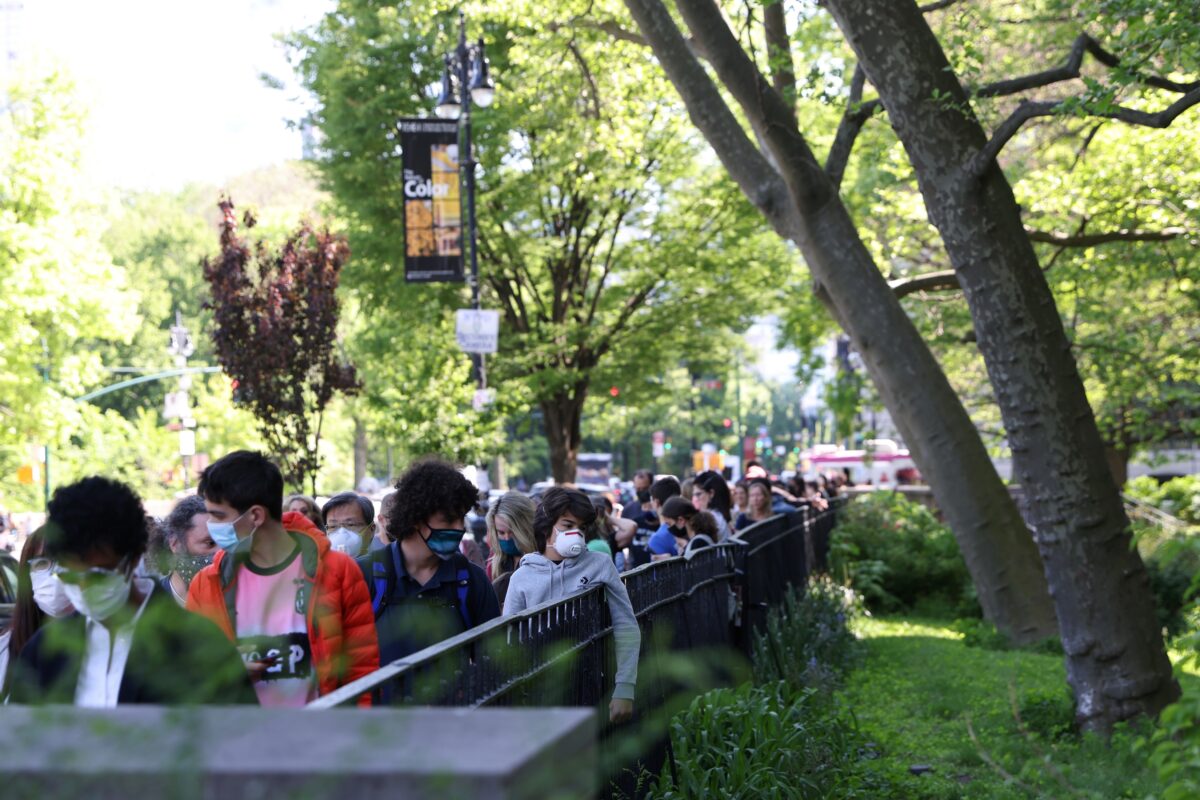 The CDC had been sharing the number of so-called breakthrough COVID-19 cases, but is no longer. The agency had said that 9,245 people as of April 16 tested positive for the disease at least two weeks after getting their final shot. The numbers were again from 46 U.S. states and territories and said to be a likely undercount.
COVID-19 is caused by the CCP (Chinese Communist Party) virus.
Clinical trials showed the Pfizer vaccine to be 95 percent effective in preventing infection by the virus; the Moderna shot to be 94 percent effective; and the Johnson & Johnson shot to be 66.9 percent effective.
The Johnson & Johnson vaccine was studied later than the others.
No other shots are currently authorized for use in the United States.
The CDC last week dramatically altered previous masking guidance, saying fully vaccinated people can go without masks in many indoor settings.
"We now have science that has really just evolved even in the last two weeks that demonstrates that these vaccines are safe, they are effective, they are working in the population, just as they did in the clinical trials, that they are working against our variants that we have here circulating in the United States, and that, if you were to develop an infection even if you got vaccinated, you can't transmit that infection to other people," Walensky said on ABC's "This Week."
If people are vaccinated, "they're safe," she said.
She also said health officials are trying to figure out how a COVID-19 outbreak occurred among the New York Yankees, who were mostly vaccinated.
"I would consider that, when you look at the details that I'm aware of, seven of those eight were completely asymptomatic. The eighth was a mild case. They were detected on routine testing that generally doesn't happen in many other populations. This is the vaccine working," she said. "This means that you didn't get infected—or you didn't get a severe infection. You didn't require hospitalization. You didn't require death [sic], and most likely those people were not transmitting to other people."
A ninth team member has tested positive, an official said on May 16.
"We're just doing the best we can with it," manager Aaron Boone said. "Fortunately, he's another one that feels good. So we'll just continue to try and be vigilant and handle it as best we can."Follow Zachary on Twitter: @zackstieberFollow Zachary on Parler: @zackstieber
WELCOME TO TRUTH TALK NEWS @ HowardNema.com

Take advantage of all the books, articles, links and suppressed information YOU NEED TO KNOW that is available on this site.
START YOUR JOURNEY BELOW:
REPORT FROM IRON MOUNTAIN (published 1967): https://www.howardnema.com/wp-content/uploads/2016/08/Report_from_Iron_Mountain.pdf
SILENT WEAPONS FOR QUIET WARS (1979) FULL DOCUMENT: https://www.howardnema.com/2020/09/13/silent-weapons-for-quiet-wars/
THE FIRST GLOBAL REVOLUTION: https://www.howardnema.com/wp-content/uploads/2021/04/TheFirstGlobalRevolution_.pdf
OPERATION LOCKSTEP: https://www.howardnema.com/2020/08/22/operation-lock-step-using-covid-19-as-an-authoritarian-weapon-for-social-control/
UN Agenda 21 FULL DOCUMENT: https://sustainabledevelopment.un.org/content/documents/Agenda21.pdf
Tragedy and Hope (MOST IMPORTANT EXCERPTS): https://www.howardnema.com/2016/10/25/critical-excerpts-from-tragedy-and-hope-1966-that-explain-events-in-the-world-today/
BETWEEN TWO AGES: America's Role in the Technetronic Era by Zbigniew Brzezinski: https://www.howardnema.com/wp-content/uploads/2016/08/5a-zbigniew-brzezinski_between-two-ages.pdf
BOOKS YOU MUST READ TO UNDERSTAND THE NEW WORLD ORDER:
The link below is a path of breadcrumbs that leads to greater understanding of the world we live in and those who chart and guide humanity's progress from the shadows though out the ages. Here is an ever growing catalogue of hundreds of books, PDF's, articles, white papers, links, documents and research material on all things New World Order.
https://www.howardnema.com/2020/08/19/books-you-must-read-to-understand-the-new-world-order/
On December 3, 2020 the subversive anti-American communist traitors at YouTube TERMINATED TRUTH TALK NEWS CHANNEL 2. On December 11, 2020 YouTube terminated TRUTH TALK NEWS CHANNEL 3. TRUTH TALK NEWS CHANNEL 4 was launched the same day so the more than 9,000 subscribers left orphaned will be able to find material that will be posted on alternative sites.
Subscribe to Truth Talk News on rumble:
https://rumble.com/account/content?type=all
Subscribe to TruthTalkNews on bitchute: https://www.bitchute.com/channel/QJKrgONwtmn0/
In 2016 the TRUTH TALK NEWS CHANNEL was hacked and the email address was changed. There is no way to access or respond to emails, post, or upload videos on that site. The Channel has more than 2.5 million views and over 12.5K subscribers and continues to grow. The full catologue of more than 1000 videos are still available for viewing and sharing. Subscribe to TRUTH TALK NEWS 2011-2016 Archives on YouTube: http://www.youtube.com/TruthTalkNews
SOCIAL MEDIA:
http://www.twitter.com/TruthTalkNews
http://www.facebook.com/TruthTalkNews
HowardNema.com is censored and blocked by Facebook. Nothing can be posted or shared on Facebook from HowardNema.com due to "community standards" violations concerning bogus accusations of bullying, harassment and hate speech.
When truth is called hate, when hate is called love, when ideological beliefs breed rage and violence, our society treads on dangerous ground. Ground that has been traveled many times before by fellow travelers and followers of Marx, Lenin, Stalin, Hitler, Mao, Pol-Pot and many other Utopian charlatan totalitarians throughout the centuries. Censorship should be a warning sign from history. For all of us. Silencing one silences us all.
STAND UP FOR FREE SPEECH!
WATCH AND SHARE TRUTH TALK NEWS!
Welcome to TRUTH TALK NEWS
"Where truth the mainstream media ignores is the top story!"
Let us take a journey together down the rabbit hole.
Watch TRUTH TALK NEWS, a talk show discussing suppressed history, current events, politics, pop culture, the esoteric and exoteric, and all things New World Order.
WEDNESDAYS 5PM and THURSDAYS 9pm in Western Connecticut on Spectrum Cable Channel 192 serving the towns of Barkhamsted, Bethlehem, Bridgewater, Brookfield, Colebrook, Danbury, Harwinton, Kent, Monroe, New Hartford, New Fairfield, New Milford, Newtown, Roxbury, Sherman, Southbury, Trumbull, Washington, West Hartland, Winchester and Woodbury.
WILLIAM COOPER'S FULL MYSTERY BABYLON SERIES (44 EPISODES)
https://www.youtube.com/watch?v=itO8A0z5HdY&list=PLfqzOxBqtdDU3PQPiVs71k7FobaYKJLmL
Subscribe to William Cooper's MYSTERY BABYLON CHANNEL:
https://www.youtube.com/channel/UCZ5XZgqTNBIsGRB3CtszmcQ
All information reported on TRUTH TALK NEWS and HowardNema.com is sourced and verifiable and for the purposes of education and FAIR USE. Take advantage of the many books, articles, videos and FULL PDF's available for FREE, safe downloads on this site.
TRUTH TALK NEWS and HowardNema.com ARE FREE SITES. All books and information on the sites are FREE and NOT monetized in any way.
You are not cattle. You are not a useless eater.
You do not have to be a brainwashed slave owned by the New World Order.
Do the research. Think critically.
Find your own truth. There is only one truth. . . .
Seek and you will find it.
Awaken.
Be a messenger.
Thank you for your continued support. God bless. HN