By HN
It's a bloodline. It has always been. Christine Grady married Tony Fauci in 1985. Christine Grady's father John H. Grady Jr. passed in 2013 and was born 1926. John H. Grady Jr's obituary ILLUSTRATES HIS BUSH FAMILY CONNECTION
Something the obitiuary left out, was that John H. Grady's father was a former IBM executive. Skull and Bones were behind IBM and funding both sides of World Wars 1 & 2.
https://www.nytimes.com/1987/06/02/obituaries/john-h-grady-is-dead-at-59-former-executive-of-ibm.html
John Grady Obituary (1926 – 2013) – Gainesville, VA – The Washington Post (legacy.com)
These are the stubborn facts of History. Antony C. Sutton's seminal book WALL STREET AND THE RISE OF HITLER details these Skull and Bones connections. His earlier work, WALL STREET AND THE BOLSHEVIK REVOLUTION detailed the same connections to the funding of the Boleshevik Revolution. Skull and Bones championed Soviet Russia. If it weren't for American Banks, there would've been no Bolshevik Revolution, or the Rise of Hitler. These are more facts. If this doesn't shock or anger you enough, Skull and Bones and the Thule Society aligned IG FARBEN and Rockefeller's STANDARD OIL and created AMERICAN IG FARBEN in 1929.
The alliance continues to this day, although IG FARBEN was broken up into several other companies including BAYER and BASF. The alliance gave the Nazis the ability to make gasoline out of coal by using concentration camp slave labor and a Rockfeller fuel additive. Without this additive the Nazis could not make war. More facts. Are you starting to see the connections and the trajectory history has taken? America now faces this same impending threat from Skull and Bones that Russia and Germany did. It is the same international banking forces that funded the communists and fascists are behind the current New World Order take over of the world. Times change, but these forces always remain, hidden in the shadows and protected by politicians and the media alike. It is obvious if one simply takes the time to look at the evidence as it relates to the ongoing chaos. Can you see it, or are you too blinded by the forest to see the trees? Skull and Bones is the muscle of these clandestine forces.
IBM also counted the Nazi death count at the death camps in Poland. YOU CANNOT MAKE THIS UP! Prescott Bush was busted and slapped on the wrist in 1943 for laundering Thule Society Nazi Fritz Thysen's million through the Union Bank. The Thule Society and Skull and Bones are both Bavarian Secret Societies.
https://www.howardnema.com/wp-content/uploads/2021/03/How-IBM-Helped-Automate-the-Nazi-Death-Machine-in-Poland-Final-Solutions.rtf
Heritage Hunt Resident John Grady Passes Away. Long-time Heritage Hunt Resident John H. Grady, Jr., 87, passed away at his home on Thursday, May 30th, according to his family. Mr. Grady and his wife Barbara have been residents of Heritage Hunt since 2001. Mr. Grady was an avid golfer, a member of the tennis round robin group, and a singer in the choir at St. Katharine Drexel Mission in Gainesville. John Grady was born in New Bedford, Massachusetts, the oldest of two sons to John H. and Ellen Sweeny Grady, and was raised in Watertown, Massachusetts. He graduated from Watertown High School. Mr. Grady attended Yale University, graduating in the class of 1948. He interrupted his studies at Yale to serve in the United States Navy during the Second World War, returning after his service to complete his studies. Mr. Grady enjoyed a successful career in business as a buyer and financial planner at the M&M Mars Company, the Reaction Motors Division of Thiokol Corporation, and later at the Bali Division of Hanes Corporation, all in New Jersey.
Mr. Grady was a resident for over 50 years of Livingston, New Jersey, where he was elected to two terms on the Livingston Township Council and served for two terms as Mayor of Livingston. He was also the President of the Livingston Kiwanis Club, a coach in Livingston Little League and Junior Football, and an active member of St. Philomena's Church. Mr. Grady is survived by his wife of 63 years Barbara; by five children, Joanne Huskey of Bethesda, Maryland, Christine Grady of Washington, D.C., John H. Grady III of Marietta, Georgia, Barbara Grady-Ayer of Albany, California, and Robert Grady of Jackson, Wyoming; and by eleven grandchildren.
GEORGE BUSH SR & JOHN GRADY JR. WERE AT YALE IN 1947 & 1948 TOGETHER.
In 1976 George Bush Sr. was told to implement Henry Kissinger's NSSM200. The Bush and Grady Families have known each other since 1947, possibly longer.
In 1982 Dr. Deception Anthony Fauci met his wife Christine. They married in 1985 after Fauci was made head of the NIH. In 1987 George Bush Sr. hiered Rob Grady as his main speech writer. In 1993, Rob Grady joined the CARLYLE GROUP as a partner. In 1999 George Bush Jr. Hired Rob Grady as a SCIENCE and TECH ADVISER. In 2003 Rob Grady and George Bush Jr. announced PEPFAR, giving billions of dollars to Rob's sister.
These are all indisputable facts of history…. Fauci's COVID-19 scamdemic lies locked down the entire world and permanently shuttered 60% of all small business and caused fear and chaos. And then there was Fauci's role in spreading the AIDS epidemic and murdering people with AZT, another "miracle drug" that didn't stop the spread or symptoms, but it did kill thousands.
This is all part of a wider global depopulation agenda that began in earnest in 1957 after elitists met in Huntsville Alabama to discuss the rising population after World War 2 and create a study to access the consequences of overpopulation. In 1968 a second study was completed by the United Nation's Malthusian think tank, The Club of Rome. It is the Club of Rome who promote depopulation, crteated the global warming scam and other collectivist agendas disguised as ways to "save the planet".
On Page 75 of the Club of Rome/UN's 1992 book, the First Global Revolution by Alexander King and Bertrand Schneider, humanity itself was deemed the "common enemy" of mankind. This book laid the foundations for UNITED NATION AGENDA 21.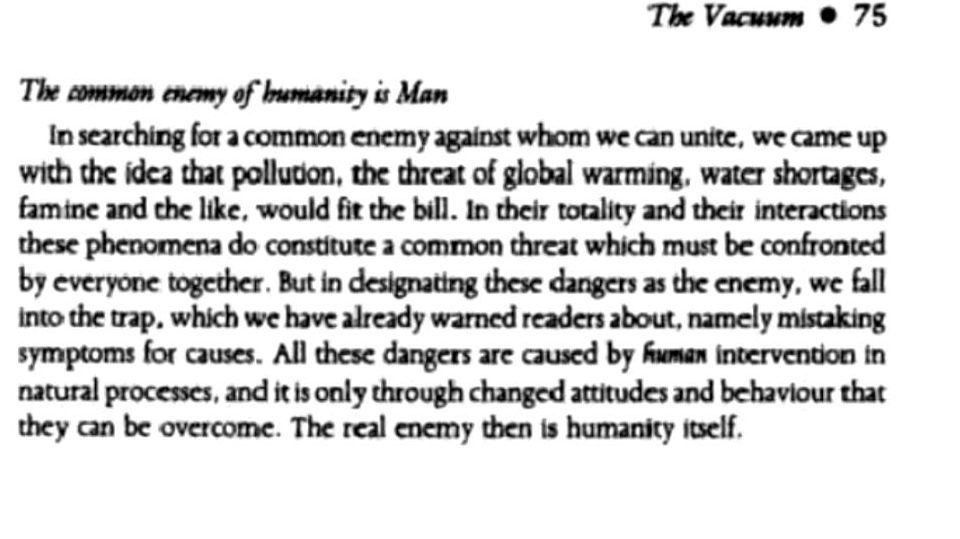 The elite controlled media and the democrat party continue to treat Fauci as the second coming of Christ, when he should be treated as Satan.
WELCOME TO TRUTH TALK NEWS @ HowardNema.com
Take advantage of all the books, articles, links and suppressed information YOU NEED TO KNOW that is available on this site.
START YOUR JOURNEY BELOW:
REPORT FROM IRON MOUNTAIN (published 1967): https://www.howardnema.com/wp-content/uploads/2016/08/Report_from_Iron_Mountain.pdf
SILENT WEAPONS FOR QUIET WARS (1979) FULL DOCUMENT: https://www.howardnema.com/2020/09/13/silent-weapons-for-quiet-wars/
OPERATION LOCKSTEP: https://www.howardnema.com/2020/08/22/operation-lock-step-using-covid-19-as-an-authoritarian-weapon-for-social-control/
THE FIRST GLOBAL REVOLUTION (1992): The First Global Revolution (geoengineeringwatch.org)
UN Agenda 21 FULL DOCUMENT: https://sustainabledevelopment.un.org/content/documents/Agenda21.pdf
Tragedy and Hope (MOST IMPORTANT EXCERPTS): https://www.howardnema.com/2016/10/25/critical-excerpts-from-tragedy-and-hope-1966-that-explain-events-in-the-world-today/
BETWEEN TWO AGES: America's Role in the Technetronic Era by Zbigniew Brzezinski: https://www.howardnema.com/wp-content/uploads/2016/08/5a-zbigniew-brzezinski_between-two-ages.pdf
BOOKS YOU MUST READ TO UNDERSTAND THE NEW WORLD ORDER:
The link below is a path of breadcrumbs that leads to greater understanding of the world we live in and those who chart and guide humanity's progress from the shadows though out the ages. Here is an ever growing catalogue of hundreds of books, PDF's, articles, white papers, links, documents and research material on all things New World Order.
https://www.howardnema.com/2020/08/19/books-you-must-read-to-understand-the-new-world-order/
On December 3, 2020 the subversive anti-American communist traitors at YouTube TERMINATED TRUTH TALK NEWS CHANNEL 2. On December 11, 2020 YouTube terminated TRUTH TALK NEWS CHANNEL 3. TRUTH TALK NEWS CHANNEL 4 was launched the same day so the more than 9,000 subscribers left orphaned will be able to find material that will be posted on alternative sites.
Subscribe to Truth Talk News on rumble:
https://rumble.com/account/content?type=all
Subscribe to TruthTalkNews on bitchute: https://www.bitchute.com/channel/QJKrgONwtmn0/
In 2016 the TRUTH TALK NEWS CHANNEL was hacked and the email address was changed. There is no way to access or respond to emails, post, or upload videos on that site. The Channel has more than 2.5 million views and over 12.5K subscribers and continues to grow. The full catologue of more than 1000 videos are still available for viewing and sharing. Subscribe to TRUTH TALK NEWS 2011-2016 Archives on YouTube: http://www.youtube.com/TruthTalkNews
SOCIAL MEDIA:
http://www.twitter.com/TruthTalkNews
http://www.facebook.com/TruthTalkNews
HowardNema.com is censored and blocked by Facebook. Nothing can be posted or shared on Facebook from HowardNema.com due to "community standards" violations concerning bogus accusations of bullying, harassment and hate speech.
When truth is called hate, when hate is called love, when ideological beliefs breed rage and violence, our society treads on dangerous ground. Ground that has been traveled many times before by fellow travelers and followers of Marx, Lenin, Stalin, Hitler, Mao, Pol-Pot and many other Utopian charlatan totalitarians throughout the centuries. Censorship should be a warning sign from history. For all of us. Silencing one silences us all.
STAND UP FOR FREE SPEECH!
WATCH AND SHARE TRUTH TALK NEWS!
"Where truth the mainstream media ignores is the top story!"
Let us take a journey together down the rabbit hole.
Watch TRUTH TALK NEWS, a talk show discussing suppressed history, current events, politics, pop culture, the esoteric and exoteric, and all things New World Order.
THURSDAYS 9pm in Western Connecticut on Spectrum Cable Channel 192 serving the towns of Barkhamsted, Bethlehem, Bridgewater, Brookfield, Colebrook, Danbury, Harwinton, Kent, Monroe, New Hartford, New Fairfield, New Milford, Newtown, Roxbury, Sherman, Southbury, Trumbull, Washington, West Hartland, Winchester and Woodbury.
WILLIAM COOPER'S FULL MYSTERY BABYLON SERIES (44 EPISODES)
https://www.youtube.com/watch?v=itO8A0z5HdY&list=PLfqzOxBqtdDU3PQPiVs71k7FobaYKJLmL
Subscribe to William Cooper's MYSTERY BABYLON CHANNEL:
https://www.youtube.com/channel/UCZ5XZgqTNBIsGRB3CtszmcQ
All information reported on TRUTH TALK NEWS and HowardNema.com is sourced and verifiable and for the purposes of education and FAIR USE. Take advantage of the many books, articles, videos and FULL PDF's available for FREE, safe downloads on this site.
TRUTH TALK NEWS and HowardNema.com ARE FREE SITES. All books and information on the sites are FREE and NOT monetized in any way.
You are not cattle. You are not a useless eater.
You do not have to be a brainwashed slave owned by the New World Order.
Do the research. Think critically.
Find your own truth. There is only one truth. . . .
Seek and you will find it.
Awaken.
Be a messenger.
Thank you for your continued support. God bless you all.
HN