Dwight-Englewood teacher said school forcing students and faculty to embrace set of beliefs
By Dana Kennedy, Tamar Lapin | New York Post
An English teacher has resigned from a top New Jersey prep school that is using critical race theory to create a "hostile culture of conformity and fear" — causing white and male students to believe they are "oppressors," she said.
Dana Stangel-Plowe accused the Dwight-Englewood School in Bergen County of forcing students and faculty to embrace a single set of beliefs, choking off free-speech in the process.
"The school's ideology requires students to see themselves not as individuals, but as representatives of a group, forcing them to adopt the status of privilege or victimhood," Stangel-Plowe wrote in her letter to school brass.
"As a result, students arrive in my classroom accepting this theory as fact: People born with less melanin in their skin are oppressors, and people born with more melanin in their skin are oppressed. Men are oppressors, women are oppressed, and so on," she continued.
"This is the dominant and divisive ideology that is guiding our adolescent students."
HIGH SCHOOL STUDENTS DENIED DIPLOMA AFTER WEARING MEXICAN FLAG TO GRADUATION
A graduate of Cornell University and a published poet, Stangel-Plowe has taught English to high school students at Dwight-Englewood since 2014.
Her resignation letter and materials from the school were published on the website for the Foundation Against Intolerance & Racism (FAIR), which was founded by private school parent Bion Bartning earlier this year to combat critical race theory teachings in school and promote a "pro-human" agenda.
Stangel-Plowe alleged that on two occasions in 2017 and 2018 the Head of School Rodney De Jarnett "told the entire faculty that he would fire us all if he could so that he could replace us all with people of color."
In 2019, the educator said she expressed concern about "negative experiences among hostile and doctrinaire colleagues" — but said her complaints fell on deaf ears.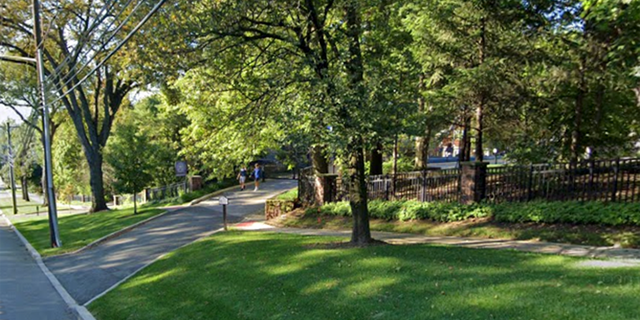 Dwight Englewood HS NJ (Google Maps)
US CONGRESSIONAL CANDIDATE SLAMS DE BLASIO'S MASK MANDATE: 'PARENTS ARE THE BEST EXPERTS OF THEIR CHILDREN'
As a result of the school's "anti-racist" teachings, she said her students have become obsessed with power structures and group identity.
"This fixation has stunted their ability to observe and engage with the full fabric of human experience in our literature," Stangel-Plowe wrote in her letter.
Students "have become rigid and closed-minded, unable or unwilling to consider alternative perspectives."
She added: "In our school, the opportunity to hear competing ideas is practically non-existent."
"I reject D-E's essentialist, racialist thinking about myself, my colleagues, and my students," Stangel-Plowe wrote. "D-E claims that we teach students how to think, not what to think. But sadly, that is just no longer true."
Joe Algrant, the principal of Dwight-Englewood's Upper School, told The Post that he could not comment on personnel matters.
"In this case all I can say is that Ms. Stangel-Plowe notified us several months ago that she would not be returning next school year," he said in an e-mail.
WELCOME TO TRUTH TALK NEWS @ HowardNema.com
Take advantage of all the books, articles, links and suppressed information YOU NEED TO KNOW that is available on this site.
START YOUR JOURNEY BELOW:
REPORT FROM IRON MOUNTAIN (published 1967): https://www.howardnema.com/wp-content/uploads/2016/08/Report_from_Iron_Mountain.pdf
SILENT WEAPONS FOR QUIET WARS (1979) FULL DOCUMENT: https://www.howardnema.com/2020/09/13/silent-weapons-for-quiet-wars/
OPERATION LOCKSTEP: https://www.howardnema.com/2020/08/22/operation-lock-step-using-covid-19-as-an-authoritarian-weapon-for-social-control/
THE FIRST GLOBAL REVOLUTION (1992): The First Global Revolution (geoengineeringwatch.org)
UN Agenda 21 FULL DOCUMENT: https://sustainabledevelopment.un.org/content/documents/Agenda21.pdf
Tragedy and Hope (MOST IMPORTANT EXCERPTS): https://www.howardnema.com/2016/10/25/critical-excerpts-from-tragedy-and-hope-1966-that-explain-events-in-the-world-today/
BETWEEN TWO AGES: America's Role in the Technetronic Era by Zbigniew Brzezinski: https://www.howardnema.com/wp-content/uploads/2016/08/5a-zbigniew-brzezinski_between-two-ages.pdf
BOOKS YOU MUST READ TO UNDERSTAND THE NEW WORLD ORDER:
The link below is a path of breadcrumbs that leads to greater understanding of the world we live in and those who chart and guide humanity's progress from the shadows though out the ages. Here is an ever growing catalogue of hundreds of books, PDF's, articles, white papers, links, documents and research material on all things New World Order.
https://www.howardnema.com/2020/08/19/books-you-must-read-to-understand-the-new-world-order/
On December 3, 2020 the subversive anti-American communist traitors at YouTube TERMINATED TRUTH TALK NEWS CHANNEL 2. On December 11, 2020 YouTube terminated TRUTH TALK NEWS CHANNEL 3. TRUTH TALK NEWS CHANNEL 4 was launched the same day so the more than 9,000 subscribers left orphaned will be able to find material that will be posted on alternative sites.
Subscribe to Truth Talk News on rumble:
https://rumble.com/account/content?type=all
Subscribe to TruthTalkNews on bitchute: https://www.bitchute.com/channel/QJKrgONwtmn0/
In 2016 the TRUTH TALK NEWS CHANNEL was hacked and the email address was changed. There is no way to access or respond to emails, post, or upload videos on that site. The Channel has more than 2.5 million views and over 12.5K subscribers and continues to grow. The full catologue of more than 1000 videos are still available for viewing and sharing. Subscribe to TRUTH TALK NEWS 2011-2016 Archives on YouTube: http://www.youtube.com/TruthTalkNews
SOCIAL MEDIA:
http://www.twitter.com/TruthTalkNews
http://www.facebook.com/TruthTalkNews
HowardNema.com is censored and blocked by Facebook. Nothing can be posted or shared on Facebook from HowardNema.com due to "community standards" violations concerning bogus accusations of bullying, harassment and hate speech.
When truth is called hate, when hate is called love, when ideological beliefs breed rage and violence, our society treads on dangerous ground. Ground that has been traveled many times before by fellow travelers and followers of Marx, Lenin, Stalin, Hitler, Mao, Pol-Pot and many other Utopian charlatan totalitarians throughout the centuries. Censorship should be a warning sign from history. For all of us. Silencing one silences us all.
STAND UP FOR FREE SPEECH!
WATCH AND SHARE TRUTH TALK NEWS!
"Where truth the mainstream media ignores is the top story!"
Let us take a journey together down the rabbit hole.
Watch TRUTH TALK NEWS, a talk show discussing suppressed history, current events, politics, pop culture, the esoteric and exoteric, and all things New World Order.
THURSDAYS 9pm in Western Connecticut on Spectrum Cable Channel 192 serving the towns of Barkhamsted, Bethlehem, Bridgewater, Brookfield, Colebrook, Danbury, Harwinton, Kent, Monroe, New Hartford, New Fairfield, New Milford, Newtown, Roxbury, Sherman, Southbury, Trumbull, Washington, West Hartland, Winchester and Woodbury. Rebroadcasts WEDNESDAY 5pm
WILLIAM COOPER'S FULL MYSTERY BABYLON SERIES (44 EPISODES)
https://www.youtube.com/watch?v=itO8A0z5HdY&list=PLfqzOxBqtdDU3PQPiVs71k7FobaYKJLmL
Subscribe to William Cooper's MYSTERY BABYLON CHANNEL:
https://www.youtube.com/channel/UCZ5XZgqTNBIsGRB3CtszmcQ
All information reported on TRUTH TALK NEWS and HowardNema.com is sourced and verifiable and for the purposes of education and FAIR USE. Take advantage of the many books, articles, videos and FULL PDF's available for FREE, safe downloads on this site.
TRUTH TALK NEWS and HowardNema.com ARE FREE SITES. All books and information on the sites are FREE and NOT monetized in any way.
You are not cattle. You are not a useless eater.
You do not have to be a brainwashed slave owned by the New World Order.
Do the research. Think critically.
Find your own truth. There is only one truth. . . .
Seek and you will find it.
Awaken.
Be a messenger.
Thank you for your continued support. God bless you all.
HN