by HN
Those who have done the research and have followed Dr. Sherri Tenpenny, Dr .Joseph. Mercola, molecular biologist Dolores Cahill and many, many other medical professionals ignored by the corrupt Medical Mafia, know the COVID-19 injections will attack organs, weaken immune systems and cause massive death within months.
People are dropping like flies from the injections, but the media is ignoring these facts, which reeks of a wider, more sinister agenda. An insidious, clandestine biological warfare agenda that has been forwarded for almost 60 years:
The global depopulation of the planet to 500,000,000 people "in perpetual balance with nature."
The most recent surge in heart problems among the young, who are the least likely to be seriously harmed by the COVID-19 infection has forced the medical mafia into PR damage mode. Many doctors are calling for a halt to injections as the CDC investigates. Still others are saying "get the jab, it's safe."
Should we trust these deceivers in white coats? Considering how doctors deceived the Jews in Nazi Germany, I think not. There are frightening correlations to the Nazi and the Bolsheviks and these correlations are based on the fact that the financial forces controlling the economic and political forces behind the WHO and the UNITED NATIONS are the same forces that promoted and funded the Bolsheviks and the Nazis. These are stubborn facts of history. The same elite international banking forces behind the Russian Revolutions, fascism, communism, the World Wars, and all subsequent wars, are the exact same forces working to consolidate the planet under a world government, using the China model and United Nations Agenda 21 collectivist protocols.
Mandatory forced vaccination are on the horizon, so the media and the medical expert liars will no doubt concoct disinformation to continue the elite's on going depopulation agenda.
More than 5,000 Americans have died from the COVID-19 injections so far without a peep from the New World Order controlled mainstream media, and more than 250,000 people have suffered severe reactions to the experimental mRNA gene therapy.
All we hear are lies and excuses from so called medical "experts", media hacks, politicians and paid off celebrities, who ignore all of the dangers and pressure the entire world to to throw caution to the wind and "get the jab" to "keep the people safe" from the alleged "deadly COVID-19 virus that 99% of people if sickened recover from.
THIS IS A HUGE BIG PHARMA/BIG GOVERNMENT SOCIAL CONTROL/ENGINEERING SCAM!

The COVID-19 injection is NOT a vaccine. If they would lie about something so basic, what makes you think there aren't far bigger lies? Fauci is only the tip of the iceberg of the New World Order designed COVID-19 Scamdemic.
We must resist, rise up and fight back against the global elite and their eugenicist mad scientists on going 60 year plan to cull humanity. HN
RELATED: SILENT WEAPONS FOR QUIET WARS and THE REPORT FROM IRON MOUNTAIN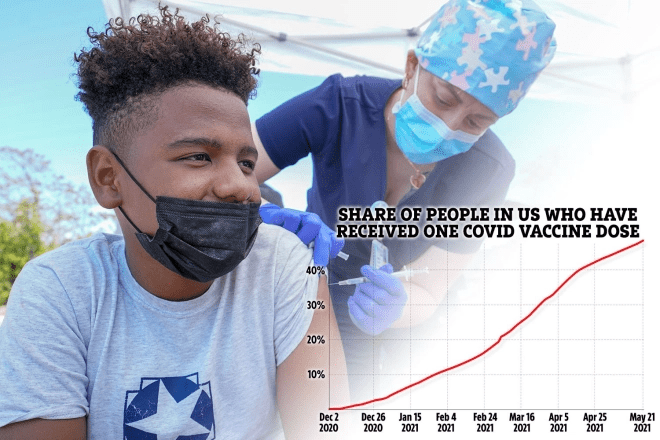 Heart problems among teens and young adults who received Covid vaccine is being investigated by the CDC
HEART problems among teenagers and young adults who have received Covid vaccines are being investigated by the Centers for Disease Control.
The CDC said it's received reports that a few, predominantly male adolescents and young adults have developed myocarditis, an inflammation of the heart muscle.
The condition often goes away without complications and can be caused by a variety of viruses, the CDC Advisory Committee on Immunization Practice said.
But it felt that healthcare providers should be made aware of the reports of the "potential adverse event", the committee said.
It said "relatively few" cases had been reported without giving an exact number but recommended further investigation.
Dr. Amesh Adalja, senior scholar at the Johns Hopkins Center for Health Security, said vaccines are known to cause myocarditis.
It would be important to monitor to see if it is causally related to the vaccine as well as the look at the trade-off between risk and benefit, he added.
"Vaccines are going to unequivocally be much more beneficial outweighing this very low, if conclusively established, risk," he said.
Dr. Liam Yore, past president of the Washington State chapter of the American College of Emergency Physicians, said he recently had seen a teenager with myocarditis after vaccination.
But he said he had seen worse outcomes in youngsters with Covid itself, including in a nine-year-old who had arrived at the hospital following a cardiac arrest.
"The relative risk is a lot in favor of getting the vaccine, especially considering how many doses of the vaccine have been administered," he told the New York Times.
The CDC said the cases typically occurred within four days after receiving the mRNA vaccines.
While it didn't specify which vaccines, the United States has given emergency authorization to two mRNA vaccines, from Moderna and Pfizer/BioNTech .
SOURCE: Heart problems among teens and young adults who received Covid vaccine is being investigated by the CDC (the-sun.com)
WELCOME TO TRUTH TALK NEWS @ HowardNema.com
Take advantage of all the books, articles, links and suppressed information YOU NEED TO KNOW that is available on this site.
START YOUR JOURNEY BELOW:
REPORT FROM IRON MOUNTAIN (published 1967): https://www.howardnema.com/wp-content/uploads/2016/08/Report_from_Iron_Mountain.pdf
SILENT WEAPONS FOR QUIET WARS (1979) FULL DOCUMENT: https://www.howardnema.com/2020/09/13/silent-weapons-for-quiet-wars/
OPERATION LOCKSTEP: https://www.howardnema.com/2020/08/22/operation-lock-step-using-covid-19-as-an-authoritarian-weapon-for-social-control/
THE FIRST GLOBAL REVOLUTION (1992): The First Global Revolution (geoengineeringwatch.org)
UN Agenda 21 FULL DOCUMENT: https://sustainabledevelopment.un.org/content/documents/Agenda21.pdf
Tragedy and Hope (MOST IMPORTANT EXCERPTS): https://www.howardnema.com/2016/10/25/critical-excerpts-from-tragedy-and-hope-1966-that-explain-events-in-the-world-today/
BETWEEN TWO AGES: America's Role in the Technetronic Era by Zbigniew Brzezinski: https://www.howardnema.com/wp-content/uploads/2016/08/5a-zbigniew-brzezinski_between-two-ages.pdf
BOOKS YOU MUST READ TO UNDERSTAND THE NEW WORLD ORDER:
The link below is a path of breadcrumbs that leads to greater understanding of the world we live in and those who chart and guide humanity's progress from the shadows though out the ages. Here is an ever growing catalogue of hundreds of books, PDF's, articles, white papers, links, documents and research material on all things New World Order.
https://www.howardnema.com/2020/08/19/books-you-must-read-to-understand-the-new-world-order/
On December 3, 2020 the subversive anti-American communist traitors at YouTube TERMINATED TRUTH TALK NEWS CHANNEL 2. On December 11, 2020 YouTube terminated TRUTH TALK NEWS CHANNEL 3. TRUTH TALK NEWS CHANNEL 4 was launched the same day so the more than 9,000 subscribers left orphaned will be able to find material that will be posted on alternative sites.
Subscribe to Truth Talk News on rumble:
https://rumble.com/account/content?type=all
Subscribe to TruthTalkNews on bitchute: https://www.bitchute.com/channel/QJKrgONwtmn0/
In 2016 the TRUTH TALK NEWS CHANNEL was hacked and the email address was changed. There is no way to access or respond to emails, post, or upload videos on that site. The Channel has more than 2.5 million views and over 12.5K subscribers and continues to grow. The full catologue of more than 1000 videos are still available for viewing and sharing. Subscribe to TRUTH TALK NEWS 2011-2016 Archives on YouTube: http://www.youtube.com/TruthTalkNews
SOCIAL MEDIA:
http://www.twitter.com/TruthTalkNews
http://www.facebook.com/TruthTalkNews
HowardNema.com is censored and blocked by Facebook. Nothing can be posted or shared on Facebook from HowardNema.com due to "community standards" violations concerning bogus accusations of bullying, harassment and hate speech.
When truth is called hate, when hate is called love, when ideological beliefs breed rage and violence, our society treads on dangerous ground. Ground that has been traveled many times before by fellow travelers and followers of Marx, Lenin, Stalin, Hitler, Mao, Pol-Pot and many other Utopian charlatan totalitarians throughout the centuries. Censorship should be a warning sign from history. For all of us. Silencing one silences us all.
STAND UP FOR FREE SPEECH!
WATCH AND SHARE TRUTH TALK NEWS!
"Where truth the mainstream media ignores is the top story!"
Let us take a journey together down the rabbit hole.
Watch TRUTH TALK NEWS, a talk show discussing suppressed history, current events, politics, pop culture, the esoteric and exoteric, and all things New World Order.
THURSDAYS 9pm in Western Connecticut on Spectrum Cable Channel 192 serving the towns of Barkhamsted, Bethlehem, Bridgewater, Brookfield, Colebrook, Danbury, Harwinton, Kent, Monroe, New Hartford, New Fairfield, New Milford, Newtown, Roxbury, Sherman, Southbury, Trumbull, Washington, West Hartland, Winchester and Woodbury. Rebroadcasts WEDNESDAY 5pm
WILLIAM COOPER'S FULL MYSTERY BABYLON SERIES (44 EPISODES)
https://www.youtube.com/watch?v=itO8A0z5HdY&list=PLfqzOxBqtdDU3PQPiVs71k7FobaYKJLmL
Subscribe to William Cooper's MYSTERY BABYLON CHANNEL:
https://www.youtube.com/channel/UCZ5XZgqTNBIsGRB3CtszmcQ
All information reported on TRUTH TALK NEWS and HowardNema.com is sourced and verifiable and for the purposes of education and FAIR USE. Take advantage of the many books, articles, videos and FULL PDF's available for FREE, safe downloads on this site.
TRUTH TALK NEWS and HowardNema.com ARE FREE SITES. All books and information on the sites are FREE and NOT monetized in any way.
You are not cattle. You are not a useless eater.
You do not have to be a brainwashed slave owned by the New World Order.
Do the research. Think critically.
Find your own truth. There is only one truth. . . .
Seek and you will find it.
Awaken.
Be a messenger.
Thank you for your continued support. God bless you all.
HN