By HN
Taking a page from H.G. Wells "The Island of Doctor Moreau", the mad scientists are at it again. In 1979 Dolly the sheep was cloned. Advancements led to cloning humans, bio-genetic engineering and splicing genes. It is now possible for the men and women in white lab coats to reprogram life and create mutants– all in the name of science. Mad science.
Like the development of the $10 million AIDS defense authoritzation commissioned by the US Department of Defense in 1969 to create a bioweapon within 10 years that attacked the human immune system, had no natural cure and was not found in nature, a team at the University of Cambridge used CRISPR to replace over 18,000 codons with synthetic amino acids that also do not exist in the natural world.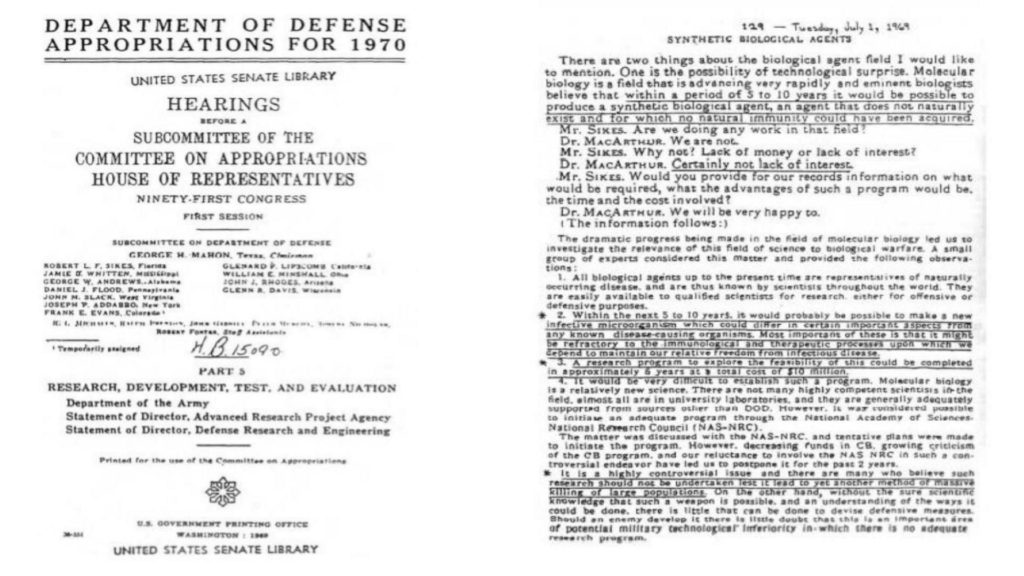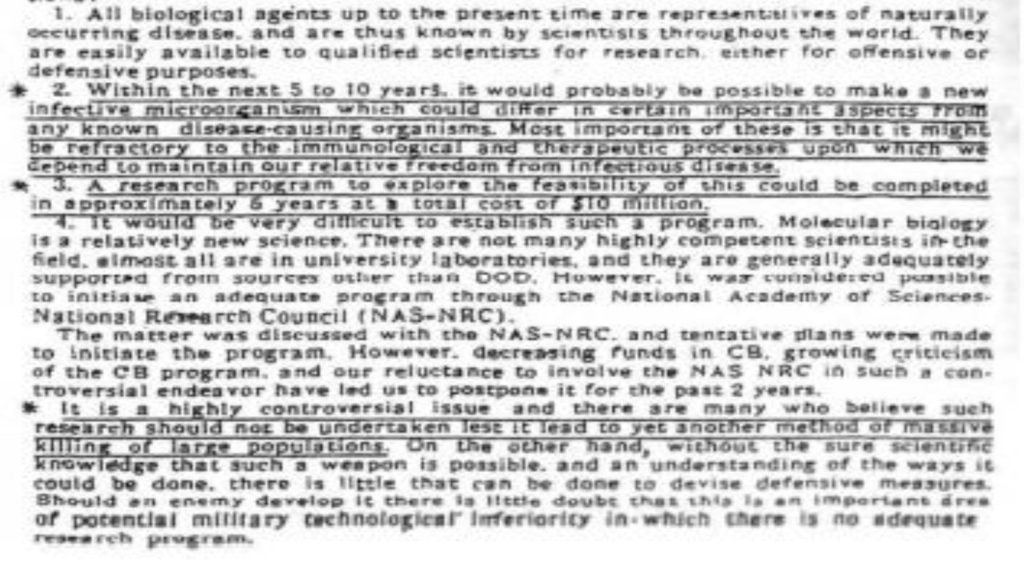 The result is a bacteria that is resistant to all viral infections. This means there would be no deadly viruses to threaten humanity, but what are the dangers of using this type of genetic modification to alter life on earth? How could the secret shadow government use pandemics as a means of social control, depopulation and de-industrialization if this process is employed? As usual, the devil is in the details.
My concern are the long term consequences of these genetic modifications. Like the experimental mRNA gene therapy being sold as a vaccine, I forsee these genetic modifications to be injected into arms worldwide.
Like the "Fun Vax" which attacks one's spiritual basis and is known as the "God gene", I see this current bio-genetic alteration as another attack on humanity disguised as a "scientific breakthrough."
But this is just the tip of the iceberg of these mad scientist's designs on re-engineering human life. Until now, scientists have only been able to infuse one designer amino acid into a living organism. This new discovery allows for copying no less than three synthetic amino acids at the same time, which forever alters life on this planet.
What could go wrong?
related: AIDS AND EBOLA MANUFACTURED BY BIG PHARMA AND U.S. DEPT. OF DEFENSE – howardnema.com
For more information read the article below:
SOURCE: Scientists Used CRISPR to Engineer a New 'Superbug' That's Invincible to All Viruses (singularityhub.com)
Scientists Used CRISPR to Engineer a New 'Superbug' That's Invincible to All Viruses
By Shelly Fan
Can we reprogram existing life at will?
To synthetic biologists, the answer is yes. The central code for biology is simple. DNA letters, in groups of three, are translated into amino acids—Lego blocks that make proteins. Proteins build our bodies, regulate our metabolism, and allow us to function as living beings. Designing custom proteins often means you can redesign small aspects of life—for example, getting a bacteria to pump out life-saving drugs like insulin.
All life on Earth follows this rule: a combination of 64 DNA triplet codes, or "codons," are translated into 20 amino acids.
But wait. The math doesn't add up. Why wouldn't 64 dedicated codons make 64 amino acids? The reason is redundancy. Life evolved so that multiple codons often make the same amino acid.
So what if we tap into those redundant "extra" codons of all living beings, and instead insert our own code?
A team at the University of Cambridge recently did just that. In a technological tour de force, they used CRISPR to replace over 18,000 codons with synthetic amino acids that don't exist anywhere in the natural world. The result is a bacteria that's virtually resistant to all viral infections—because it lacks the normal protein "door handles" that viruses need to infect the cell.
But that's just the beginning of engineering life's superpowers. Until now, scientists have only been able to slip one designer amino acid into a living organism. The new work opens the door to hacking multiple existing codons at once, copyediting at least three synthetic amino acids at the same time. And when it's 3 out of 20, that's enough to fundamentally rewrite life as it exists on Earth.
We've long thought that "liberating a subset of…codons for reassignment could improve the robustness and versatility of genetic-code expansion technology," wrote Drs. Delilah Jewel and Abhishek Chatterjee at Boston College, who were not involved in the study. "This work elegantly transforms that dream into a reality."
Hacking the DNA Code
Our genetic code underlies life, inheritance, and evolution. But it only works with the help of proteins.
The program for translating genes, written in DNA's four letters, into the actual building blocks of life relies on a full cellular decryption factory.
Think of DNA's letters—A, T, C, and G—as a secret code, written on a long slip of crinkled paper wrapped around a spool. Groups of three "letters," or codons, are the crux—they encode which amino acid a cell makes. A messenger molecule (mRNA), a spy of sorts, stealthily copies the DNA message and sneaks back into the cellular world, shuttling the message to the cell's protein factory—a sort of central intelligence organization.
There, the factory recruits multiple "translators" to decipher the genetic code into amino acids, aptly named tRNAs. The letters are grouped in threes, and each translator tRNA physically drags its associated amino acid to the protein factory, one by one, so that the factory eventually makes a chain that wraps into a 3D protein.
But like any robust code, nature has programmed redundancy into its DNA-to-protein translation process. For example, the DNA codes TCG, TCA, AGC, and AGT all encode for a single amino acid, serine. While it works in biology, the authors wondered: what if we tap into that code, hijack it, and redirect some of life's directions using synthetic amino acids?
Hijacking the Natural Code
The new study sees nature's redundancy as a way to introduce new capabilities into cells.
For us, one question was "could you reduce the number of codons that are used to encode a particular amino acid, and thereby create codons that are free to create other monomers [amino acids]?" asked lead author Dr. Jason Chin.
For example, if TCG is for serine, why not free up the others—TCA, AGC, and AGT— for something else?
It's a great idea in theory, but a truly daunting task in practice. It means that the team has to go into a cell and replace every single codon they want to reprogram. A few years back, the same group showed that it's possible in E. Coli, the lab and pharmaceutical's favorite bug. At that time, the team made an astronomical leap in synthetic biology by synthesizing the entire E. Coli genome from scratch. During the process, they also played around with the natural genome, simplifying it by replacing some amino acid codons with their synonyms—say, removing TCGs and replacing them with AGCs. Even with the modifications, the bacteria were able to thrive and reproduce easily.
It's like taking a very long book and figuring out which words to replace with synonyms without changing the meaning of sentences—so that the edits don't physically hurt the bacteria's survival. One trick, for example, was to delete a protein dubbed "release factor 1," which makes it easier to reprogram the UAG codon with a brand new amino acid. Previous work showed that this can assign new building blocks to natural codons that are truly "blank"—that is, they don't encode anything naturally anyways.
A Synthetic Creature
Chin's team took this much further.
The team cooked up a method called REXER (replicon excision for enhanced genome engineering through programmed recombination)—yeah, scientists are all about the backcronyms—which includes the wunderkind gene editing tool, CRISPR-Cas9. With CRISPR, they precisely snipped out large parts of the E. coli bacterial genome, made entirely from scratch inside a test tube, and then replaced more than 18,000 occurrences of 'extra' codons that encode for serine with synonym codons.
Because the trick only targeted redundant protein code, the cells were able to go about their normal business—including making serine—but now with multiple natural codons free. It's like replacing "hi" with "oy," making "hi" now free to be assigned a completely different meaning.
The team next did some house cleaning. They removed the cells' natural translators—the tRNAs—that normally read the now-defunct codons without harming the cells. They introduced new synthetic versions of tRNAs to read the new codons. The engineered bacteria were then naturally evolved inside a test tube to grow more rapidly.
The results were spectacular. The superpowered strain, Syn61.Δ3(ev5), is basically a bacterial X-Men that grows rapidly and is resistant to a cocktail of different viruses that normally infect bacteria.
"Because all of biology uses the same genetic code, the same 64 codons and the same 20 amino acids, that means viruses also use the same code…they use the cell's machinery to build the viral proteins to reproduce the virus," explained Chin. Now that the bacteria cell can no longer read nature's standard genetic code, the virus can no longer tap into the bacterial machinery to reproduce—meaning the engineered cells are now resistant to being hijacked by almost any viral invader.
"These bacteria may be turned into renewable and programmable factories that produce a wide range of new molecules with novel properties, which could have benefits for biotechnology and medicine, including making new drugs, such as new antibiotics," said Chin.
Viral infection aside, the study rewrites what's possible for synthetic biology.
"This will enable countless applications," said Jewel and Chatterjee, such as completely artificial biopolymers, that is, materials compatible with biology that could change entire disciplines such as medicine or brain-machine interfaces. Here, the team was able to string up a chain of artificial amino acid building blocks to make a type of molecule that forms the basis of some drugs, such as those for cancer or antibiotics.
But perhaps the most exciting prospect is the ability to dramatically rewrite existing life. Similar to bacteria, we—and all life in the biosphere—operate on the same biological code. The study now shows it's possible to get past the hurdle of only 20 amino acids making up the building blocks of life by tapping into our natural biological processes.
Next up, the team is looking to potentially further reprogram our natural biological code to encode even more synthetic protein building blocks into bacterial cells. They'll also move towards other cells—mammalian, for example, to see if it's possible to compress our genetic code.
WELCOME TO TRUTH TALK NEWS @ HowardNema.com
Take advantage of all the books, articles, links and suppressed information YOU NEED TO KNOW that is available on this site.
START YOUR JOURNEY BELOW:
REPORT FROM IRON MOUNTAIN (published 1967): https://www.howardnema.com/wp-content/uploads/2016/08/Report_from_Iron_Mountain.pdf
SILENT WEAPONS FOR QUIET WARS (1979) FULL DOCUMENT: https://www.howardnema.com/2020/09/13/silent-weapons-for-quiet-wars/
OPERATION LOCKSTEP: https://www.howardnema.com/2020/08/22/operation-lock-step-using-covid-19-as-an-authoritarian-weapon-for-social-control/
THE FIRST GLOBAL REVOLUTION (1992): The First Global Revolution (geoengineeringwatch.org)
UN Agenda 21 FULL DOCUMENT: https://sustainabledevelopment.un.org/content/documents/Agenda21.pdf
Tragedy and Hope (MOST IMPORTANT EXCERPTS): https://www.howardnema.com/2016/10/25/critical-excerpts-from-tragedy-and-hope-1966-that-explain-events-in-the-world-today/
BETWEEN TWO AGES: America's Role in the Technetronic Era by Zbigniew Brzezinski: https://www.howardnema.com/wp-content/uploads/2016/08/5a-zbigniew-brzezinski_between-two-ages.pdf
BOOKS YOU MUST READ TO UNDERSTAND THE NEW WORLD ORDER:
The link below is a path of breadcrumbs that leads to greater understanding of the world we live in and those who chart and guide humanity's progress from the shadows though out the ages. Here is an ever growing catalogue of hundreds of books, PDF's, articles, white papers, links, documents and research material on all things New World Order.
https://www.howardnema.com/2020/08/19/books-you-must-read-to-understand-the-new-world-order/
On December 3, 2020 the subversive anti-American communist traitors at YouTube TERMINATED TRUTH TALK NEWS CHANNEL 2. On December 11, 2020 YouTube terminated TRUTH TALK NEWS CHANNEL 3. TRUTH TALK NEWS CHANNEL 4 was launched the same day so the more than 9,000 subscribers left orphaned will be able to find material that will be posted on alternative sites.
Subscribe to Truth Talk News on rumble:
https://rumble.com/account/content?type=all
Subscribe to TruthTalkNews on bitchute: https://www.bitchute.com/channel/QJKrgONwtmn0/
In 2016 the TRUTH TALK NEWS CHANNEL was hacked and the email address was changed. There is no way to access or respond to emails, post, or upload videos on that site. The Channel has more than 2.5 million views and over 12.5K subscribers and continues to grow. The full catologue of more than 1000 videos are still available for viewing and sharing. Subscribe to TRUTH TALK NEWS 2011-2016 Archives on YouTube: http://www.youtube.com/TruthTalkNews
SOCIAL MEDIA:
http://www.twitter.com/TruthTalkNews
http://www.facebook.com/TruthTalkNews
HowardNema.com is censored and blocked by Facebook. Nothing can be posted or shared on Facebook from HowardNema.com due to "community standards" violations concerning bogus accusations of bullying, harassment and hate speech.
When truth is called hate, when hate is called love, when ideological beliefs breed rage and violence, our society treads on dangerous ground. Ground that has been traveled many times before by fellow travelers and followers of Marx, Lenin, Stalin, Hitler, Mao, Pol-Pot and many other Utopian charlatan totalitarians throughout the centuries. Censorship should be a warning sign from history. For all of us. Silencing one silences us all.
STAND UP FOR FREE SPEECH!
WATCH AND SHARE TRUTH TALK NEWS!
"Where truth the mainstream media ignores is the top story!"
Let us take a journey together down the rabbit hole.
Watch TRUTH TALK NEWS, a talk show discussing suppressed history, current events, politics, pop culture, the esoteric and exoteric, and all things New World Order.
THURSDAYS 9pm in Western Connecticut on Spectrum Cable Channel 192 serving the towns of Barkhamsted, Bethlehem, Bridgewater, Brookfield, Colebrook, Danbury, Harwinton, Kent, Monroe, New Hartford, New Fairfield, New Milford, Newtown, Roxbury, Sherman, Southbury, Trumbull, Washington, West Hartland, Winchester and Woodbury. Rebroadcasts WEDNESDAY 5pm
WILLIAM COOPER'S FULL MYSTERY BABYLON SERIES (44 EPISODES)
https://www.youtube.com/watch?v=itO8A0z5HdY&list=PLfqzOxBqtdDU3PQPiVs71k7FobaYKJLmL
Subscribe to William Cooper's MYSTERY BABYLON CHANNEL:
https://www.youtube.com/channel/UCZ5XZgqTNBIsGRB3CtszmcQ
All information reported on TRUTH TALK NEWS and HowardNema.com is sourced and verifiable and for the purposes of education and FAIR USE. Take advantage of the many books, articles, videos and FULL PDF's available for FREE, safe downloads on this site.
TRUTH TALK NEWS and HowardNema.com ARE FREE SITES. All books and information on the sites are FREE and NOT monetized in any way.
You are not cattle. You are not a useless eater.
You do not have to be a brainwashed slave owned by the New World Order.
Do the research. Think critically.
Find your own truth. There is only one truth. . . .
Seek and you will find it.
Awaken.
Be a messenger.
Thank you for your continued support. God bless you all.
HN