by HN
Dr. Deception Anthony Fauci is up to his old tricks. The man whose checkered and deady past of spreading AIDS and death by championing the deadly drug AZT gets full cover from Democrats and the controlled mass media. From news articles, broadcasts and books published by the forces working to enslave the world have provided decades of cover. So has the deep state, who also helped create the illusion of Fauci's "Christ-like" cult of personality persona that has evolved since the start of the Great Scamdemic. NEWSFLASH: THE VARIANTS ARE CAUSED BY THE INJECTIONS!
As COVID-19 infections, hospitalizations, deaths continue to decrease, Dr. Anthony Fauci and the evil New World Order controlled mainstream media continue to amp up the irrational fear porn. As many Americans celebrate the relative return to freedom, the chief medical advisor to the illegitimate OBiden regime and the director of the National Institute of Allergy and Infectious Diseases are pushing the false narrative that the fake pandemic isn't over yet. This can only be true if another bio-weaponized variant takes its place.
As Marjorie Taylor Green correctly noted, "why were gain of function tests done at all? The only reason to increase the infectability of a virus is to create a bio-weapon.
During an interview with Conversations on Health Care with hosts Mark Masselli and Margaret Flinter, Dr. Fauci discussed the Delta variant, quickly becoming dominant in the United States, and the potential for others to follow.
You may recall the politically correct medical "experts" decided to use Greek alphabet letters to describe variants so not to "offend" countries where variants emerge. This was also an effort to dim the lights on China, who released the coronavirus bio-weapon. Only a fool cannot see what is really going on, so how can anyone trust these charlatans?
As infections, hospitalizations and deaths related to COVID-19 continue to decrease, many Americans are celebrating the end of the pandemic. However, Dr. Anthony Fauci, the chief medical advisor to the President and the director of the National Institute of Allergy and Infectious Diseases is once again amping up the fear porn, to distract from his lies and corruption. Fauci warns that the fake pandemic New World Order coup of the world isn't over yet. I believe him. But not because of naturally occuring "variants", but rather more bio-weapons from China.
From the beginning it was clear that the World Health Organization had China's back. It still does. The massive disinformation compaign waged to discredit hydroxichloriquine and other successful treatments reaks not only a Big Pharma money grab, but also of a concerted effort to create fear of successful treatments that save lives. When you look at all of this through the prism of a clandestine depopulation agenda the image gets sparkling clear. The media promotes the experimental mRNA COVID-19 gene therapy injections that has killed more than 5,000 Americans as "safe and effective" while demonizing treatments that work and have caused no death. If this was all about money, it would be one thing. But the truth is far more sinister and evil than most can comprehend. It is the main reason so much cognitive dissonance exists and why there has been such a campaign of hate to discredit the truth an foster Meidcal Mafia lies.
During an interview with Conversations on Health Care with hosts Mark Masselli and Margaret Flinter, Dr. Fauci discussed the Delta variant, quickly becoming dominant in the United States, and the potential for others to follow
Why should anyone believe Dr. Deception Anthony Fauci, China,The WHO or the CDC. They have all lied to the people of the world and their actions have allowed the COVID-19 virus to spread. They are waging a continuous war of disinformation to amp up the fear porn as they call for the world to be "vaccinated" with a deadly dangerous experimental gene therapy being peddled as a vaccine. From phony, grossly overstated COVID-19 deaths and infections, to calling the experimental gene therapy a vaccine. Their lies are continuous and superfluous. Especially when it directly correlates to the culling of 90% of the world population, as the World Health Organization itself noted was necessary for the "public health" of the world.
These people making these claims and their puppet mouth pieces are genocidal psychopaths, who have been literally given the power and control over life and death. They always chose death under the guise of "public health" or "public safety", but their records and words speak otherwise. How can we trust the medical community when the hiearchy of AMA/CDC/NIH/NAID/WHO constantly lie to cover up the elite's global depopulation agenda launched in 1954. 25 years after this, in 1979 an assessment of the plan was included in a study and blueprint for future domination of economic and political policy. The goal is to completely enslave and depopulate the planet. The name of the document that exposes this clandestine agenda is SILENT WEAPONS FOR QUIET WARS. The manual is a blueprint for economic and political domination of the world by the Bilderberg elite. In their own words.
In 1967, a study was published called, THE REPORT FROM IRON MOUNTAIN which determined that humanity itself was the enemy of mankind. This was a year before the Club of Rome published Paul Erlich's books THE POPULATION BOMB. The first population studies conducted by the global elite after World War 2 stated that the population of the world would double by the year 2000. It did. In 1957 the global elite met in Huntsville, Alabama and determined that population growth was "unsustainable" and it was decided that not only did society need to reduce birth rates, it also needed to increase the death rate. As a result of this meeting, cancer causing food additives and toxins were added to the food and water supply. In 1972 the Club of Rome published LIMITS TO GROWTH. The bogus computer modeled based analysis of "resource depletion" noted that "peak oil" was at hand and that by the year 2000 there would be no oil. The lies intensified with the collectivist scam to co-opt natural climate change and blamed changes on climate to human activity.
Limits to Growth and other fear porn books set the stage for the attack on energy. Free energy would lead to endless prosperity, so energy was targeted to keep the masses from accumulating wealth. Again, the elite write about this. Then in 1979 the FDA came very close to banning all the carcincogenic food additives that have led to a sharp increase in obesity, diabetes and cancer. As a result we have seen an incredible growth of cancer, autism, diabetes and obesity ever since. Is this a coincidence? No, but it is a clear example of how powerful deep pocket Big Agra forces like Synerga and Monsanto line the pockets of the "regulators" to this day.
RELATED: Why the FDA doesn't really know what's in your food – Center for Public Integrity
These elitist influences wield incredible power in Washington and have all but hijacked Big Pharma completely to achieve their goal of global domination and depopulation.
The Silent Weapons For Quiet Wars led to the Club of Rome's 1992 book by Malthusian elitist Alexander King called the FIRST GLOBAL REVOLUTION. This book was the foundation of the United Nations Agenda 21 plan to control and consolidate all the resources of the world.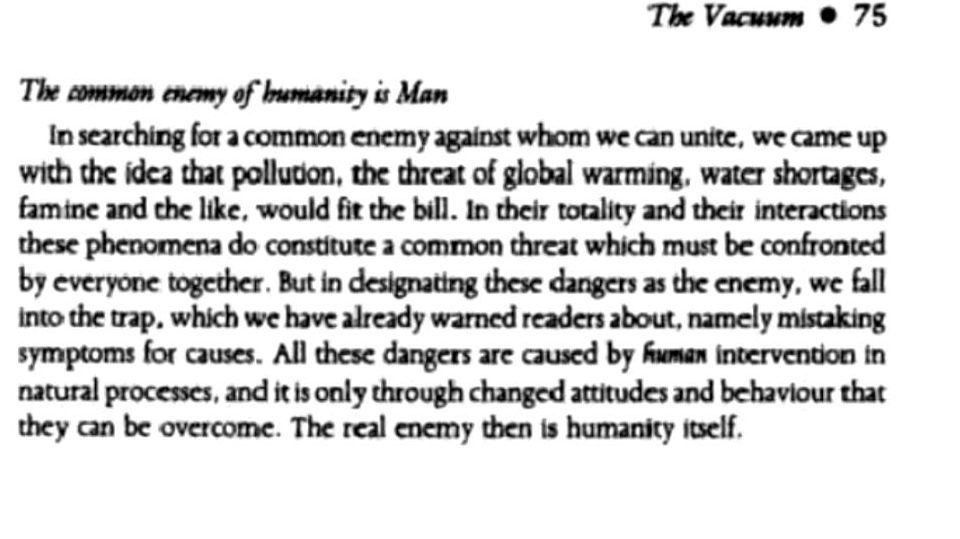 The Medical Mafia have proven time and again to be genocidal snake oil salesmen, so why should we trust them? Every drug removed as dangerous, or deadly was first approved as "safe and effective" by the FDA and other medical alphabet agencies. Big Pharma is regulated by their own and they attack any and all exposure of their clandestine efforts to sicken and kill for profit and under the shield of law.
"There is no greater tyranny than that which is perpetrated under the shield of the law and in the name of justice."
― Charles-Louis de Secondat, baron de la Brède et de Montesquieu, The Spirit of the Laws
The Medical Mafia have no liability for their experimental mRNA gene therapy, so they can maim and murder with immunity. Big Pharma spends more than $6 billion on advertising to promote their drugs. It seems a new drug is released every week with a full PR campaign that endeavors to downlplay the fact that these new drugs always have cancer, sudden death or other debilitating reactions. All one has to do is watch cable TV. We all see the commercials. We all hear about death and cancer as side effects, yet we still "ask our doctors" if cancer and sudden death are right for you? Shouldn't doctors know what is right for their patients without having to be told? One would hope so. But the fact is, doctors are no different than any other salesperson. They peddle drugs for profit, free trips, ball games, concerts and plays– all courtesy of Big Pharma and their Big Lies.
How Much Does Big Pharma Spend on Advertising & PR? (coronafraud.com)
Big Pharma shells out $20B each year to schmooze docs, $6B on drug ads | Ars Technica
From the beginning, the controlled mainstream media promoted the Big Lie COVID-19 narrative while ridiculing those who pointed out the scamdemic and told the truth. Now it is clear to the entire world that Fauci and the WHO lied and millions died.
How can anyone trust Fauci, the WHO, the CDC, NIH, NAID or the UN/Club of Rome, who are openly working to depopulate the planet and create a one world totalitarian socialist state?
The writing is not only on the wall, but it is written in their books. To dismiss these realities and trust the "men and women in white coats" who have been caught in lie after lie demonstrates mental illness. Like wearing masks that do not stop the spread of COVID but spread it and causes many other bacterial and other infections.
Face it, we have been lied to and the lies continuing and deepening. Just as it took years for the German people to awaken to the lies of the Nazis, the people of the world will eventually awaken to this evil, genocidal bio-war against humanity waged by the powerful Bilderberg Group. The question is, will humanity awaken in time to recognize the Biggest Lie and greatest holocaust in world history.
Fauci is the boy who cried wolf. Even if his lies were true, he has ruined his reputation and has been exposed as the deep state dinosaur hack that he is. We must not allow ourselves to be bamboozled by this evil New World Order charlatan. Fauci must be fired and the American people must not allow any more of our freedom to be stolen by these totalitarian psychopaths. Death to the New World Order!
WELCOME TO TRUTH TALK NEWS @ HowardNema.com
Take advantage of all the books, articles, links and suppressed information YOU NEED TO KNOW that is available on this site.
START YOUR JOURNEY BELOW:
BOOKS YOU MUST READ TO UNDERSTAND THE NEW WORLD ORDER is an ever growing catalogue of hundreds of books, PDF's, articles, white papers, links, documents and research material on all things New World Order. Many of these books are very rare. Some are hundreds of years old. Combined, they create a path of breadcrumbs that lead to greater understanding the unseen forces behind most of the evil in this world, who have charted humanity's progress throughout the ages and continue to do so.
On December 3, 2020 the subversive anti-American communist traitors at YouTube TERMINATED TRUTH TALK NEWS CHANNEL 2. On December 11, 2020 YouTube terminated TRUTH TALK NEWS CHANNEL 3. TRUTH TALK NEWS CHANNEL 4 was launched the same day so the more than 9,000 subscribers left orphaned will be able to find material that will be posted on alternative sites.
In 2016 the TRUTH TALK NEWS CHANNEL was hacked and the email address was changed. There is no way to access or respond to emails, post, or upload videos on that site. Remarkably, YouTube has yet to shut it down. The Channel has more than 2.5 million views and over 12.5K subscribers and continues to grow. The full catologue of more than 1000 videos are still available for viewing and sharing.
HowardNema.com is censored and blocked by Facebook. Nothing can be posted or shared on Facebook from HowardNema.com due to "community standards" violations concerning bogus accusations of bullying, harassment and hate speech.
When truth is called hate, when hate is called love, when ideological beliefs breed rage and violence, our society treads on dangerous ground. Ground that has been traveled many times before by fellow travelers and followers of Marx, Lenin, Stalin, Hitler, Mao, Pol-Pot and many other Utopian charlatan totalitarians throughout the centuries. Censorship should be a warning sign from history. For all of us. Silencing one silences us all.
STAND UP FOR FREE SPEECH!
WATCH AND SHARE TRUTH TALK NEWS!
"Where truth the mainstream media ignores is the top story!"
Let us take a journey together down the rabbit hole.
Watch TRUTH TALK NEWS, a talk show discussing suppressed history, current events, politics, pop culture, the esoteric and exoteric, and all things New World Order.
THURSDAYS 9pm in Western Connecticut on Spectrum Cable Channel 192 serving the towns of Barkhamsted, Bethlehem, Bridgewater, Brookfield, Colebrook, Danbury, Harwinton, Kent, Monroe, New Hartford, New Fairfield, New Milford, Newtown, Roxbury, Sherman, Southbury, Trumbull, Washington, West Hartland, Winchester and Woodbury. Rebroadcasts WEDNESDAY 5pm.
All information reported on TRUTH TALK NEWS and HowardNema.com is sourced and verifiable and for the purposes of education and FAIR USE. Take advantage of the many books, articles, videos and FULL PDF's available for FREE, safe downloads on this site.
TRUTH TALK NEWS and HowardNema.com ARE FREE SITES. All books and information on the sites are FREE and NOT monetized in any way.
You are not cattle.
You are not a useless eater.
You do not have to be a brainwashed slave owned by the New World Order.
Do the research.
Think critically.
Find your own truth.
There is only one truth. . . .
Seek and you will find it.
Thank you for your continued support. God bless you all.
HN