Dr. Deception Anthony Fauci is a deep state dinosaur, who is fully emeshed in the global elite's depopulation agenda. He did not rise to his position due to merit, but rather due to being tapped as a propagandist for the New World Order global depopulation agenda. The COVID-19 psyop is not Fauci's first time. He is an experienced deceiver who does what he is told. And when he defies the hidden masters behind the scenes, he quickly flip flops, or changes his rhetoric to appease his Jesuit masters.
Face it, Dr. Fauci is a snake oil salesman and political hack for the global elite for decades. This is not rocket science, folks.
Billionaires Try to Shrink World's Population, Report Says – WSJ
MEDICAL MAFIA COVID-19 VARIANT FEAR PORN PROPAGANDA SET THE STAGE FOR FUTURE TYRANNY
I firmly believe that the so called "COVID-19 variants" come from the injections. While Dr. Deception Anthony Fauci and the medical mafia promote fear that the unjabbed are at serious risk, the rise in variants are coming from those who took the shot.
The "new variant" propaganda also deflects from Dr. Fauci's many lies and deceptions. Fauci is a New World Order puppet responsible for the spread AIDS in the 1980's. Like the COVID-19 vaccine, Dr. Fauci championed the deadly AZT AIDS drug that caused AIDS instead of treating AIDS. The same deceptive tactic that promotes AZT as a miracle drug is being employed to the experimental mRNA COVID-19 injections.
How can anyone trust such a lying, evil charlatan who hobknobbed regularly with Mathusian elitists like David Rockefeller, Ted Turner, George Soros and other global elitist for decades?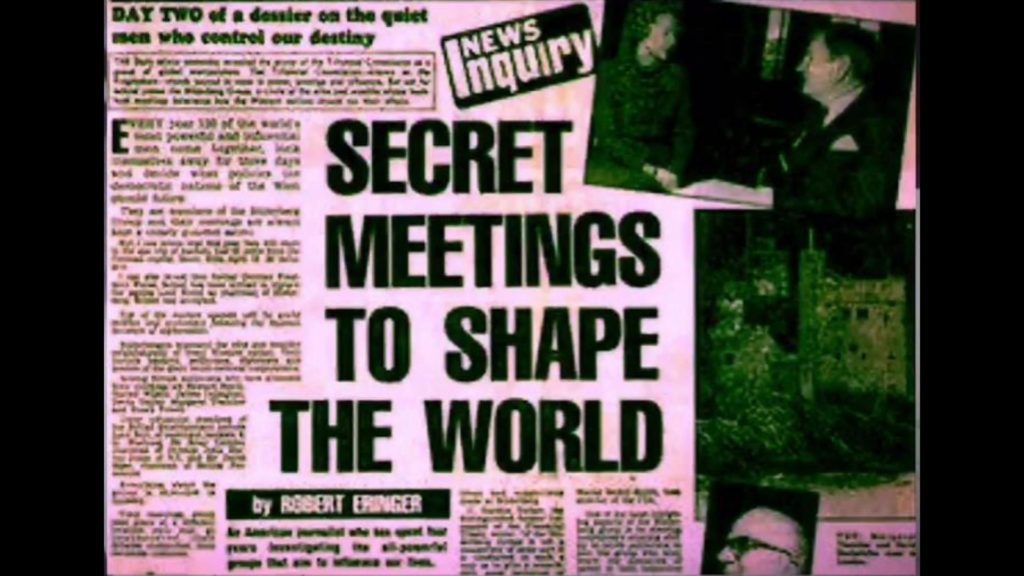 The mRNA experimental gene therapy being peddled as a vaccine by the medical mafia snake oil salesmen causes "shedding" of the mRNA. The shedding is causing the spread of COVID-19 and the variants.
Fauci, the doctor who cried wolf wants everyone injected, claiming those who take the jab are "completely safe" from infection. So, after all of Fauci's lies, distortions and deceptions we are supposed to trust this Jesuit establishment New World Order hack? Seriously?
After all, the fact is, COVID-19 is a bioweapon. Dr. Fauci wants everyone to take a bioweapon. Yes. BIOWEAPON! There is no other reason on earth to weaponize a virus with gain of function to increase infectability aside from creating a bio-weapon. Whether COVID-19 escaped or was released makes no difference. The response indicates deception from the start. China was assisted in their coverup by the World Health Organization, China, the democats and the evil controlled new world order mainstream media.
Dr. Deception called the newest COVID-19 variant the "greatest threat" to the United States' efforts to eradicate the virus during a White House press conference on the fake pandemic Tuesday.
First appearing in India, the delta variant is seen in nearly 20 percent of all new cases in the U.S. doubling from just 10 percent earlier this month, the White House chief medical advisor said. What is being ignored is the fact that thousands, if not millions who were COVID-19 free before they took the injection developed COVID-19 afterwards.
The medical mafia is doing its best to disinform the public about why these positive cases occur after the injections and downplay not only the dangers of taking the injections, but the dangers of creating variants in those vaccinated that endanger the health of the un-vaccinated. In essence, the elite are making certain that those who do not take the COVID-19 injections contract the more infectious virus. While talking about reducing the spread and "eradicating" COVID-19, they are actually allowing the virus to spread and mutate.
I realize it is difficult to believe anyone could be so evil, but that is what people has said of the Nazis, the Bolsheviks and all the other evil acts of genocide that took years, in some casess decades to become common knowledge.
Fauci claims the "delta variant" is apparently "following the same pattern" as the U.K. variant known as alpha. The vaccine peddler's remarks after CDC Director Dr. Rochelle Walensky warned that the delta variant will become the dominant and that every American should get vaccinated against COVID-19,
CNBC reported that studies indicate delta is about 60 percent more transmissible than alpha, which was already more contagious than the original strain that originated in Wuhan, China. We can all thank the function bio-weapon research at the Wuhan lab funded by the NAID, headed by Dr. Deception Anthony Fauci.
Can you connect the dots yet? Is the image getting clearer, or are you sill too blinded by the forest to see the trees?
Dr. Mike Ryan, executive director of the World Health Organization's health emergencies program, said the new variant may become "more lethal because it's more efficient in the way it transmits between humans and it will eventually find those vulnerable individuals who will become severely ill, have to be hospitalized and potentially die."
"As worrisome as this delta strain is with regard to its hyper transmissibility, our vaccines work," Walensky said on "Good Morning America," adding that vaccinated individuals will "be protected against this delta variant."
Do you REALLY believe this? The injections are spreading the variants.
Fauci towed the medical mafia line, pressuring Americans to get vaccinated stating, "the effectiveness of the vaccines, in this case, two weeks after the second dose of Pfizer-BioNTech was 88% against the delta and 93% effective against alpha when dealing with symptomatic disease."
Today more than 175 million Americans have gotten at least one shot … More than 6,000 have died from the injections and more than 250,000 have had serious adverse reactions.
The emergency authorization has made guinea pigs of humanity. But go ahead, throw caution to the wind and take the jab, despite the fact the media and the medical community are COMPLETELY IGNORING THESE HORRIFIC COVID-19 INJECTION DEATH AND ADVERSE REACTION STATISTICS while pressuring the world to take the jab.
If all of this doesn't reek of a Nazi disinformation campaign, what does?
WELCOME TO TRUTH TALK NEWS @ HowardNema.com
Take advantage of all the books, articles, links and suppressed information YOU NEED TO KNOW that is available on this site.
START YOUR JOURNEY BELOW:
BOOKS YOU MUST READ TO UNDERSTAND THE NEW WORLD ORDER is an ever growing catalogue of hundreds of books, PDF's, articles, white papers, links, documents and research material on all things New World Order. Many of these books are very rare. Some are hundreds of years old. Combined, they create a path of breadcrumbs that lead to greater understanding the unseen forces behind most of the evil in this world, who have charted humanity's progress throughout the ages and continue to do so.
On December 3, 2020 the subversive anti-American communist traitors at YouTube TERMINATED TRUTH TALK NEWS CHANNEL 2. On December 11, 2020 YouTube terminated TRUTH TALK NEWS CHANNEL 3. TRUTH TALK NEWS CHANNEL 4 was launched the same day so the more than 9,000 subscribers left orphaned will be able to find material that will be posted on alternative sites.
In 2016 the TRUTH TALK NEWS CHANNEL was hacked and the email address was changed. There is no way to access or respond to emails, post, or upload videos on that site. Remarkably, YouTube has yet to shut it down. The Channel has more than 2.5 million views and over 12.5K subscribers and continues to grow. The full catologue of more than 1000 videos are still available for viewing and sharing.
HowardNema.com is censored and blocked by Facebook. Nothing can be posted or shared on Facebook from HowardNema.com due to "community standards" violations concerning bogus accusations of bullying, harassment and hate speech.
When truth is called hate, when hate is called love, when ideological beliefs breed rage and violence, our society treads on dangerous ground. Ground that has been traveled many times before by fellow travelers and followers of Marx, Lenin, Stalin, Hitler, Mao, Pol-Pot and many other Utopian charlatan totalitarians throughout the centuries. Censorship should be a warning sign from history. For all of us. Silencing one silences us all.
STAND UP FOR FREE SPEECH!
WATCH AND SHARE TRUTH TALK NEWS!
"Where truth the mainstream media ignores is the top story!"
Let us take a journey together down the rabbit hole.
Watch TRUTH TALK NEWS, a talk show discussing suppressed history, current events, politics, pop culture, the esoteric and exoteric, and all things New World Order.
THURSDAYS 9pm in Western Connecticut on Spectrum Cable Channel 192 serving the towns of Barkhamsted, Bethlehem, Bridgewater, Brookfield, Colebrook, Danbury, Harwinton, Kent, Monroe, New Hartford, New Fairfield, New Milford, Newtown, Roxbury, Sherman, Southbury, Trumbull, Washington, West Hartland, Winchester and Woodbury. Rebroadcasts WEDNESDAY 5pm.
All information reported on TRUTH TALK NEWS and HowardNema.com is sourced and verifiable and for the purposes of education and FAIR USE. Take advantage of the many books, articles, videos and FULL PDF's available for FREE, safe downloads on this site.
TRUTH TALK NEWS and HowardNema.com ARE FREE SITES. All books and information on the sites are FREE and NOT monetized in any way.
You are not cattle.
You are not a useless eater.
You do not have to be a brainwashed slave owned by the New World Order.
Do the research.
Think critically.
Find your own truth.
There is only one truth. . . .
Seek and you will find it.
Thank you for your continued support. God bless you all.
HN