By HN
On June 21, 2021 the World Health Organization published revised protocols on which age group populations should receive COVID-19 vaccines. The organization noted: 'Children should not be vaccinated for the moment.'
The WHO reported, "there is not yet enough evidence on the use of vaccines against COVID-19 in children to make recommendations for children to be vaccinated against COVID-19. Children and adolescents tend to have milder disease compared to adults."
This WHO advice conflicts with the May 10, 2020 U.S. FDA's authorization to include people 12 years old and older in the Pfizer-BioNTech COVID-19 injection program.
The communist control freaks who call themselves Democrats always repeat the mantra "follow the science" unless the science interferes with their global totalitarian socialist agenda.
While Marxist change agents calling for "Critical Race Theory" are disguised as teachers and educational administrators, they ignore science and demand the dangerous and unhealthy wearing of face masks and mandatory COVID-19 vaccinations. Teacher are supposed to keep their students safe. Clearly, as many studies have conclude that wearing facemasks and COVID-19 vaccines are not at all safe. But facemasks are a way of conditioning the wearers into a mode of pepetual compliance with dictates of the State. After all, Our children are not taught about their individual rights, but rather they are all programmed with the Marxist group think concepts.
These deceptive shills are destroying minds and lives of children by teaching Marxist hatred and division in the name of "social justice". The lockdowns did much to open the eyes of parents who for the most part we unaware of the indoctrinating of students until they saw for themselves first hand by the virtue of virtual classrooms on zoom.
These Marxist Change Agents' focus is not on teaching, but rather conditioning students to obey dictates of authority and the state, so long as it furthers communism in American. They are teaching our children to hate one another and to believe lies that the color of ones skin, not the content of ones character is responsible for success and a good life. Communists also want to destroy the family unit. It is why school boards across the country run by communists refuse to even listen to parents concerns. They are totalitarians and they need to be removed from positions of power.
Communism, not white supremecy is the greatest threat to America and the world. Only a moron, or misinformed fool cannot undersand this.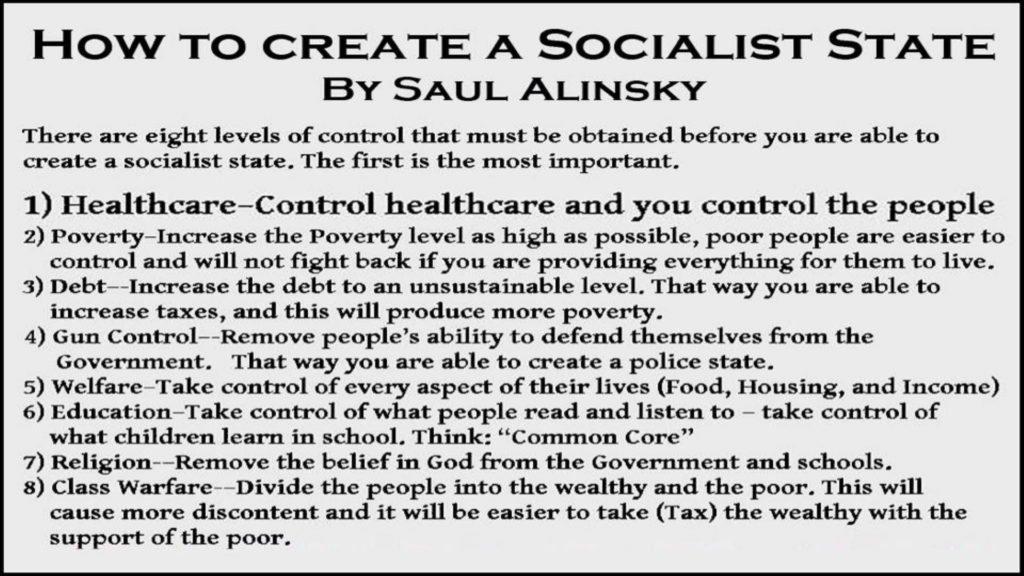 Or see the result of Saul Alinksy's Rules for Radicals playing out in America since Obama came on the scene. Let's not also forget that Alinksy dedicated his book in part to Lucifer.
Let us also not forget that Alinsky himself was Hillary Clinton's mentor.
Starting to see the picture?
The communist's lies are always alluring. They are nothing new. MLK would've fought desperately to stop this reversal of his words. These enemies of freedom and indoctrinating students and turning them into dumbed down useful idiots who are uneducated, but fully indoctrinated to embrace the most deadly ideology in human history. Marxism, socialism and communism are genocidal ideolgies that divide and conquer using hate as a weapon to infect our children with their evil dogma.
These charlatans and their mass media cohorts continue to virtue signal about masks and vasccines even as studies prove both are very dangerous for children. Clearly, these communists only care about compliance with their agenda, not the health, safety and welfare of the children they are supposed to be teaching, but are instead indoctrinating to be "good communists."
Medical Review by Robert Carlson, MD
source: The WHO Says Children Should Not Receive COVID-19 Vaccines — Precision Vaccinations
WELCOME TO TRUTH TALK NEWS @ HowardNema.com
Take advantage of all the books, articles, links and suppressed information YOU NEED TO KNOW that is available on this site.
START YOUR JOURNEY BELOW:
BOOKS YOU MUST READ TO UNDERSTAND THE NEW WORLD ORDER is an ever growing catalogue of hundreds of books, PDF's, articles, white papers, links, documents and research material on all things New World Order. Many of these books are very rare. Some are hundreds of years old. Combined, they create a path of breadcrumbs that lead to greater understanding the unseen forces behind most of the evil in this world, who have charted humanity's progress throughout the ages and continue to do so.
On December 3, 2020 the subversive anti-American communist traitors at YouTube TERMINATED TRUTH TALK NEWS CHANNEL 2. On December 11, 2020 YouTube terminated TRUTH TALK NEWS CHANNEL 3. TRUTH TALK NEWS CHANNEL 4 was launched the same day so the more than 9,000 subscribers left orphaned will be able to find material that will be posted on alternative sites.
In 2016 the TRUTH TALK NEWS CHANNEL was hacked and the email address was changed. There is no way to access or respond to emails, post, or upload videos on that site. Remarkably, YouTube has yet to shut it down. The Channel has more than 2.5 million views and over 12.5K subscribers and continues to grow. The full catologue of more than 1000 videos are still available for viewing and sharing.
HowardNema.com is censored and blocked by Facebook. Nothing can be posted or shared on Facebook from HowardNema.com due to "community standards" violations concerning bogus accusations of bullying, harassment and hate speech.
When truth is called hate, when hate is called love, when ideological beliefs breed rage and violence, our society treads on dangerous ground. Ground that has been traveled many times before by fellow travelers and followers of Marx, Lenin, Stalin, Hitler, Mao, Pol-Pot and many other Utopian charlatan totalitarians throughout the centuries. Censorship should be a warning sign from history. For all of us. Silencing one silences us all.
STAND UP FOR FREE SPEECH!
WATCH AND SHARE TRUTH TALK NEWS!
"Where truth the mainstream media ignores is the top story!"
Let us take a journey together down the rabbit hole.
Watch TRUTH TALK NEWS, a talk show discussing suppressed history, current events, politics, pop culture, the esoteric and exoteric, and all things New World Order.
THURSDAYS 9pm in Western Connecticut on Spectrum Cable Channel 192 serving the towns of Barkhamsted, Bethlehem, Bridgewater, Brookfield, Colebrook, Danbury, Harwinton, Kent, Monroe, New Hartford, New Fairfield, New Milford, Newtown, Roxbury, Sherman, Southbury, Trumbull, Washington, West Hartland, Winchester and Woodbury. Rebroadcasts WEDNESDAY 5pm.
All information reported on TRUTH TALK NEWS and HowardNema.com is sourced and verifiable and for the purposes of education and FAIR USE. Take advantage of the many books, articles, videos and FULL PDF's available for FREE, safe downloads on this site. TRUTH TALK NEWS and HowardNema.com ARE FREE SITES. All books and information on the sites are FREE and NOT monetized in any way.
You are not cattle.
You are not a useless eater.
You do not have to be a brainwashed slave owned by the New World Order.
Do the research.
Think critically.
Find your own truth.
There is only one truth. . . .
Seek and you will find it.
Thank you for your continued support. God bless you all.
HN