By HN
The recent UFO report is a big let down. In fact, the public seems to have ignored recent revelations from the US military about the existence of UFO's with a big yawn. So, it is not surprising Senator Marco Rubio appears to be saber rattling to start a new cold war. He believes Russia and China may have advanced technology 100 years ahead of the United States and could be behind the UFO "phenomena". The premise is laughable. Seems to me this is yet another globalist Military Industrial Complex agenda to foment a new war.
Like global warming, there is little we can do to stop or combat technology that is 100 years more advanced than anything known to science. But creating a new bogeyman benefits the Military Industrial Complex, like a carbon based value added tax helps enrich bankers and politicians under the guise of "saving the planet." Both are scams. Both lead to massive destruction of human life, property and prosperity.
After all, geo-engineering and other "man made" UN attacks on the environment have caused changes in our climate over the last 30 years, not our collective carbon footprint. Of course, in true Law of Reversal and Marxist fashion, the Club of Rome and the United Nations are casting blame on humanity for what they do.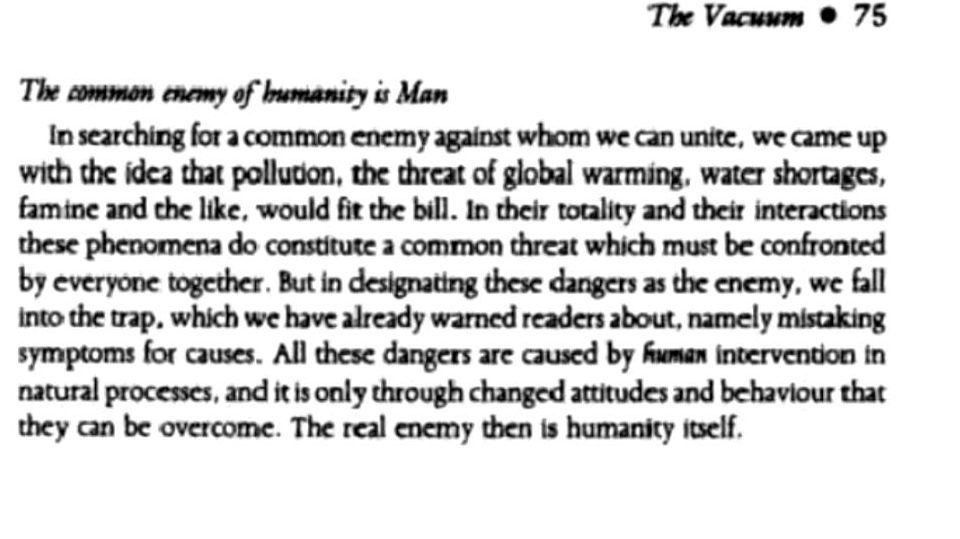 The UN/Club of Rome created the problem. They are controlling the reaction and offering the solution to the problem they created. Reducting the carbon footprints of the masses via deindustrialization and carbon taxes.
Global warming, or climate change is a Hegelian ploy to deindustialize the western world for the masses, while elitists live as they wish. Concern over carbon footprints only involves the masses, not the elite. Consider the fact that New World Order global elitists and propagandists, like Leonardo Di Caprio, fly around the world in private jets that leave a carbon footprint the size of a small city, live in 20,000 square foot mansions as they tell the proles that they have to sacrifice and reduce their consumption, eat bugs instead of meat and limit their movements "to save the earth." All of this eco-fascist insanity is courtesty of United Nations Agenda 21.
There is no doubt UFO's exist, but are they "aliens"? Or is this just another New World Order scam?
In 1917 at the Japanese Mission, socialist educator John Dewey noted that aliens could be the one uniting force to bring humanity together. in 1987 Ronald Reagan echoed the sentiment. The elite have used the "aliens" agenda for decades. On October 30, 1938, the Department of Strategic Services, the precursor of the CIA instituted a psychological operation to gauge the reaction of the public of an alien invasion. This was Orson Wells famous, "War of the Worlds" broadcast.
In my view, if these UFO's are legit, I do not believe they are space aliens. I am more inclined to believe that they interdimensional demons, but that is fodder for another article.
Considering flights into space are soon to become an everyday reality, one must consider this current UFO admission may just be another ploy. like the COVID-19 scamdemic to frighten the public into accepting future losses of freedom "to keep us safe."
related:
UFO Report Provides No New Information But Plenty Of Fodder For Cold Warrior Policymakers
The Office of the Director of National Intelligence has released its hotly anticipated UFO report, which at nine pages in length with no new information is about as spectacular a letdown for UFO enthusiasts as you could possibly get. It does however contain multiple lines which will likely be useful for cold warrior policymakers going forward, just as we forecast earlier.
In summary:
The ODNI says there do appear to be unidentified objects in US airspace behaving in ways the government can't yet explain.
No direct mention is made of the possibility that these objects could be extraterrestrial in origin.
Direct mention is made of the possibility that UFOs could be highly advanced Russian or Chinese technology.
UFOs "pose a hazard to safety of flight" and could be a national security threat.
Those last two points are the only ones which US policymakers of any significance are going to pay attention to.
"UAP [Unidentified Aerial Phenomena] clearly pose a safety of flight issue and may pose a challenge to U.S. national security," the report says. "Safety concerns primarily center on aviators contending with an increasingly cluttered air domain. UAP would also represent a national security challenge if they are foreign adversary collection platforms or provide evidence a potential adversary has developed either a breakthrough or disruptive technology."
"UAP pose a hazard to safety of flight and could pose a broader danger if some instances represent sophisticated collection against U.S. military activities by a foreign government or demonstrate a breakthrough aerospace technology by a potential adversary," the report adds.
"Some UAP may be technologies deployed by China, Russia, another nation, or a non-governmental entity," it also says.
UAP REPORT: RUBIO FULL STATEMENT: Rubio is the Senate Select Committee on Intelligence Vice Chairman Marco Rubio (R-FL) https://t.co/MKoxgQJytp pic.twitter.com/oNx3jRpZDU

— Kellie Meyer (@KellieMeyerNews) June 25, 2021
While the authors of the report also say they "currently lack data to indicate any UAP are part of a foreign collection program or indicative of a major technological advancement by a potential adversary," the fact that Russia or China magically leapfrogging US technology by centuries seventy years ago has been validated as a possibility by the report is a gift to cold warriors eager to ramp up aggressions and inflame a high-budget arms race against those nations.
Among those cold warriors is Senator Marco Rubio, one of the handful of individuals behind this strange new UFO narrative's entry into mainstream attention. Rubio released the following statement shortly before the report was published:
"For years, the men and women we trust to defend our country reported encounters with unidentified aircraft that had superior capabilities, and for years their concerns were often ignored and ridiculed. This report is an important first step in cataloging these incidents, but it is just a first step. The Defense Department and Intelligence Community have a lot of work to do before we can actually understand whether these aerial threats present a serious national security concern."
As I've been saying repeatedly, the odds of this new UFO narrative entering mainstream consciousness courtesy of the Pentagon, military/intelligence operatives, and corrupt warmongering politicians at the same moment the US begins implementing a new cold war against Russia and China is far too convenient for mere coincidence to be a likely explanation. We can expect to see the hawkish agendas of warmongers like Marco Rubio further advanced by this new UFO narrative going forward.
source: UFO Report Provides No New Information But Plenty Of Fodder For Cold Warrior Policymakers – Caitlin Johnstone
WELCOME TO TRUTH TALK NEWS @ HowardNema.com
Take advantage of all the books, articles, links and suppressed information YOU NEED TO KNOW that is available on this site.
START YOUR JOURNEY BELOW:
BOOKS YOU MUST READ TO UNDERSTAND THE NEW WORLD ORDER is an ever growing catalogue of hundreds of books, PDF's, articles, white papers, links, documents and research material on all things New World Order. Many of these books are very rare. Some are hundreds of years old. Combined, they create a path of breadcrumbs that lead to greater understanding the unseen forces behind most of the evil in this world, who have charted humanity's progress throughout the ages and continue to do so.
On December 3, 2020 the subversive anti-American communist traitors at YouTube TERMINATED TRUTH TALK NEWS CHANNEL 2. On December 11, 2020 YouTube terminated TRUTH TALK NEWS CHANNEL 3. TRUTH TALK NEWS CHANNEL 4 was launched the same day so the more than 9,000 subscribers left orphaned will be able to find material that will be posted on alternative sites.
In 2016 the TRUTH TALK NEWS CHANNEL was hacked and the email address was changed. There is no way to access or respond to emails, post, or upload videos on that site. Remarkably, YouTube has yet to shut it down. The Channel has more than 2.5 million views and over 12.5K subscribers and continues to grow. The full catologue of more than 1000 videos are still available for viewing and sharing.
HowardNema.com is censored and blocked by Facebook. Nothing can be posted or shared on Facebook from HowardNema.com due to "community standards" violations concerning bogus accusations of bullying, harassment and hate speech.
When truth is called hate, when hate is called love, when ideological beliefs breed rage and violence, our society treads on dangerous ground. Ground that has been traveled many times before by fellow travelers and followers of Marx, Lenin, Stalin, Hitler, Mao, Pol-Pot and many other Utopian charlatan totalitarians throughout the centuries. Censorship should be a warning sign from history. For all of us. Silencing one silences us all.
STAND UP FOR FREE SPEECH!
WATCH AND SHARE TRUTH TALK NEWS!
"Where truth the mainstream media ignores is the top story!"
Let us take a journey together down the rabbit hole.
Watch TRUTH TALK NEWS, a talk show discussing suppressed history, current events, politics, pop culture, the esoteric and exoteric, and all things New World Order.
THURSDAYS 9pm in Western Connecticut on Spectrum Cable Channel 192 serving the towns of Barkhamsted, Bethlehem, Bridgewater, Brookfield, Colebrook, Danbury, Harwinton, Kent, Monroe, New Hartford, New Fairfield, New Milford, Newtown, Roxbury, Sherman, Southbury, Trumbull, Washington, West Hartland, Winchester and Woodbury. Rebroadcasts WEDNESDAY 5pm.
All information reported on TRUTH TALK NEWS and HowardNema.com is sourced and verifiable and for the purposes of education and FAIR USE. Take advantage of the many books, articles, videos and FULL PDF's available for FREE, safe downloads on this site. TRUTH TALK NEWS and HowardNema.com ARE FREE SITES. All books and information on the sites are FREE and NOT monetized in any way.
You are not cattle.
You are not a useless eater.
You do not have to be a brainwashed slave owned by the New World Order.
Do the research.
Think critically.
Find your own truth.
There is only one truth. . . .
Seek and you will find it.
Thank you for your continued support. God bless you all.
HN