By HN
If you are wondering why there is COVID-19 "vaccine hesitancy" in the black community you need to learn about Tuskeegee. No, not the great patriot World War 2 airmen, but rather the Tuskeegee Syphilis Experiment.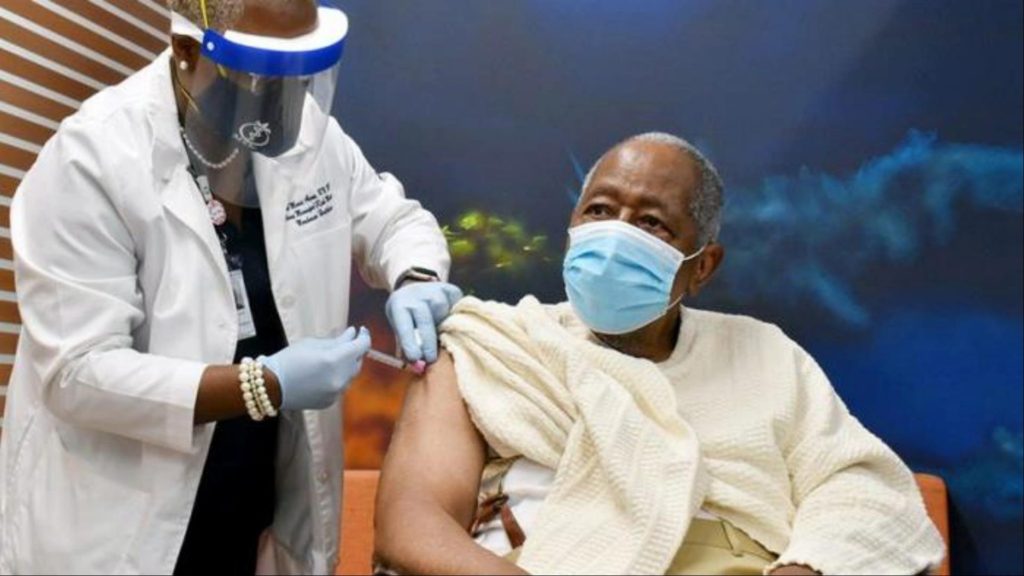 People in the black community may also have pause since high profile celebrities like Hank Aaron and former Detroit news anchor Karen Hudson-Samuels died after getting the experimental COVID-19 mRNA jab.
Former news anchor dead one day after receiving COVID-19 vaccine (nypost.com)
Pardon those in the black community who hesitate to take an experimental mRNA gene therapy being falsely peddled as a "vaccine". To the democrats chagrin, the black community are not helpless, simple minded "folk". They are smart. Smart enough to know they are being talked down to by a bunch of mostly rich, white liberal racists, who do not realize their thoughts and woke ideas are extremely racist. These poor souls are chained to identity politics and their own "white guilt" and delusional perceptions of "white privilege" in a world full of black achievement they intentionally ignore. Guess what? The black community can actually think for themselves and make decisions. They even have ID's.
The U.S. Public Health Service working along with the Tuskegee Institute, began a study to record the natural history of syphilis in 1932. It was originally called the "Tuskegee Study of Untreated Syphilis in the Negro Male" (now referred to as the "U.S. Public Health Service Syphilis Study at Tuskegee").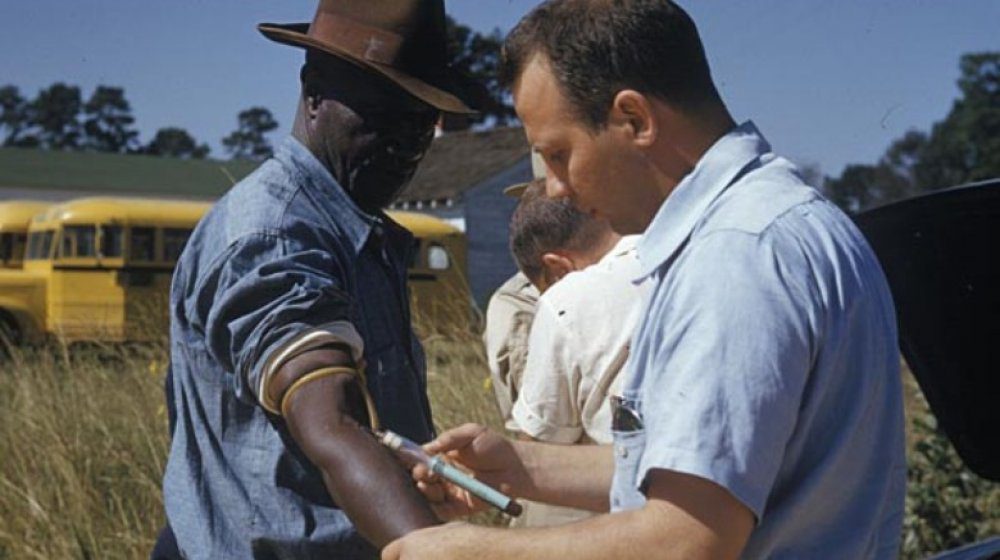 The study began with 600 Black men – 399 with syphilis and 201 who did not have the disease. The participants were not given informed consent. They were guinea pigs, like all who took the experimental mRNA COVID-19 gene therapy injections.
Researchers told the guinea pigs they were being treated for "bad blood". Bad blood was a local term used to describe syphilis, anemia, fatigue and other ailments. The men were given free medical exams, free meals and burial insurance in exchange for taking part in the study. They were then systematically maimed, tortured and killed.
By 1943, penicillin was becoming widely available. Penicillin became the go to treatment for syphilis, but participants in the study were not offered treatment.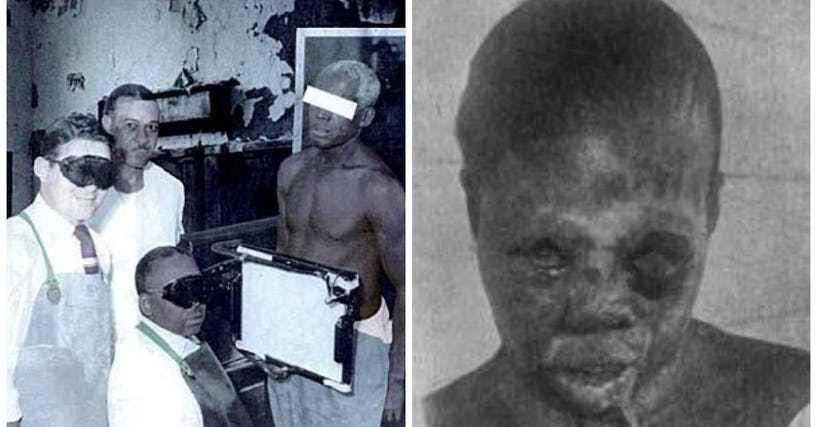 The evil mad scientists wanted to study other treatments that only Joseph Mengele would have approved of. These fiendish doctors also charted the progression of the disease if not treated. These observations spanned 40 years.
In 1972, an Associated Press storyexternal icon about the study was published. As a result, the Assistant Secretary for Health and Scientific Affairs appointed an Ad Hoc Advisory Panel to review the study. The advisory panel concludedpdf iconexternal icon that the study was "ethically unjustified"; that is, the "results [were] disproportionately meager compared with known risks to human subjects involved."
That November, the Assistant Secretary for Health and Scientific Affairs announced the termination of the study.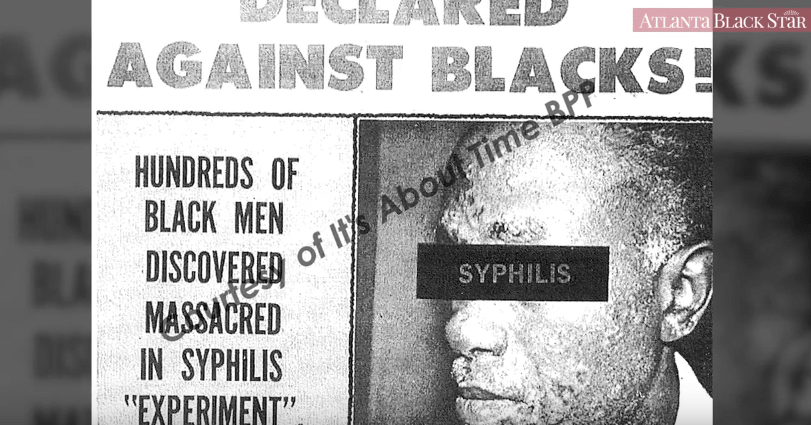 In March 1973, the panel advised the Secretary of the Department of Health, Education, and Welfare (HEW) (now known as the Department of Health and Human Services) instructed the USPHS to provide all necessary medical care for the survivors of the study.1 The Tuskegee Health Benefit Program (THBP) was established to provide these services.
Later in 1973, a class-action lawsuit was filed on behalf of the study participants and their families that resulted in a $10 million, out-of-court settlement in 1974. In 1975, participants' spouses, widows and children were added to the program.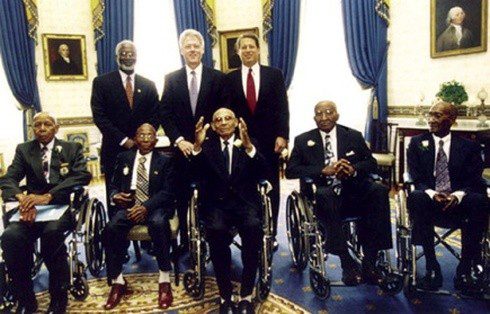 In 1995, the program was expanded to include health, as well as medical, benefits. On May 16, 1997, President Bill Clinton issued a formal Presidential Apologyexternal icon for the study.
The last study participant died in January 2004. The last widow receiving THBP benefits died in January 2009. Participants' children (10 at present) continue to receive medical and health benefits.
The recent revelations of DNA targeted bioweapons being designed in China with US dollars and New World Order medical mafia hacks, the black community are wise to be wary to the men in white coats.
References
1 "HEW News" Office of the Secretary, March 5, 1973; Memorandum "USPHS Study of Untreated Syphilis (the Tuskegee Study; Authority to Treat Participants Upon Termination of the Study," from Wilmot R Hastings to the secretary, March 5, 1973.
2 Vonderlehr, R.A., Clark, T., Wenger, O.C., Heller, J.R., Untreated Syphilis in the Male Negro, Journal of Venereal Disease Information. 17:260-265, (1936).
WELCOME TO TRUTH TALK NEWS @ HowardNema.com
Take advantage of all the books, articles, links and suppressed information YOU NEED TO KNOW that is available on this site.
START YOUR JOURNEY BELOW:
BOOKS YOU MUST READ TO UNDERSTAND THE NEW WORLD ORDER is an ever growing catalogue of hundreds of books, PDF's, articles, white papers, links, documents and research material on all things New World Order. Many of these books are very rare. Some are hundreds of years old. Combined, they create a path of breadcrumbs that lead to greater understanding the unseen forces behind most of the evil in this world, who have charted humanity's progress throughout the ages and continue to do so.
On December 3, 2020 the subversive anti-American communist traitors at YouTube TERMINATED TRUTH TALK NEWS CHANNEL 2. On December 11, 2020 YouTube terminated TRUTH TALK NEWS CHANNEL 3. TRUTH TALK NEWS CHANNEL 4 was launched the same day so the more than 9,000 subscribers left orphaned will be able to find material that will be posted on alternative sites.
In 2016 the TRUTH TALK NEWS CHANNEL was hacked and the email address was changed. There is no way to access or respond to emails, post, or upload videos on that site. Remarkably, YouTube has yet to shut it down. The Channel has more than 2.5 million views and over 12.5K subscribers and continues to grow. The full catologue of more than 1000 videos are still available for viewing and sharing.
HowardNema.com is censored and blocked by Facebook. Nothing can be posted or shared on Facebook from HowardNema.com due to "community standards" violations concerning bogus accusations of bullying, harassment and hate speech.
When truth is called hate, when hate is called love, when ideological beliefs breed rage and violence, our society treads on dangerous ground. Ground that has been traveled many times before by fellow travelers and followers of Marx, Lenin, Stalin, Hitler, Mao, Pol-Pot and many other Utopian charlatan totalitarians throughout the centuries. Censorship should be a warning sign from history. For all of us. Silencing one silences us all.
STAND UP FOR FREE SPEECH!
WATCH AND SHARE TRUTH TALK NEWS!
"Where truth the mainstream media ignores is the top story!"
Let us take a journey together down the rabbit hole.
Watch TRUTH TALK NEWS, a talk show discussing suppressed history, current events, politics, pop culture, the esoteric and exoteric, and all things New World Order.
THURSDAYS 9pm in Western Connecticut on Spectrum Cable Channel 192 serving the towns of Barkhamsted, Bethlehem, Bridgewater, Brookfield, Colebrook, Danbury, Harwinton, Kent, Monroe, New Hartford, New Fairfield, New Milford, Newtown, Roxbury, Sherman, Southbury, Trumbull, Washington, West Hartland, Winchester and Woodbury. Rebroadcasts WEDNESDAY 5pm.
All information reported on TRUTH TALK NEWS and HowardNema.com is sourced and verifiable and for the purposes of education and FAIR USE. Take advantage of the many books, articles, videos and FULL PDF's available for FREE, safe downloads on this site. TRUTH TALK NEWS and HowardNema.com ARE FREE SITES. All books and information on the sites are FREE and NOT monetized in any way.
You are not cattle.
You are not a useless eater.
You do not have to be a brainwashed slave owned by the New World Order.
Do the research.
Think critically.
Find your own truth.
There is only one truth. . . .
Seek and you will find it.
Thank you for your continued support. God bless you all.
HN