This is how the New World Order rolls. This evil group of generational global elitists have a long history of murdering those who got in the way of their global depopulation agenda and the Great Work to transform America and the world into a one world, totalitarian socialist state. HN
Sometimes, an ugly truth is staring us in the face, we need only to see it and speak it for the reality to become clear.
There are only three (3) countries on this planet whose government officials refused to accept the COVID-19 vaccine from the World Health Organization: Burundi, Tanzania, and Haiti.
The officials in those countries who declined the vax were Presidents in each of those countries.
In Burundi it was President Pierre Nkurunziza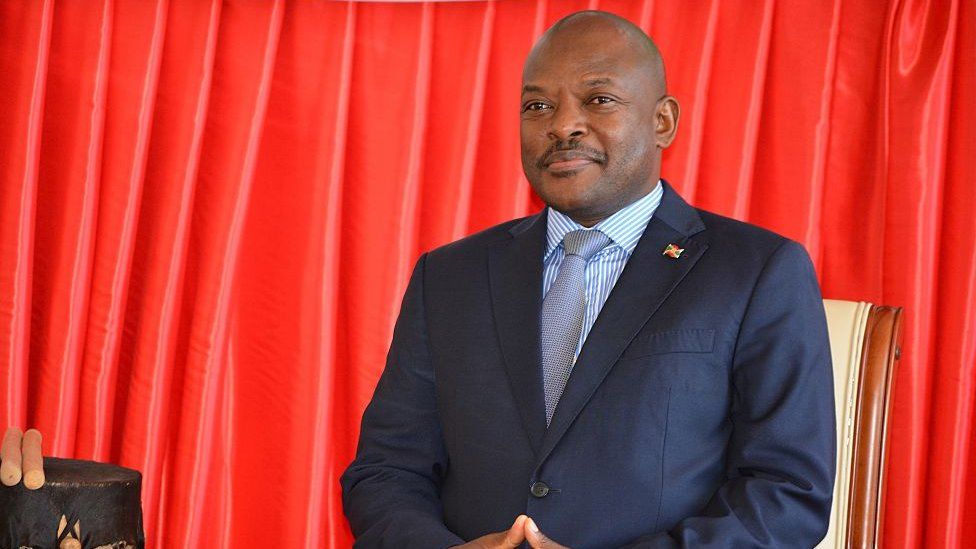 In Tanzania, it was President John Magufuli
In Haiti, it was President Jovenel Moïse
All three of those Presidents are now DEAD.
Coincidence?
What are the odds of these three particular men, all dying in office . . . and the only thing they have in common is that they refused to accept the vaccine for their countries?
To many people, their deaths look like murder; although the one in Haiti was straight up murder, he was assassinated by men with guns.
DEPOPULATION
Many people have speculated that the entire COVID-19 was a staged, intentionally deadly attack on humanity itself.
There are people on this planet who believe that humanity itself is like a virus against the planet. They believe humanity is destroying the planet and so, they continue, humanity must be culled.
Many of those people are in positions of great power and wealth.
It is thought by a large number of people that the so-called "vaccine" for COVID-19 is the method by which these people have decided to cull humanity.
So, the theory goes, they hyped a "novel coronavirus" which is shown to have a 99.6% SURVIVAL RATE, as a reason to get a new, untested, unproven "vaccine." The trouble is, this vaccine does not use active or even attenuated virus in it, but instead uses mRNA technology, which has never been used as a "vaccine" anywhere on the planet, ever before.
Many, many people have already DIED after getting this "vaccine" and hundreds-of-thousands are severely injured, some permanently disabled, after getting it.
If this theory about using a vaccine to cull humanity is true, would the people perpetrating it even hesitate to murder three Presidents?
And if they're willing to murder Presidents, would they even think twice about murdering YOU?
source: All Three Presidents Who Declined the Covid Vaccine are now DEAD – Coercion Code – "Dark Times are upon us"
WELCOME TO TRUTH TALK NEWS @ HowardNema.com
Take advantage of all the books, articles, links and suppressed information YOU NEED TO KNOW that is available on this site.
START YOUR JOURNEY BELOW:
BOOKS YOU MUST READ TO UNDERSTAND THE NEW WORLD ORDER is an ever growing catalogue of hundreds of books, PDF's, articles, white papers, links, documents and research material on all things New World Order. Many of these books are very rare. Some are hundreds of years old. Combined, they create a path of breadcrumbs that lead to greater understanding the unseen forces behind most of the evil in this world, who have charted humanity's progress throughout the ages and continue to do so.
On December 3, 2020 the subversive anti-American communist traitors at YouTube TERMINATED TRUTH TALK NEWS CHANNEL 2. On December 11, 2020 YouTube terminated TRUTH TALK NEWS CHANNEL 3. TRUTH TALK NEWS CHANNEL 4 was launched the same day so the more than 9,000 subscribers left orphaned will be able to find material that will be posted on alternative sites.
In 2016 the TRUTH TALK NEWS CHANNEL was hacked and the email address was changed. There is no way to access or respond to emails, post, or upload videos on that site. Remarkably, YouTube has yet to shut it down. The Channel has more than 2.5 million views and over 12.5K subscribers and continues to grow. The full catologue of more than 1000 videos are still available for viewing and sharing.
HowardNema.com is censored and blocked by Facebook. Nothing can be posted or shared on Facebook from HowardNema.com due to "community standards" violations concerning bogus accusations of bullying, harassment and hate speech.
When truth is called hate, when hate is called love, when ideological beliefs breed rage and violence, our society treads on dangerous ground. Ground that has been traveled many times before by fellow travelers and followers of Marx, Lenin, Stalin, Hitler, Mao, Pol-Pot and many other Utopian charlatan totalitarians throughout the centuries. Censorship should be a warning sign from history. For all of us. Silencing one silences us all.
STAND UP FOR FREE SPEECH!
WATCH AND SHARE TRUTH TALK NEWS!
"Where truth the mainstream media ignores is the top story!"
Let us take a journey together down the rabbit hole.
Watch TRUTH TALK NEWS, a talk show discussing suppressed history, current events, politics, pop culture, the esoteric and exoteric, and all things New World Order.
THURSDAYS 9pm in Western Connecticut on Spectrum Cable Channel 192 serving the towns of Barkhamsted, Bethlehem, Bridgewater, Brookfield, Colebrook, Danbury, Harwinton, Kent, Monroe, New Hartford, New Fairfield, New Milford, Newtown, Roxbury, Sherman, Southbury, Trumbull, Washington, West Hartland, Winchester and Woodbury. Rebroadcasts WEDNESDAY 5pm.
All information reported on TRUTH TALK NEWS and HowardNema.com is sourced and verifiable and for the purposes of education and FAIR USE. Take advantage of the many books, articles, videos and FULL PDF's available for FREE, safe downloads on this site. TRUTH TALK NEWS and HowardNema.com ARE FREE SITES. All books and information on the sites are FREE and NOT monetized in any way.
You are not cattle.
You are not a useless eater.
You do not have to be a brainwashed slave owned by the New World Order.
Do the research.
Think critically.
Find your own truth.
There is only one truth. . . .
Seek and you will find it.
Thank you for your continued support. God bless you all.
HN