Panic buying and traffic is reportedly running rife in Queensland ahead of the strictest lockdown the Sunshine state has seen yet for 11 local government areas.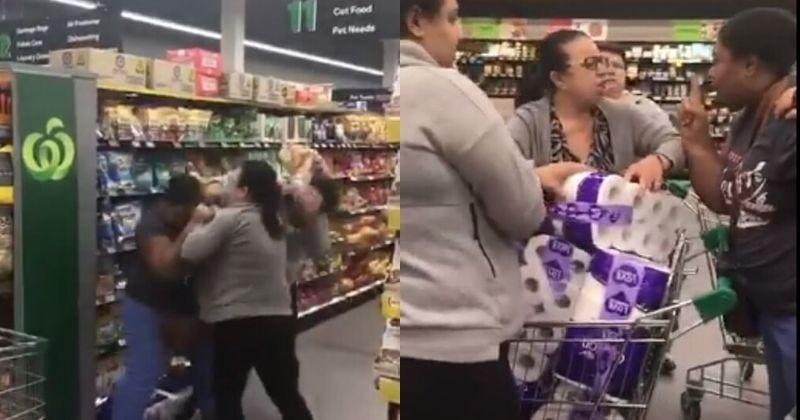 Panic buying and traffic in Queensland ahead toughest three-day lock seen yet
by Brianna McKee
Reports of major traffic build-ups and a last-minute buying frenzy has followed in the wake of a snap lockdown announcement for 11 local government areas in Queensland.
It comes after six cases of COVID-19 were reported overnight bringing the infections linked to the current Delta outbreak to a total of nine.
Deputy Premier Steven Miles announced the new lockdown measure at Saturday's press conference and said it would be the "strictest" enforced in Queensland since the start of the pandemic.
Residents in the affected LGAs will only be permitted to leave home for four reasons: shopping for essential goods, work and study, exercise and receiving or giving medical aid.
https://imasdk.googleapis.com/js/core/bridge3.473.0_en.html#goog_367193636
Queensland LGAs to enter lockdown from 4pm July 31
Brisbane City
Moreton Bay
Gold Coast
Ipswich
Lockyer Valley
Logan
Noosa
Redland
Scenic Rim
Somerset
Sunshine Coast
Shopping and exercise have been limited to within 10 kilometres of each person's home and a mask mandate will be required at all times outside the home.
This includes indoor venues such as shopping centres, workplaces and hospitals and any outdoor areas, even when exercising.
https://imasdk.googleapis.com/js/core/bridge3.473.0_en.html#goog_367193638
A mask mandate will also be required for all students, teachers and staff at high schools and all staff at primary schools.
No visitors will be allowed in the homes of people within the 11 listed local government areas and non-essential businesses including gyms and churches will be closed.
Hospitality services such as pubs, bars and restaurants will be limited to takeaway while cinemas, entertainment venues and hairdressers will be closed.
Health Minister Yvette D'Ath admitted the Sydney outbreak was a pressing factor in the decision to lockdown millions of people in Queensland
https://imasdk.googleapis.com/js/core/bridge3.473.0_en.html#goog_367193640
"New South Wales had one case on 16 June. Thirty-eight days later, they are at 3000 cases," she said.
On Saturday New South Wales recorded 210 locally acquired cases with the majority identified in south-west and western Sydney.
"From that one person – 38 days, 3,000 cases. Sadly, 13 people have died just from that one cluster".
source: Panic buying and traffic in Queensland ahead toughest three-day lock seen yet | Sky News Australia
WELCOME TO TRUTH TALK NEWS @ HowardNema.com
Take advantage of all the books, articles, links and suppressed information YOU NEED TO KNOW that is available on this site.
START YOUR JOURNEY BELOW:
BOOKS YOU MUST READ TO UNDERSTAND THE NEW WORLD ORDER is an ever growing catalogue of hundreds of books, articles, documents and research material on all things New World Order. Many of these books are very rare. Some are hundreds of years old. Combined, they create a path of breadcrumbs that lead to greater understanding the unseen forces behind most of the evil in this world, who have charted humanity's progress throughout the ages and continue to do so.
STAND UP FOR FREE SPEECH!
WATCH AND SHARE TRUTH TALK NEWS!
"Where truth the mainstream media ignores is the top story!"
Let us take a journey together down the rabbit hole.
Watch TRUTH TALK NEWS, a talk show discussing suppressed history, current events, politics, pop culture, the esoteric and exoteric, and all things New World Order.
5pm WEDNESDAYS in Western Connecticut on Spectrum Cable Channel 192 serving the towns of Barkhamsted, Bethlehem, Bridgewater, Brookfield, Colebrook, Danbury, Harwinton, Kent, Monroe, New Hartford, New Fairfield, New Milford, Newtown, Roxbury, Sherman, Southbury, Trumbull, Washington, West Hartland, Winchester and Woodbury. Rebroadcasts THURSDAYS 9pm.
All information reported on TRUTH TALK NEWS and HowardNema.com is sourced and verifiable and for the purposes of education and FAIR USE. Take advantage of the many books, articles, videos and FULL PDF's available for FREE, safe downloads on this site. TRUTH TALK NEWS and HowardNema.com ARE FREE SITES. All books and information on the sites are FREE and NOT monetized in any way.
You are not cattle.
You are not a useless eater.
Do the research.
Think critically.
Find your own truth.
There is only one truth. . . .
Seek and you will find it.
Thank you for your continued support. God bless you all. HN
All content herein can be used by anyone in accordance with U.S. Copyright law.
TRUTH TALK NEWS and HowardNema.com are free and independent of any network, group or association.
FAIR USE NOTICE: Some content displayed on this video/site may contain copyrighted material the use of which has not been specifically authorized by the copyright owner. This material has been made available in our efforts to advance understanding political, human rights, economic, democracy, scientific, and social justice issues, etc. constituting a 'fair use' of any such copyrighted material as provided for in section 107 of the US Copyright Law. In accordance with Title 17 U.S.C. Section 107, all the material on this site is distributed without profit to those who have expressed a prior interest in receiving the included information for research and educational purposes.