by HN
The injected are shedding COVID-19 variants, not the unjabbed. This Hegelian injection ploy created the problem (spreading the variants) and controlled the reactions via corrupt medical "experts" and media lap dogs, then offered the required "boosters" as the designed solution.
So while the medical mafia falsely blame the un-jabbed for the spread, it is the injections themselves that are transmitting the variants, as noted by Nobel Prize winning epidemiologist, Luc Montagnier.
I get it. Many don't want to believe we are in the end game of a global depopulation agenda that began in earnest back in 1954. It is unimaginable that such evil could exist in this world. So it is much easier to believe lies and to call the truth a tin foil hat conspiracy theory, rather than face the dark and evil facts.
Of course, decades of mass media propaganda and social engineering have strengthened the cognitive dissonance of accepting lies over the truth. This is exactly what happened in Nazi Germany, especially regarding similar non-scientific, or pseudo-science that became gospel under the tyranny of the evil regime.
Another hard red pill to swallow is the fact most people simply don't want to admit the fact that America and the world is fast resembling Nazi Germany, even as it occurs in real time. Today, many warning signs from history are being ignored, or downplayed. This is not the first time. It has happened before.
Warning signs similar to those Time Magazine and other globalist publications, who controlled public opinion then and now, continue to downplay. TIME and LIFE magazines literally assisted American and international banks in Bolshevik Revolution and the rise of Adolf Hitler. These are published facts.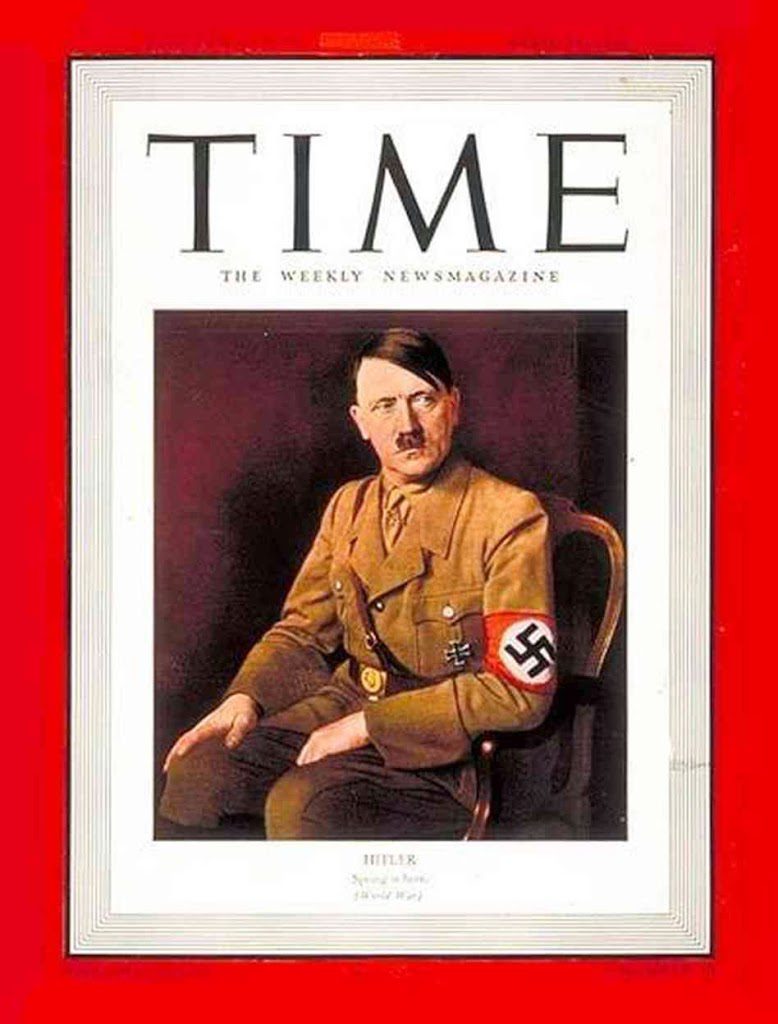 From 1933 to 1939, TIME/LIFE ignored or downplayed the danger Hitler presented to the world until they could no longer praise him. By then, the die of death had been cast and it was too late. TIME magazine has a long history of propping up the elite's chosen puppets and their collectivist political agendas.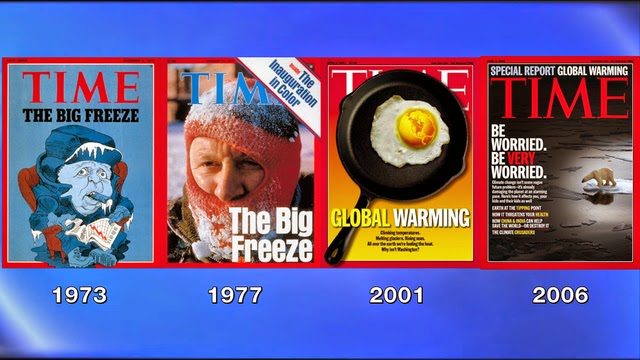 "Those who forget the past are condemned to repeat it". – George Santayana
In 1954 the global elite met at the Bilderberg Hotel in Oosterbeek, Netherlands to discuss plans to collectivize all the political and economic systems on earth under their control, and to initiate a plan to deal with ways to reduce rising population, which stood in the way of their goals for world domination.
Since 1954 this group has worked with communists, dictators and corrupt political and business leaders, Big Pharma and Big Agra across the world to reduce population by means of war, spreading disease and famine.
Drugs and guns were also filtered into major cities to cause crime, overdoses and assorted death. Over time this created a criminal class that previously did not exist. The social welfare system was also used as a tool to create a permanent dependent class.
More and more we see how Big Pharma drugs are introduced that are FDA approved, then years later removed after millions have died, or been injured by their usage. Every drug pulled from the marked by the FDA was first approved by the FDA as safe and effective.
There is a reason why so many drugs that cause harm, other ailments and death are called "treatments". This is an intentional perversion of medicine from the highest levels. Most doctors are unaware of this. Those who are aware and speak out are demonized. Sound familiar? See how this works?
Beginning in 1954 the soil was intentionally poisoned, leeching nutrients. The water supply and air was also poisoned with sterilants, fluoride and other heavy metals to lower sperm counts, induce illness and reduce life span. Promoting homosexuality, abortions and family planning is a top priority of this group. Sperm counts are down 90% since 1980.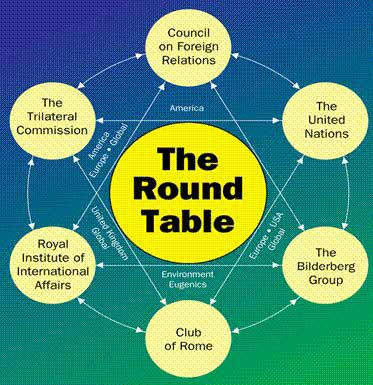 This same network, known only as the Round Table Groups, or Milner's Kindergarten, use the IMF/World Bank to create economic and ethnic destabilization in regions across the world, foment war and famine while toppling governments.
This is done to consolidate their power and control, while raping mineral resources and enslaving populations in poverty and debt. History proves this, but this history is not written in the books you read in school or reported on the evening news.
Still, this is exactly what they do, in the name of "peace", "security" and "democracy," of course.
They are the Nation Killers and America is the next nation on their list.
I cover this extensively in my 2014 article, NATION KILLING: HOW THE NEW WORLD ORDER ROLLS:
The elitists behind this ongoing genocide agenda have literally written there intentions in stone and in dozens of books published by the Club of Rome, the United Nations and other globalist publications.
The elite own the 147 companies that own and control all the 43,000 major corporations we all know and love to do business with. The ownership of these 147 companies filter down to central banks, who are working to create a cashless, neo-feudal slave society. A society Aldous Huxley described in his 1961 Ultimate Revolution speech at Berkeley, where in the future people would more and more lose their freedom, but would rather enjoy it due to a combination of pharmaceutical drugs, pop cultural propaganda and social engineering.
Starting to see the picture?
All of these companies and their high paid minions have moved in "lockstep" with the Rockefeller/UN/WHO/China scamdemic and are now showing their fascist teeth with their alliance with government and big tech.
These companies are forcing needles into their employees arms or firing them, and excluding access of customers to their businesses who do not have "vaccine passports" or "negative COVID tests." Concentration camps are being constructed across the world to isolate "infected" COVID patients and others to isolate the "un-injected" and dissidents wise to the CDC/WHO's lies and suppression of millions of deaths caused by the COVID-19 injections.
Nazi Germany is rising again and the same generational international bankers are behind this coup of humanity that were behind the rise of Hitler, the Bolshevik Revolution and the rise of Mao in China.
It was David Rockefeller and Henry Kissinger who opened the doors to China, not Richard Nixon. But Nixon did say in 1972 in Bejjing that America and China were building a "New World Order."
You can't make this stuff up. GHW Bush, Bill Clinton, GW Bush, Obama and Biden have all publicly called for , "a New World Order."
The UN wants America and the world use what they call, the "China Model". In other words, the UN seeks to create a totalitarian one world government. They are proud of this goal and they are open about achieving it.
Starting to see a connection here, or are you too blinded by the trees to see the forest?
Today, in the US and around the world corporations are doing all the restrictive things governments cannot do. They have partnered, making both complicit in this genocidal take over of society under the guise of a fake pandemic.
We are being bombarded with propaganda that was legalized to be used against the American people by Obama in the 2013 NDAA.
This is why there is so much "fake news."
Are you waking up yet?
We are engaged in a silent war fought with quiet weapons. A war where humanity itself is the enemy of the global elite, who are working to create a neo-feudal slave society where all aspects of human life are under strict control of unseen, unelected globalist bureaucrats at the United Nations.
This is not an opinion. It is a fact, complete with blueprints in writing, like Operation Lockstep (2010) and EVENT 201 (2019).
The awake and unvaccinated are being demonized no different than the Kulacks were in Bolshevik Russia, or the Jews in Nazi Germany.
Never again is happening again and the same generational international banking forces are behind all of it.
This is obvious to those who have done the research into these demonic generational elite psychopaths, but it should still be easy enough to see by those who are in denial to what is actually happening. The sheople see all of this, but refuse to believe it. I fear that most have their heads so far up their asses they will be unable to extricate them before they suffocate.
The elite own the corrupt politicians implementing tyranny in the name of "keeping us safe" from a virus 99% of people if sickened recover from. It is a scam.
The greatest genocide and hoax in world history is occurring before our very eyes and too many can't bring themselves to believe it. Still, this is why the world is the way it is and why the same globalist eugenicist forces (Gates/Fauci/UN/WHO.China, etc.) have used healthcare as a weapon of despotism and social control.
The world is fast becoming a concentration camp before our very eyes and all the governments following the UN/WHO depopulation agenda are the new Nazis.
Wake up! DENIAL IS NOT A RIVER IN EGYPT! RESISTANCE IS MANDATORY! COMPLIANCE IS DEATH!
referenced:
Welcome to TRUTH TALK NEWS @ HowardNema.com
"Where truth the mainstream media ignores is the top story!"
Take advantage of all the books, articles, links and information available on this site.
Subscribe to TruthTalkNews on bitchute: https://www.bitchute.com/channel/QJKrgONwtmn0/
TRUTH TALK NEWS CHANNEL: www.youtube.com/TruthTalkNews
Let us take a journey together down the rabbit hole.
Watch TRUTH TALK NEWS, a talk show discussing suppressed history, current events, politics, pop culture, the esoteric and exoteric, and all things New World Order THURSDAYS 9pm in Western Connecticut on Spectrum Cable Channel 192 serving the towns of Barkhamsted, Bethlehem, Bridgewater, Brookfield, Colebrook, Danbury, Harwinton, Kent, Monroe, New Hartford, New Fairfield, New Milford, Newtown, Roxbury, Sherman, Southbury, Trumbull, Washington, West Hartland, Winchester and Woodbury.
BOOKS YOU MUST READ TO UNDERSTAND THE NEW WORLD ORDER: The link below is a path of breadcrumbs that leads to greater understanding of the world we live in and those who chart and guide humanity's progress from the shadows though out the ages. Here is an ever growing catalogue of hundreds of books, PDF's, articles, white papers, links, documents and research material on all things New World Order.
https://www.howardnema.com/2020/08/19/books-you-must-read-to-understand-the-new-world-order/
WILLIAM COOPER'S FULL MYSTERY BABYLON SERIES (44 EPISODES)
https://www.youtube.com/watch?v=itO8A0z5HdY&list=PLfqzOxBqtdDU3PQPiVs71k7FobaYKJLmL
Subscribe to William Cooper's MYSTERY BABYLON CHANNEL:
https://www.youtube.com/channel/UCZ5XZgqTNBIsGRB3CtszmcQ
SOCIAL MEDIA:
http://www.twitter.com/TruthTalkNews
http://www.facebook.com/TruthTalkNews
http://www.HowardNema.com is censored and blocked by Facebook. Nothing can be posted or shared on Facebook from HowardNema.com due to "community standards" violations concerning bogus accusations of bullying, harassment and hate speech.
When truth is called hate, when hate is called love, when ideological beliefs breed rage and violence, our society treads on dangerous ground. Ground that has been traveled many times before by fellow travelers and followers of Marx, Lenin, Stalin, Hitler, Mao, Pol-Pot and many other Utopian charlatan totalitarians throughout the centuries. Censorship should be a warning sign from history. For all of us. Silencing one silences us all.
STAND UP FOR FREE SPEECH!
WATCH AND SHARE TRUTH TALK NEWS!
All information reported on TRUTH TALK NEWS and HowardNema.com is sourced and verifiable and for the purposes of education and FAIR USE. Take advantage of the many books, articles, videos and FULL PDF's available for FREE, safe downloads on this site.
TRUTH TALK NEWS and HowardNema.com ARE FREE SITES. All books and information on the sites are FREE and NOT monetized in any way.
You are not cattle. You are not a useless eater.
You do not have to be a brainwashed slave owned by the New World Order.
Do the research. Think critically.
Find your own truth. There is only one truth. . . .
Seek and you will find it.
Awaken.
Be a messenger.
Thank you for your continued support. God bless you all.
HN