by HN
Bill Gates, Dr. Fauci, Peter Daszak and the many elites behind the release of the COVID-19 bio-weapon and the implementation of the Rockefeller Foundation's 2010 white paper OPERATION LOCKSTEP have all long advocated that steep population reduction was required to save the earth. For decades these Malthusian psychopaths claim there are LIMITS TO GROWTH and a POPULATION BOMB that threatens the extinction of humanity.
The trail of breadcrumbs of these shadowy elite is actually quite easy to follow. Those behind the COVID-19 a scamdemic and the deadly injections are proud of their intentions and have written volumes about creating a one world totalitarian socialist government. They have written prolifically about deindustrialization and humanity being a plague on the earth that needs to be dramatically culled to "save the earth" using bioweapons, vaccines and other silent weapons. These psychopath's intentions are to microchip the population and control all aspects of human life as they depopulate us.
The origins of all of this insanity dates back to 1954 when fifteen men funded by the global elite met in Huntsville, Alabama to study and determine the effects of the post World War 2 rise in population.
By 1967 this group, whose identities remain secret, published a two-year study titled, the REPORT FROM IRON MOUNTAIN. The analysis concluded that war, or a credible substitute for war, is necessary if governments are to maintain power.
The Special Study Group, was set up in 1963 to examine if there were any long term negative consequences if the United States entered a state of lasting peace. They met at an underground nuclear bunker called Iron Mountain and other locations.
One member of the panel, a college professor identified as "John Doe", decided to release the report to the public. Conclusions of the report noted that "peace was not in the interest of a stable society," adding that even if lasting peace "could be achieved, it would almost certainly not be in the best interests of society to achieve it. War is a part of the economy. Therefore, it is necessary to conceive a state of war for a stable economy."
The government, the group theorized, would not exist without war, and nation states existed in order to wage war. War served the vital function of "diverting collective aggression." The group recommended "credible substitutes" and paying a "blood price" to emulate the economic functions of war.
Prospective government-devised alternatives to war included reports of alien life-forms, the reintroduction of a "euphemized form" of slavery "consistent with modern technology and political processes", and – one deemed particularly promising in gaining the attention of the malleable masses – the threat of "gross pollution of the environment".
Moving toward the aims reached at the Iron Mountain study a white paper titled, SILENT WEAPONS FOR QUIET WARS was handed out to fifteen selected members of the Bilderberg Group at their 25th anniversary meeting in 1979. Below is an excerpt from the front page of the document.
TOP SECRET
Silent weapons for quiet wars
Operations Research Technical Manual
TW-SW7905.1
Welcome Aboard

This publication marks the 25th anniversary of the Third World War, called the "Quiet War", being conducted using subjective biological warfare, fought with "silent weapons". This book contains an introductory description of this war, its strategies, and its weaponry.

May 1979 #74-1120

Security

It is patently impossible to discuss social engineering or the automation of a society, i.e., the engineering of social automation systems (silent weapons) on a national or worldwide scale without implying extensive objectives of social control and destruction of human life, i.e., slavery and genocide.
This manual is in itself an analog declaration of intent. Such a writing must be secured from public scrutiny. Otherwise, it might be recognized as a technically formal declaration of domestic war. Furthermore, whenever any person or group of persons in a position of great power and without full knowledge and consent of the public, uses such knowledge and methodologies for economic conquest – it must be understood that a state of domestic warfare exists between said person or group of persons and the public.
The solution of today's problems requires an approach which is ruthlessly candid, with no agonizing over religious, moral or cultural values.
You have qualified for this project because of your ability to look at human society with cold objectivity, and yet analyze and discuss your observations and conclusions with others of similar intellectual capacity without the loss of discretion or humility. Such virtues are exercised in your own best interest. Do not deviate from them.
(END EXCERPT)
The document itself is an admission of guilt. A declaration of domestic war against humanity, including a blueprint for biological, economical and psychological warfare to be used to cull and control the population.
In 1992 The Club of Rome published the FIRST GLOBAL REVOLUTION to forward the silent war against humanity, echoing the sentiment that the common enemy of humanity is man. AGENDA 21, is the totalitarian socialist future the elite are working for. Man-made global warming, now called climate change is a clever ruse devised by the Davos elite to consolidate control by deindustrializing nation states.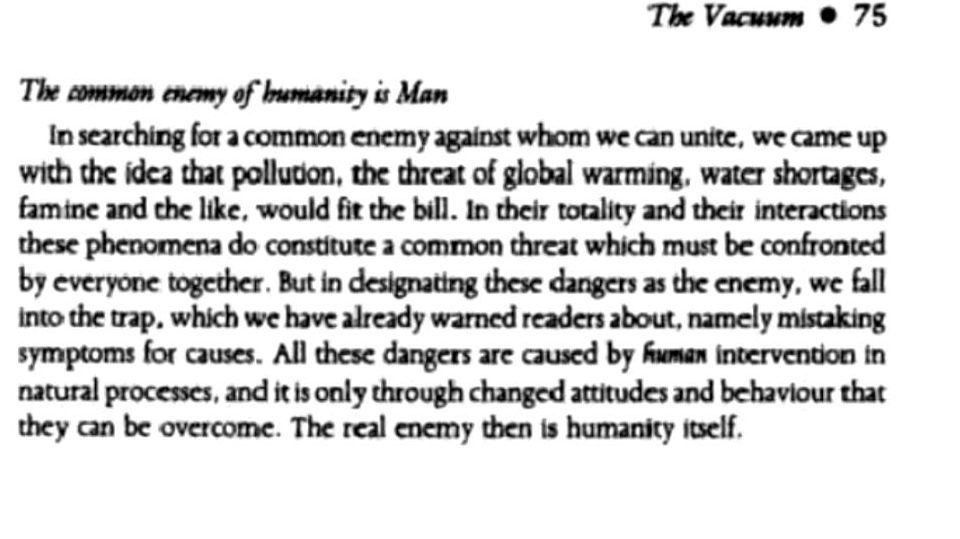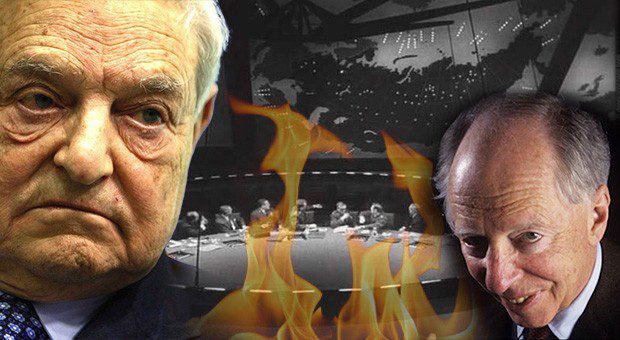 The Great Reset involves unelected stakeholders making decisions for the entire planet. Where all aspects of human life are under strict United Nations regulation and control. They want a cashless society where carbon taxes and social credit scores determined where people can go, what they can do, where they can live and what they can eat. The United Nations even wants to banish meat eating in favor of eating bugs. You cannot make this stuff up.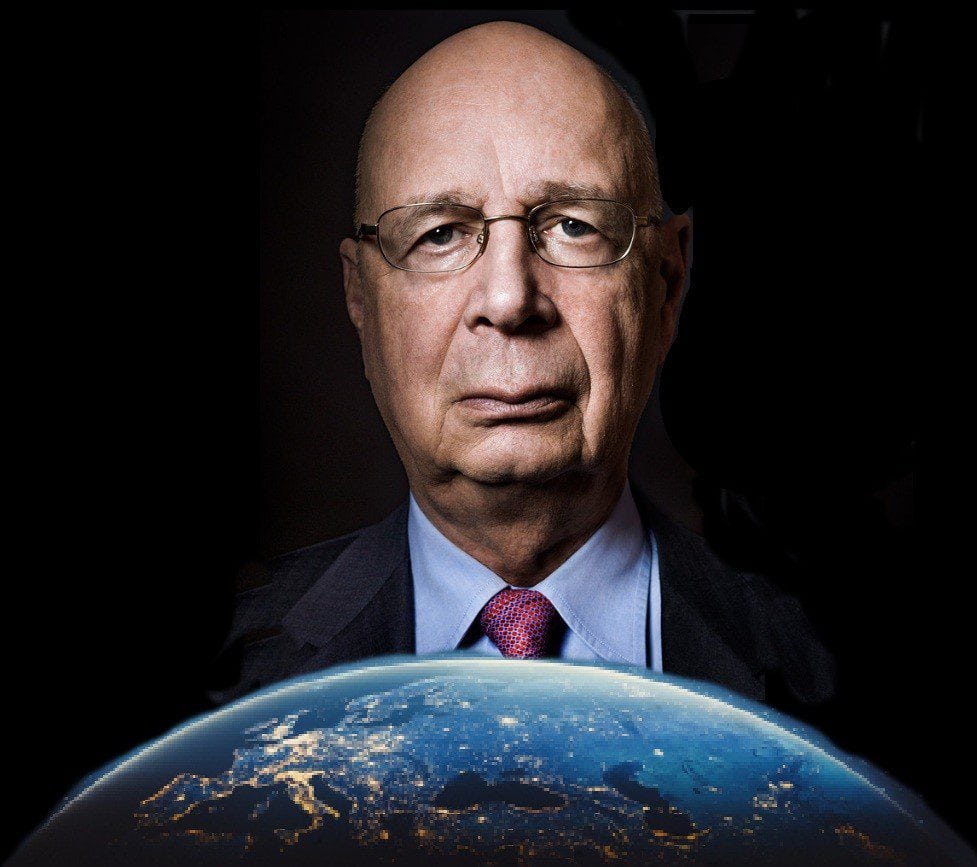 If all the lies, censorship and glaring proof of an evil totalitarian takeover of society under the guise of a fake pandemic is ignored and society allows these Malthusian psychopathic control freaks to continue their global deindustrialization depopulation agenda we deserve what we get.
"A nation or world of people who will not use their intelligence are no better than animals who do not have intelligence. Such a people are beasts of burden and steaks on the table by choice and consent"

Silent Weapons for Quiet Wars