By HN
Justin Trudeau is making his mentor, Klaus Schwab very proud. The Canadian dictator who declared martial law yesterday against peaceful Canadians protesting the insane, tyrannical and unscientific COVID-19 mandates is showing his true racist colors and fascist tendencies as he moves in "lockstep" with the World Economic Forum's Build Back Better Great Reset agenda.
The agenda is to inject and continue to inject Canadians with deadly dangerous mRNA AIDS causing bioweapons falsely labeled as "vaccines." Trudeau's tyranny may be influenced by his own graft and backroom Big Pharma deals when he authorized the purchase of a seven-year supply of COVID shots for the Canadian people. No wonder Trudeau wants mandatory shots. He wants his kickbacks.
The World Economic Forum's idea of improving the world is to make it more like Communist China. Justin Trudeau agrees. The graduate of Klaus Schwab's school for "Young Global Leaders", which should be called the school for "Future Global Puppet Dictators" has praised the World Economic Forum and his mentor. Schwab has personally stated how proud he was of Trudeau, one of the "great" young "global leaders" who attended his Young Global Leaders school.
It is no coincidence that the United Nations/World Health Organization, Bill Gates and the Rockefeller Foundation crafted plans to "address" a global pandemic as far back as 2010.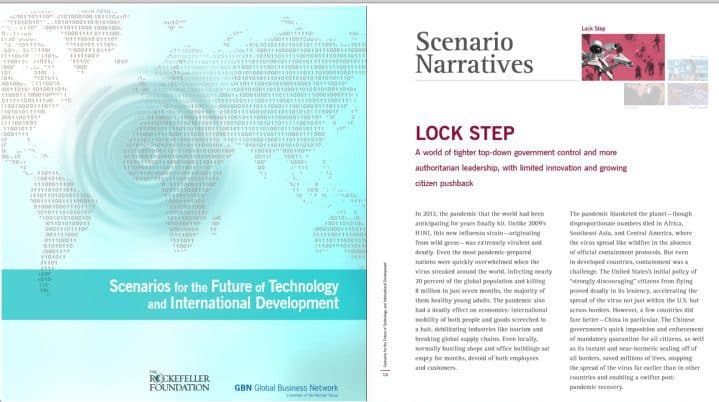 It is also no coincidence that Gates dove deep into the vaccine business after attending Schwab's school. In fact, all of the top conspirators involved in the COVID-19 scamdemic have graduated from Klaus Schwab's school, have UN/Council on Foreign Relations ties to Georgetown University and the intelligence agencies. Coincidence. Not a chance.
What is even more damning is Schwab's own public admission about his graduate minions "penetrating" the cabinets of governments around the world. WATCH VIDEO:
Trudeau has publicly stated he wished Canada could be more authoritarian like China.
Now, the tyrant and apparent illegitimate son of Fidel Castro has forced his wish on the Canadian people.
The apple of tyranny does not fall far from the tree. And in true form, the media as it has for seventy years, downplays and tries to put a good face on communism, as it is the greatest weapon used by the global elite to consolidate and control the resources of nations. That is the big secret. The elite love communism because it offers them immense profits and control over the masses via their puppet dictators like Castro and Justin Trudeau.
While the people starve and live in poverty, the communist/fascist elite prosper and live in the lap of luxury. There is no greater deception that those who believe communism somehow relates to pro-human rights and dignity. Nothing can be further from the truth. Communism enslaves and mass murders its people. The same goes for fascism. Aside from truth, freedom is the greatest enemy of those who seek power over others, to enslave and cull millions of people.
In the last century more than 120,000,000 people were slaughtered under communist rule. You may not know or believe this because the NY TIMES/TIME/LIFE and other globalist controlled publications and universities have bent the truth in an attempt to soften the stark, genocidal realities of communism for more than 100 years.
We can all thank the generous communist Ford/Rockefeller/Carnegie Foundations for their philanthropic scams that cloak collectivism and political control. Like the response to COVID-19 that killed and harmed more people than the virus ever could have. The protocols employed by the WHO guaranteed increased death. People were told to stay out of hospitals so as not to "overwhelm" them as nurses made dance videos for months. While the media was talking about hospitals being overloaded with COVID patients, thousands of citizen videos showed empty hospitals and emergency rooms. These videos were censored by social media.
In what has become the "new normal", anything that contradicts the "official narrative" was censored or deemed a conspiracy theory. The gaslighting continues to this day.
"If Tyranny and Oppression come to this land, it will be in the guise of fighting a foreign enemy." James Madison
Those fools who still believe that communism protects the workers and that the democrat party is for the poor, the middle class and the downtrodden when in reality the opposite is true. Communism and the democrat party both serve the global elite. As more and more tyranny unfolds around the world stemming from the COVID scamdemic, this should become clearer, even to the most brainwashed sheep.
Communists, fascists and the democrats are exploiters. Democrats come around every 2-4 years to exploit ethnic groups for votes, then ignore the issues in their constituents' communities. Just look at Nancy Pelosi's district in San Francisco. What a mess! Fortunately, across the country democrats (the smart ones) are awakening to their party's scams, crimes, betrayals and acts of treason.
As Thomas Jefferson noted in a 1787 letter to William Stephens Smith, the son-in-law of John Adams, "the tree of liberty must be refreshed from time to time with the blood of patriots and tyrants." That time has fast approached. Freedom will prevail only if the people rise up against the globalist assault on humanity with peaceful, non-violent non-compliance. Death to the New World Order
Footage of Canadian police violently cracking down on Freedom Convoy protesters in Ottawa. One officer appears to beat a demonstrator with the back of his rifle.
WATCH: Police officer appears to beat protester with the stock of his gun. pic.twitter.com/xnqR2JI4oI
— Candice Malcolm (@CandiceMalcolm) February 18, 2022
The mass arrests of peaceful protesters is currently underway in Ottawa. pic.twitter.com/JCu6g7l0Cr— True North (@TrueNorthCentre) February 18, 2022
Peaceful protesters were also trampled by cops on horses, which police also used to ram into protesters.
#Canada #Liberals #Horses

Two people were just trampled in downtown Ottawa by cops on horses. pic.twitter.com/WnSeeWP4h6— DJ Grom (@Gromulan) February 18, 2022
Which side are you on? pic.twitter.com/Hkn5HDJBcv— Keean Bexte (@TheRealKeean) February 18, 2022
Human rights abuses in Canada. What would you say if this were done by Putin or Maduro? pic.twitter.com/Kz5de15bG9— Ezra Levant 🍁🚛 (@ezralevant) February 18, 2022
The police tactics #TruckersForFreedom2022 of using humans to push back protesters have failed. They've now resorted to using horses to trample #FreedomConvoy2022 protesters in Canada's Capital city Ottawa. pic.twitter.com/Pq5J2uuvGL
— wlctv.ca (@wlctv_ca) February 18, 2022
Police in Ottawa ram into protesters on horseback and then charge at protesters. pic.twitter.com/dqa3rJW1TN— Marie Oakes (@TheMarieOakes) February 18, 2022
"And to think, this all started with vaccine mandates of truckers, which scientifically has no utility," wrote a perceptive Twitter user.
And to think, this all started with vaccine mandates of truckers, which scientifically has no utility. https://t.co/ufZiHh9Lvn— Sandra Rao (@drsandypants) February 18, 2022
In other footage, a woman can be seen attempting to cleanse her eyes after sustaining a tear gas attack.
Trudeau bravely pepper-sprays unarmed women in the face. pic.twitter.com/7XfAfSRQru— Ezra Levant 🍁🚛 (@ezralevant) February 18, 2022
In a statement Friday, Ottawa police attempted to claim they were the victims of assault by protesters.
Protesters are assaulting officers, have attempted to remove officer's weapons. All means of de-escalation have been used to move forward in our goal of returning Ottawa to it's normalcy. #ottawa #ottnews— Ottawa Police (@OttawaPolice) February 18, 2022
What other human rights abuses will be caught on camera as the night wears on?
Watch a live feed below:
LIVE IN OTTAWA: POLICE MOVING IN ON TRUCKERS CONVOY PT.5 https://t.co/jOzzHR5UbE— Lincoln Jay (@lincolnmjay) February 18, 2022
---
https://api.banned.video/embed/621020761d2f041263777932
David Icke: Trucker Protest in Canada is Pivotal to Exposing Growing Fascist Tyranny
CLICK HERE to watch our live feed that's now streaming 24/7 on GETTR!
Also, be sure to follow Alex Jones and Banned.video on GETTR for breaking news and exclusive information!