Please download this flyer, spread it around the digital world of social media and then print it out and distribute it everywhere you can throughout the real world. Questions? Call: 310-619-3055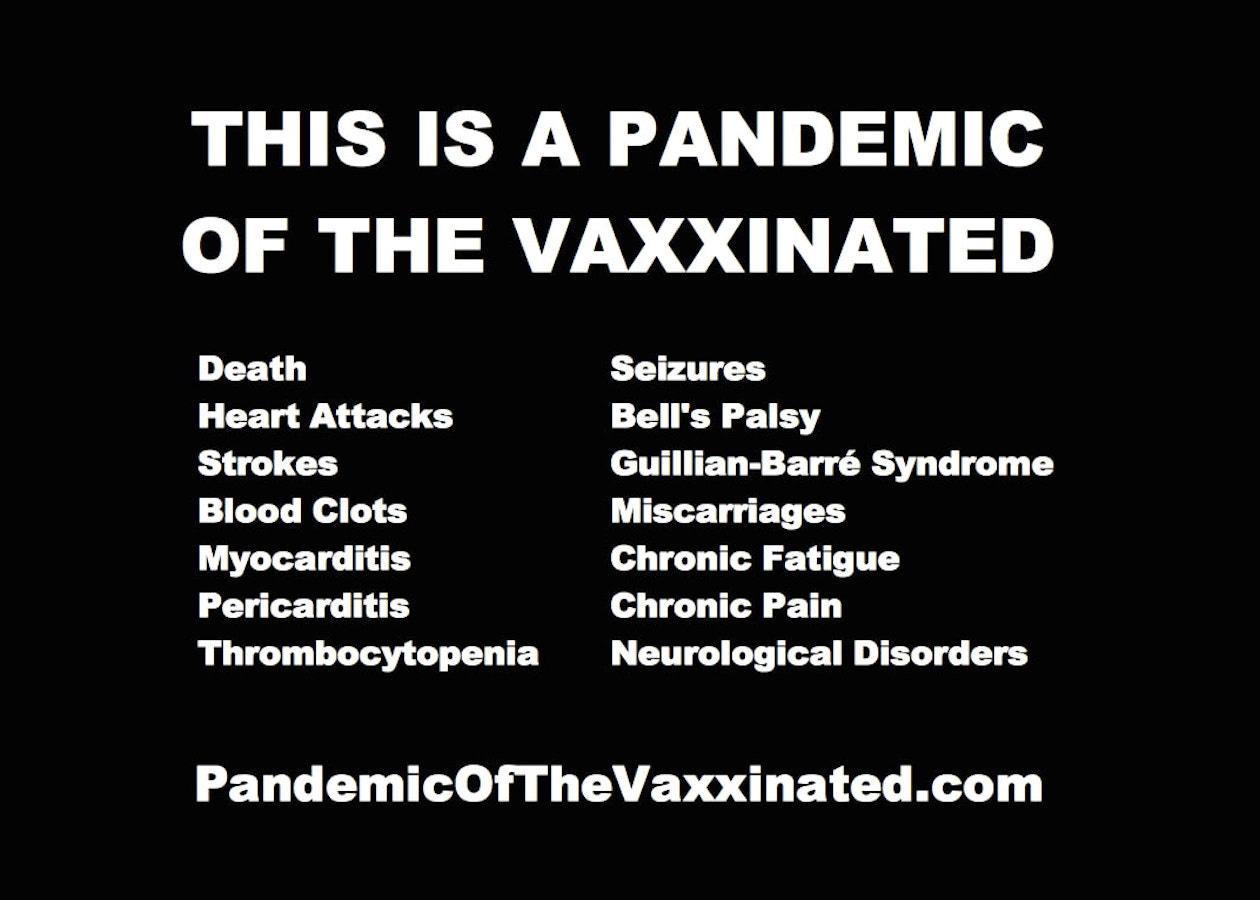 BEFORE ANYONE SACRIFICES THEIR CHILD TO THE FALSE GOD OF BIG PHARMA THEY SHOULD BE PROPERLY INFORMED REGARDING THE RISKS OF THE PFIZER AND MODERNA GENE THERAPY SHOTS.
Share the flyer below in print or digital format.
Click on the image below to open it in a separate window in order to make it larger and/or to save the image to your phone or computer.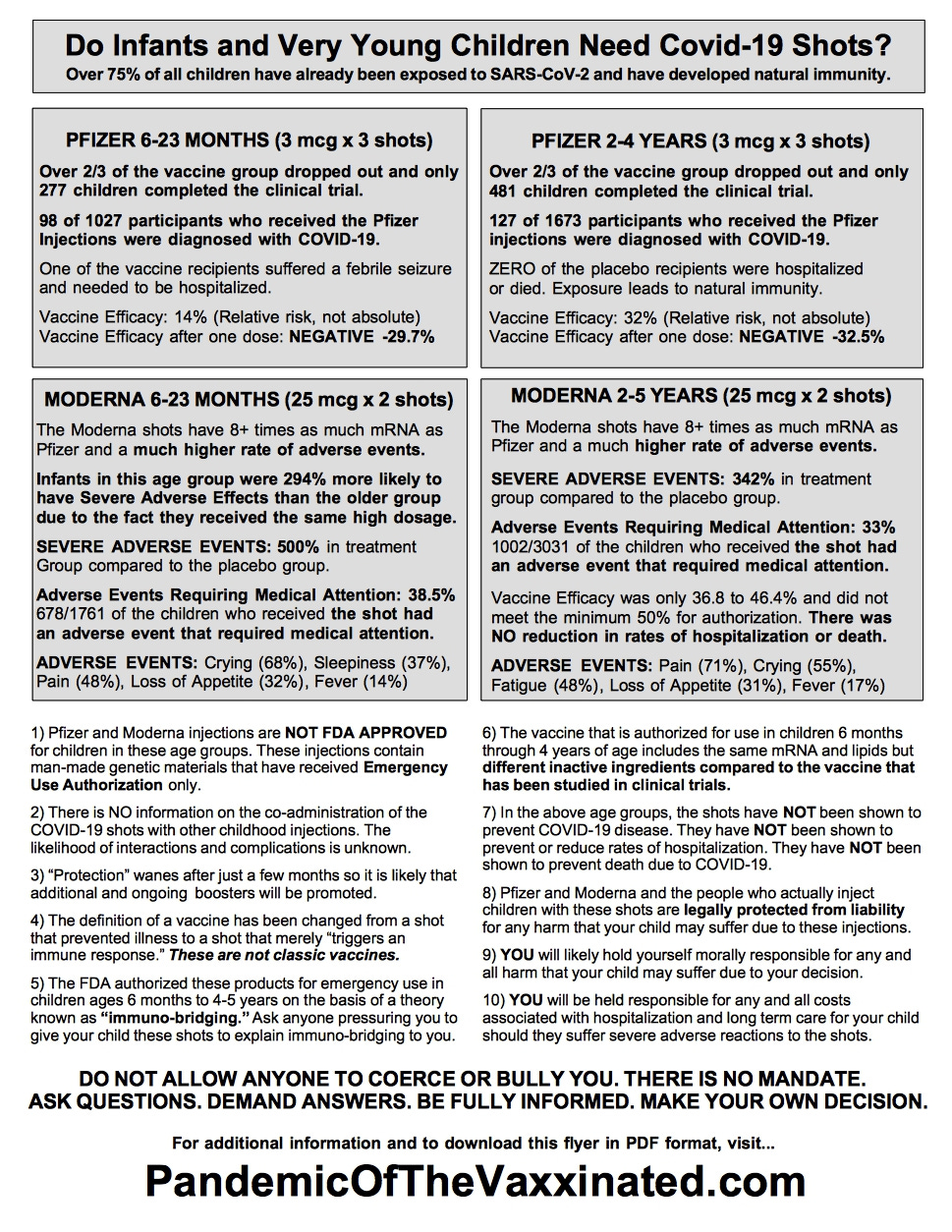 DOWNLOAD THE FLYER IN PDF FORMAT…

Facts About Covid 19 Vaccinations For Infants And Young Children
162KB ∙ PDF File

Watch the videos below…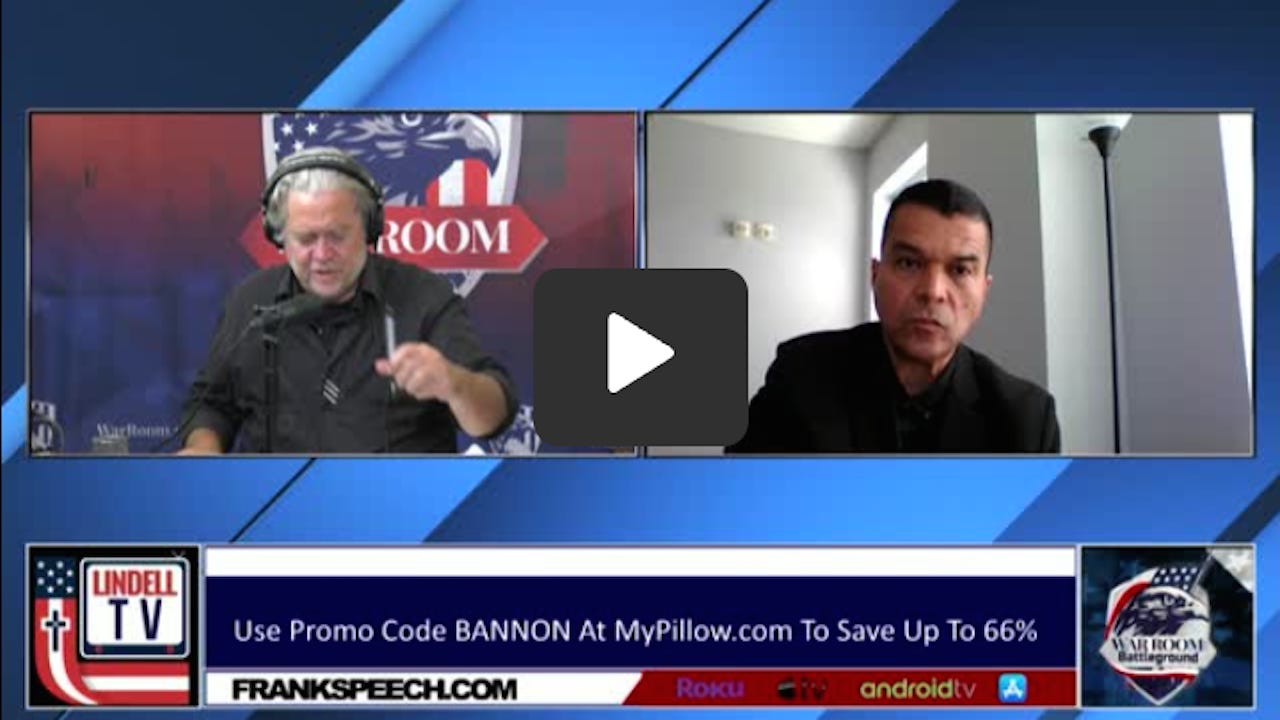 VIDEO: https://rumble.com/v18ue4m-dr.-alexander-not-one-healthy-child-has-of-died-in-us-since-beginning-of-pa.html
---
WHAT HAPPENED TO THE 2/3 OF THE CHILDREN WHO "DROPPED OUT" OF THE PFIZER CLINICAL TRIAL???
Please watch the video below…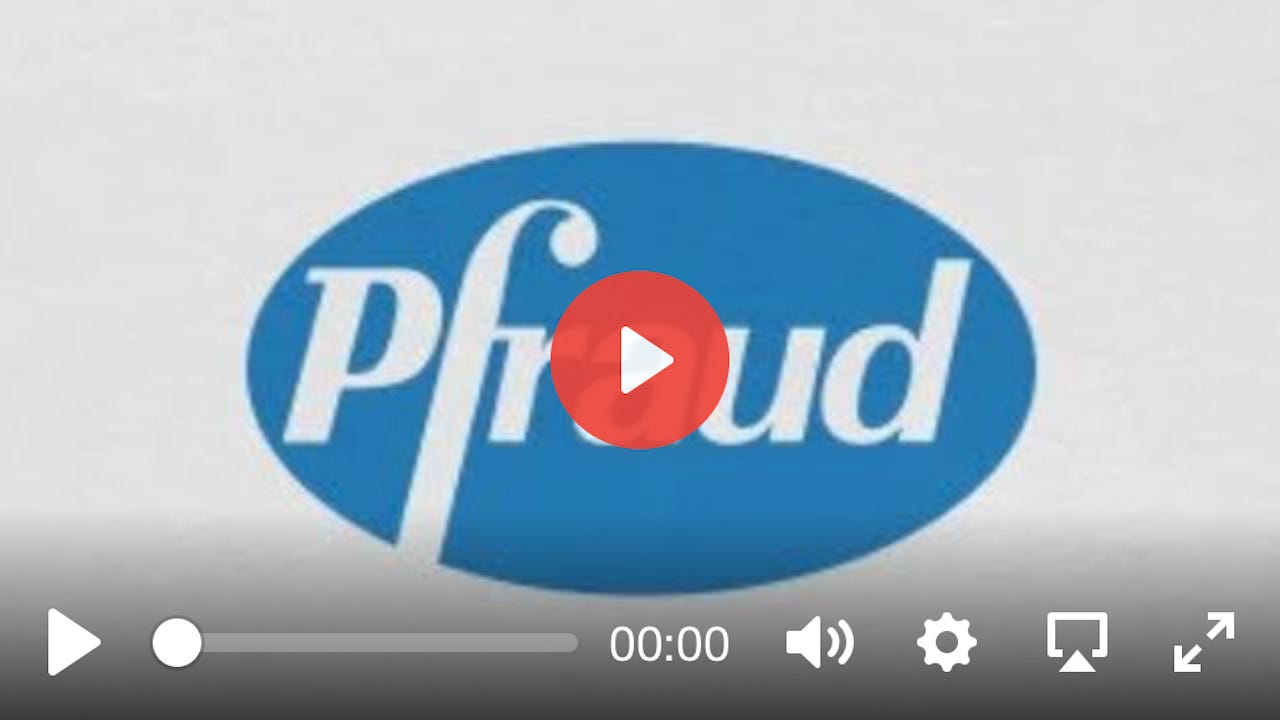 PLEASE SHARE THIS VIDEO LINKS:
FULL LENGTH: https://rumble.com/v18s66i-bombshell-dr.-clare-craig-exposes-how-pfizer-twisted-their-clinical-trial-d.html
SHORT VERSION: https://www.bitchute.com/video/6aCHlFXMIDas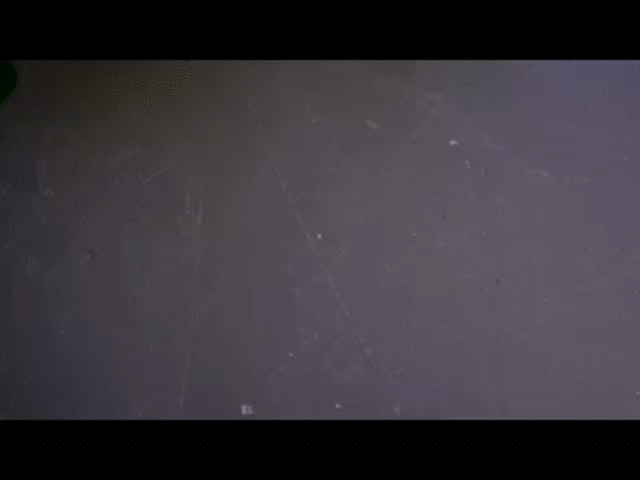 ---
QUESTIONS THAT EVERY PARENT MUST ASK:
Why did 2/3 of all the participants drop out of the Pfizer clinical trials?
Why is the Moderna dosage more than 8 times as much as the dosage in the Pfizer shot?
Why are 6-23 month old infants given the same dosage as much larger 4-5 year old children? Is that safe, or is it an overdose?
Does my baby need this vaccine?
Where are the statistics that my child is at risk due to COVID-19?
What is in the COVID-19 injection? Is it exactly the same as what was used in the clinical trials? Is it exactly the same as what was tested in adults?
What are the side effects of this injection?
Is this COVID-19 injection mandatory?
Have there been any studies regarding the interactions between the COVID injection and all the other vaccines our babies are given?
If my child were to die or be disabled by this injection, who will be held accountable? Who will have to pay the bills for their long-term care?
Thanks to Karen Bracken for most of the above questions!

Why is the FDA also avoiding these questions?
Why are the genetic sequences of the modified spike protein mRNA found in the Pfizer and Moderna injectable products not public knowledge?
Two peptides from ORF-6 and ORF-10 of SARS-nCoV-2 have been found to induce apoptosis in human neural cells. Could these peptides be a cause of the neurological problems associated with COVID-19?
Are the genetic sequences for these peptides also found in the Pfizer and Moderna injectable products?
Does the modified spike protein in the COVID-19 injectable products contain any other peptides that are capable of assembling into amyloid structures?
Are the reports of systemic nerve, liver, heart and reproductive damage caused by these amyloidogenic peptides??
Neurotoxic amyloidogenic peptides in the proteome of SARS-COV2: potential implications for neurological symptoms in COVID-19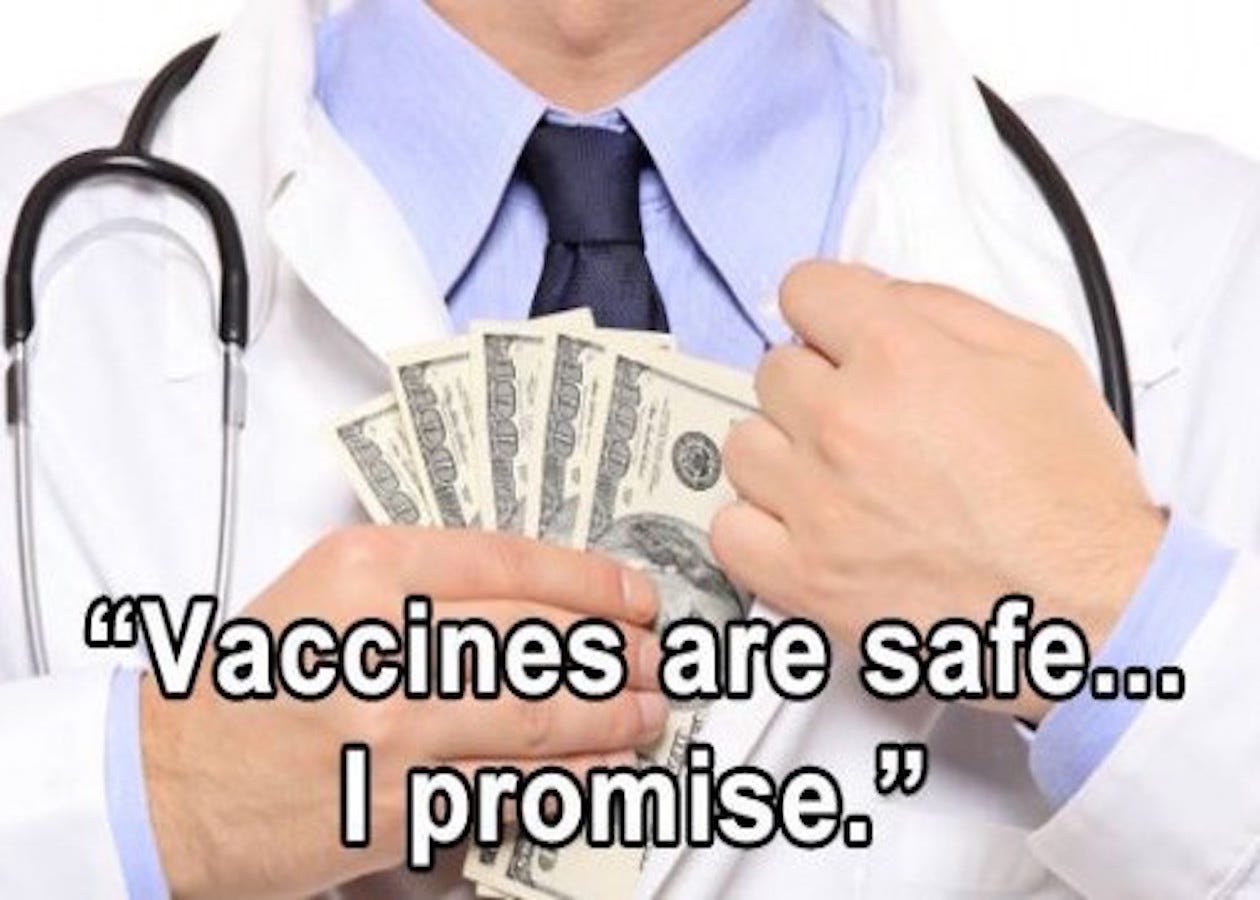 The websites below are just some of the many sites that document the horrors caused by the "vaccines."
TELEGRAM – COVID Vaccine Injuries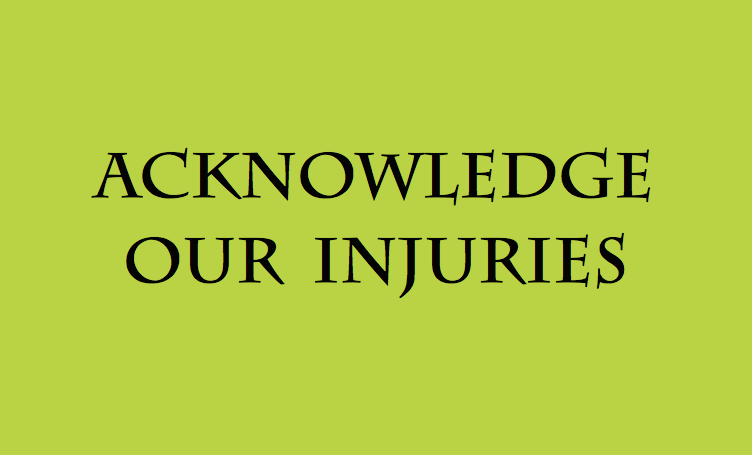 WATCH THE VIDEOS BELOW.
EVERY SINGLE VIDEO.
WATCH THEM ALL.
Click on the links below for additional videos on BrandNewTube…
Click on the links below for additional videos on Bitchute…
Click on the links below for additional videos on Brighteon…
PLEASE NOTE:
NONE of the people in the videos above were "anti-vaxxers." They all got the jab. All of the reported deaths and injuries have been reported by people who were supportive of vaccine efforts as evidenced by the fact that they volunteered and/or were tricked or coerced into accepting the jab.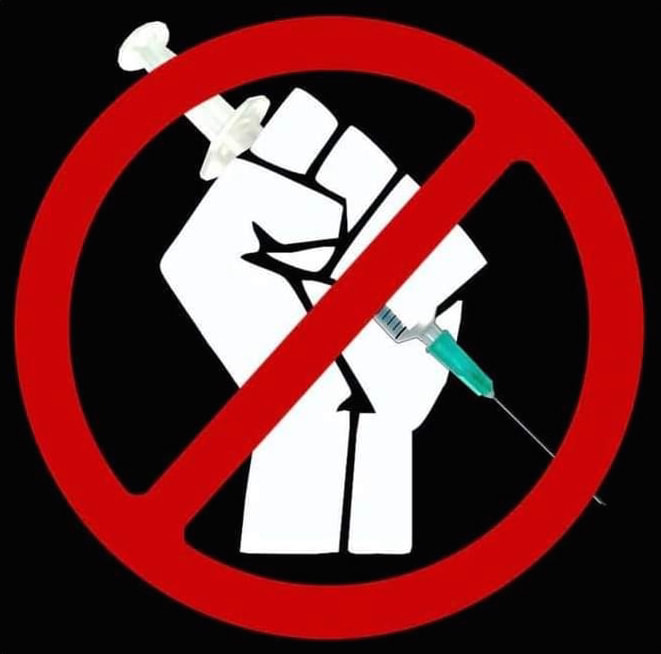 PFIZER: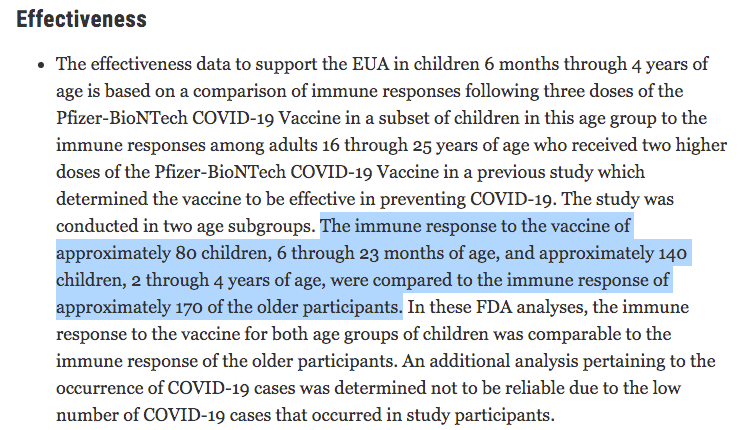 MODERNA: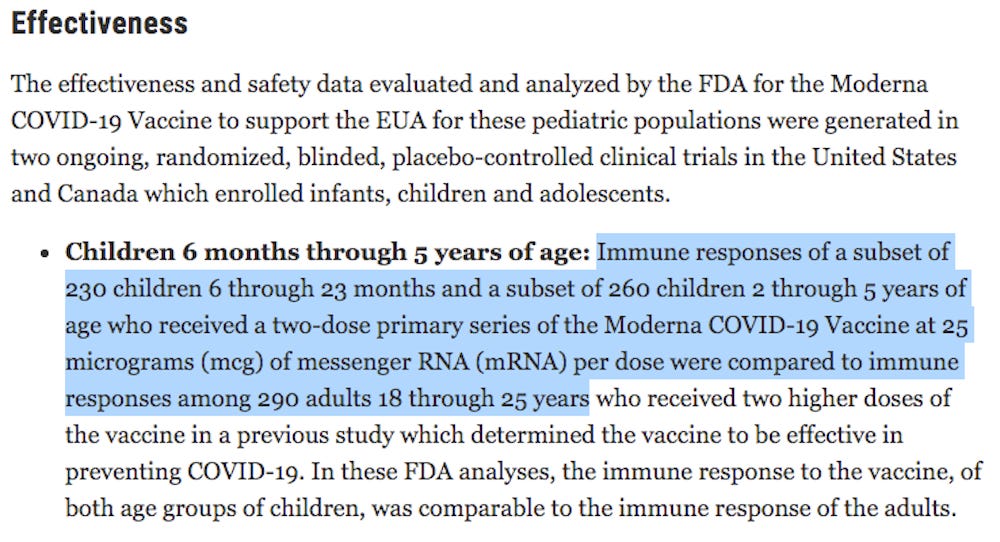 SOURCE:
---
The ModeRNA document actually states the following….
The immune marker(s) used for immunobridging do not need to be scientifically established to predict protection
https://www.fda.gov/media/159189/download (page 21)
---
IT DOES NOT MATTER whether or not the FDA, the medical establishment or the scientific community accepts immunobridging as a proxy for true clinical proof of disease prevention because immunobridging is NOT LEGALLY APPROVED.
The law is clear. Immunobridging is NOT mentioned in the law, nor is it mentioned in current regulations, so it may NOT be used as a justification for approval until such time that either the law or the regulations have been changed to include it as a valid proxy.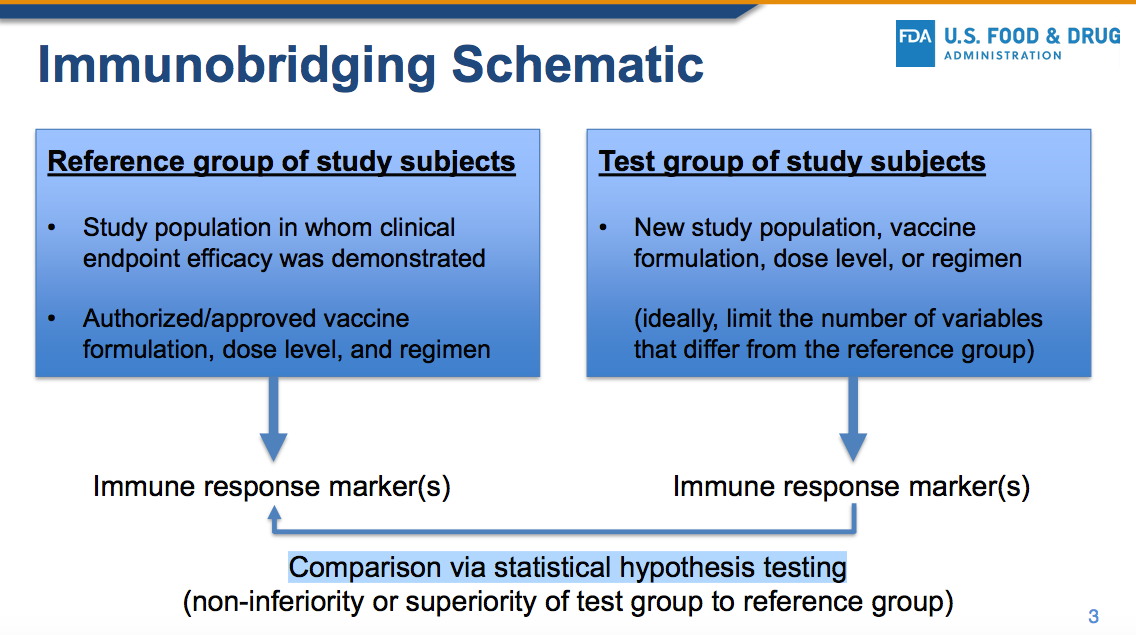 The law states that the evidence must show that the biological product must be shown to PREVENT disease, not merely manipulate a proxy blood-borne immune system marker.
Under current law, the FDA does not have the authority to overrule the current legal requirement that a biological product be shown in clinical trials to PREVENT the disease in question. Proxy markers such as immunobridging are NOT mentioned in the law and may not legally be used as a justification to grant emergency use authorization.

SOURCE:
https://www.fda.gov/media/159189/download (page 10)
---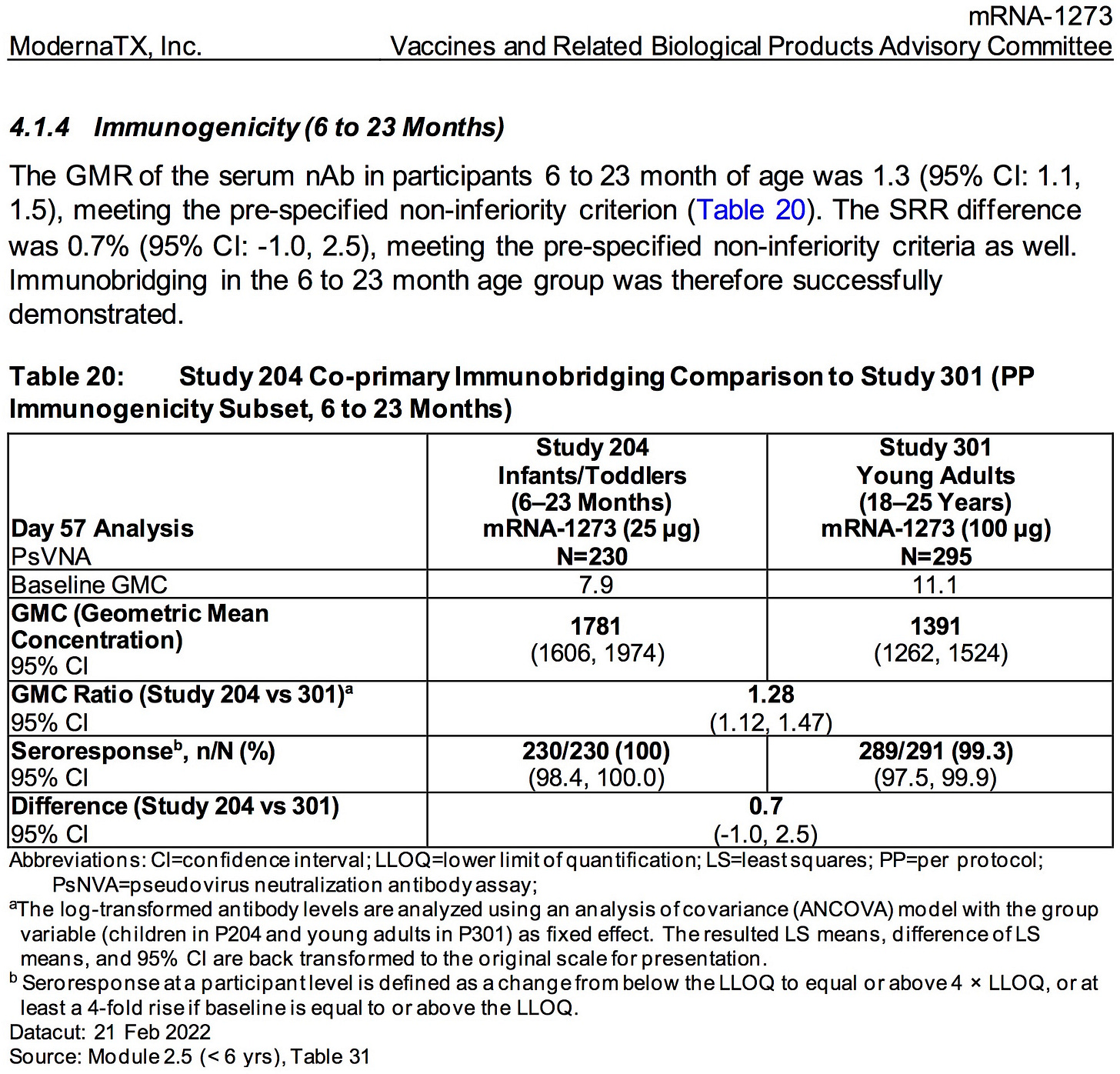 SOURCE:
https://www.fda.gov/media/159157/download (page 47)
---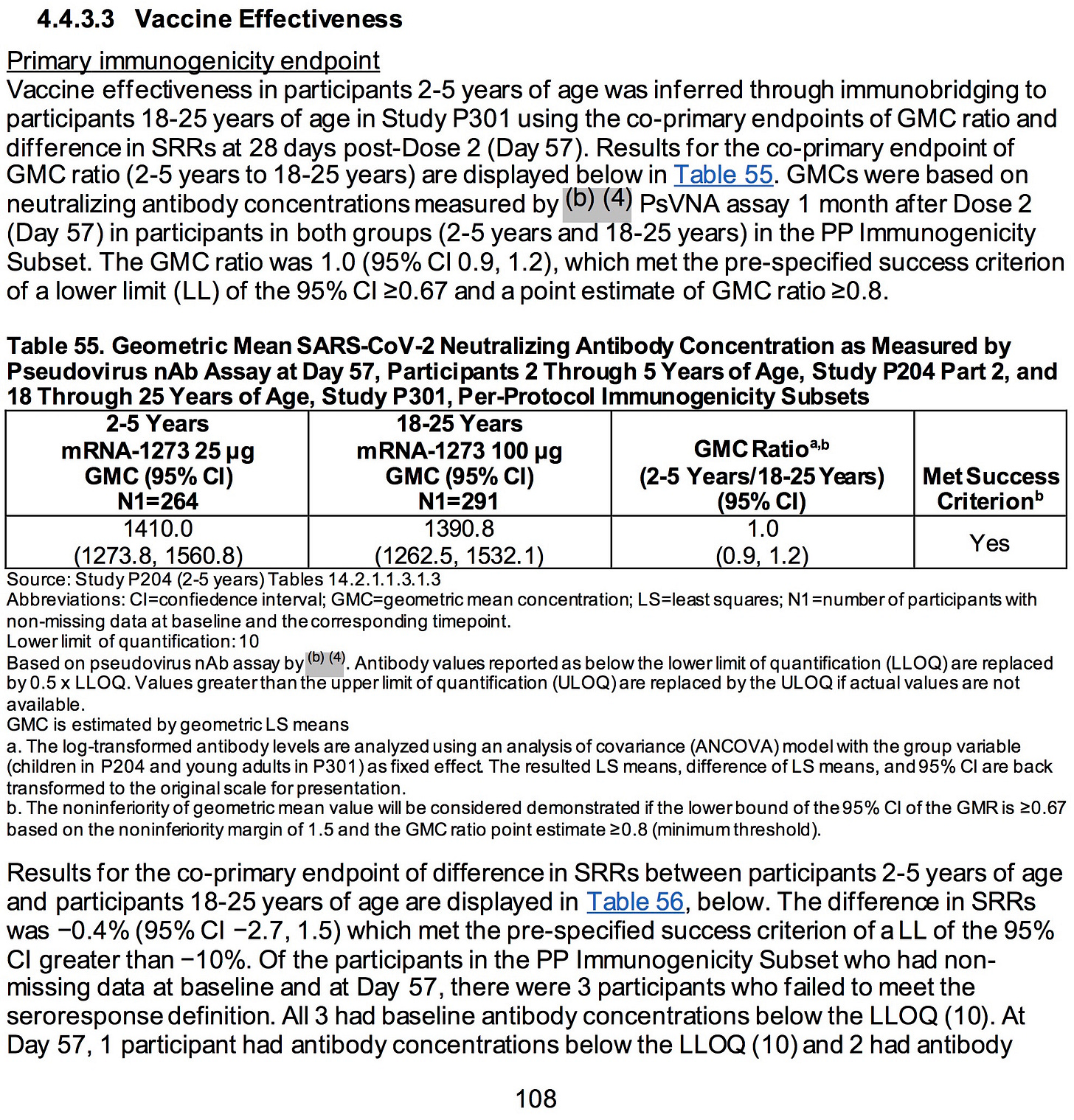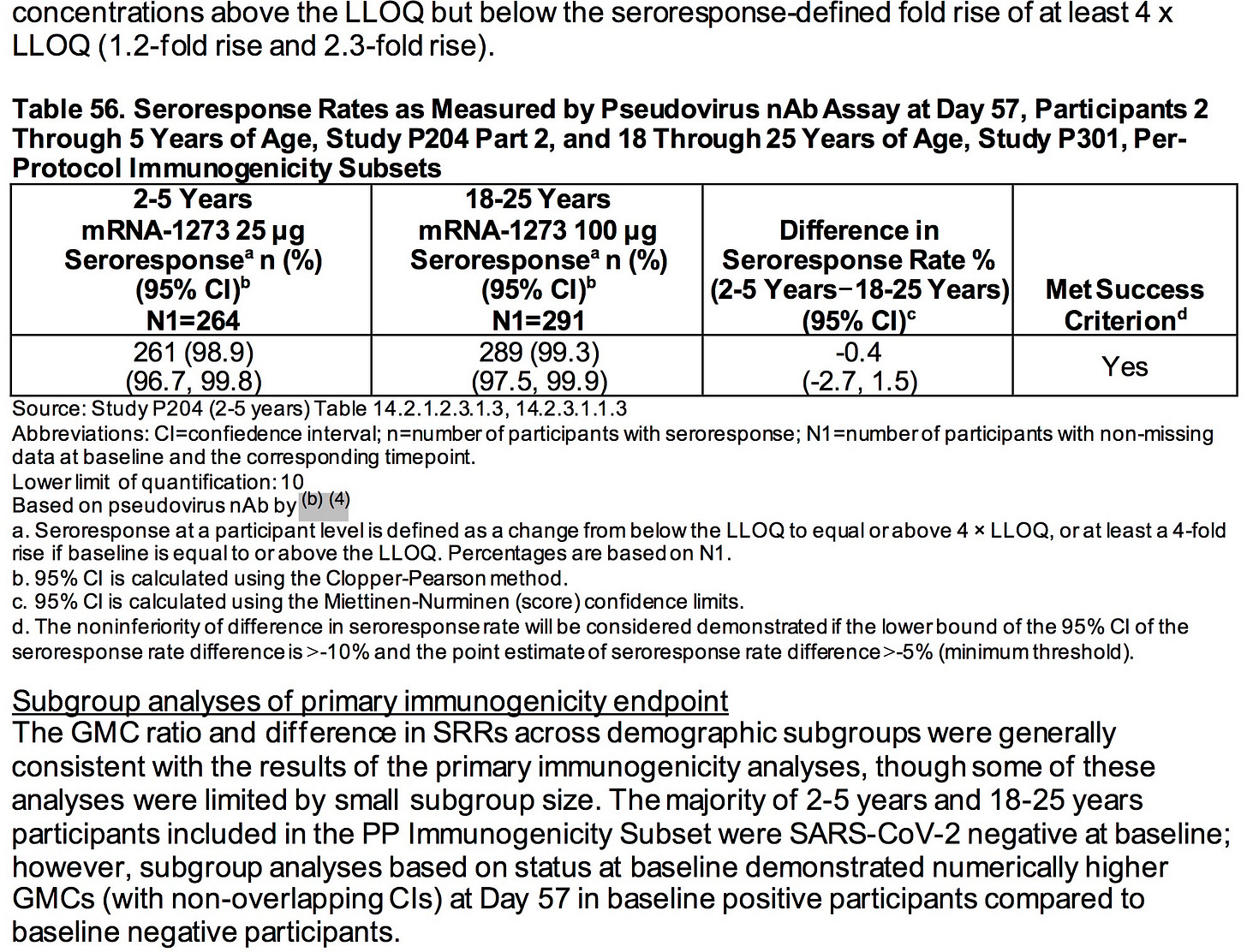 SOURCE:
https://www.fda.gov/media/159189/download (pages 108-109)
---
No actual health benefits so Moderna/FDA use the immunobridging trick

The risks of Covid-19 are so low in the childhood population that there were ZERO severe cases of Covid-19 in either the treatment or the control group.

Therefore, the number needed to vaccinate, to prevent a single severe case of Covid-19 in the childhood population is infinity. (Technically it's undefined because you cannot divide by zero, but you take my point). The FDA and CDC guidance documents for how to write a risk benefit assessment state that one must provide a number needed to treat, the absolute risk reduction, and the relative risk reduction. Moderna just skipped all that because the cartel makes its own rules.

Moderna is in a race against natural immunity. But natural immunity has already won because 74.2% of kids had natural immunity by February — so by now the number is probably closer to 100%. The God-given immune system in kids has already done its part to stop the pandemic and now the FDA wants to mess that up to enrich the cartel and keep the pandemic going forever.

So how does Moderna/FDA claim that this shot was "effective"? They use an unethical statistical trick called "immunobridging."

It makes me mad that I even have to explain it because it's such junk science. But we all need to know exactly how the FDA rigged the process so that we can explain to the jury at Nuremberg 2 why these monsters should be convicted so here goes:

Remember, the Moderna shots produced NO reductions in severe outcomes because the risk of Covid-19 in this age group is infinitesimally small (see studies: here, here, here, and here). So Moderna ignored the actual health outcomes and switched to looking at antibodies in the blood. In the process, they engaged in two egregious sleights of hand:

First, Moderna claims that the sample size for each of the four subgroups of children is about 3,000. But when it came to looking at antibodies in the blood, Moderna threw out about 90% of the sample and only looked at the bloodwork of about 300 kids in each age group. No explanation was given for the criteria they used to exclude 90% of the sample from their analysis. We know that up to 30% of kids have no antibody response at all to Covid-19 shots so perhaps they actually started with a much larger sample and then threw out the data that showed no effect from the shot?

The second sleight of hand is that "no placebo recipients were included in the Immunogenicity Subset" (p. 26). Do you realize how huge this is? This is no longer an RCT at all — they did not include the bloodwork from anyone in the placebo group. So the study cannot rule out the possibility that the increase in antibody levels was not from the vaccine at all but could have been from natural immunity. Just astonishing.

After these sleights of hand, Moderna then compares the antibody levels in the blood of about 10% of the children against the antibody levels in a sample of about 300 adults ages 18 to 25 enrolled in a previous clinical trial. If the antibody levels are similar (which they are), Moderna claims, 'And therefore it will prevent disease in the future in kids!'

A few problems with that claim:

The Moderna study only measured antibody levels two months after the second dose — the time period when the antibody levels are at their peak (what Berenson calls "the happy valley"). But real world experience with these vaccines shows that any efficacy quickly wanes to zero by six months and then goes NEGATIVE after that.

The second problem, and this is unresolvable and instantly disqualifying for Moderna, is that at the April 6, 2022, meeting of the FDA's "expert advisory committee" one member after another acknowledged that there are no "correlates of protection" for these vaccines. What that means in plain English is that you cannot use antibodies (or B-cells, T-cells, or any other proxy) to predict whether someone is immune or not.

Eric Rubin, who serves on that committee and is also the editor of the NEJM stated it bluntly, "We know what kind of antibody response can be generated, we just don't know if it works." You can watch it yourself on video:
The third problem is that the Moderna study was completed back in mid-2021 — when the original Wuhan and Alpha strains were prevalent. Since then, the Omicron variant has entirely replaced the original strains and real world data show that both Moderna and Pfizer shots are not effective against the Omicron variant. So in spite of all of the chicanery (discarding 90% of the sample, immunobridging, claiming correlates of protection that are not valid) Moderna cannot show any evidence that this shot will be effective against SARS-CoV-2 as it exists now.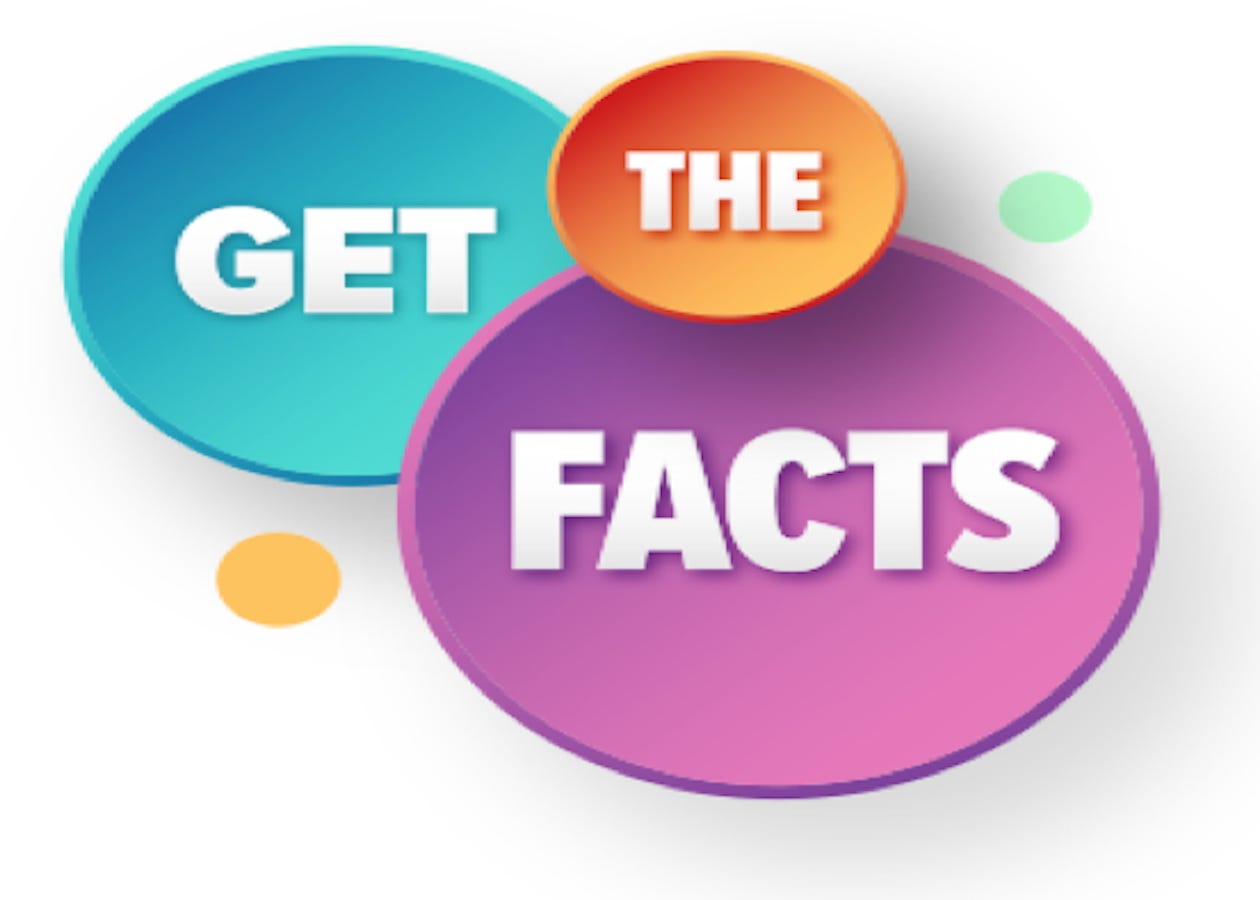 FDA SOURCE MATERIALS
---
COVID-19 epidemiology in children and adolescents ages 6 months–17 years

PFIZER
---
PFIZER BRIEFING MATERIALS
---
FDA Briefing Document
---
Safety Surveillance of COVID-19 Vaccines in Children and Adolescents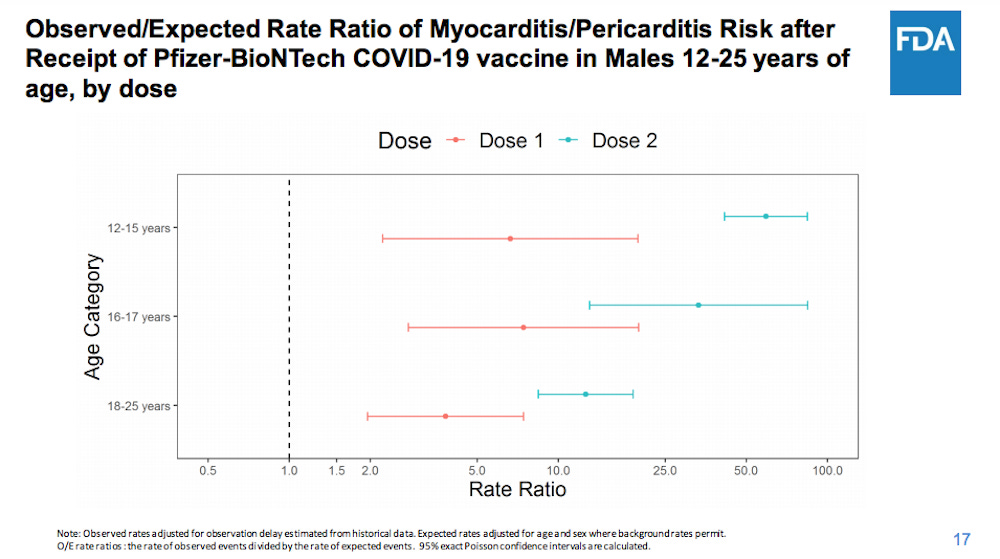 ---
Update on myocarditis following mRNA COVID-19 vaccination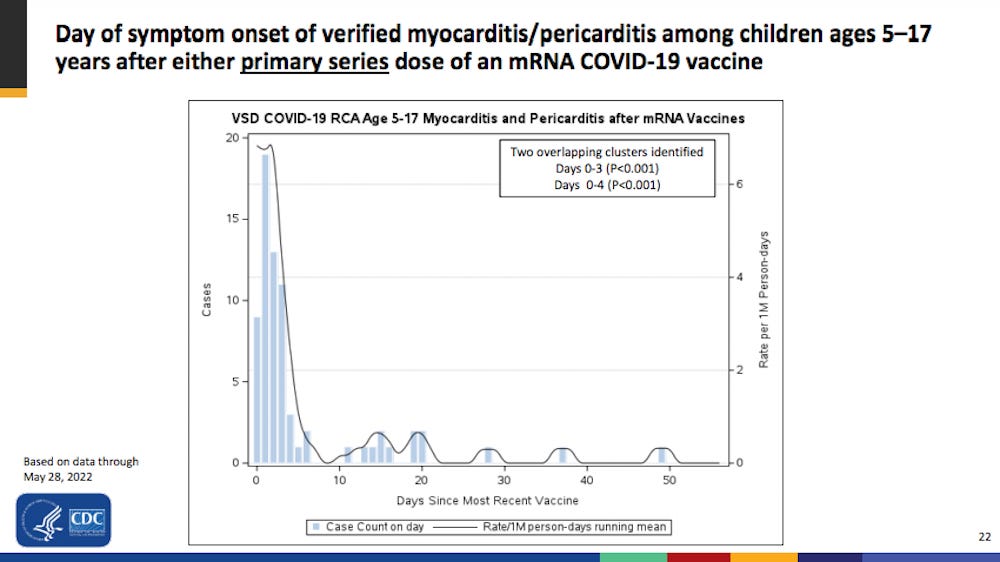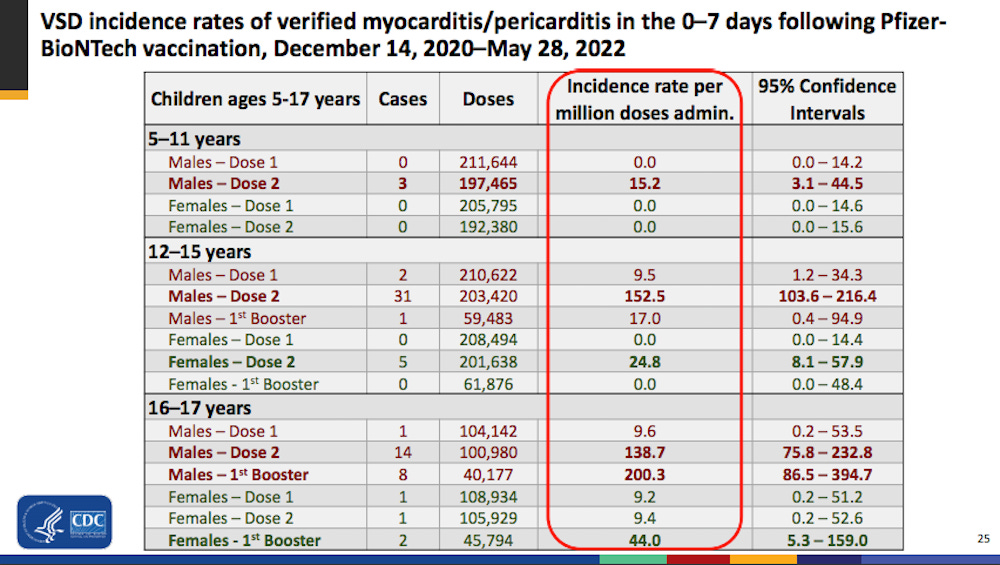 ---
FDA Review of the Effectiveness and Safety of Pfizer-BioNTech COVID-19 Vaccine in Children 6 Months through 4 Years of Age Emergency Use Authorization Amendment
---
Dear Healthcare Provider Letter
---
FACT SHEET FOR HEALTHCARE PROVIDERS ADMINISTERING VACCINE (VACCINATION PROVIDERS)
---
FACT SHEET FOR RECIPIENTS AND CAREGIVERS
---
Letter of Authorization (Reissued)
---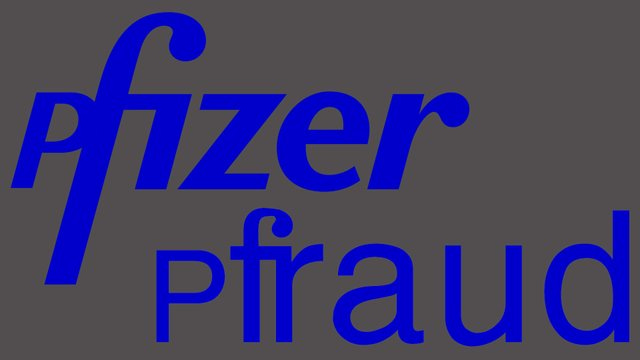 The Pfizer clinical trial in kids 6 months to 4 years old is an embarrassment
On Sunday night, the FDA released its risk benefit assessment of Pfizer's Emergency Use Authorization (EUA) application to inject mRNA into kids 6 months to four years years old. This application will be voted on at the June 15 meeting of the FDA's Vaccines and Related Biological Products Advisory Committee (VRBPAC). I read the document cover-to-cover t…Read more5 days ago · 14 likes · 2 comments · Toby Rogers
MODERNA

FDA DOCUMENTS
---
PRIMARY SERIES 6 MONTHS TO 17 YEARS SPONSOR BRIEFING DOCUMENT
---
FDA Briefing Document EUA amendment request for use of the Moderna COVID-19 Vaccine in children 6 months through 17 years of age
---
Moderna COVID-19 Vaccine Request for Emergency Use Authorization (EUA) Amendment, Use of a 2-Dose Primary Series in Children 6 months through 5 Years of Age
---
mRNA-1273 (Moderna COVID-19 Vaccine) – Request for Emergency Use Authorization in Individuals 6 Months – 5 Years of Age
---
FACT SHEET FOR HEALTHCARE PROVIDERS ADMINISTERING VACCINE (VACCINATION PROVIDERS)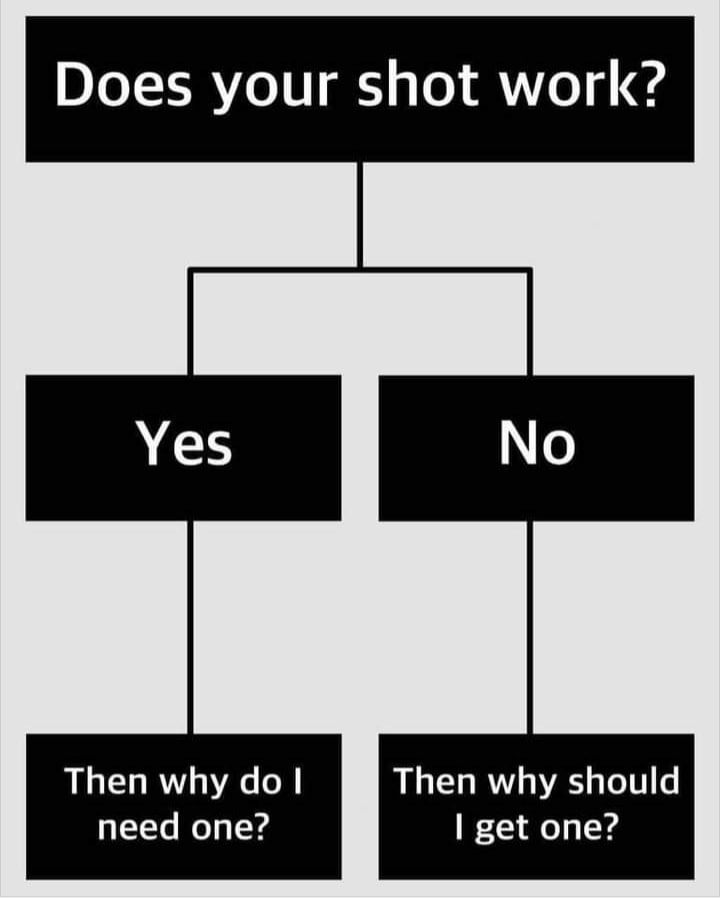 ARTICLES:
People have been asking me what I think of the CDC approval of these vaccine for babies and young children, and I have to ask them, do you really not know what I think? I mean, seriously? Have you looked at the VAERS data lately? The CDC apparently has not…Read more17 hours ago · 203 likes · 18 comments · Robert W Malone MD, MS

FYI: The most common types of misconduct in clinical research are:
Failure to follow an investigational plan;
Inadequate and inaccurate records;
Inadequate drug accountability;
Inadequate completion of informed consent forms;
Failure to report adverse drug reactions;
Failure to obtain and/or document subject consent;
Failure to notify an Institutional Review Board (IRB)/Ethics Committee (EC) of changes/progress reports;
Failure to obtain or document IRB approval.
SOURCE:
Fraud and misconduct in clinical research: A concern

TO MY READERS:
There is a LOT of information on this page. Please feel free to examine the documents and bring important information to my attention. I will be more than happy to edit this article in order to include your findings and suggestions.

by James Roguski
The old system is crumbling, and we must build its replacement quickly.
If you are fed up with the government, hospital, medical, pharmaceutical, media, industrial complex and would like to help build a holistic alternative to the WHO, then feel free to contact me directly anytime.
JamesRoguski.substack.com/about
JamesRoguski.substack.com/archive
310-619-3055
James Roguski's newsletter is a reader-supported publication. To receive new posts and support my work, consider becoming a free or paid subscriber.
PANDEMIC OF THE VAXXINATED – James Roguski (substack.com)