by HN
In the wake of the Supreme Court decision reversing Roe vs. Wade, Jane's Revenge warns that tonight begins a "Night of Rage" that will last all summer.
The Democrats are obsessed with the celebration of the murder of the unborn. How did this happen?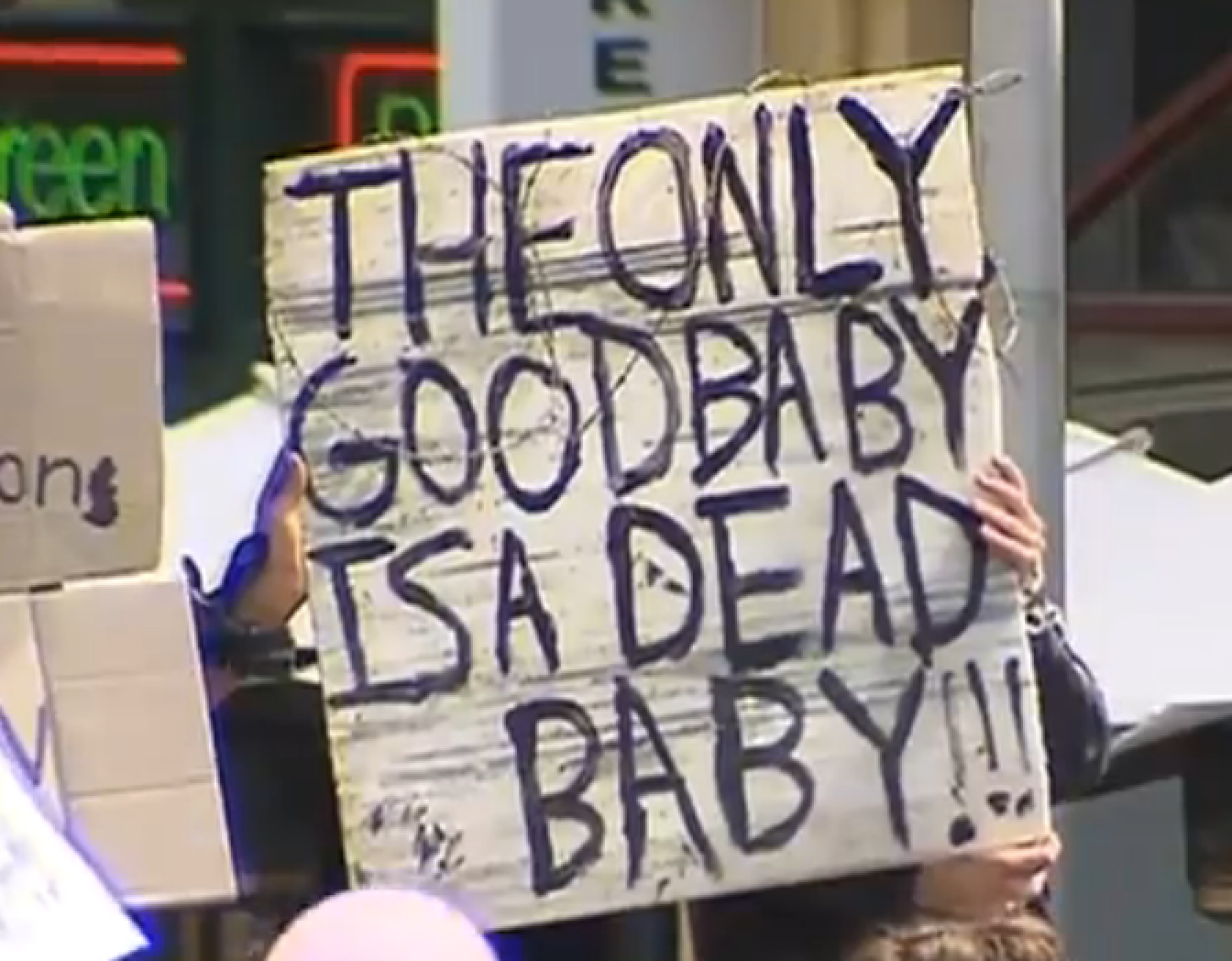 The evil, perverse degeneracy that consumes the hearts and minds of these lost souls is unfathomable. Things have gotten so insane that in Colorado a mother can decide to terminate her baby up to 28 days after birth. Colorado Law Could Allow Post-Birth Abortion (Infanticide) – Up to 28 Days (independentsentinel.com) No matter how slice it, this is murder. Or more accurately, infanticide.
As the sun sinks into the western sky and darkness falls, the gaslighting continues. Angry, destructive brainwashed social justice lunatics have taken to the streets to "peacefully" protest.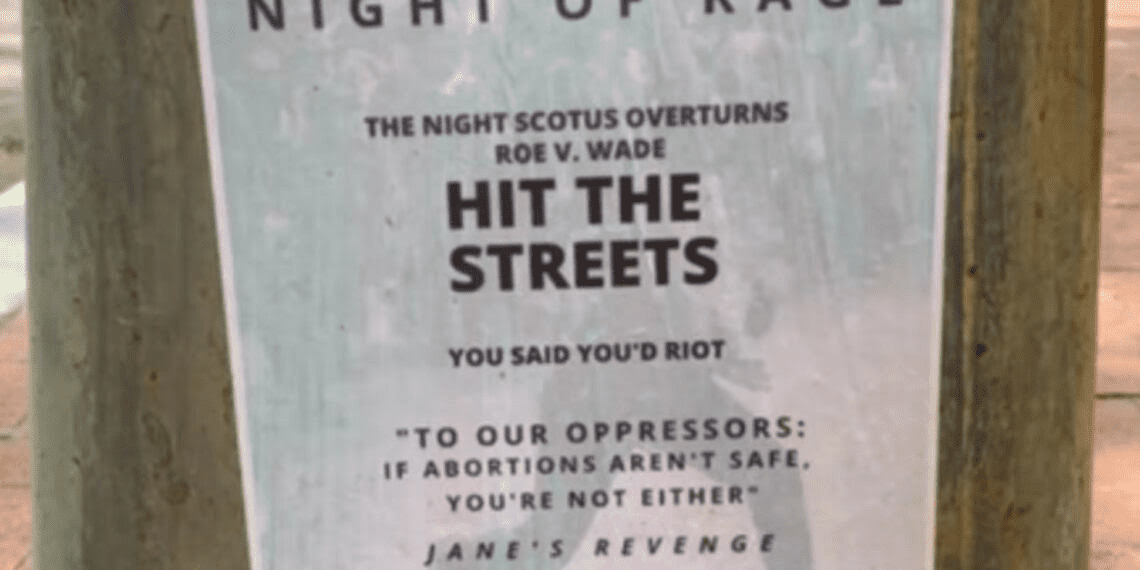 Hopefully this will not be a repeat of the "mostly peaceful protests" of the 2020 "Summer of Love".
The Department of Homeland Security is warning that Jane's Revenge terror cells have been casing churches nationwide to coordinate attacks. "If abortion isn't safe, you aren't either. We are everywhere." – Jane's Revenge. The self-proclaimed pro-abortion terrorist group promises a Night of Rage.
Since the leaked draft of the SCOTUS decision leftist groups have been publicly urging violence directed at abortion supporters. While the media and the left have been tolerant of rioting for their causes, they refuse denounce threats of violence and actively encourage mob violence.
The far-left group Ruth Sent Us pays protestors to target specific locations. They tweeted the location of the school Justice Barrett's children attend, urging abortion supporters to go there and "voice their anger."
"We need them to be afraid of us." – Jane's Revenge
If you recall Chuck Schumer declared Kavanaugh would "pay the price" if he voted to overturn abortion rights, saying "you won't know what hit you." Indeed.
Soon after Jen Psaki defended the illegal protests at homes of Supreme Court Justices, an armed man showed up Justice Kavanaugh's home to kill him. To increase tensions even more, the mainstream media fanned the flames of fear for weeks predicting absolute chaos and destruction if Roe were overturned. So hope for the best and prepare for the worst.
After all, "mostly peaceful protests" taken in that context is code for terrorizing Supreme Court justices, vandalizing pro-life centers and desecrating churches.
Democrats Cori Bush and Mad Maxine Waters are also doing their part to sow the seeds of hated and division for overturning the unconstitutional Rowe v. Wade.
I wonder if Cori and Mad Max know that 40% of black pregnancies end in abortion? Do they care? Abortion is black genocide. To understand Planned Parenthood's war on black America watch and share the documentary, MAAFA 21: BLACK GENOCIDE IN 21st CENTURY AMERICA
ANTIFA arrived at the Supreme Court promptly at 8:50PM to stir the pot of hatred and dissent. Black-clad protesters descend on Supreme Court as night falls after abortion ruling (msn.com)
Recent fire bombings of pro-life centers and other acts of vandalism have foreshadowed the potential chaos fomenting tonight.
Still, despite a failed assassination attempt on Justice Kavanaugh, illegal protests continue at the justice's homes. Attorney General Merrick Garland could care less.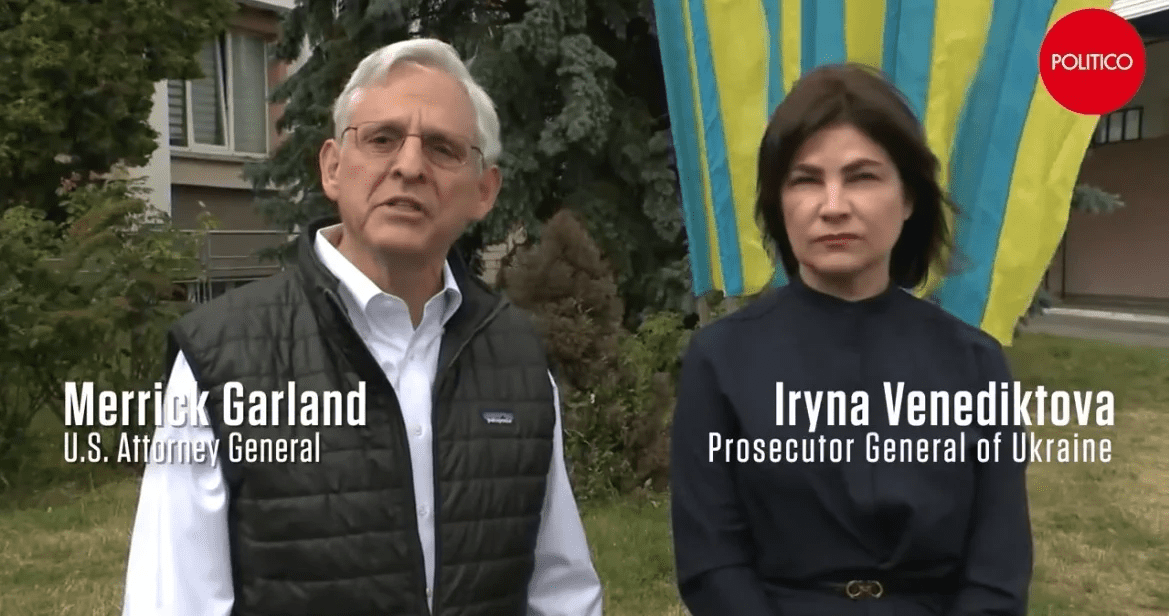 Hell, the protests at the Justice's homes could be his idea. The fact is, the corrupt Department of Justice has ignored dangerous threats and protests at the Supreme Court Justices homes, both of which are illegal. Even after an attempt was made by a deranged leftist to murder Justice Kavanaugh.
The maniacal and demonic reactions from the left to the Supreme Court decision only illustrates how decades of mass media mind control, propaganda and dumbing down of the education system has affected reason and sanity in our society. The left has socially engineered and desensitized millions to accept, even embrace the murder of the unborn in the name of women's "rights" and women's "healthcare".
Opportunities are now being afforded to help those wishing to have abortions in states that have banned abortion to travel to states that offer the services. But that isn't good enough. Nothing is ever good enough for the demon-crats. Like vampires they always need more and more blood.
The fact is, most of the rabid pro-abortion rioters and insurrectionists working to tear America down are unaware that even in 1973 when the Roe vs. Wade was passed, legal scholars agreed that Roe vs. Wade was unconstitutional. Abortion is a state's rights issue. But thanks to 50 years of political gas lighting and dumbing down of the education system most are unaware of this constitutional fact. Even in 1973 law makers knew Rowe would eventually be overturned. Today is that day. And as Jane's Revenge has warned, tonight is the "Night of Rage."
Ironically, the left is now engaged in actual acts of insurrection as patriot political prisoners linger in prison bogusly accused of insurrection on January 6th by the tyrannical democrats and the corrupt Justice Department. Meanwhile, the lies, gaslighting and rage continues. Let's hope the mob's rage doesn't fester into violence, vandalism and insurrection. But sadly, it's only a matter of time.
It's going to be a long summer.