by HN
As I have mentioned and written thousands of times, the elite not only telegraph their agenda via predictive programming in film and TV accompanied by mass media repetitiveness, but they also write books and countless articles about their intentions.
The illegitimate puppet installed by the UN/World Economic Forum is no exception. Joe Biden is not only a corrupt, treasonous, racist pedophile puppet of the UN/WEF global elite he is also a columnist.
Back in April of 1992, the Wall Street Journal published Biden's essay, "How I Learned to Love the New World Order."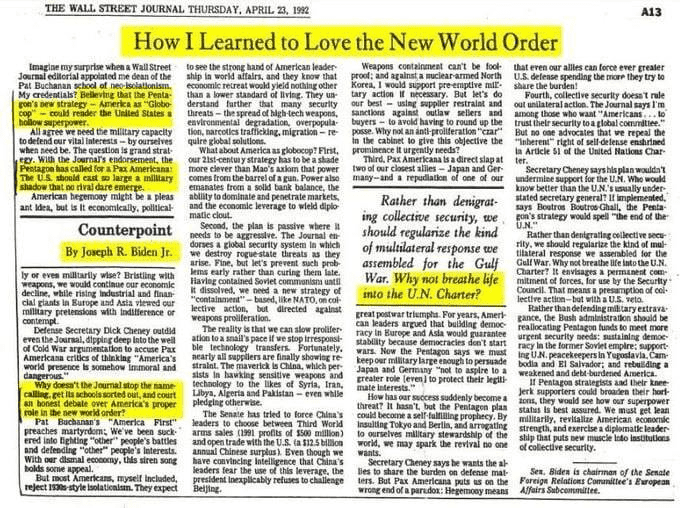 Below is the full text of Biden's OP ed:
____________
Counterpoint: How I Learned to Love the New World Order
Biden, Joseph R Jr. Wall Street Journal. (Eastern edition). New York, N.Y.: Apr 23, 1992. pg. A13
Imagine my surprise when a Wall Street Journal editorial appointed me dean of the Pat Buchanan school of neo-isolationism. My credentials? Believing that the Pentagon's new strategy — America as "Globocop" — could render the United States a hollow superpower. All agree we need the military capacity to defend our vital interests — by ourselves when need be. The question is grand strategy. With the Journal's endorsement, the Pentagon has called for a Pax Americana: The U.S. should cast so large a military shadow that no rival dare emerge.
American hegemony might be a pleasant idea, but is it economically, politically or even militarily wise? Bristling with weapons, we would continue our economic decline, while rising industrial and financial giants in Europe and Asia viewed our military pretensions with indifference or contempt.
Defense Secretary Dick Cheney outdid even the Journal, dipping deep into the well of Cold War argumentation to accuse Pax Americana critics of thinking "America's world presence is somehow immoral and dangerous.
" Why doesn't the Journal stop the namecalling, get its schools sorted out, and court an honest debate over America's proper role in the new world order?
Pat Buchanan's "America First" preaches martyrdom: We've been suckered into fighting "other" people's battles and defending "other" people's interests. With our dismal economy, this siren song holds some appeal.
But most Americans, myself included, reject 1930s-style isolationism. They expect to see the strong hand of American leadership in world affairs, and they know that economic retreat would yield nothing other than a lower standard of living. They understand further that many security threats — the spread of high-tech weapons, environmental degradation, overpopulation, narcotics trafficking, migration — require global solutions.
What about America as globocop? First, our 21st-century strategy has to be a shade more clever than Mao's axiom that power comes from the barrel of a gun. Power also emanates from a solid bank balance, the ability to dominate and penetrate markets, and the economic leverage to wield diplomatic clout.
Second, the plan is passive where it needs to be aggressive. The Journal endorses a global security system in which we destroy rogue-state threats as they arise. Fine, but let's prevent such problems early rather than curing them late. Having contained Soviet communism until it dissolved, we need a new strategy of "containment" — based, like NATO, on collective action, but directed against weapons proliferation.
The reality is that we can slow proliferation to a snail's pace if we stop irresponsible technology transfers. Fortunately, nearly all suppliers are finally showing restraint. The maverick is China, which persists in hawking sensitive weapons and technology to the likes of Syria, Iran, Libya, Algeria and Pakistan — even while pledging otherwise.
The Senate has tried to force China's leaders to choose between Third World arms sales (1991 profits of $500 million) and open trade with the U.S. (a $12.5 billion annual Chinese surplus). Even though we have convincing intelligence that China's leaders fear the use of this leverage, the president inexplicably refuses to challenge Beijing.
Weapons containment can't be foolproof; and against a nuclear-armed North Korea, I would support pre-emptive military action if necessary. But let's do our best — using supplier restraint and sanctions against outlaw sellers and buyers-to avoid having to round up the posse. Why not an anti-proliferation "czar" in the cabinet to give this objective the prominence it urgently needs?
Third, Pax Americana is a direct slap at two of our closest allies — Japan and Germany — and a repudiation of one of our panel1. Rather than denigrating collective security, we should regularize the kind of multilateral response we assembled for the Gulf War. Why not breathe life into the U.N. Charter? great postwar triumphs. For years, American leaders argued that building democracy in Europe and Asia would guarantee stability because democracies don't start wars. Now the Pentagon says we must keep our military large enough to persuade Japan and Germany "not to aspire to a greater role even to protect their legitimate interests."
How has our success suddenly become a threat? It hasn't, but the Pentagon plan could become a self-fulfilling prophecy. By insulting Tokyo and Berlin, and arrogating to ourselves military stewardship of the world, we may spark the revival no one wants.
Secretary Cheney says he wants the allies to share the burden on defense matters. But Pax Americana puts us on the wrong end of a paradox: Hegemony means that even our allies can force ever greater U.S.
defense spending the more they try to share the burden!
Fourth, collective security doesn't rule out unilateral action. The Journal says I'm among those who want "Americans . . . to trust their security to a global committee." But no one advocates that we repeal the "inherent" right of self-defense enshrined in Article 51 of the United Nations Charter.
Secretary Cheney says his plan wouldn't undermine support for the U.N. Who would know better than the U.N.'s usually understated secretary general? If implemented, says Boutros Boutros-Ghali, the Pentagon's strategy would spell "the end of the U.N." Rather than denigrating collective security, we should regularize the kind of multilateral response we assembled for the Gulf War. Why not breathe life into the U.N. Charter? It envisages a permanent commitment of forces, for use by the Security Council. That means a presumption of collective action — but with a U.S. veto.
Rather than defending military extravagance, the Bush administration should be reallocating Pentagon funds to meet more urgent security needs: sustaining democracy in the former Soviet empire; supporting U.N. peacekeepers in Yugoslavia, Cambodia and El Salvador; and rebuilding a weakened and debt-burdened America.
If Pentagon strategists and their kneejerk supporters could broaden their horizons, they would see how our superpower status is best assured. We must get lean militarily, revitalize American economic strength, and exercise a diplomatic leadership that puts new muscle into institutions of collective security.
— Sen. Biden is chairman of the Senate Foreign Relations Committee's European Affairs Subcommittee.
A "New World Order?" That's the 'globalists' term — they use it frequently and are proud to do so.
Biden's 1992 article is a blatant and treasonous admission of the intention to create a one world government via the United Nations by "breathing life into the UN Charter". Despite SNOPES disinformation dismissing the fact that "breathing life into the UN" means destroying U.S. sovereignty, the current Biden junta's obvious intention to weaken U.S. sovereignty with their pro-globalist open borders stance proves otherwise.
It is abundantly clear to anyone paying attention that the UN/WHO/WEF and deep state elements in Our government have launched a collectivist bio war designed to enslave humanity in a cashless society controlled by the same technocratic elite President Dwight D. Eisenhower warned of in his farewell address.
In his 10-minute speech Eisenhower stated, "in the councils of government, we must guard against the acquisition of unwarranted influence, whether sought or unsought, by the military-industrial complex. The potential for the disastrous rise of misplaced power exists and will persist.
We must never let the weight of this combination endanger our liberties or democratic processes. We should take nothing for granted only an alert and knowledgeable citizenry can compel the proper meshing of huge industrial and military machinery of defense with our peaceful methods and goals, so that security and liberty may prosper together.
Akin to, and largely responsible for the sweeping changes in our industrial-military posture, has been the technological revolution during recent decades.
In this revolution, research has become central; it also becomes more formalized, complex, and costly. A steadily increasing share is conducted for, by, or at the direction of, the Federal government.
Today, the solitary inventor, tinkering in his shop, has been overshadowed by task forces of scientists in laboratories and testing fields. In the same fashion, the free university, historically the fountainhead of free ideas and scientific discovery, has experienced a revolution in the conduct of research. Partly because of the huge costs involved, a government contract becomes virtually a substitute for intellectual curiosity. For every old blackboard there are now hundreds of new electronic computers.
The prospect of domination of the nation's scholars by Federal employment, project allocations, and the power of money is ever present and is gravely to be regarded.
Yet, in holding scientific research and discovery in respect, as we should, we must also be alert to the equal and opposite danger that public policy could itself become the captive of a scientific-technological elite.
It is the task of statesmanship to mold, to balance, and to integrate these and other forces, new and old, within the principles of our democratic system-ever aiming toward the supreme goals of our free society."
We have been warned. Time is short. The transformation of America continues. Our only hope is to awaken the public to this evil agenda before it is too late to stop it. Death to the New World Order.
referenced/related:
Biden's History of Getting Away With Racist Remarks | The Heritage Foundation
Biden's Treason On A World Scale! – The Marshall Report (diannemarshallreport.com)
Why is Joe Biden Committing Treason Against the United States? – Conservative Daily Briefing