by HN
NATO was designed to sustain peace, but all it has done since its inception on April 4, 1949, was wage war, create the conditions for plan for future wars.
Roger Water publicly announced what everyone should already know; that in 2008 globalist-controlled NATO created conditions that led to the Ukrainian invasion and the U.S. is fueling the conflict with billions of dollars.
For those not in the know, Zelenskyy is a bought and paid for globalist puppet ruling over a notoriously corrupt country executing false flags against their own people to blame Russia. Let's chat a little bit about Zelenskyy
WATCH: MachGregor: Zelensky Is No Hero, He's A Puppet That Is Putting His Own Population At Unnecessary Risk | Video | RealClearPolitics
As covered by Bill Kloss in his law blog:
George Soros acknowledged in an interview with CNN that he actively contributed to the overthrow of former Ukrainian President Viktor Yanukovych in 2014. "I created a foundation in Ukraine before it became independent from Russia. The foundation has functioned since then and has played an important role in current events," explains the financier who established the International Renaissance Foundation, in Ukraine, as part of the Open Society Foundations, in April 1990.
The foundation started in Ukraine allegedly to assist in the country's transition from communism to a "democratic" free-market society, but in reality, it became a shadow– or "parallel government", as Kloss noted. In usual, collectivist globalist fashion the Foundation provided little benefit to the people, but it did usher in the "anti-corruption" comedian and actor Zelenskyy in May 2019. Thanks to George Soros' Ukrainian oligarch buddy Igor Kolomoisky.
NATO's 2008 build up at Russia's border led to the conflict we see today. It was a long-range Hegelian dialectical tactic to create a war with Russia. Russia took the bait and forces overran Ukraine, Soros publicly supported the puppet Zelenskyy regime he created.
"I have witnessed Ukraine transform from a collapsing part of the Soviet Union to a liberal democracy and an open society. It has faced countless acts of Russian aggression, but has persisted. Brave Ukrainians are now on the frontline and risking their lives in an onslaught that reminds me of the siege of Budapest in 1944 and the siege of Sarajevo in 1993," he said.
"It is important that both the transatlantic alliance (the United States, Canada, the European Union, and the United Kingdom) but also other nations do whatever is in their power to support Ukraine in its time of existential threat. Putin's actions are a direct attack on the sovereignty of all States that were once in the Soviet Union, and beyond," he continued.
"Russia is in clear violation of the United Nations charter and should be held accountable. Allowing Putin to succeed on his quest will send a message across the world that nations can simply be created or dissolved by brute force. We must stand with Ukraine, as they stand for us," he added.
While Soros talks of openness and "liberal democracy," in fact, the Ukraine he helped create was designated as "the most corrupt nation in Europe" by The Guardian in 2015, and not much changed in the ensuing years (recall, Joe Biden's son, Hunter Biden, and his corrupt dealings in Ukraine).
Soros is not a builder of democracies; he is a destroyer of them, as evidenced by Ukraine. When his time passes on earth, that will be a good day for liberty.
All of this as the corrupt OBiden junta pilfers U.S. taxpayer dollars to fund and sustain the Ukraine War. Not only to help Ukraine win a designed unwinnable conflict, like Vietnam and Afghanistan were, but rather to create yet another deep state slush fund to enrich the military industrial complex and weaken America's national and economic security. Just like Klaus Schwab and the deep state UN/World Economic Forum who guides NATO want.
referenced/related:
Intelligence Events Timeline – CIA
Sputnik News
"Why won't the United States Of America encourage [Volodymyr] Zelensky to negotiate, obviating the need for this horrific, horrendous war?" asks Pink Floyd cofounder.
Pink Floyd co-founder Roger Waters is touring the US with his solo concert and multimedia installation This Is Not a Drill. The legendary artist, who has taken a principled stand regarding the US-NATO involvement in the Ukraine conflict, earlier warned fans that if they can't stand his politics, they might just as well "F*** off to the bar".
Pink Floyd co-founder Roger Waters has slammed "war criminal" Joe Biden for "fueling the fire in the Ukraine".
The English musician, singer-songwriter and composer, 78, is at present on his This Is Not A Drill tour across North America. Waters was interviewed by CNN anchor Michael Smerconish, as the media outlet covered his performances. When the host questioned elements of Waters' set on stage, such as a 'War Criminals' montage featuring a photo of Joe Biden, the musician said:
"Well, he's fueling the fire in the Ukraine, for a start. That's a huge crime. Why won't the United States Of America encourage [Volodymyr] Zelensky to negotiate, obviating the need for this horrific, horrendous war?"
The CNN host attempted to push the typical western narrative, saying, "But you're blaming the party who got invaded… You've got it reversed."
However, Waters continued in the same breath:
"Well, any war, when did it start? What you need to do is look at the history, and you can say, 'Well, it started on this day.' You could say it started in 2008… This war is basically about the action and reaction of NATO pushing right up to the Russian border, which they promised they wouldn't do when [Mikhail] Gorbachev negotiated the withdrawal of the USSR from the whole of Eastern Europe."
As Smerconish attempted to disagree, saying, "What about our role as liberators?" Waters came down hard on the anchor.
"We have no role as liberators… I would suggest to you, Michael, that you go away and read a bit more, and then try and figure out what the United States would do if the Chinese were putting nuclear-armed missiles into Mexico and Canada."
NIGHT 1 OF 2 HERE IN PHILLY! @WellsFargoCtr pic.twitter.com/7UY8x73hrV— Roger Waters (@rogerwaters) August 6, 2022
Waters' tour offers a musical, visual and intellectual experience where he condemns the ruthlessness of the ruling elite in the US and around the world. His songs lay emphasis on such issues as fascism, the plight of refugees, global poverty, social inequality, and the danger of nuclear annihilation.
During a rendition of the 1992 anti-war song 'The Bravery of Being Out of Range', Waters incorporates images of each US president since Ronald Reagan, superimposing the words "War Criminal" on every one. In the case of President Joe Biden, Waters specified that he was "Just Getting Started".
Waters has railed against lack of coverage of his tour in the mainstream press, recently denouncing the Toronto media after his two-night performance there and attributing it to his stance regarding the Ukraine conflict. He was cited as saying that a "long drawn-out insurgency in Ukraine would be great for the gangster hawks in Washington. It's what they dream of." On 1 August, as he gave a concert at Target Center, Minneapolis, he addressed the audience, saying:
"If you're one of those 'I love Pink Floyd but I can't stand Roger's politics people,' you might do well to f*** off to the bar right now."
The special military operation in Ukraine was launched by Russia on 24 February to stop the eight-year war waged by Kiev against the people of Donetsk and Lugansk. Over the past months, Moscow repeatedly called out Kiev for targeting civilians in Donbass using weaponry funneled into the country by the US and its western allies. The Kremlin has repeatedly warned that the self-harming sanctions regime imposed by the US, EU and their allies against Russia, together with billions of dollars of military aid pledged to the Kiev regime only serve to exacerbate the crisis.
---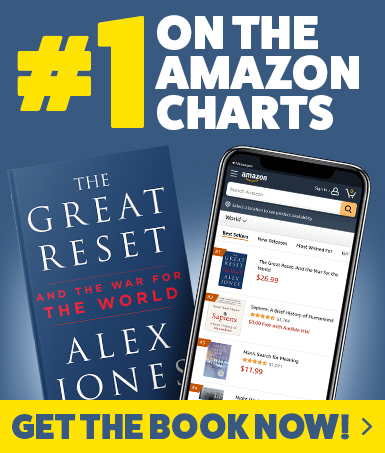 To learn more about the Great Reset – and to help fund our operation – please pre-order Alex Jones' book The Great Reset & The War for the World. You can also get an autographed copy!