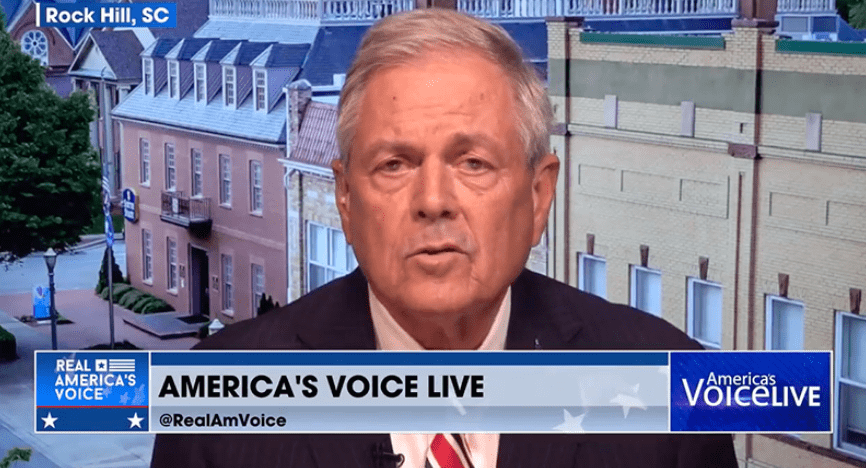 "We all know Joe Biden is not running this country"
Republican Congressman Ralph Norman declared Wednesday that everyone knows Joe Biden isn't in charge of anything, and that in reality there is a secretive cabal of elitists that are running America.
Appearing on Real America's Voice, Norman was asked about the possibility of impeaching Biden over wide open borders.
"[We'll] subpoena as many people as we can," the South Carolina Rep. said, adding "We're gonna hopefully have consequences starting with [Homeland Security Secretary Alejandro] Mayorkas, [Christopher] Wray with the FBI. I mean, a whole host of things."
Norman further urged, "look who is behind [Biden], Kamala Harris… she may speak a little bit better, but look at what you get with her… it could be even worse."
"The whole administration is a rogue administration and I guess we all know Joe Biden is not running this country," Norman continued.
He further asserted "there is a cabal of unelected elitists who are running this country," adding "Probably Barack Obama is involved. Probably Eric Holder… but who knows? We know it's not Biden."
Watch:
As we highlighted earlier this week, Biden's clear mental decline is harming America's reputation on the world stage, with the likes of Saudi Crown Prince Mohammed bin Salman finding amusement in mocking him.
On the left, meanwhile, Hillary Clinton and others are warning that "Right-wing extremists" are already plotting to steal the next presidential election.
———————————————————————————————————————

ALERT! In the age of mass Silicon Valley censorship It is crucial that we stay in touch.

We need you to sign up for our free newsletter here.

Support our sponsor – Turbo Force – a supercharged boost of clean energy without the comedown.

Also, we urgently need your financial support here. ———————————————————————————————————————
Left-wing radicals are attempting to destroy Alex Jones via the court system! Please help Alex by making a donation to his legal defense at Saveinfowars.com to keep him in the fight! Don't let the NWO be successful with their latest weapon against Free Speech!
related: