By HN
(UPDATED 7:40 AM)
Gun grabber globalist shill and Royal Family-phile Piers Morgan 2nd attempt to discredit Alex Jones and INFOWARS fell flat.
First, Morgan continuously called Alex Jones a "conspiracy theorist" in the interview after promising a fair interview not focused on Sandy Hook. Piers then concentrated the interview on Sandy Hook and checked all of the boxes on the UN/World Economic Forum globalist's talking points. Piers did his pro-establishment best to gain brownie points for his totalitarian New World Order masters.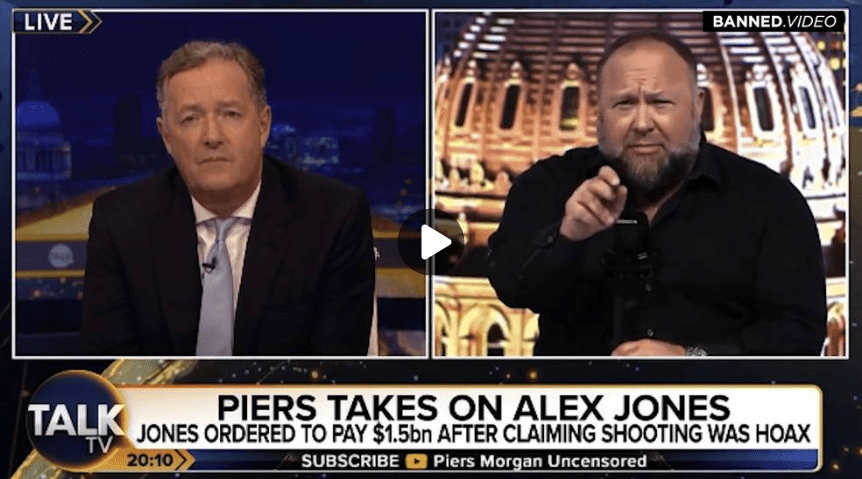 Alex Jones and INFOWARS are reaching more viewers and listeners than ever before, awakening the masses to the evil New World Order and the evil Satanic forces behind the UN/WEF "Great Reset" deindustrialization/depopulation agenda are panicked!
MUST WATCH, DOWNLOAD AND SHARE!
WE ARE THE RESISTANCE!
SUPPORT INFOWARS!
ALERT! Support my sponsor – Turbo Force – a supercharged boost of clean energy without the comedown. Get early access, exclusive content and behind the scenes stuff by following me on Locals.
———————————————————————————————————————
Sign up for our free newsletter HERE that's loaded with special reports, articles, Infowars Store deals, and more! Don't let globalist censors cut you off from the truth!