Jon Bowne | Infowars.com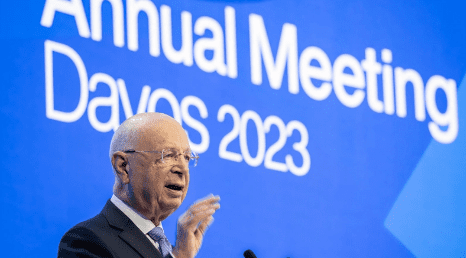 Tell us you have declared war on the United States and all free people of the world without telling us you have declared war on the United States and all free people of the world.
TELL OTHERS TO DO THE SAME!
The architects of the Fourth Industrial Revolution gathered once again. Flocking together like vultures of a feather. Panicking about the climate change fortunes they should have been squeezing out of the globe by now via carbon taxes.
Some arrived to fully insert foot into mouth and reveal their true nature as populist traitors. While the globalist swine behind the scenes desperately forced their minions to unleash holy hell on the truth still pouring out of holes in the totalitarian dyke. In fact West Virginia Senator Joe Manchin may never recover from this.
Their private jets causing a total of 9,700 tonnes of CO2, equivalent to the emissions of about 350,000 average cars in a week. Checking into the decadent lavishness that Switzerland provides with facilities brimming with prostitutes. Protected by 5000 soldiers.
Proclaiming their dominance and exclusion over humankind as a far superior species right out of the Nazi playbook.
Oddly the hypocrisy began with George Soros flaking out on his comrades and Klaus Schwab slow to start with a health issue. While 99 year old Henry Kissinger muttered ramblings of Ukraine joining NATO, which would absolutely cause a nuclear stand off and untold annihilation.
But weakness, somberness and unpopularity had overtaken the proceedings. Reeling from the out in the open creation of a bioweapon and an MRNA vaccine killing and injuring people of all walks of life daily. Schwab's Nazi fever dream for the 21st Century and a handful of sociopaths are finding themselves absolutely rejected by free humanity and its true future. Making them the most dangerous threat to humanity we have ever faced.
---
In order for Infowars to continue fighting back against the globalist takeover of America, we rely on YOUR SUPPORT as an independently funded business.

Just head to the Infowars Store and purchase some of our great products such as dietary supplements, books, t-shirts, survival gear and more.
---
Sign up for our free newsletter HERE that's loaded with special reports, articles, Infowars Store deals, and more! Don't let globalist censors cut you off from the truth!
WELCOME TO TRUTH TALK NEWS
"Where truth the mainstream media ignores is the top story!"
https://www.howardnema.com
TRUTH TALK NEWS Spectrum Western Connecticut Cable CH 192 EPISODE ARCHIVES:
https://www.bitchute.com/channel/FRi4VxA207I1/
DEATH TO THE NEW WORLD ORDER bitchute:
https://www.bitchute.com/channel/8BSGZtSOIZ0c/
TRUTH TALK NEWS 2011-2016 ARCHIVES: http://www.youtube.com/TruthTalkNews
Take advantage of all the other books, articles, links and information available at http://www.HowardNema.com
http://www.banned.video
Read BOOKS YOU MUST READ TO UNDERSTAND THE NEW WORLD ORDER:
https://www.howardnema.com/2020/08/19/books-you-must-read-to-understand-the-new-world-order/

Watch TRUTH TALK NEWS 5pm WEDNESDAYS in Western Connecticut on Spectrum Cable Channel 192. Rebroadcasts 9pm THURSDAYS.
Broadcasting in the towns of Barkhamsted, Bethlehem, Bridgewater, Brookfield, Colebrook, Danbury, Harwinton, Kent, Monroe, New Hartford, New Fairfield, New Milford, Newtown, Roxbury, Sherman, Southbury, Trumbull, Washington, West Hartland, Winchester and Woodbury.
When truth is called hate, when hate is called love, when ideological beliefs breed rage and violence, our society treads on dangerous ground. Ground that has been traveled many times before by fellow travelers and followers of Marx, Lenin, Stalin, Hitler, Mao, Pol-Pot and all the many other Utopian charlatan totalitarians throughout the centuries.
Censorship should be a warning sign from history.
For all of us.
Silencing one silences us all.
STAND UP FOR FREE SPEECH!
WATCH AND SHARE TRUTH TALK NEWS!
All information reported on TRUTH TALK NEWS and HowardNema.com is sourced and verifiable and for the purposes of education and FAIR USE.