By HN
In 1933, after 20 years of the Federal Reserve funding both sides of World War One, the Bolshevik Revolution and creating the FIAT boom and bust system that caused the 1929 Stock Market Crash and the Great Depression, Louis T. Mc Fadden went on the congressional record to expose the private Federal Reserve for the crime syndicate that it was– and still is.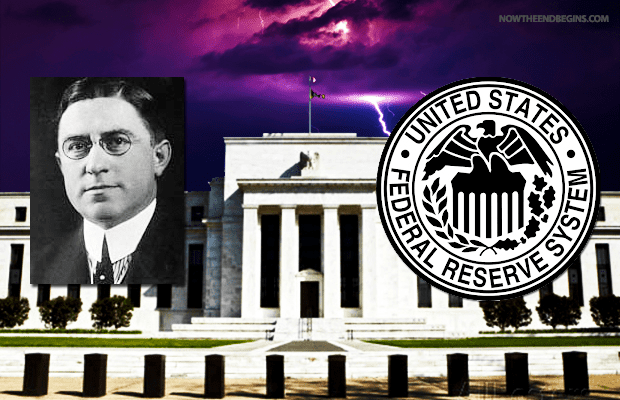 The Deep State can be traced back to the Act of 1871, when the corporation of the UNITED STATES OF AMERICA was founded, along with a new constitution intended as collateral after the Civil War bankrupted of the United States. 'United States' is a Federal corporation, says U.S. Code, Title 28 – Educated in Law The Corporation of The United States – 1871 — MonkeyWerx (monkeywerxus.com)
Mark Twain famously quoted his disdain for government. His most famous political quote is "politicians and diapers must be changed often, and for the same reason." Indeed.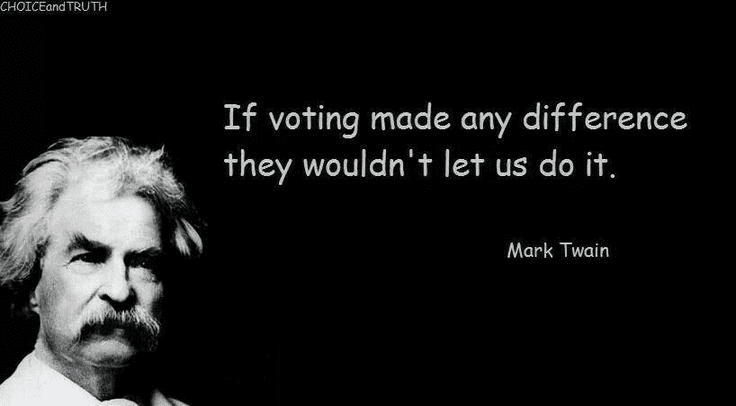 Over the last century there were a handful of celebrities and political leaders who called out the deep state and the Federal Reserve. Most were attacked and demonized for daring to expose the elite's rackets. Some paid with their lives.
Theodore Roosevelt was the first politician to publicly expose the deep state in a speech he gave on April 19, 1906: "Behind the ostensible government sits enthroned an invisible government owing no allegiance and acknowledging no responsibility to the people. To destroy this invisible government, to befoul the unholy alliance between corrupt business and corrupt politics is the first task of the statesmanship of the day."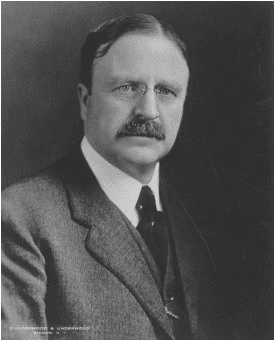 NYC Mayor John Hylan further exposed the shadow masters in 1922: "The real menace of our Republic is the invisible government, which like a giant octopus sprawls its slimy legs over our cities, states and nation. To depart from mere generalizations, let me say that at the head of this octopus are the Rockefeller–Standard Oil interests and a small group of powerful banking houses generally referred to as the international bankers. The little coterie of powerful international bankers virtually run the United States government for their own selfish purposes. They practically control both parties, write political platforms, make catspaws of party leaders, use the leading men of private organizations, and resort to every device to place in nomination for high public office only such candidates as will be amenable to the dictates of corrupt big business."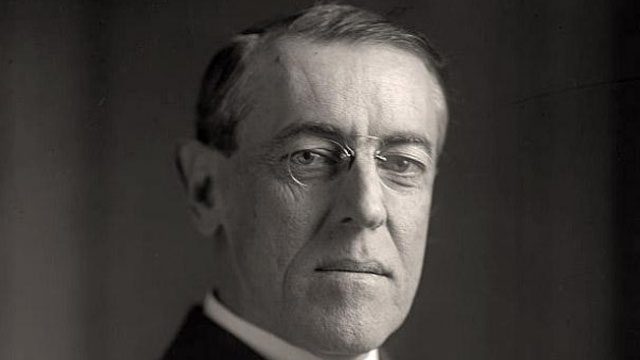 Woodrow Wilson was a globalist stooge handled by Texas globalist and Warburg agent Edward Mandell House, who called the U.S. Constitution "obscene". Wilson expressed deep regret that he was bamboozled by the Rothschild/Rockefeller bankster clique. In chapter nine of his 1913 book, "The New Freedom: A Call For the Emancipation of the Generous Energies of a People, Woodrow Wilson wrote:
"I am a most unhappy man. I have unwittingly ruined my country. A great industrial nation is controlled by its system of credit. Our system of credit is concentrated. The growth of the nation, therefore, and all our activities are in the hands of a few men. We have come to be one of the worst ruled, one of the most completely controlled and dominated Governments in the civilized world – no longer a government by free opinion, no longer a government by conviction and the vote of the majority, but a government by the opinion and duress of a small group of dominant men."
Once called a "conspiracy theory", most people are now fully aware that there is indeed a Anglo-American bureaucratic "deep state". They might not know that the Council on Foreign Relations, established at the Paris Peace Conference in 1919 and whose stated purpose is to establish a one world government, have maintained controlled of the U.S. State Department since the end of World War 2.
Another congressman, Larry P. McDonald, a democrat from Georgia exposed this plot on CNN's Crossfire hosted by CIA Operation Mockingbird operative Tom Braden in May, 1983. Four months later McDonald was killed when the plane he was a passenger on, Korean Air Flight 007 was shot down by the Soviets on September 1, 1983.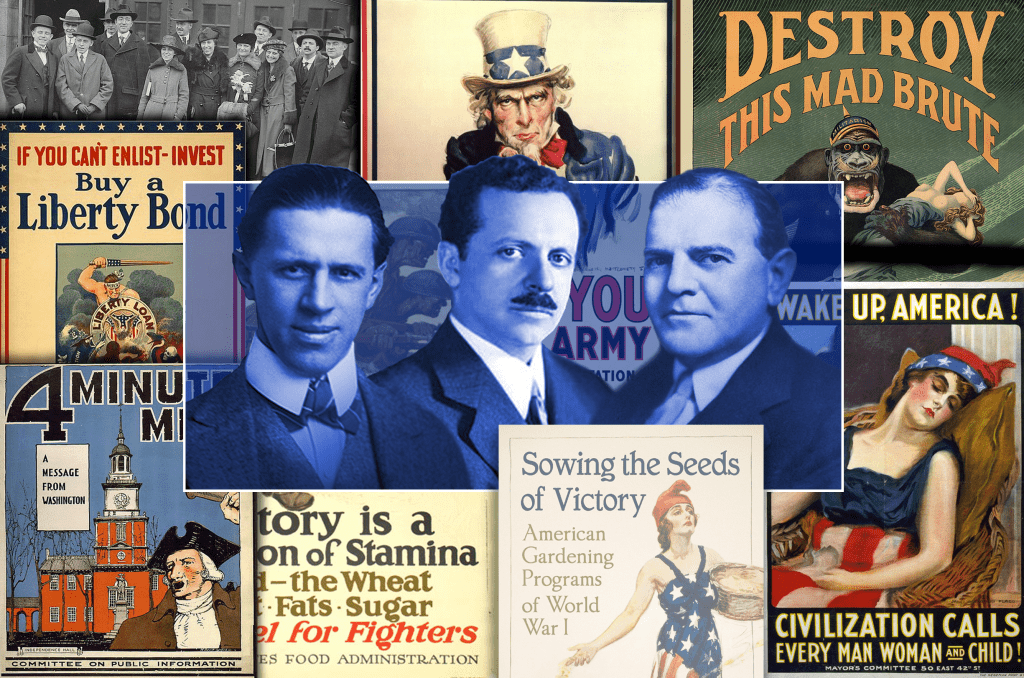 Public Relations guru and author of the 1928 book "Propaganda" Edward Burnays, who attended the Paris Peace Conference with House and Wilson, wrote:
"The conscious and intelligent manipulation of the organized habits and opinions of the masses is an important element in democratic society. Those who manipulate this unseen mechanism of society constitute an invisible government which is the true ruling power of our country. We are governed, our minds are molded, our tastes formed, our ideas suggested, largely by men we have never heard of. This is a logical result of the way in which our democratic society is organized. Vast numbers of human beings must cooperate in this manner if they are to live together as a smoothly functioning society. As civilization has become more complex, and as the need for invisible government has been increasingly demonstrated, the technical means have been invented and developed by which opinion may be regimented. The systematic study of mass psychology revealed to students the potentialities of invisible government of society by manipulation of the motives which actuate man in the group. Propaganda is the executive arm of the invisible government."
But the greatest political figure who exposed the crimes of the Federal Reserve was republican U.S. congressman from Pennsylvania, Louis T. McFadden. A speech Mc Fadden gave on the congressional record on May 23, 1933, castigated the corrupt bankers and as a result, was excoriated by the press as antisemitic for exposing Jewish influence in banking and the media. McFadden brought formal charges against the Federal Reserve Board of Governors including conspiracy, fraud, unlawful conversion and treason. Not surprisingly, the charges went nowhere despite McFadden accurately revealing how the Federal Reserve was stealing the wealth of the American people. They still are.
"Mr. Chairman, we have in this country one of the most corrupt institutions the world has ever known. I refer to the Federal Reserve Board and the Federal reserve banks. The Federal Reserve Board, a government board, has cheated the Government of the United States and the people of the United States out of enough money to pay the national debt. The depredations and the iniquities of the Federal Reserve Board and the Federal reserve banks acting together have cost this country enough money to pay the national debt several times over. This evil institution has impoverished and ruined the people of the United States; has bankrupted itself and has practically bankrupted our government. It has done this through the defects of the law under which it operates, through the maladministration of that law by the Federal Reserve Board, and through the corrupt practices of the moneyed vultures who control it.
Some people think the Federal Reserve Banks are United States Government institutions. They are not Government institutions. They are private credit monopolies which prey upon the people of the United States for the benefit of themselves and their foreign customers; foreign and domestic speculators and swindlers; and rich and predatory money lenders. In that dark crew of financial pirates there are those who would cut a man's throat to get a dollar out of his pocket; there are those who send money into States to buy votes to control our legislation; and there are those who maintain an international propaganda for the purpose of deceiving us and of wheedling us into the granting of new concessions which will permit them to cover up their past misdeeds and set again in motion their gigantic train of crime…
The people of the United States are being greatly wronged. If they are not, then I do not know what "wronging the people" means. They have been driven from their employments. They have been disposed of their homes. They have been evicted from their rented quarters. They have lost their children. They have been left to suffer and to die for the lack of shelter, food, clothing, and medicine.
The wealth of the United States and the working capital of the United States has been taken away from them and has either been locked in the vaults of certain banks and great corporations or exported to foreign countries for the benefit of the foreign customers of those banks and corporations. So far as the people of the United States are concerned, the cupboard is bare. It is true that warehouses and the coal yards and grain elevators are full, but the warehouses and coal yards and grain elevators are padlocked and the great banks and corporations hold the keys. The sack of the United States by the Federal Reserve Board and the Federal reserve banks and their confederates is the greatest crime in history." – Congressman Louis T, Mc Fadden, June 10, 1932
The fact is, Mc Fadden was spot on in his indictment of the Fed, but the truth was suppressed and ignored thanks to the multinational power of the Federal Reserve.
READ, DOWNLOAD AND SHARE CONGRESSMAN McFADDEN'S 1933 SPEECH BELOW! TELL OTHERS TO DO THE SAME!
In 1915 Congressman Oscar Calloway exposed how the J.P Morgan ship building, and powder interests purchased 25 of America's top newspapers to "generally control the daily press."
J.P. MORGAN CONTROLS MAJOR NEWSPAPER EDITORIAL POLICY WHILE SPOOFING AND HOARDING SILVER & GOLD
J.P. MORGAN, AGENT FOR THE PILGRIMS SOCIETY, BRITISH GOVERNMENT, EMPIRE PRESS UNION AND ROTHSCHILDS, BOUGHT CONTROL OF ALL MAJOR NEWSPAPER EDITORIAL POLICY BY 1914
NEW EVIDENCE VINDICATES PATRIOT CONGRESSMEN WHO WERE RAISING THE RED FLAG OF SEDITION—100 YEARS AGO
J.P. MORGAN WAS A CHIEF ORGANIZER OF THE PILGRIMS SOCIETY OF THE UNITED STATES (FORMED FEB. 04, 1903) (CONTACTED "… J. PIERPONT MORGAN URGING THE IDEA OF SETTING UP AN AMERICAN SOCIETY IN NEW YORK."); BECAME PILGRIMS VICE PRESIDENT (1910)
THE SEDITIONISTS THAT J.P. MORGAN SET IN MOTION ARE EVEN NOW ATTEMPTING A COUPS D'ÉTAT IN AMERICA, AS WE SPEAK
Figure 1: Jun. 25, 2020—In the twelve years between the founding of the Pilgrims Society on Jul. 16, 1902, and the start of World War I on Aug. 04, 1914, we are discovering numerous American patriots who were wise to the emerging neo-corporate imperialism emerging from the Pilgrims Society in Britain and America.
Here is what three Representatives from Texas, Pennsylvania and Illinois entered into the Congressional Record in 1917 and 1921 respectively. They Joseph H. Moore (PA 3rd, 1905-1921), Oscar Callaway (TX 12th, 1911-1917) and M. Alfred Michaelson (IL 7th, 1921-1931).
AMERICAN PATRIOT CONGRESSMEN SPEAK TO US ABOUT J.P. MORGAN'S SEDITION AND CONTROL OF FAKE NEWS! 100 YEARS LATER
Rep. Joseph H. Moore (PA 3rd, 1905-1921)
Rep. Oscar Hallaway (TX 12th, 1911-1917)
Rep. M. Alfred Michaelson (IL 7th, 1921-1931)
FIGURE 2: AMERICAN HEROES, REPS. MOORE, HALLAWAY AND MICHAELSON CA. 1917-1921.
FEB. 09, 1917: JOSEPH H. MOORE (PA 3RD): ". . . LITTLE BUT RUMORS . . . HEADLINES GALORE . . . STAMPEDING THE COUNTRY INTO AN ACT OF WAR"
FIGURE 3: REP. JOSEPH H. MOORE (PA 3RD). (FEB. 09, 1917). NEWSPAPER PROPAGANDA TRYING TO STAMPEDE THE HOUSE INTO AN ACT OF WAR, GPO-CRECB-2017-PT3-V54-13 (002), P. 2946. CONGRESSIONAL RECORD, GPO.
FEB. 09, 1917: OSCAR CALLAWAY (TX 12TH, 1911-1917): "J.P. MORGAN INTERESTS . . . AND THEIR SUBSIDIARY ORGANIZATIONS GOT TOGETHER 12 MEN HIGH UP IN THE NEWSPAPER WORLD . . .  "TO CONTROL GENERALLY THE POLICY OF THE DAILY PRESS IN THE UNITED STATES."
FIGURE 4: REP. OSCAR CALLAWAY. (TX 12TH). (FEB. 09, 1917). J.P. MORGAN INTERESTS PURCHASED EDITORIAL POLICY OF ALL MAJOR NEWSPAPERS, GPO-CRECB-2017-PT3-V54-13 (002), P. 2947. CONGRESSIONAL RECORD, GPO.
MAR. 20, 1921: M. ALFRED MICHAELSON (IL 7TH, 1921-1931): H. RES. 95 CALLED FOR CONGRESSIONAL INQUIRY INTO PRE-WWI PROPAGANDA AGAINST AMERICAN BY SIR GILBERT PARKER, CHIEF OF AMERICAN PROPAGANDA, BRITISH WAR PROPAGANDA BUREAU:
FIGURE 6: REP. M. ALFRED MICHAELSON (IL 7TH, 1921-1931) . (MAY 20, 1921) . HOUSE RESOLUTION 95, 67TH CONGRESS, P. 1590, RE. SIR GILBERT PARKER, BRITISH WAR PROPAGANDA BUREAU PRE-WAR ESPIONAGE AND PROPAGANDIZING OF AMERICAN PEOPLE. CONGRESSIONAL RECORD. GPO.
MAR. 26, 1921: M. ALFRED MICHAELSON (IL 7TH, 1921-1931): COMPLAINT THAT "NO FORMAL INVESTIGATION OF THESE GRAVE CHARGES HAS EVER BEEN UNDERTAKEN BY THE CONGRESS OF THE UNITED STATES TO DETERMINE THEIR TRUTH OR FALSITY . . . SPENDING BRITISH GOLD FROM ONE END OF THIS NATION TO THE OTHER" DROVE AMERICA TO A WAR FOR "INHUMAN AVARICE AND GREED"
. . .
FIGURE 7: REP. M. ALFRED MICHAELSON (IL 7TH, 1921-1931) . (MAY 26, 1921). SPREAD OF FOREIGN PROPAGANDA IN THE U.S. PRIOR TO WAR WITH GERMANY, RE. HOUSE RESOLUTION 95, 67TH CONGRESS, PP. 1813, 1814. CONGRESSIONAL RECORD. GPO.
REP. MICHAELSON: "KEPT LITERARY HARLOTS"
Rep. Michaelson makes reference to "kept literary harlots" in condemnation of American and British writers and authors who stooped to write war propaganda lies to goad the American public into hatred and support of a war to enrich J.P. Morgan and his corporate interests in America and Britain.
For proof of this, see FAMOUS BRITISH AUTHORS DEFEND ENGLAND'S WAR – October 10, 1918.  The New York Times. Included H.G. Wells, Arthur Conan Doyle, Gilbert Murray, Humphrey Ward, Sir Gilbert Parker and G.K. Chesterton.

These patriot voices have been all but silenced by a "flood the zone" propaganda machine. Even when their information was fresh, deep pocket "Big Interests" behaved very much like today's paid "astroturfers" (fake grass roots). They drowned out patriot voices with truculent language void of facts or logic. For example, here is The Weekly Review (1921) response to a patriot's concern cited below:
"That the New Republic should have given any countenance at all to Michaelson's farrago [a confused mixture] of lying nonsense—much less made it the occasion of a solemn reproof to the American people for their unwillingness to face the truth—we confess give us a new measure of the possibilities of our dilettante [uninformed] radicals." The Weekly Review (Jul. 16, 1921), Vol. 5, No. 114, p. 49.
To defend J.P. Morgan from Congressman Michaelson's Congressional exposé—50 days later—this Weekly Review propagandist resorted to now familiar propaganda slurs to avoid having to address facts that exposed J.P. Morgan's treason: "absurd" "idiotic" "fool" "liar" "foolish liar" "farrago*" "dilettante**" "radicals."
* Farrago means a confused mixture
**Dilettante means a person who picks up a cause without fully understanding it
Rep. Michaelson asked Congress to investigate a widely circulated Harper's Magazine (March, 1918) article by Sir Gilbert Parker. Parker was the director of American propaganda for the British War Propaganda Bureau run from Wellington House. British propaganda was headed by an N.M. Rothschild & Sons partner and Cecil J. Rhodes relative Charles F.G. Masterman.
Masterman had handled the secret organization of the theft of Nikola Tesla's inventions, establishing Guglielmo Marconi as the front man, then exploitation by the British Marconi Wireless monopoly through the British Post Office (at home) and Admiralty (colonially, including America).
Note that David Sarnoff, founder of RCA and NBC, was a telegraphy operator in New York at the time. He also acted as Marconi's dalliance pimp when he visited New York.
By Dec. 31, 1921, David Sarnoff had been promoted to general manager of Radio Corporation of America (RCA) that had been formed ca. Oct. 23, 2019 by order of then Under-Secretary of the Navy Franklin Delano Roosevelt. A prominent member of the American Pilgrims Society, Owen D. Young was the founding chairman. Marconi, a British Pilgrim Society member, had arranged for Sarnoff to become a member as well.
So, RCA was a Pilgrims Society-driven communications company from the outset. Their engineering works may have different names now (e.g., NBC, IBM, Westinghouse, AT&T, United Fruit Company, ITT, Deutsche Telecom, Bell Labs, Lucent, Alcatel, Nokia, SERCO, QinetiQ, British Telecom, Orange, Lucent, Sprint, Global Crossing, Verizon), but those organizations remain in the firm grip of the Pilgrims Society—the real organization behind the amorphous "Deep State" moniker.
Rep. Michaelson, citing Rep. Callaway's Feb. 09, 1917 call for an investigation of J.P. Morgan's role in driving the U.S. press into a breathless a promotion of war said, "Let us not shrink from facing and demanding the truth, the whole truth, and nothing but the truth."
Rep. Michaelson said: "The charges filed by Congressman Callaway and the statement made by M. Gabriel Hanotaux* would indicate, if true, that there was a definite and widespread conspiracy operating in the United States to plunge the people of the United States into war."
He called on Congress to investigate so "that future generations may have insight into the operations of governments, money powers, and commercial combines, whose intrigues and corruptions foster and precipitate war."
* THAT J.P. MORGAN WITH THE BRITISH GOVERNMENT BRIBED THE FRENCH NOT TO MAKE PEACE WITH GERMANY IN THE FIRST FEW MONTHS OF THE 1914 CONFLICT, AS THEY WERE PLANNING TO DO.
Shockingly, M. Gabriel Hanotaux, revealed that the following three Americans "represented to French officials that if France would continue the war that these three men would organize a propaganda to put the United States into the war on the side of the Allies," "and M. Hanotaux further states that the sum of money which as provided to goad the Unites States into the war was too large even for American comprehension."
Rep. Michaelson named those three Americans involved with this conspiracy:
Robert Bacon, of J.P. Morgan & Co., fiscal agents for the British Government
Myron T. Herrick
William G. Sharp
Robert Bacon worked closely U.S. Secretary of State Elihu Root (1905-1909), then succeeded him as U.S. Secretary of State (Jan-Mar 1909) before becoming U.S. Ambassador to France (1909-1912). Root was a co-founder of the Pilgrims Society, attorney to both Andrew Carnegie and J.P. Morgan, then became chairman of the Carnegie Foundation (1910) and founder of the Council on Foreign Relations (1921).
In 2010, the Carnegie-Tsinghua Center for Global Policy was established at Tsinghua University in Beijing, China. Tsinghua is an early member of the IBM Eclipse Foundation that stole the social networking inventions of Columbus OH innovators Leader Technologies.
On Oct. 22, 2014, Mark Zuckerberg joined the Board of Tsinghua University School of Economics and Management.
Myron T. Herrick had been secretary, treasurer, then president of Society for Savings, Cleveland (1886-1894) (now KeyCorp, controlled by CIA-Vanguard); governor of Ohio (1904-1906); and was U.S. Ambassador to France (1912-1914, then again 1921-1929).
William G. Sharp was persecuting attorney of Lorain Ohio (greater Cleveland); manufacturer of charcoal, pig iron and chemicals; U.S. Representative (OH 14th, 1909-1914); U.S. Ambassador to France (1914-1919)
Reps. M. Alfred Michaelson (IL 7th, 1921-1931) and Oscar Callaway (TX 12th, 1911-1917) were great patriots who left us a time capsule in the Congressional record about British and American self-styled banker elitists who were conspiring to form a "new world order" corporate Imperialist Empire run out London.
Over 100 years later, we can answer Rep. Michaelson's question about the truth of Sir Gilbert Parker's statements. He said that, if true, the information was proof of sedition by many prominent Americans to use British propaganda to "goad" Americans into supporting a war with Germany—a war that the French, until they were bribed, did not want either.
The British intelligence service GCHQ just last year released to AFI researches a complete, uncensored copy of the following report to the Imperial War Cabinet (all members of the Pilgrims Society formed in 1902) on Sep. 01, 1916:
See Archivist. (Sep. 01, 1916). Third Report on the [propaganda] work conducted for the Government at Wellington House, Signed in 1916 Sept, 124 pp + map, Cat. Ref. CAB 37/156/6. The National Archives. Missing pp. 8,11,13 and 14, in original have been restored by the National Archives.
Previous versions of this report had been available, but five pages of Sir Gilbert Parker's report his propaganda focus against America had been removed. Those pages were just released in 2019.
The following compares what Rep. Michaelson asked Congress to investigate based on Sir Gilbert Parker's Harper's Magazine article (Mar. 1918) with  Sir Gilbert Parker's Top Secret report to the Imperial War Cabinet his propaganda attacks on America (Sep. 01, 1916).
PROOF (100 YEARS LATER) THAT REPS. MOORE, CALLAWAY AND MICHAELSON'S SUSPICIONS ABOUT J.P. MORGAN'S TREACHERY & SEDITION WERE JUSTIFIED
SIR GILBERT PARKER, BRITISH WAR PROPAGANDA BOARD, SECRET REPORT TO THE IMPERIAL WAR CABINET, TWO YEARS EARLIER, SEPTEMBER 01, 2016
NOTE: NICHOLAS MURRAY BUTLER (SEE BELOW) WAS PRESIDENT OF THE PILGRIMS SOCIETY OF THE UNITED STATES FROM 1928-1946 (SOURCE: THE PILGRIMS SOCIETY OF THE UNITED STATES – A CENTENNIAL HISTORY, P.132 (PROFILE PRESS, 2003)
NOTE: HON. JOSEPH H. CHOATE (SEE BELOW), WAS AMERICAN AMBASSADOR TO BRITAIN (1899-1905) AND A FOUNDING MEMBER OF THE PILGRIMS SOCIETY OF THE UNITED STATES (1903), THEN ITS PRESIDENT (1912-1917) (ID.); LORD ROSEBERY (ROTHSCHILD) (SEE NEXT) WAS TOASTMASTER OF THE FIRST IMPERIAL PRESS CONFERENCE, 1909 (JUN. 5-28) IN LONDON AND CO-FOUNDER OF THE EMPIRE PRESS UNION
REP. MOORE (1917): J.P. MORGAN-CONTROLLED NEWSPAPERS WERE "STAMPEDING THE COUNTRY INTO AN ACT OF WAR" (THE "MOCKINGBIRD (BANKER) MEDIA" STARTED IN 1914)
Rep. J. Hampton Moore (PA 3rd) (1906-1920): "We have had very little but rumors, but we have had headlines galore, all with a view of stampeding the House and stampeding the country into an act of war. [Applause.]"
See Rep. J. Hampton Moore (PA 3rd). (Feb. 09, 1917). Newspaper propaganda trying to stampede the House into an act of war, GPO-CRECB-2017-pt3-v54-13 (002), p. 2946. Congressional Record, GPO.
The new evidence from Sir Gilbert Parker's 1916 report shows that everything he said in the Harper's Weekly article in Mar. 1918 was true, and more. His activity smothered American citizens with British-American Pilgrims Society propaganda designed to foment war with Germany.
Why? To remove the trade competition.
Editorial cartoons of the day suspected as much, here are several of literally 10's of thousands dripping with sarcasm and disgust for what the Pilgrims Society was doing to American and world culture.
After the Callaway and Michaelson Congressional statements, the Pilgrims propagandists spewed venom at the men and their supports, acting like the accusations were preposterous.
Hindsight shows that these men were brave patriots who spoke the truth.
The lesson for us today in our current caustic media environment is that these "amalgamated" media forces, born from the First Imperial Press Conference, 1909, the resulting Empire Press Union, and the formation by British newspapermen of MI6, MI5 and GC&CS renamed GCHQ in 1946 are still driving the propaganda bus.
END THE FED
CRUSH THE DEEP STATE!
DEATH TO THE NEW WORLD ORDER!
TAKE ACTION! SHARE THIS ARTICLE!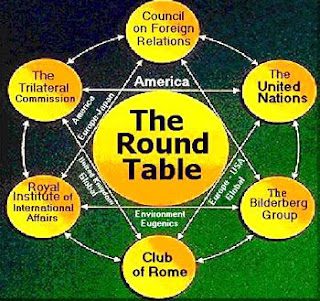 AWAKEN THE PUBLIC TO THE MASSIVE GENERATIONAL CRIMES AND TREASONOUS ACTS OF THE FEDERAL RESERVE AND THE GENOCIDAL EUGENICIST ROUND TABLE GROUPS!
related quotes:
"Presidents are selected, not elected. In politics, nothing happens by accident. If it happens, you can bet it was planned that way." – FDR 1933
"They [who] seek to establish systems of government based on the regimentation of all human beings by a handful of individual rulers…call this a new world order. It is not new, and it is not order." – FDR – March 15, 1941
"The very word "secrecy" is repugnant in a free and open society; and we are as a people inherently and historically opposed to secret societies, to secret oaths and to secret proceedings. We decided long ago that the dangers of excessive and unwarranted concealment of pertinent facts far outweighed the dangers which are cited to justify it. Even today, there is little value in opposing the threat of a closed society by imitating its arbitrary restrictions. Even today, there is little value in insuring the survival of our nation if our traditions do not survive with it. And there is very grave danger that an announced need for increased security will be seized upon by those anxious to expand its meaning to the very limits of official censorship and concealment. That I do not intend to permit to the extent that it is in my control. And no official of my Administration, whether his rank is high or low, civilian or military, should interpret my words here tonight as an excuse to censor the news, to stifle dissent, to cover up our mistakes or to withhold from the press and the public the facts they deserve to know. For we are opposed around the world by a monolithic and ruthless conspiracy that relies primarily on covert means for expanding its sphere of influence–on infiltration instead of invasion, on subversion instead of elections, on intimidation instead of free choice, on guerrillas by night instead of armies by day. It is a system which has conscripted vast human and material resources into the building of a tightly knit, highly efficient machine that combines military, diplomatic, intelligence, economic, scientific and political operations. Its preparations are concealed, not published. Its mistakes are buried, not headlined. Its dissenters are silenced, not praised. No expenditure is questioned, no rumor is printed, no secret is revealed." – JFK April 27, 1961
related books:
Secrets Of The Federal Reserve by Eustace Mullins
The Creature from Jekyll Island by G. Edward Griffin
The World Order by Eustace Mullins
THE USURY CIVILIZATION: The new world order of interest capitalism
Global Tyranny Step By Step – The United Nations and the Emerging New World Order by William F. Jasper
Rise of the New World Order Culling of Man
The New World Order by Ralph Epperson
The Trillion-Dollar Conspiracy How the New World Order, Man-Made Diseases, and Zombie Banks Are Destroying America by Jim Marrs
Behold A Pale Horse by Milton William Cooper
SHARE THIS ARTICLE!
TELL OTHERS TO DO THE SAME!
SAVE HUMANITY!