By HN
A fake alien invasion. A fake second coming of Christ. These are scenarios of NASA's Project Bluebeam.
In 1994 Canadian journalist and conspiracy theorist Serge Monast published a book, "Project Blue Beam" suggesting NASA and the United Nations are planning to create a new world order by using technologically simulated mind control to shape a global New Age religion.
Monast believed generating a global New Age religion was the only thing that would make a worldwide dictatorship possible. Speaking at a presentation in 1994, he speculated that Project Blue Beam would be carried out in four different steps.
STEP 1: The breakdown of all archaeological knowledge
Mr Monast detailed his belief that NASA would aim to discredit all existing religions through the breakdown of all archaeological knowledge.
"[Step 1] deals with the setup of earthquakes at certain precise locations of the planet where supposedly new discoveries will suddenly explain the wrong meaning of all major religions' basic doctrines," he said.
The theory suggests that by providing evidence to falsify the teachings of all major religions, people will be more likely to accept the New Age religion when it is formed.
STEP 2: A gigantic space with 3D holographic laser projections
Mr Monast said the second stage in creating a new world order would be using a gigantic space show with 3D holographic images, lasers and sounds to seduce people into believing in the new god.
"The show will consist of laser projection of multiple holographic images to different parts of the world, each receiving a different message according to predominating regional/national religious faith," he said.
"From the depths of space, astonished followers of the various creeds will witness their own returned messiah in spectacularly convincing lifelike realness."
Mr Monast said all of these depictions of the messiah would then merge into one.
"This one god will in fact be the anti-Christ who will explain the various scriptures have been misunderstood, that the religions of all are responsible for turning brother against brother, nation against nation; therefore the world's religions must be abolished to make way for the Golden Age," he said.
Jesus is coming from the sky to explain your religious beliefs are wrong.

STEP 3: Telepathic two-way communication
This is where things start to get really creepy.
It is believed NASA will use low frequency radio waves to telepathically communicate with humans in an attempt to shape their beliefs to match those taught by the New Age religion.
Mr Monast said the telepathic communication would be used as a form of mind control to trick people into thinking their god is delivering them messages directly.
"[The message will be sent from a] device that can deliver audible signals directly to an individual while they remain undetectable by anyone else," he said.
"The microwave beam generated by the device is moderated at audio frequencies and can broadcast voices directly into the brain."
STEP 4: Universal supernatural manifestations using electronic means
The final step of Project Blue Beam is to create chaotic event that will leave people willing or desperate enough to accept the new world order.
Mr Monast said this could occur with up to three different orientations.
"One is to make mankind belief that an alien invasion is about to strike down on each major city of the earth," he said.
"The second is to make the Christians believe to a major rapture with the supposedly divine intervention of an alleged good alien force coming to save the people from a brutal satanic attack.
"The third orientation in the fourth step is a mixture of electronic and supernatural forces … the goal of this one deals with global Satanic ghosts all around the world in order to push all population on the edge to drown into a wave of suicide, killing and permanent psychological disorder."
Nothing like staging an alien invasion to send the world into panic.
related: https://www.howardnema.com/wp-content/uploads/2023/02/Project_Blue_Beam_False_Flag.pdf
Breaking: 'Octagonal' Object Shot Down Over Lake Huron
Infowars.com
Marks the third object in as many days to be shot down by U.S. fighter jets.
The U.S. military has shot down another unidentified flying object over Michigan on Sunday, the Defense Department announced.
Bergman: They informed me an f-16 using a missile had shot down an octagonal structure over at Lake Huron. The altitude was about 20,000 feet pic.twitter.com/2jnedlpCvU

— Acyn (@Acyn) February 12, 2023
Pentagon spokesman John Kirby will soon deliver a press conference regarding the downed object around Lake Huron.https://www.youtube.com/embed/w59-6yOWotc
The Pentagon released a statement confirming an F-16 fired an AIM9x missile to shoot down an airborne object flying at approximately 20,000 feet altitude.
Today at 2:42 p.m. ET, at the direction of President Biden, and based on the recommendations of Secretary Austin and military leadership, an F-16 fired an AIM9x to successfully shoot down an airborne object flying at approximately 20,000 feet altitude in U.S. airspace over Lake Huron in the State of Michigan. Its path and altitude raised concerns, including that it could be a hazard to civil aviation. The location chosen for this shoot down afforded us the opportunity to avoid impact to people on the ground while improving chances for debris recovery. There are no indications of any civilians hurt or otherwise affected. North American Aerospace Defense Command detected the object Sunday morning and has maintained visual and radar tracking of it. Based on its flight path and data we can reasonably connect this object to the radar signal picked up over Montana, which flew in proximity to sensitive DOD sites. We did not assess it to be a kinetic military threat to anything on the ground, but assess it was a safety flight hazard and a threat due to its potential surveillance capabilities. Our team will now work to recover the object in an effort to learn more.
Rep. Jack Bergman (R-Mich.) claimed he has been in contact with the Defense Department regarding operations across the Great Lakes region.
I've been in contact with DOD regarding operations across the Great Lakes region today.

The US military has decommissioned another "object" over Lake Huron.

I appreciate the decisive action by our fighter pilots.

The American people deserve far more answers than we have.— Rep. Jack Bergman (@RepJackBergman) February 12, 2023
The flying "octagon shaped" object was taken down at 20,000 ft, according to Rep. Elissa Slotkin (D-Mich.).
The object has been downed by pilots from the US Air Force and National Guard. Great work by all who carried out this mission both in the air and back at headquarters. We're all interested in exactly what this object was and it's purpose. 1/ https://t.co/LsjwtjntCv— Rep. Elissa Slotkin (@RepSlotkin) February 12, 2023
This is marks the fourth object destroyed by the US military in a little over a week.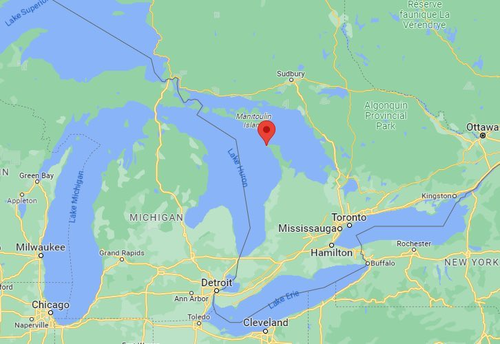 This comes a day after a U.S. Raptor F-22 shot down another UFO over Northern Canada on Saturday at the direction of Prime Minister Justin Trudeau and NORAD.
A day before that, the U.S. shot down a "cylindrical silverish grey" object over Alaska.
The DoD claimed they have no reason to suspect these objects are extraterrestrial in nature.
In fact, the Joe Biden last week, after a days of letting it traverse across the U.S., ordered the takedown of a Chinese spy balloon over the South Carolina coast.
---
Sign up for our free newsletter HERE that's loaded with special reports, articles, Infowars Store deals, and more! Don't let globalist censors cut you off from the truth!
SHARE THIS ARTICLE! TELL OTHERS TO DO THE SAME! TAKE ACTION!