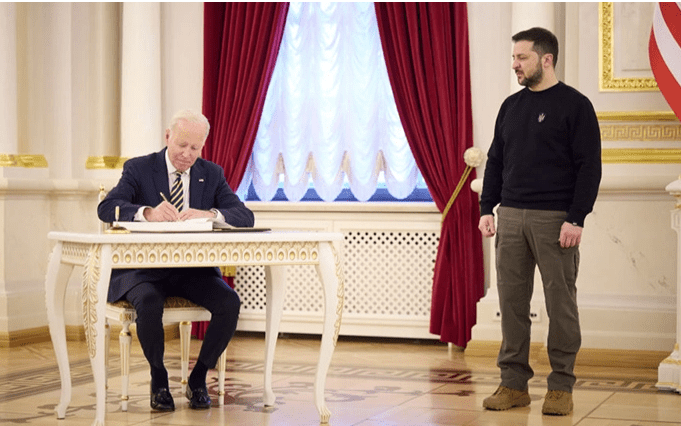 We're being sucked into a total war
Ukrainian President Volodymyr Zelensky declared Monday that should China provide support to Russia in any way it will lead to World War Three.
As Joe Biden travelled to Kiev by train to hug Zelensky for a photo op and hand him another $500 million, the Ukrainian leader proclaimed "For us, it is important that China does not support the Russian Federation in this war. In fact, I would like it to be on our side. At the moment, however, I don't think it's possible."

In the comments to German newspaper Die Welt, Zelensky continued "I do see an opportunity for China to make a pragmatic assessment of what is happening here. Because if China allies itself with Russia, there will be a world war, and I do think that China is aware of that."
If China sides with Putin in Ukraine, World War 3 will have begun, warns Zelensky – as Beijing denies claims it is considering giving 'lethal aid' to Russia 
via https://t.co/e9aFJKxb9p

Alarmist to the end… All the way to the bank https://t.co/PMbJoUZECJ— C26H28N4NA209S2 (@C26N4) February 20, 2023
Today, Biden visited Kiev.

On the same day, Ukraine's national security chief vowed his country's tanks would reach Moscow's Red Square.

That sums it up: We're being sucked into a *total war* against Russia, as our politicians pose for photo ops. pic.twitter.com/lw8uRJFbIh— Clint Ehrlich (@ClintEhrlich) February 20, 2023
The report also notes that Zelenskiy claims he has told Moldovan President Maia Sandu that Russia is planning a coup in the country noting "Maia Sandu never asked me for help, but she thanked me for the information. She knows our situation very well. Ukraine will always be ready to help Moldova."
This is the same guy who last year claimed Russia was firing missiles into Poland, when it turned out that it was in fact a Ukrainian missile that landed in a civilian area and killed two people.https://www.youtube.com/embed/EpKmIG6g0EU
Associated Press Issues Correction To Its Fake Report Which Could Have Kicked Off WW3
https://summit.news/2022/11/17/associated-press-issues-correction-to-its-fake-report-which-could-have-kicked-off-ww3/embed/#?secret=NtWemZg0Pg
AP Fires Reporter Behind False Report Claiming 'Russian Missiles Struck Poland'
https://summit.news/2022/11/22/ap-fires-reporter-behind-false-report-claiming-russian-missiles-struck-poland/embed/#?secret=4JExq06g7z
The fake news didn't prevent world leaders from fawning over Zelensky and telling him they were behind him in the immediate aftermath of the incident that could have easily sparked a global conflict.
WATCH: Embarrassing CRINGE Video Of "Justin And Rishi" Fawning On Phone To Zelensky
https://summit.news/2022/11/17/watch-embarrassing-cringe-video-of-justin-and-rishi-fawning-on-phone-to-zelensky/embed/#?secret=Kaz6N4Wgdl
The latest development comes as U.S. Secretary of State Antony Blinken raised concerns with China's top diplomat at the weekend that Beijing is considering providing weapons to aid Russia's war on Ukraine.
"We do not accept the U.S.'s finger-pointing or even coercion targeting China-Russia relations," Wang Yi is said to have told Blinken in response at their meeting in Germany.
"The U.S., as a major country, has every reason to work for a political settlement of the [Ukraine] crisis, instead of fanning the flames or profiting from it," Yi added.
https://www.mrctv.org/embed/578023
Linda Thomas-Greenfield, the U.S. Ambassador to the United Nations, also told CNN's "State of the Union" Sunday that Chinese support for Russia's war of aggression in Ukraine would be crossing a "red line": https://www.mrctv.org/embed/578029
———————————————————————————————————————

ALERT! In the age of mass Silicon Valley censorship It is crucial that we stay in touch.

We need you to sign up for our free newsletter here.

Support our sponsor – Turbo Force – a supercharged boost of clean energy without the comedown.

Also, we urgently need your financial support here. ———————————————————————————————————————
Sign up for our free newsletter HERE that's loaded with special reports, articles, Infowars Store deals, and more! Don't let globalist censors cut you off from the truth!