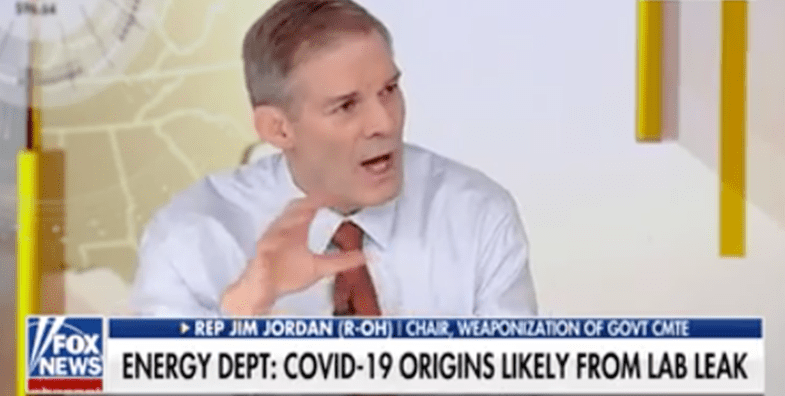 Congressman Jim Jordan outlined Sunday how Anthony Fauci became aware that the most likely cause of the COVID pandemic was a lab leak and immediately set about changing the narrative to hide his involvement in gain of function research.
Appearing on Fox Business, Jordan, the Chairman of the House Judiciary Committee, noted how Fauci received emails from prominent scientists advising him that the virus looked like it was engineered in a lab.
"Right at the start, that same day, Dr. Fauci organizes a conference call. Him and Dr. Collins get on there with Dr. Garry and Dr. Andersen and all these other virologists. They get on there. And, three days later, everybody changes their story," Jordan noted.
The Congressman continued, "The same guy who said this would be easy to do in a lab says, oh, now you're crazy if you think it came from a lab. The same guy that says, I don't know how this — that this would — that this does — that looks engineered, he changes his story."
"And then the kicker is, three months later, those same two doctors, Dr. Andersen and Dr. Garry, get a $7 million — a several-million-dollar grant from Dr. Fauci to continue their research," Jordan further noted.
"So the fundamental question is, why was Dr. Fauci so consumed with making sure the narrative wasn't about the lab? I think it's because they were doing gain of function research there. He didn't want that out," Jordan urged.
"And that was the narrative that everyone on the left bought into, even though the facts and common sense, maybe most importantly, pointed to the lab leak theory," he concluded.
Watch: https://video.foxnews.com/v/video-embed.html?video_id=6321827691112&loc=infowars.com&ref=https%3A%2F%2Fwww.infowars.com%2Fposts%2Fjim-jordan-fauci-was-consumed-with-changing-lab-leak-narrative-because-they-were-doing-gain-of-function-research-there%2F&_xcf=
Jordan's comments come in the wake of Fauci being accused by Congressional investigators of having 'prompted' the fabrication of a paper by the scientists mentioned aimed at disproving the Covid-19 lab-leak theory.
The House Select Subcommittee on the Coronavirus Pandemic notes that "New evidence released by the Select Subcommittee today suggests that Dr. Fauci "prompted" the drafting of a publication that would "disprove" the lab leak theory, the authors of this paper skewed available evidence to achieve that goal, and Dr. Jeremy Farrar went uncredited despite significant involvement."
Fauci 'Prompted' Scientists To Fabricate 'Proximal Origins' Paper Ruling Out Lab-Leak: House GOP
https://summit.news/2023/03/06/fauci-prompted-scientists-to-fabricate-proximal-origins-paper-ruling-out-lab-leak-house-gop/embed/#?secret=H0jRZFJjtG
Of course, this has been known since the very beginning, and was continually highlighted on this website and many others.
Email: Researcher Who Funded Wuhan Lab, Admitted To Manipulating Coronaviruses Thanked Fauci For Dismissing Lab Leak Theory
https://summit.news/2021/06/02/email-researcher-who-funded-wuhan-lab-admitted-to-manipulating-coronaviruses-thanked-fauci-for-dismissing-lab-leak-theory/embed/#?secret=XD8Sy2j0Kj
Video: Tucker Carlson Blasts Fauci, WHO, Media For Lying About Coronavirus Lab Leak For A Year
https://summit.news/2021/05/25/video-tucker-carlson-blasts-fauci-who-media-for-lying-about-coronavirus-lab-leak-for-a-year/embed/#?secret=PMp5sbBnCi
Questions Over Social Media Censorship of Wuhan Lab Leak After Fauci Admits Possibility
https://summit.news/2021/05/24/questions-over-social-media-censorship-of-wuhan-lab-leak-after-fauci-admits-possibility/embed/#?secret=Z0v97W4Kw0
Video: House Subcommittee Hears Chinese Military Ran Wuhan Lab; Experts Warn It's 'Highly Likely' COVID-19 Leaked
https://summit.news/2021/06/30/video-house-subcommittee-hears-chinese-military-ran-wuhan-lab-experts-warn-its-highly-likely-covid-19-leaked/embed/#?secret=GwFhOERmxY
Scientist Who Told Fauci COVID 'Potentially Engineered' Deletes Twitter Account
https://summit.news/2021/06/07/scientist-who-told-fauci-covid-potentially-engineered-deletes-twitter-account/embed/#?secret=C4TdUGEK1o
Scientist At Center Of Lab Leak Controversy Put In Charge Of The Lancet's Task Force To Investigate Virus Origin
https://summit.news/2021/06/04/scientist-at-center-of-lab-leak-controversy-put-in-charge-of-the-lancets-task-force-to-investigate-virus-origin/embed/#?secret=O4PpIRJut6
https://summit.news/2021/06/03/video-tucker-carlson-eviscerates-fauci-after-email-release/embed/#?secret=akYwXmhjQU
https://summit.news/2021/06/02/the-jaw-dropping-dr-fauci-emails/embed/#?secret=WAfAiNWEKT
More Scientists Demand Lab Leak Investigation; Claim They Were Ostracised For Presenting Research Backing The Scenario
https://summit.news/2021/05/28/former-state-dept-investigator-there-was-almost-no-evidence-for-natural-source-of-covid/embed/#?secret=oYZ8gBzTtr
Report: Biden Admin SHUT DOWN Investigation Into Wuhan Lab Leak Theory
https://summit.news/2021/05/26/report-biden-admin-shut-down-investigation-into-wuhan-lab-leak-theory/embed/#?secret=hfNKhJQwPd
Senator Tom Cotton: Fauci Is 'Playing Word Games; Trying To Cover Tracks'
https://summit.news/2021/05/24/senator-tom-cotton-fauci-is-playing-word-games-trying-to-cover-tracks/embed/#?secret=TQsOKe8jti
Report: Dr Fauci Backed Wuhan Lab Doing 'Crazy' Coronavirus Research
https://summit.news/2020/04/30/report-dr-fauci-backed-wuhan-lab-doing-crazy-coronavirus-research/embed/#?secret=Y2rHp0gWQL
Powerful Video: Rep. Jordan Exposes Democrats' Efforts to Stifle COVID Origin Investigation
https://summit.news/2021/05/21/powerful-video-rep-jordan-exposes-democrats-efforts-to-stifle-covid-origin-investigation/embed/#?secret=fwalE7Ferb
———————————————————————————————————————

ALERT! In the age of mass Silicon Valley censorship It is crucial that we stay in touch.

We need you to sign up for our free newsletter here.

Support our sponsor – Turbo Force – a supercharged boost of clean energy without the comedown.

Also, we urgently need your financial support here. ———————————————————————————————————————
Sign up for our free newsletter HERE that's loaded with special reports, articles, Infowars Store deals, and more! Don't let globalist censors cut you off from the truth!