by HN
Video obtained and aired by Tucker Carlson reveals the truth about January 6th. It was a DNC/FBI/CIA Deep State false flag to cover up their stealing of the 2020 Presidential elections and project blame on a phony "insurrection".
As patriots linger in the DNC gulag for more than two years, Adam Kinzinger, the deep state Democrats and RINOS have been caught in massive lies and acts of treason. They have all been exposed as deep state hacks who, with help of the FBI, CIA and Washington D.C. police, executed a false flag on January 6th. Despite overwhelming evidence, the dastardly democrats are fooling no one by doubling down and undermining democracy while claiming that exposing their treasonous crimes is a "threat to democracy". LMFAO! Now THAT'S rich!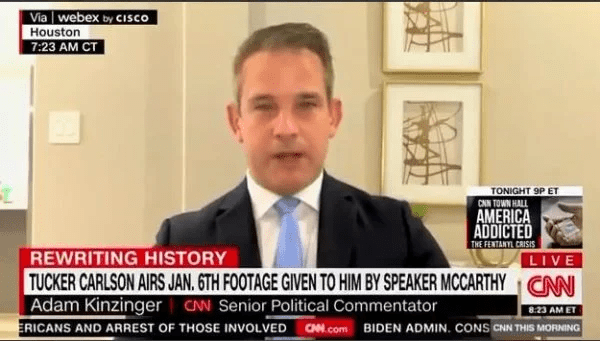 "We Had One of the Most Transparent Hearings in History" – Adam Kinzinger Whines After Tucker Carlson Releases J6 Video that Confirms He's a Liar (VIDEO)
By Jim Hoft 
Former Representative Adam Kinzinger and CNN contributor was asked on Tuesday to comment on the January 6 video that was released on Monday by Tucker Carlson.
Carlson was given permission by Speaker Kevin McCarthy to inspect the 43,000 hours of video taken by security cameras and police bodycams on January 6 that has been hidden until now to the American public. Dozens of January 6 defendants have asked for this video but have been denied access to the video that would have exonerated many of these innocent men and women.
The January 6 Committee lied to the American public about the events of that day. Adam Kinzinger was a member of the committee. Kinzinger lied for years to the American public.
Today he responded to Tucker Carlson's explosive reporting.
Adam Kinzinger: "Look, in terms of saying that we have hidden this footage, we had one of the most transparent hearings in history with the most footage we have ever shown in history, and every single, almost, witness that came in front of us was a very partisan witness. They were all Republicans that came in front of this committee."
Submit additional information.
SHARE THIS ARTICLE!
TELL OTHERS TO DO THE SAME!
SAVE THE REPUBLIC!