Pedophile teachers are everywhere, but especially in democrat run cities? What is with that?
Story by Matt Naham 
A former "Teacher of the Year" in San Diego County, California, faces several felony charges for allegedly sexually abusing a student under the age of 14 after the victim's mother sensed something was wrong and reported her suspicions to police, cops say.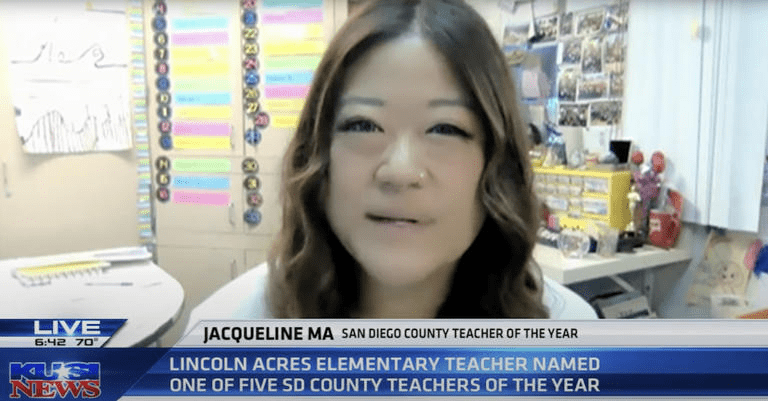 The National City Police Department announced the lewd and lascivious conduct investigation on Wednesday, two days after the worried mother contacted them. The suspect, 34-year-old sixth-grade teacher Jacquline Ma, was identified as the victim's former teacher, leaving Lincoln Acres Elementary parents stunned and disgusted.
Related Coverage:
"On the evening of March 6, 2023, the National City Police Department was contacted by a concerned parent who suspected that her 13-year-old child was possibly having an inappropriate relationship with a former teacher. National City Police Detectives and School Resource Officers immediately began investigating the allegation," cops said. "On the morning of March 7, 2023, officers developed probable cause to arrest Jacqueline Ma (34-years-old), a current teacher at Lincoln Acres Elementary in National City."
The defendant now faces six felony counts accusing her of three counts of lewd and lascivious acts against a victim under the age of 14 and three counts of oral copulation with a child under the age of 14.
California law says that "a person who willfully and lewdly commits any lewd or lascivious act […] upon or with the body, or any part or member thereof, of a child who is under the age of 14 years, with the intent of arousing, appealing to, or gratifying the lust, passions, or sexual desires of that person or the child, is guilty of a felony and shall be punished by imprisonment in the state prison for three, six, or eight years."
The defendant reportedly posted $100,000 bond and was released from Las Colinas Women's Detention Facility.
More Law&Crime coverage: Married high school 'lunch lady' accused of sexually assaulting freshman boy in SUV during party
Fox 5 San Diego reported that the defendant is a married woman who's taught at Lincoln Acres Elementary since 2013. A sign touting her "Teacher of the Year" accolades was reportedly on display outside the home until her arrest.
Ma was one of five teachers in the county honored in 2022 for her efforts in the classroom. Just six months ago, KUSI posted a video interview of the defendant: "San Diego Teacher of the Year Jacqueline Ma explains how she connects with distracted students."
"Today, law enforcement arrived at the Lincoln Acres campus at approximately 8:00 a.m. and arrested sixth-grade teacher, Jacquie Ma, on the allegation of having a physically inappropriate relationship with a former student," Leighangela Brady told parents in a letter, CBS 8 reported. "The arrest took place on campus but was away from students, as both law enforcement and our site staff collaborated to ensure that student learning and the campus climate were not interrupted. We can confirm that the student no longer attends our school, and we assure you that we will do everything we can to support the investigation."
Sign up for the Law&Crime Daily Newsletter for more breaking news and updates
Three days ago — on the evening the concerned mother went to police with allegations against Ma — the superintendent recognized a different "Teacher of the Year" recipient for the year 2023, calling her an "inspiration."
source: Law & Crime.