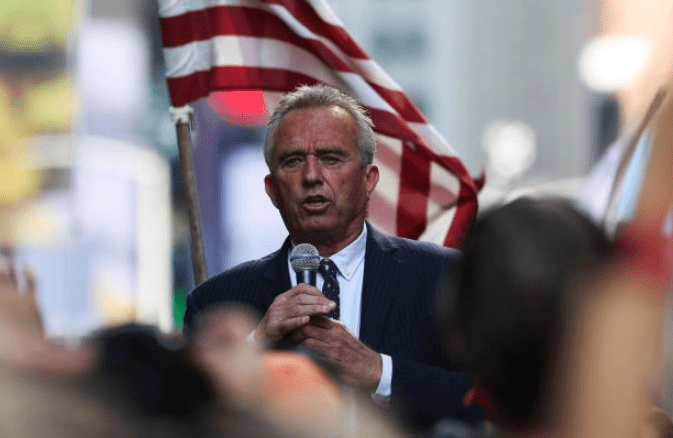 Robert F. Kennedy Jr. is officially running for president in 2024 as a Democrat meaning he will be challenging incumbent Joe Biden.
Kennedy, the nephew of President John F. Kennedy, filed a statement of candidacy with the Federal Election Commission on Wednesday.
Already, the mainstream media is slamming him as an "anti-vaccine activist" with CNN even calling him a "quack."
What the MSM won't tell you is Kennedy has historically called out Big Tech and globalists like Bill Gates for using censorship to "engineer the destruction of democracy and our civil rights."
Watch Kennedy's powerful speech he gave in Switzerland two years ago about the crisis humanity is facing:
Robert Kennedy Jr. nails it – fact check him… pic.twitter.com/y8k1gEAtVG— Jung (@betterworld_24) November 13, 2021
"When they use the term vaccine misinformation, they are using it as a euphemism for any statement that departs from official government policies and pharmaceutical industry profit taking," said Kennedy. "It has nothing to do with whether it is true or false. It only has to do with what the political implications are."

"And who is doing this censorship? It's government officials in league with Bill Gates, [Oracle CEO] Larry Ellison, Mark Zuckerberg, Sergey Brin from Google, and with all these internet titans. They have engineered not only the destruction of our democracy and our civil rights, they have engineered the biggest shift of wealth in human history — $3.8 trillion from working people to these handful of billionaires, many of them from Silicon Valley," he continued.

"This pandemic has impoverished the world and created 500 new billionaires."

"Is it a coincidence that these are the same people who are censoring criticism of the government policies that are bringing them trillions of dollars? The people who are benefiting are the people who squeezing away our constitutional rights and engineering the destruction of democracy worldwide."
As recent as last month, the 69-year-old civil rights proponent & founder of Children's Health Defense was mulling a presidential run.
"If it looks like I can raise the money and mobilize enough people to win, I'll jump in the race," he said. "If I run, my top priority will be to end the corrupt merger between state and corporate power that has ruined our economy, shattered the middle class, polluted our landscapes and waters, poisoned our children, and robbed us of our values and freedoms. Together we can restore America's democracy."
Currently, Kennedy's campaign site reinforces that message:
Robert F. Kennedy, Jr. has spent his life fighting for American democracy and the liberties guaranteed by the Constitution. He has battled against corporate greed and government corruption to protect our children, our health, our livelihoods, our environment, and above all, our freedom.

With integrity, courage, and self-sacrifice, he has led Americans in an ennobling fight to restore our country as the exemplary nation, and to end the toxic polarization that divides us and enriches the elites.

His steely character and unique history fighting crooked bureaucracies make Bobby the only person who can bridge the divide and fix our country.
---
---
Sign up for our free newsletter HERE that's loaded with special reports, articles, Infowars Store deals, and more! Don't let globalist censors cut you off from the truth!